Choosing a good set of knives is the biggest choice you'll make for your kitchen tools. And the difference between the best kitchen knives and blades that are just so-so isn't only a matter of price.
Even before I worked a decade in professional kitchens, I had a keen interest in bladesmithing that began when I was a teenager. Now that I've hung up my apron, I'm glad to be able to share some of the things I learned along the way.
I realize not everyone has spent time in a professional kitchen, and picking the best knives for your home kitchen can feel daunting.
In this guide, I'll share a few knife brands that I hold in highest esteem, and provide specific recommendations for which types of knives you'll need in your kitchen. You will also learn the exact criteria that I use for selecting my kitchen knives.
I hope you find a lot of value here, along with a few shortcuts that help you along in your culinary journey.
Our Top Picks
Features:

Heavy half-bolster makes tough cuts easy
Egronomic handle provides a safe comforable grip
Excellent edge retention for a Western-style knife

Features:

Thin blades are light and easy to handle
High carbon steel holds a sharper edge than Western knives
Very corrosion resistant for a Japanese knife

Features:

Full tang design with a heavy bolster
Nearly as sharp as Wusthof or Shun
Shaped in a Western-style fore easy handling
Best German Knife Set
Features:
Heavy half-bolster makes tough cuts easy
Egronomic handle provides a safe comforable grip
Excellent edge retention for a Western-style knife
Best Japanese Knife Set
Features:
Thin blades are light and easy to handle
High carbon steel holds a sharper edge than Western knives
Very corrosion resistant for a Japanese knife
Best Value
Features:
Full tang design with a heavy bolster
Nearly as sharp as Wusthof or Shun
Shaped in a Western-style fore easy handling
09/27/2023 10:17 pm GMT
Best German Knives: Wusthof
Wushtof's legendary German knives offer unbeatable sharpness, comfortable handling, and impeccable balance across all of their lines. They are the choice of professional chefs around the world. Even hotheaded TV star Gordon Ramsey uses them!
There are eight unique lines of Wusthof knives, each with their own strengths and weaknesses. For this review, I'll be focusing on their Classic Ikon series. In my experience, it offers the best combination of ergonomics and affordability.
If you want to dig deeper into the brand, I recently wrote extensively about the Wusthof and each of their collections. Here is my take on the Classic Ikon and which type of kitchens they're the best match for,
A great chef's knife will equip you to handle a majority of cutting tasks. That's why when I'm judging a brand or series of knives, I look at the chef's knife first. If you only buy one knife for your kitchen, it should be a high quality chef's knife.
Wusthof's Classic Ikon series are some of the best chef's knives that I've had the pleasure of using. The stainless carbon steel blade is razor sharp and has great edge retention. A heavy half-bolster gives it excellent balance while allowing you to use the entire length of the blade. Add in a sleek and comfortable polymer handle, and you have a knife that looks great and feels great to cut with.
Best for: The minimalist cook who wants to keep their tool selection slim and trim.
If you're looking to fully equip your kitchen, a knife set will get you dialed up in no time. And while some knife sets are a way to sell you knives you don't need, Wusthof's takes the opposite tack. It's a focused 8-piece set that retails for less than you can buy the individual knives.
Each of the knives in this set uses the same top quality steel and ergonomic design elements of the Classic Ikon series. This leaves every knife exceptionally sharp and well balanced, as well as comfortable to hold.
First of all, the 8 inch chef's knife featured above is the jewel of this set. Then, three sizes of utility knives let you pick and choose the perfect tool for any small and precise job. A bread knife rounds out the knife selection. Kitchen shears make it easy to trim and cut herbs, poultry and packaging. To finish up, a honing steel will keep your knives in great shape between sharpenings. And of course, a beautiful walnut wood block to store everything.
Best for: The aspiring home chef who wants to elevate their cooking and knife skills.
Wusthof's santoku knife does an excellent job of blending Eastern and Western knife making techniques. It's a versatile kitchen all-rounder that's a favorite of beginner and experienced cooks alike.
Though it can handle similar jobs as a chef's knife, Wusthof's Classic Ikon santoku has a few important differences. The scalloped edge of the blade is especially nice for beginners, as it prevents food from sticking to the blade while you're cutting. Additionally, the 7-inch blade may be easier to handle for precision work. And with the same impressive sharpness and edge retention as Wusthof's other knives, it can easily substitute for a larger selection of knives.
Best for: Kitchen beginners who want to get comfortable with a single knife.
Best Japanese Knives: Shun
Shun's Japanese knives are traditionally crafted using centuries-old processes. Featuring hand-forged Damascus steel, they are the sharpest knives that you can get for your kitchen. And though they require more maintenance than German knives, many chefs prize them for the attention to detail in their design.
Just like Wusthof, Shun also has eight unique lines of knives. But for the best combination of value, style, and versatility, I always turn towards their Classic line. Let's explore the specifics of those knives together.
Shun's Classic chef's knife is true to the original style of Japanese knives. Featuring a Damascus steel blade that's been sharpened to 22 degrees, it's a razor sharp knife that can cut anything with ease. Paired with a traditional D-shaped handle and no bolster, it allows for maximum control over every cut you make.
One of the main reasons I prefer Shun's knives over other Japanese blades is their steel. By adding small amounts of chromium, Shun's knives are resistant to corrosion in a way other Japanese knives are not. Added cobalt serves to further strengthen the blade, protecting it from chipping.
Best for: Uncompromising home chefs who want the sharpest knives possible.
For many chefs, there's no going back once you've started using Japanese knives. Their sharpness and control are unparalleled. If you're ready to commit to using Japanese knives in your kitchen, Shun's block set is the way to go.
The knives' sharpness comes from a combination of the folded Damascus steel and a steep blade grind. Before they're sent to you, these knives are given a final hand sharpening to create the sharpest edge possible. Plus, Shun offers a free sharpening service for all of their knives. Just pay shipping and handling, and they'll re-sharpen every knife in the set any time you want.
Three knives, a honing steel, and kitchen shears are housed in a space-saving acacia wood knife block. Between the paring knife, santoku knife, and chef's knife, you'll be able to handle any cutting task.
Best for: Experienced Japanese knife users who want a focused set for their kitchen.
Perhaps you've had a little bit of experience with Japanese knives, but err on the side of minimalism with your kitchen tools. I know that's certainly the case for me! And if you're similarly inclined, I would point you towards Shun's 3-piece starter set.
The combination of a chef's knife, utility knife, and paring knife will prepare you for nearly every job in a kitchen. They're all made in Shun's detail-intensive style. That includes incredibly sharp edges and comfortable handles that allow for excellent knife control.
I also appreciate that this set is packaged in a wooden gift box. That means you won't need to find a knife storage solution immediately to keep them safe. Overall, it's a beautiful set that you'll be able to pass down to the next generation of chefs in your family.
Best for: The minimalist home chef who appreciates Japanese style blades.
Most Affordable Knives: Dalstrong
Dalstrong is a curious company. They make knives in dozens of styles, including traditional Japanese and German blades. But somehow, they offer each of their knives at a significant discount compared to competitors. And while they don't have the same pedigree as older knife makers, I've been impressed with the quality of their knives given their price.
Of Dalstrong's many different series of knives, I stick with only the Gladiator and Phantom series knives. These series are the most in line with traditional design choices, and offer the best performance for the price.
Let's take a look at a few choices from each line:
The Gladiator series is Dalstrong's version of a traditional German knife. Made from high carbon steel and featuring a full bolster, it's an excellent knife for beginners. If you're looking to get your feet wet with a high quality chef's knife, I can wholeheartedly recommend this one.
High carbon steel is what differentiates Dalstrong's chef knife from other bargain-priced blades. It's not quite as hard as Wusthof or Shun's blades, but even so it does a great job of keeping a sharp edge. A full tang design is uncommon for a knife at this price, and gives the Gladiator series a pleasant heft.
The heavy full bolster serves a dual purpose of balancing the knife and protecting your lead finger. While experienced chefs may find that this thick bolster gets in the way, beginners will appreciate the peace of mind it brings.
Best for: Beginners who want an affordable introduction to the world of high quality knives.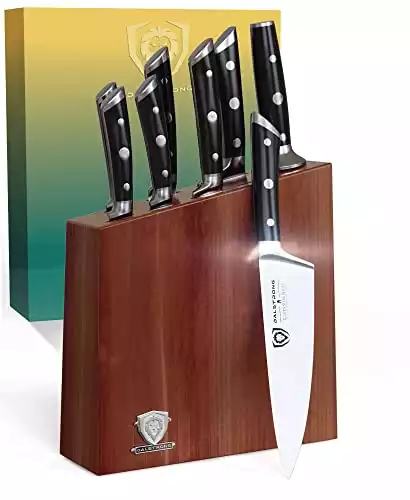 This 8 piece knife set builds on the successful DNA of the Gladiator series chef's knife. Each piece is made of sharp and durable carbon steel, and features a beginner-friendly full bolster. It's a wide-ranging set that will give you one of every type of knife you're likely to encounter in a kitchen.
Everything from a chef's knife to a paring knife, santoku, bread knife, slicer, and more is included here. And every knife is made in a traditional German knife style, with an ergonomic handle and heavy bolster. The whole set slots nicely into a slim hardwood block that saves space on your countertop.
Overall, this set is crazy affordable for the quality and how many knives you're getting. Do you really need every single knife for your kitchen? Probably not. But at this price, you can afford to be over prepared.
Best for: The kitchen completionist on a budget who wants every type of knife imaginable.
Whereas the Gladiator Series knives are modeled on traditional German blades, the Phantom series mimics Japanese knife making. If you've ever been interested in Japanese style knives but scared away by their price tags, Dalstrong's Phantom Series chef's knife is a wonderful alternative.
Most remarkably, the Phantom Series' blade is forged from a single piece of Japanese steel. This gives it an impressive 58 degrees Rockwell hardness. That means it is a direct competitor with other Japanese knives, but at half the price! The result is an incredibly sharp blade with excellent strength and durability.
That blade is paired with a D-shaped handle made of a wood and resin composite. It's hefty and durable, but still comfortable to hold and use. Beginners should note that there's no bolster here, and thus no protection for your finger. In short, this knife is better for someone who already has decent knife skills.
Best for: Curious chefs who want to try Japanese knives without emptying their wallets.
Runners Up: Other Brands to Consider
I genuinely believe that the three brands mentioned above represent the "best of the best" for kitchen knives. But they're far from the only brands out there to choose from. Here are a few other brand options that are worth considering for more specialized cases.
Zwilling J.A. Henckels is the other big name in German knife making, alongside Wusthof. And truth be told, their knives are every bit as high quality as anything that Wusthof produces.
However, I've found that Zwilling J.A. Henckels spread themselves too thin across multiple product lines. Rather than having the intended effect of giving you plenty of options, this makes it harder to choose the right knife for your kitchen. Unless you can try out many of these knives in person, I would stick with the more targeted selection of Wusthof knives.
Victorinox are the producers of the original Swiss Army Knife. Most of their cutlery is geared towards casual users and sold at a low price. The tradeoff is that the quality and sharpness isn't there. And while their Grand Maitre line is higher quality, I don't find that they offer anything better than my favorite German brands.
If you need a kitchen gadget, Cuisinart makes it. Really, their selection of kitchen tools is so wide as to be overwhelming! This goes doubly for their cutlery selection, which come in no less than a dozen styles. Even so, Cuisinart focuses on the most affordable tools possible. Their knives would do in a pinch, but they're not the sort of knives you would want to use for years.
Kyocera is well known for their ceramic knives. There are definitely advantages to ceramic knives, but I can't wholeheartedly recommend them to every home chef. If you're looking for a simple set of knives to have as loaners, Kyocera's Revolution series is a great choice.
Miyabi is an imprint of Zwilling J.A. Henckels that specializes in Japanese knives. They offer beautiful hand-forged blades in nine different styles. While their natural wood handles are beautiful, I find their exaggerated prices to be unwarranted.
Korin is a distributor for dozens of knife brands that ship straight from Japan. If you want a hyper-specialized Japanese knife, they're my go to recommendation. But outside of professional chefs, most at-home cooks will find the selection unnecessarily overwhelming. If you take a special interest in Japanese knives, definitely give them a look!
Buyer's Guide: How to Choose the Best Kitchen Knives
In this section, I'll be sharing the exact considerations I take into account before buying a kitchen knife. Read through this abbreviated guide, and you'll go away with a clear understanding of how to choose the right knives for your kitchen.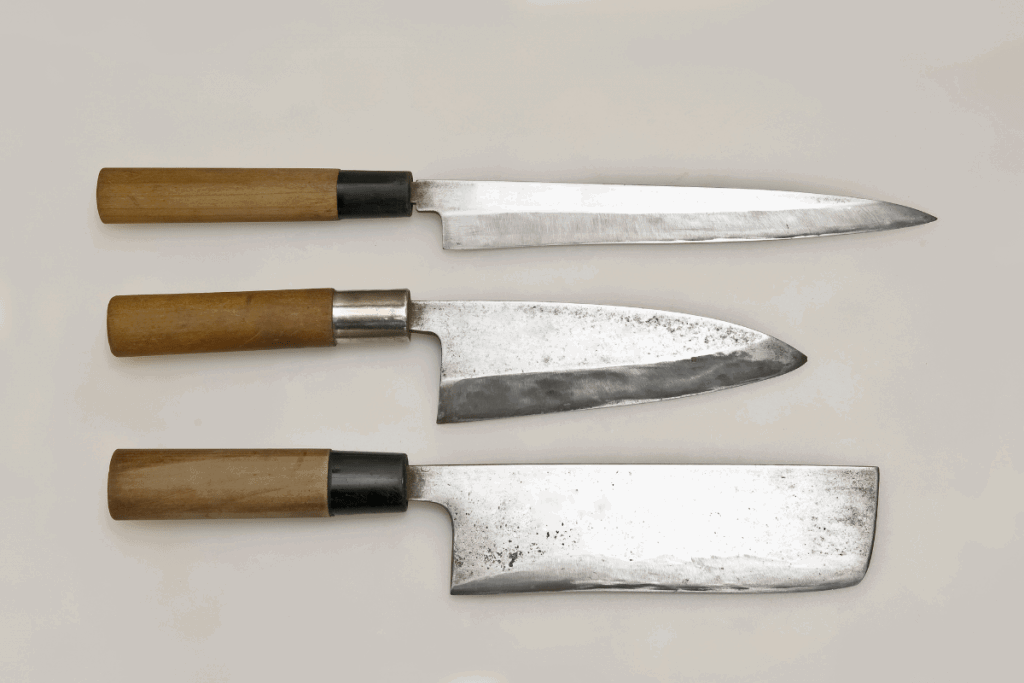 German Knives Vs. Japanese Knives
Choosing between German and Japanese style knives is one of the biggest decisions you'll make for your kitchen. Both countries have a long and illustrious history of knife making, but there are important differences in their knives. Let's take a closer look at who would enjoy each type of knives more.
German knives represent the best of Western bladesmithing. They're the knives used by professional chefs all across North America and Europe. The best German knives are forged from a single piece of steel, and hardened to 56-60 degrees Rockwell. This makes them able to take a sharp edge, but not so hard that they're prone to chipping. If you're new to kitchen knives, German knives have an easier learning curve than Japanese knives.
Japanese style knives are the chef's tool of choice across much of Asia. They've made headway into North America and Europe too, thanks to their ultra-sharp blades and stunning aesthetics. Japanese blades are forged from a single piece of steel, but not quite like German steel. Instead, traditional Japanese blades use alternating layers of low and high carbon steel folded together. This creates an extremely hard and sharp blade that is also more prone to chipping. In short, Japanese cutlery has a steep learning curve that's better suited to experienced cooks.
Essential Types of Knives
Before you decide on a brand to focus on, I'd encourage you to decide on how many knives you need. That way, you'll know how best to divide your budget to get the best kitchen knives possible.
For an in-depth perspective on all the types of knives you should have in your kitchen, click over to my guide to essential kitchen knives. I'll share the single most important takeaway from that guide below, with the caveat that every kitchen is different and you can definitely expand your perspective by continuing on to that article. Ok, enough asides. Here's the advice:
Start with a top quality chef's knife and a simple paring knife. This duo will take care of 90% of kitchen tasks. From there, I'd recommend getting a cleaver, serrated knife, and kitchen shears. With this simple set-up you'll be fully equipped for everything short of slicing roasts or deboning fish.
Construction
When it comes to quality cutlery, the parts of the knife always combine to create a "greater whole." There are three main parts that you need to know AND examine closely when you're looking to buy a knife. Here they are in detail,
Blade
Look for full tang blades that are forged from a single piece of steel. This means that the metal of the blade extends all the way through the handle, making the knife strong and durable. Being forged rather than stamped ensures that the knife will be able to take a sharp edge and keep it.
Bolster
The bolster adds weight and strength to the center of the knife, and is integral to its balance. Full bolster knives are better for beginners, as they offer a degree of protection for your lead finger. No bolster and semi bolster knives require more skill to use, but allow you to use the full length of the blade. They're also easier to sharpen, making them the main choice of professional chefs.
Handle
A good knife handle should be comfortable, attractive, and sanitary. Look for handles made of natural wood or hard polymers, and avoid soft or lightweight plastics. There are numerous handle styles to accommodate all sizes and shapes of hands. I prefer straight handles, as I find that they are comfortable in the widest variety of hand sizes and shapes.
Care and Maintenance
If you've read this far, then you probably recognize that the best kitchen knives aren't cheap. It takes some extra effort to keep them performing at their best, and you should definitely be prepared to handle regular care and maintenance if you're going to invest in great knives.
"Care" is another area where Japanese and German knives differ. Japan's high carbon knives require more frequent maintenance, including regularly oiling their blades. Germany's stainless steel, on the other hand, requires little more than keeping it dry.
Additionally, the harder steel of Japanese blades takes a special touch to resharpen. If you're not comfortable sharpening your own knives, which most readers probably won't be, then I strongly recommend taking them to a professional. If your knives are being used exclusively in a home kitchen then you should have to do this no more than once every six months.
Helpful Accessories
Nobody wants their $150 chef's knife bouncing around in a drawer with other utensils.
For starters, save the box that knife came in. The packaging probably won't last forever, but they'll keep your knives safe for a few months. Then, consider getting a knife block or magnetic knife strip for your kitchen. Having your favorite blades safely stored and in arm's reach is a wonderful feeling.
If you're feeling adventurous, consider learning how to sharpen your own knives too. Traditional whetstones take practice, but yield better results than automatic sharpeners. Pair that with a honing steel, and you'll be able to keep your knives razor sharp every day.
Again, if you're wondering "What's the best thing I can do for my kitchen knives once they're in my home?" Keep them safe, of course.
Frequently Asked Questions About Kitchen Knives
Before wrapping up this guide with a few final takeaways, I wanted to explore some of the most common questions I hear about kitchen knives.
If you've been around the chopping block a while, then some of these points may already sound familiar. But if you're a new and aspiring home chef then I would recommend not skipping over this section. It covers some fundamental concepts that you can build your knowledge off of.
What's the Difference Between Cheap and Expensive Knives?
There are plenty of options for where to spend your kitchen budget. If you're tempted to go for cheaper knives to save money, I'd caution you against it. The best kitchen knives will last you a lifetime, while inferior models wear out much quicker. That's because of three major differences between cheap and expensive knives:
The materials used in their construction. Cheaper knives use cheaper steel and lower grade plastic handles. This means that they won't keep an edge well, and they're more likely to break from normal wear and tear.
Attention to the important details. Expensive knives are finely tuned pieces of equipment with comfortable ergonomic designs. And the higher quality steel used in them can take a sharper edge that lasts longer.
Consistency. Cheaper knives are often mass-produced from stamped blades and handles. This makes them prone to bad variation, and more likely to come apart even with casual use. Expensive knives are models of consistency, with excellent construction and durability.
Should I Choose Stainless Steel, Carbon Steel, or Ceramic Knives?
Carbon steel, stainless steel, and ceramic knives live on a spectrum.
On one end, you have the most expensive and most durable knives with the best edge retention. On the other, you have the most affordable knives with less durability and edge retention. With that in mind, let's take a look at where each type of knife falls on that spectrum:
Carbon steel knives are the most expensive type of knife you can buy. They're renowned for the sharpness of their blades and solidity of their construction. And the reason for their sometimes alarming price tags? Almost all carbon steel knives are hand forged using a long and painstaking process. Get one of these kitchen knives if you're looking for the best of the best and have the money to spend.
Stainless steel knives are middle of the road in almost every category. They're often quite affordable, and the brand name will determine a lot about their quality. Stainless steel knives have less potential sharpness and edge retention than carbon steel but are still quite durable. They make excellent starter knives for a kitchen when you're on a tighter budget.
Ceramic knives are the most affordable of the bunch, and they're quite sharp out of the box. They're fragile though, and once they dull you'll have to get a new knife. Ceramic knives are best for casual use, or knife styles you don't use as often. For that reason I enjoy ceramic paring knives and bread knives, but would stay away from a ceramic chef's knife.
Do I Need A Full Tang Knife?
To answer this one, we'll have to look at the purpose of a full tang.
A holdover of Japanese sword making, the tang describes the part of the blade that extends through the handle. Full tang knives use a single piece of steel from the tip of the blade to the butt of the handle. This creates a stronger connection, yielding greater strength and durability.
So do you have to buy a full tang knife? No.
But you should know that I strongly recommend full tang over semi tang. They're better balanced, last longer, and will generally make your kitchen life easier. And all of that comes with only a moderate increase in price, making it a no brainer for me.
What's the Difference Between Honing and Sharpening?
The sharpness that you experience in a blade is a combination of two things.
First, it's the straightness of the edge. When all the steel molecules are lined up neatly, the knife will feel sharper and cut easier. This is what honing is good for. A honing steel realigns the edge of your knife, straightening it out.
The straightness of a blade is nothing if the edge is not ground down, though. That's what sharpening does. Through normal wear and tear, the edge of your knife will break down on a microscopic level. Sharpening removes the flattened bits of metal, leaving only a razor sharp edge behind instead.
My Recommendations
Wow! We covered a lot of ground in this guide. Hopefully by now you have a clear (high-level) idea about the breadth of kitchen knives available to you, as well as a general idea of which ones might suit you best.
I'll briefly recap a few of my personal recommendations, in case you're just looking for tangible action steps to help you get started:
Wusthof's knives are the best Western style knives available today. Their Classic Ikon 8 Inch Chef's Knife is perfect for beginners and experienced chefs alike.
Shun's knives require more experience and finesse to use well, but offer unmatched sharpness. Their Classic 3 Piece Starter Set is a refined option that will appeal to home chefs that aspire to knife wielding greatness.
Dalstrong's knives are surprisingly high quality at a very affordable price. Their Gladiator Series 8 Inch Chef's Knife is a perfect choice for beginners on a budget.
Thank you for taking the time to do the research. Even a quick read can save a lot of time and effort in the long run. I hope my guide to the best kitchen knives helped you find the specific info that you were looking for today, and that I've planted a few helpful seeds along the way.
Obviously there is a lot more nuance to cutlery than can be covered in a single guide, and you could spend decades exploring the topic. It's a pursuit that I've found great joy in, and I hope you will too!