After comparing the results of in-depth research on the best ceramic knives with my own decade of professional kitchen experience, I'm here today to tell you exactly which ceramic knives to get for your kitchen — and why they're better than the rest.
In this guide, you'll get a complete overview of how to choose the best ceramic knives, no matter your skill level or budget.
Our Top Picks
Features:

Best-in-class sharpness
Covers every essential ceramic knife you might need
Designed for comfort and ease of use

Features:

Affordable way to outfit your whole kitchen with knives
Protected by a lifetime warranty

$65.00

$25.47 ($2.12 / Count)

Features:

Near-perfect balance
Incredibly sharp
Looks as good as it feels
Best Overal
Features:
Best-in-class sharpness
Covers every essential ceramic knife you might need
Designed for comfort and ease of use
Best Value
Features:
Affordable way to outfit your whole kitchen with knives
Protected by a lifetime warranty
$65.00
$25.47 ($2.12 / Count)
Best Upgrade
Features:
Near-perfect balance
Incredibly sharp
Looks as good as it feels
09/25/2023 03:57 am GMT
Kyocera is the name in ceramic kitchen knives, and their innovations in ceramic knife production have laid the groundwork for every other company that has followed.
Founded in 1959 in Kyoto, Japan, they've come a long ways from their origins in making ceramic semiconductors — and today, their knives are the benchmark against which other ceramic knives are compared.
What makes Kyocera's ceramic knives so special is a combination of their proprietary materials, thoughtfully designed ergonomic handles, impeccable balance, and ultra-sharp blades.
Their Revolution Series, our top pick, is particularly well-suited to the home kitchen, with this 3-piece knife set giving you the entirety of foundational pieces necessary for restaurant-quality cooking.
Made from ultra-hard zirconia, Kyocera's knife blades register an 8.5 on the Mohs scale, a measure of mineral hardness. By comparison, standard steel rates a mere 4.5 on the same scale, and the hardened steel used for most kitchen knives rarely surpasses a 7.5.
And the result of this best-in-class hardness? Sharper blades that last longer without being sharpened — at the tradeoff of being more brittle than steel. Keep in mind that if you're looking at ceramic knives as your only kitchen knives, you'll need to have them specially sharpened on a diamond-coated grinding stone.
Combine that hardness and sharpness with comfortable slip-resistant handles and excellent balance in their construction that makes for easy handling, and Kyocera's knives were an easy choice as my top pick for the best ceramic knife.
While you can get their knives individually, I think the selection offered in their Revolution Series 3-piece set is both the best value for the money and the most complete solution to your kitchen knife needs. The 6-inch santoku is a truly all-purpose ceramic blade, the 5-inch micro-serrated knife handles tricky fruits and vegetables like tomatoes, and the 3-inch paring knife prepares you for detailed work like peeling potatoes or julienning herbs to top a pasta.
What we like
Best-in-class sharpness
Covers every essential ceramic knife you might need
Designed for comfort and ease of use
What We don't
More brittle than stainless steel knives
Requires special sharpening tools
I've loved Cuisinart as a brand ever since I first used their classic food processor. As a producer of cookware, cutlery, and kitchen tools that straddle the line between affordability and quality, I have a lot of respect for their dedication to making top-notch tools available to home chefs at every budget level.
Their 12-piece ceramic knife set (that's 6 knives and 6 blade guards, by the way) is a perfect example of this mix of value and quality.
By using stainless steel cores for each blade and coating them with a super-sharp ceramic finish, Cuisinart is able to offer twice as many knives for a fraction of the price of fully ceramic knives.
Do they perform as flawlessly as Kyocera's all-ceramic knives? Not quite, as the heavier steel cores can make them feel just slightly tougher to maneuver. But if you're looking to fully outfit your kitchen with ceramic knives, they're the most affordable option that still hits the quality I look for in a kitchen knife.
Expanding from the essentials of a chef's knife, paring knife, and slicer, the Cuisinart set adds a santoku-style knife, bread knife, and utility knife. Even with multiple people cooking and prepping in your kitchen at the same time, you'll have all the knives you need.
Overall, Cuisinart's 12-piece ceramic-coated knife set is what I would choose if I was outfitting a new kitchen on a budget, as they're a fantastic value for the price. And with the whole set covered by a lifetime warranty, you're guaranteed to get your money's worth out of your investment.
What we like
Affordable way to outfit your whole kitchen with knives
Protected by a lifetime warranty
What We don't
Stainless steel cores make them heavier and clumsier than all-ceramic knives
Bright colors might not fit your kitchen style
Taking the same base of craftsmanship that made Kyocera's Revolution Series knives our top pick, and then cranking the attention to detail up to 11, their Limited Series santoku knife is the perfect upgrade for the discerning home chef.
The Limited Series' wooden handle is the first and most noticeable improvement on almost every other ceramic knife that's being sold today — a detail that easily makes it the most comfortable and evenly-balanced ceramic knife I've seen. It's made of pakka wood, which is actually a wood/resin composite that's highly regarded for its increased durability in comparison to traditional wooden handles.
Why just a santoku knife instead of a whole ceramic knife set, though? Simple: The santoku might be the most versatile all-rounder knife in the kitchen, capable of chopping and slicing just as easily as it can handle detailed work with its refined edge and gently curved tip. If you're building a minimalist kitchen tool setup, keeping it simple with a single ceramic knife is the way to go.
From there, you'll notice the attractive stainless steel bolster and rivets, a detail from traditional Japanese cutlery that's been translated for this modern knife style. Combined with the pakka wood handle and zirconia blade, these details both look great and make the knife easy to clean.
Of course, the biggest downside to the Limited Series santoku knife is its hefty price tag, costing nearly as much as a full knife set from Kyocera's Revolution Series. And if it were just the Limited Series' good looks that differentiated it from other ceramic knives, I wouldn't be as keen on recommending it; but the improved handling makes it feel worth every penny spent on it.
So when should you consider investing the extra cash in this santoku blade as opposed to a more budget-friendly ceramic knife set? I think the Kyocera Limited Series knives are worth buying when you're looking for a tool that will still look and feel great as your kitchen skills develop. As you become more confident in the kitchen, your tools will come to reflect and support your efforts.
What we like
Near-perfect balance
Incredibly sharp
Looks as good as it feels
What We don't
Expensive
Fewer options than a knife set
Runners-Up: Options We Considered That Didn't Make the Cut
There's quite a wide variety of options out there for ceramic knives, so choosing just three was a bit tricky. Here's a few other knives we considered for our top spots, as well as why each one fell short of the mark:
A 4-piece ceramic knife set that sells for a tiny price might sound like a steal — but upon further inspection of this set from Vos, I'm not convinced of their value.
For me, it comes down to the design of the ceramic blade: The chef's knife, utility knife, and paring knife all have the same edge shape, which doesn't cut it for me. These might be fine for a kitchen first-timer, but experienced cooks will notice that the knives just feel wrong while you're cutting because of their lack of attention to detail on the blade shape.
WACOOL's 3-piece knife set shares the same fate as the Vos set mentioned above: The blades just aren't shaped properly for their intended uses.
While they brand themselves as a chef's knife, utility knife, and paring knife, they're really just three sizes of the same blade shape. They're inexpensive, but this lack of attention to detail will limit their uses in the kitchen.
I've already professed my love for Kyocera's ceramic knives — but while I love the quality of their knives, this 4-piece set falls flat for me. It's substantially more expensive than their Revolution Series 3-piece set (my top pick), but doesn't offer any unique benefits for the added cost besides a cool black finish.
In short: Go for the more cost-effective Revolution Series featured as my #1 choice rather than this overpriced 4-piece set.
Buyer's Guide: What to Look for in the Best Ceramic Knives
When you're ready to make an investment in ceramic knives for your kitchen, the more educated you are on the topic the better choice you'll be able to make. When I was choosing my top picks for the best ceramic knives, these are the criteria I used: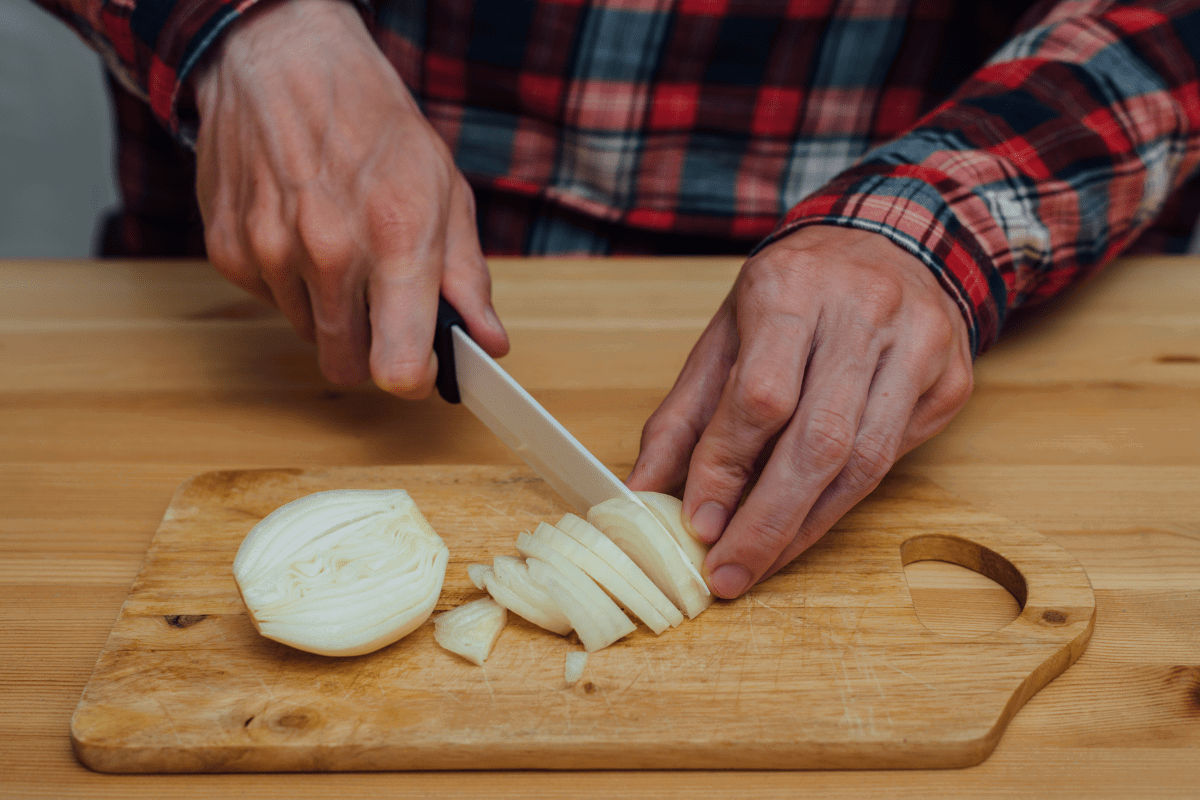 Types of Knives
First and foremost, you'll need to have a selection of the right types of kitchen knives for your situation.
Minimalist home chefs can get away with a single multi-purpose ceramic knife like a santoku, but most people will want a set that includes at least one multi-purpose knife (a chef's knife or santoku) and a paring knife.
Add a slicer to that mix, and you'll be covered for nearly every recipe in the home kitchen. But if you're looking to fully outfit your kitchen, adding a utility knife and bread knife will cover the rest of the situations you might run into, and allow you to invite a helper into your kitchen to use your expanded knife selection.
Construction
The material that a ceramic knife blade is made of is hugely important in its weight, ease of use, and cutting ability.
The best ceramic knives have blades that are made entirely of zirconia, an extra-hard mineral composite that was pioneered by Kyocera. If you want to invest in the best quality, sharpest ceramic knives, zirconia is the right way to go.
More affordable alternatives use a ceramic coating over a stainless steel core, which confers some of the sharpness of ceramic while reducing the overall cost. Balance often suffers as a result, though, since the heavier blade is usually paired with a plastic handle — and for most knives short of a cleaver, you don't want most of the weight in the blade.
Handle
Which material a producer uses for their ceramic knife handles will affect comfort, durability, grip, and the overall balance — making it a key point to consider before buying a ceramic knife.
Injection-molded plastic handles are the most common material used for ceramic knives, and have the advantage of being ergonomically sound and lightweight. Look for handles that are completely smooth, without a raised ridge of plastic that will rub on your hand while you're cutting — a sure sign of an inferior product.
Wooden handles, while much more expensive than plastic, have the advantage of allowing the knifemaker to finely tune the handle's balance with the blade. For example: a slightly heavier back end to a chef's knife makes it easier to let the knife do the work, rocking back and forth with ease thanks to the counterbalance of the handle.
Maintenance
To keep your kitchen tools in great working shape, it's good to think about their care and maintenance ahead of time.
In the case of ceramic knives, one of their main appeals is how long they keep an edge. Compared to stainless steel knives, you'll have to sharpen ceramic knives much less frequently — with Kyocera claiming that their blades stay sharp up to 10 times longer than steel blades.
The downside of this sharpness, though, is that ceramic knives can't be sharpened on a standard sharpening stone or wheel. When they do get dull, you'll need to have them sharpened by a professional, who will use a diamond-coated grinding wheel to restore them to their prime condition.
Another upside of ceramic knives when it comes to maintenance is that they are easy to clean. Plastic-handled ceramic knives like Kyocera's Revolution Series are even dishwasher safe, though I still prefer to wash all of my knives by hand (as I don't want them getting knocked into something during the wash cycle).
Frequently Asked Questions About Ceramic Knives
To round things out, let's take a closer look at the most commonly asked questions about ceramic knives: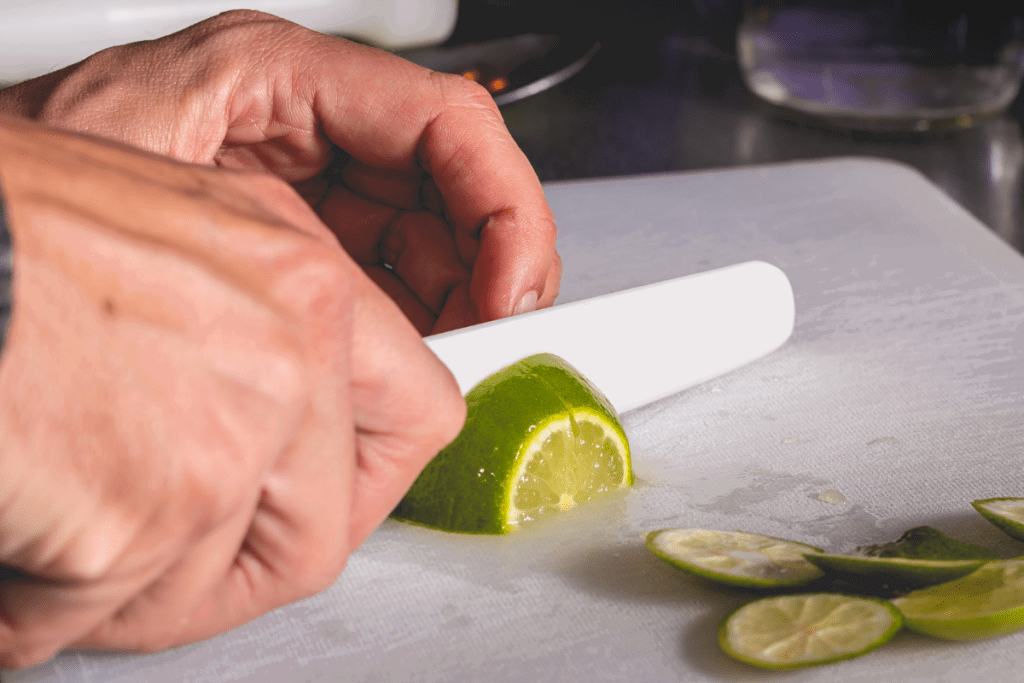 Advantages of Choosing Ceramic Knives
As compared to stainless or carbon steel knives, ceramic knives have three major advantages
Sharpness. Thanks to their extra-hard blade material, ceramic knives can take a sharper edge than other knives.
Easy maintenance. Ceramic knives require less frequent sharpening than steel knives, and are not prone to corrosion.
Weight. Ceramic is very light in comparison to steel, making it easier to handle and less fatiguing to use.
Drawbacks of Ceramic Knives
Steel knives have the upperhand on ceramic in two regards, however:
Ceramic knives are more brittle than steel, making them prone to chipping. If you hit an errant bone while cutting chicken, a stainless steel knife will shrug it off while even the best ceramic knife is likely to get damaged.
Because of their extra-hard edges, ceramic knives require different sharpening equipment than stainless steel knives. You'll need to take them to a professional sharpener to restore their edges.
Do Ceramic Knives Get Dull?
No matter how hard of a material a knife is made out of, it will eventually get dull. The question is always how quickly a knife gets dull.
Cared for properly, ceramic knives will keep their razor-sharp edge for up to 10 times as long as a comparable quality of stainless steel blade.
How Do You Care for A Ceramic Knife?
In most regards, ceramic knives require less care and maintenance than steel knives.
They're corrosion-proof, so you don't have to worry about keeping them completely dry at all times to get the best use out of them. And they keep an edge longer than other knives, thanks to the hardness of their ceramic blades.
Their drawback, however, is that these harder blades are also more brittle. Avoid cutting on any surface besides bamboo, wood, or plastic, as ceramic knives will chip easily if used on a stone or glass cutting board.
Other than that, be sure to keep your ceramic knives in their own storage area, so that other kitchen tools don't knock up against them and damage their blades.
What Should You Not Cut With A Ceramic Knife?
Ceramic knives are capable of cutting almost anything you'll encounter in the kitchen, with two notable exceptions: Bones, and the pits of fruits.
Both materials are hard enough to chip or crack your ceramic blade, so you'll want to be careful while preparing a chicken or slicing an avocado. Additionally, avoid using your ceramic knife on a stone or glass cutting board for the same reason.
Do Chefs Use Ceramic Knives?
The realities of a professional kitchen steer most chefs away from using ceramic knives, despite their sharp edges and minimal maintenance requirements.
The reason for this is simple: Professional kitchen tools get banged around more often, and go through more wear and tear than anything you'll use at home. This puts ceramic knives at a greater risk of getting chipped, making them less effective than stainless steel.
That same reasoning is why home chefs have found ceramic knives to be useful. Since they can be cared for more cautiously, there's little risk of damage while cooking — making their sharpness and low maintenance a big draw.
My Recommendations
At this point, you should have a clear view of what the best ceramic knife is for your personal kitchen.
Because of Kyocera's long history of producing and innovating on this type of knife, I'm biased towards using their products in my own kitchen. Their Revolution Series 3-piece set is the first choice I recommend to friends when they're looking to get ceramic knives, though I prefer the wood-handled santoku knife from their Limited Series for my own kitchen.
No matter which of the three types of knives I've featured you go for, you can rest assured that they will deliver on sharpness, durability, ergonomics, and balance. Thanks for your time, and happy slicing!