By adhering to the traditional processes handed down from Japanese sword makers, Shun produces some of the most impressive kitchen knives available today. In fact, their lineup of precision cutlery is largely responsible for popularizing Japanese knives in the United States.
Take a look at any major e-commerce site, though, and the pictures of chipped blades in the owner reviews section might make you think twice about investing in a Shun. Is this way of thinking justified? In my experience, no. That's why I'd like to take you on a chef's-eye tour of Shun's knives — including the pros and cons of each of their knife series.
Shun Premier Kitchen Knife Starter Set
Shun's knives are the face of Japanese cutlery in the United States for good reason: They're consistently well made, and offer a wide variety of styles to suit every chef. Their razor-sharp blades aren't great for total beginners, as they require more care and attention than less expensive knives. But with a little practice, Shun's knives can open up a whole new world of enjoyment for at-home chefs.
Buy Now
We may earn a commission if you make a purchase, at no additional cost to you.
09/28/2023 04:52 am GMT
What we like
Excellent range of prices and styles
Consistently top-quality construction
Traditional craftsmanship gives all their knives great balance
What We don't
Most series are better for casual use than professional use
Beginners might have a hard time with the brittle blades
They're often a little pricier than you'd expect, owing to the Shun name
Shun's Knives, Reviewed by Series
Decades ago, all of Shun's knives were made with a single design. Today, that traditional style has been brought forward into their Classic series — and joined by seven other variations on their house style of knife making. Get to know each of these knife families, and you'll be able to choose the one that's most specific to your budget and your needs.
Shun Classic
The Classic series is my go-to recommendation for Shun's knives. Whether you're a beginner, intermediate, or expert cook, the wide variety of handle styles and blade shapes means you can find the perfect fit for your cooking style.
Each knife in the Classic series is made with Shun's proprietary VG-Max stainless steel. A combination of high carbon Japanese steel and select minerals, it combines the best of sharpness and stain resistance.
The Classic series blades are made in a thin, lightweight style that's balanced by a D-shaped pakkawood handle. As a result, each of these knives has a wonderfully smooth cutting action that's great for slicing or push-pull cuts.
In short: If you've never used Japanese knives before, Shun's Classic series is an ideal place to start.
Shun Premier
Building on the incredibly successful design of the Classic line, Shun's Premier knives add a tsuchime finish. Created by precisely hammering the blade before adding a razor edge, the tsuchime patterning creates tiny air pockets while you're cutting. The result? Smooth, flawless cuts, with ingredients falling gracefully away from the knife rather than sticking to the blade.
Other than the tsuchime finish, the Premier series is a near duplicate of the Classic. It still uses the super-hard and stain-resistant VG-Max steel, and balances it with pakkawood handles. That makes it lightweight and easy to use for hands of all shapes and sizes.
I'm especially fond of the 9.5-inch slicing knife from the Premier series. It shows what the tsuchime finish does best: Allowing for long, smooth cuts with minimal friction. And it illustrates when it's best to spend extra on a Premier knife over a Classic: The longer the blade, the more benefit you'll get from the Premier.
Best choice for long, smooth cuts with minimal friction.
Shun Sora
Most of Shun's knives are pricey for two reasons: The quality of the materials used to make them, and the time artisans spend crafting each knife.
But the Sora collection is available at nearly half the price of the company's other knives! How?
Well, to open their knives to chefs in a larger range of budgets, Shun came up with a clever workaround. They use a less expensive and more stain-resistant 420J steel for the upper part of the Sora series' blades, and sharper VG10 steel for the cutting edge.
As a result, you'll get the same cutting power as Shun's other blades — at least for a while. I only recommend the Sora knives to home cooks, who won't be putting their knives under too much stress. Because if you have to sharpen these knives often, you may end up eating past the nicer steel on the cutting edge.
Overall: If you're on a tight budget but really want to try a Shun knife, the Sora series is a good place to start. Just keep in mind that they have less durability and longevity than the company's other knives.
Shun Kanso

The Kanso series is all about simplicity. It's the company's best example of minimalist style, from the shape of the blade to the streamlined handle design.
Speaking from personal experience, the Kanso series has my favorite design of all Shun's knives. The handle feels just right in my hands, and the gently curved heel of the blade gives plenty of room for gripping high up on the handle. It doesn't hurt that it looks great displayed on my magnetic knife block, either.
The Kanso knives hit a sweet spot in the price range of Shun's knives, too. Even though they're made with natural hardwood handles and high carbon stainless steel blades, they still cost less than the Classic series.
Japanese knife purists may not be the biggest fans of the Kanso series' chef knife, though. Their blades have a wide belly that's more similar to Western knives than their Japanese counterparts. I enjoy this because it lets you cut with a gentle rocking motion, but it makes it slightly harder to get laser-precise slices of fish and meat.
The best example of minimalist style, from the shape of the blade to the streamlined handle design.
Shun Seki Magoroku
A recent addition to Shun's offerings, the Seki Magoroku series blends the best elements of the Classic and Sora styles. Then, the design is refined and streamlined, creating a clean and minimalist look.
This is another knife series that I find better for casual home use, and wouldn't recommend for professional kitchens. It's more affordable because of the stainless steel used for most of the blade, with the more expensive VG-Max steel only on the cutting edge. That's wonderful if you won't need to sharpen it often — but excessive wear and tear will grind away the cutting potential for the edge.
Borrowing its handle shape and blade profile from the Classic series, the Seki Magoroku knives are a joy to use. They're easy to handle, giving you enough dexterity to make intricate cuts with ease. And if you display your knives in your kitchen, the blond pakkawood handle is a definite eye-catcher.
Overall, this series is a noticeable upgrade from the Sora, but not as long-lasting as the Classic.
Shun Dual Core
I've saved the best (and most expensive) for last: Shun's legendary Dual Core series. Inspired by the design and construction of traditional samurai swords, each of the five knives in this series is a veritable work of art.
First things first, though: Shun's Dual Core knives are not for everyone. That's because the steel, made of 71 alternating layers of high carbon and stainless steel, is both incredibly sharp and brittle. This is the tradeoff you'll find with Japanese knives in general: Their sharpness is a result of the hardness of the blade, which also makes them prone to chipping if mishandled.
If your knife skills are quite well developed, though, the Dual Core series will blow you away. They are ridiculously sharp, with amazing edge retention and the ability to take a razor-sharp edge with minimal effort. And with an uncommon rabbet-style tang that reduces their weight, these knives handle with great ease and dexterity.
And incredibly sharp (and brittle) blade that is a work of art. Only a great fit for experienced knife users.
Buyer's Guide
What's the hardest part about buying a Shun knife? Choosing the right series from their offerings. Once you narrow it down to the best design for your cooking style, you'll also need to decide exactly which knives from that series to add to your collection.
And if you're comparing Shun's knives with a competitor, it will pay to know the ins and outs of Japanese-style knife making. Consider this your guided tour to everything you need to know about selecting, comparing, and buying a Shun knife.
Type of Knife
Each of Shun's knife series offers a full range of blade shapes, from chef's knives to paring knives and beyond. What sort of knife are you looking for in your kitchen? If you're just starting out, focusing on the chef's knife in each series will help you compare and contrast. They're the most finely tuned knives for each series, and a great example of what you can expect from each other blade style.
Blade
Any knife is only going to be as good as the material used for its blade — and this is one area where Shun's knives really excel. They've been developing proprietary steel blends for decades, resulting in a wide range of sharp and durable blades.
You may notice that the price of each Shun knife series is directly related to the quality of steel used in its blade.
On the most affordable end, the Sora series uses mainly stainless steel with a sharper VG10 steel edge. The expensive Dual Core series blends two top-quality steels in a lengthy forging process, making for the sharpest and most durable blade possible.
Tang
The tang of a knife is a description of how far the steel of the blade reaches into the handle. Full tang knives are the most durable and longest-lasting, while a partial tang is sometimes used to reduce the overall weight.
All of Shun's knives use a full tang design, ensuring that they are well-balanced and durable. The Dual Core series goes even further, with a complex rabbet tang that effectively melds the entire handle together with the blade. If you're comparing Shun's knives with another brand, be sure and pay attention to the other brand's tang style!
Handle
Two materials are used for the majority of kitchen knife handles: Natural hardwood, and synthetic composites. Shun's knives split the difference with pakkawood, a wood and resin composite. This makes for a beautiful hardwood look, along with the hygienic benefits of a synthetic handle.
If you're comparing Shun to another knife brand, take note of the handle material that's used. Fully synthetic handles are cheaper to produce, while natural hardwood will be more expensive — and either of those should be reflected in the price of the knife you're comparing.
Knife Care (IMPORTANT)
The exceptionally hard steel used for Japanese knives is what gives them razor-sharp edges. But harder steel is also more brittle — making it prone to chipping.
Remember those pictures of chipped Shun blades I mentioned back in the intro? The #1 cause of chipping is NOT a material defect — it's because those blades were not used and cared for with the brittle nature of the blade material in mind.
While the issue is technically user error, it would be harsh to cast blame squarely on the cook. The truth is that most people simply haven't been shown how this steel is different from knives they used in the past, why it matters, and practical steps they should take to use and care for their knives differently.
So, if you've already experienced a chipping problem OR if you're buying a Shun knife for the first time, the next tips you should definitely hold onto:
Cut with a pushing or pulling motion (not a rocking one), and don't cut on any surface harder than a wooden cutting board. And of course, never run your kitchen knives through the dishwasher!
Putting one in a dishwasher is a sure way to ruin both the handle and the blade.
You should dry your knife off between each use, and only store it when it's completely dry. Even stainless steel will corrode if it's left in contact with water for too long.
Lastly, never use a granite or glass cutting board with a Shun knife! The sharper edge is a result of the blade's hard, thin steel — and that makes it prone to chipping if it hits a hard surface. On this same note, avoid cutting directly into bones with a Shun knife.
Competitors
Shun is one of the leading names in Japanese knives in the American market, but it's far from being the only one. So how does it stack up to other Japanese knife brands?
In general, Shun is aimed at the intermediate home chef. Almost all of their knife series are in the middle of the price range for Japanese knives, and offer a great value for their performance.
Total beginners would often do better with a hybrid Japanese/German knife like those offered by Miyabi, as their blades are more forgiving of mistakes. Professional chefs, on the other hand, will want to invest in the more specialized knives offered by Korin.
Frequently Asked Questions About Shun Knives
Owing to their popularity — and their price tag — Shun's knives are a magnet for questions. I'd like to take a moment to answer some of the most common ones. That will give beginners a good base of knowledge to work from, and further sharpen experienced chefs' understanding of their knives.
Why Are Japanese Knives So Expensive? Are They Worth it?
If your wallet hurts just looking at a Japanese knife, believe me — I know the feeling. Before I started using quality kitchen knives, the idea of paying over $100 for a single knife made me cringe.
Why are Japanese knives so expensive, anyway? For two main reasons:
The quality of the materials. The high carbon stainless steel that's used for Japanese blades isn't cheap — and that's because it has a great potential for sharpness and durability.
The time and expertise of the craftsman who makes them. Traditional knife making is an art that takes decades to master, so the skills of Japanese knife makers command a premium price.
Do better materials and better craftsmanship make Japanese knives worth their price? I believe so. While you can get by with a cheap, mass-produced knife, you'll never want to go back to one after you try using a Japanese knife.
And if you get a lot of joy out of cooking, investing in a better knife is an investment in your own happiness. What could be more important than that?
What Is the Best Japanese Knife Brand?
The best Japanese knife brand for you might not be the best for me. Why? Because choosing the right brand for you will come down to three things:
Your needs. Are you a casual home cook, or an aspiring professional? The more heavy-duty use your knife will see, the more durable your favorite brand will need to be.
Your experience. Are you already a master of the push cut, or still learning how to julienne? The steels used in some Japanese knife brands are more forgiving of mistakes, while others require an expert hand to use well.
Your budget. How much are you willing to invest in a kitchen knife? While good Japanese knives can be had for around $100, you won't be getting into really top-quality knives until you hit about $300. Custom-made knives are even more expensive, and invariably offer the best quality.
To bring it back around: Shun offers an excellent range of knives that cater to the beginner to intermediate cook. The Classic line offers the best compromise, and is ideal for the home cook who's committed to developing their knife skills. Their most expensive line, the Dual Core, can easily hold its own in a professional kitchen.
Are German or Japanese Knives Better?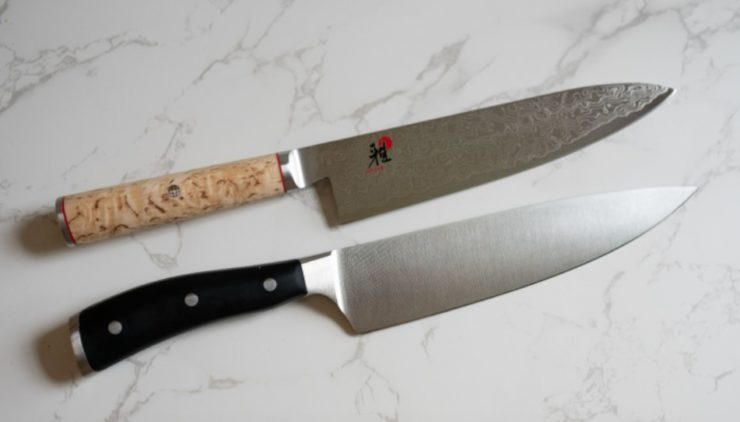 There's a long-running debate amongst professional chefs: What type of knife is the best?
And though that debate is still going on right now in some kitchen somewhere, I don't think we're likely to answer it anytime soon. Why? Because a chef's choice of knife is a very personal one.
This is especially apparent in choosing between German and Japanese knives, with each country favoring a certain cooking style. Heavier-handled German knives are excellent for breaking down cuts of pork and beef, while thin and lightweight Japanese blades excel at cutting fish and vegetables.
In conclusion: Your choice of German or Japanese knives will depend in large part on what you cook and what you eat.
Which Knives Should I Have In My Kitchen?
If you're starting a kitchen knife collection from scratch, always start with the best chef knife you can afford. A good chef knife will take care of 80% of the cuts you'll make in a kitchen, making it the most useful knife you can buy.
After that, a paring knife or utility knife will give you access to small, intricate cuts. Once you have a chef knife and paring knife, the sky's the limit — and I'd recommend checking out my guide to essential kitchen knives for at-home chefs for further guidance.
And if you'd like to learn more about cutlery from the Land of the Rising Sun, check out our guide to Japanese knives.
My Recommendation
That just about wraps it up for our Shun knives review. To recap, here are my three favorite series of knives from Shun:
The Shun Classic series offers their most versatile and well-rounded knives. Made in a traditional Japanese knife style, they are extremely sharp and have excellent edge retention. I'd also recommend considering an upgrade to the Premier series, with a tsuchime hammered finish that makes for smoother slicing.
My personal favorite is the Shun Kanso series. The Kanso 8 inch chef's knife is particularly well made, with a minimalist design that puts the focus on lightweight maneuverability. It's also the series that offers the best bang for your buck, with excellent durability for its price point.
Aspiring pros will find the best performance from Shun's most expensive knives, the Dual Core series. The extremely sharp edge on each blade is perfectly complemented with a lightweight rabbet tang, making for a knife that's capable of incredibly precise cuts.