Try and cut through a crusty loaf of fresh-baked bread with a chef's knife, and you'll end up with a squashed mess. Add a serrated bread knife to your kitchen, though, and you'll have flawless slices of bread ready for sandwiches. The best part? A great bread knife won't put a big dent in your wallet, either.
In my quest to find the best bread knife for at-home use, I've tested dozens of serrated knives in every style. That's in addition to a decade of perfecting my baguette slicing for crostinis in professional kitchens. And today, I'm happy to share my hands-on experience with you as you look for the best bread knife to bring into your home kitchen.
Best Overall
Best Value
Best Upgrade
Victorinox 10.25 Inch Bread Knife | High Carbon Stainless Steel Serrated Blade For Efficient Slicing, Ergonomic Fibrox Pro Handle
KitchenAid KKFTR8BROB Classic Forged Series Triple Rivet Serrated Bread Knife, Onyx Black, 8"
Tojiro Bread Slicer 270mm F-687
Best Overall
Victorinox 10.25 Inch Bread Knife | High Carbon Stainless Steel Serrated Blade For Efficient Slicing, Ergonomic Fibrox Pro Handle
Best Value
KitchenAid KKFTR8BROB Classic Forged Series Triple Rivet Serrated Bread Knife, Onyx Black, 8"
Best Upgrade
Tojiro Bread Slicer 270mm F-687
We may earn a commission if you make a purchase, at no additional cost to you.
Combining a long, extra sharp blade and the most comfortable handle around is a recipe for a top-quality bread knife. Victorinox's high carbon steel bread knife has all of that wrapped up in an attractive package, at a great price. It's fully capable of handling bread and tomatoes, as well as fruits, tough vegetables, and holiday roasts. If you're looking for one serrated knife to handle everything a chef's knife can't, this is the one!
Featuring a 10.25-inch long carbon steel blade, Victorinox's bread knife means business. The length gives it the ability to slice through those big, rustic Italian loaves that everybody loves for family dinners. And not only does the carbon steel blade boast an extreme sharpness, but it also has excellent edge retention. I'd be surprised if anyone has to sharpen this knife more than once a year, tops.
A lightweight, textured handle is designed to give you plenty of space for your knuckles. This means it's easy to handle, won't slip if your hands are wet, and allows for fast and efficient slicing. It's even approved by the National Sanitary Foundation (NSF) as a completely hygienic handle material.
With all of that on offer for under $50 at the time of writing, I'm hard-pressed to recommend any bread knife more highly than this one. It's the best bread knife for the majority of home kitchens.
What we like
The long, sharp blade gives it many uses
Carbon steel construction makes it sharp and durable
The recessed handle design is extra comfortable.
What We don't
Some people might not like the texture of the plastic handle
We may earn a commission if you make a purchase, at no additional cost to you.
Occasional bakers will appreciate the KitchenAid bread knife's affordability, ease of use, and lifetime warranty.
Amazingly for the price, it's made of high carbon German steel, too. So even though it's available at a steep discount, you won't be sacrificing much in the way of performance. In my mind, that's what makes this the ideal bread knife for beginners.
KitchenAid's Classic series bread knife is forged from a single piece of high carbon steel. This material makes for an exceptionally sharp, durable, and long-lasting knife. Plus, it equips this knife with excellent edge retention. By staying sharper longer, you'll reduce your total kitchen maintenance and always have a reliable tool to reach for.
Since it's equipped with an 8-inch blade, KitchenAid's bread knife is easy to get a feel for. Compared to the 10-inch blades of my other top picks, it's a bit on the short side. That's great for beginners, but experienced chefs may miss the extra inches when cutting large loaves of bread.
One of the only areas where this bread knife could be improved is in its handle design. Though it's comfortable to hold in mid-air, the lack of room for your knuckles can make it hard to cut cleanly through crusty loaves. Even my kitchen-hardened knuckles find it uncomfortable to bang against hardwood, so cut with caution when using this knife.
Lastly, this knife is protected by a limited lifetime warranty. If any manufacturer defect affects the quality of your knife, KitchenAid will replace it at no cost to you. That's just another layer of protection for the investments of price-savvy home cooks.
What we like
The forged carbon steel blade is sharp, durable, and holds a long-lasting edge
Incredibly affordable for its quality construction
A lifetime warranty protects your investment
What We don't
inch blade is on the shorter end of bread knives
Might bang your knuckles on the table when cutting bread
We may earn a commission if you make a purchase, at no additional cost to you.
Tojiro's bread slicer knife consistently produces the most flawless cuts I've ever seen from a bread knife. It must be a combination of the super hard Japanese steel and the razor-sharp scalloped edge. All I know is, I was genuinely amazed by how quickly and easily the Tojiro bread slicer cut through crusty bread. And with its comfortable handle design that prevents your knuckles from hitting the table, I think it's genuinely worth spending the extra cash on.
A 10.6-inch blade puts the Tojiro as the longest blade I've seen on a bread knife. That added length makes it even easier to slice through whole loaves of bread. The blade is made of a special steel blend too, giving it strong stain resistance. Basically, it stays looking great with minimal upkeep on your part.
The recessed handle design on Tojiro's bread knife is a godsend for cooks with larger hands. Even my knuckles, thickened from years of karate practice, fit snugly into this handle. It's made of a reinforced hardwood, too, so it looks great and feels great.
Is all of this enough to justify a higher price for the Tojiro bread slicer? I'm inclined to say yes. If you're interested in using a serrated knife for more than just slicing loaves, it's a fantastic tool. Casual bread slicers may do better to find a more affordable knife, though.
What we like
Sharpest bread knife on the market
Extra-long blade makes cutting whole loaves a breeze
Perfect handle design prevents knuckle rapping
What We don't
Quite expensive for a bread knife.
Runners Up: Other Knives to Consider
My preference for bread knives runs towards those that are affordable and feature great edge retention. Since they're one of the less frequently used knives in the kitchen, saving a few dollars here means you can invest more in your workhorse knives. But if you have the room in your budget for a pricier bread knife, here are a few I'd recommend.
I'd give you a pass if you mistook the Dalstrong Shogun series bread knife for a small sword. Made with 10.25 inches of a top-quality Japanese blade, it's quite a formidable bread knife! But for the price, you'd have to be cutting a lot of bread to justify the cost. Is it awesome? Yes. Do I ever want to pay over $100 for a bread knife? Probably not. If you're buying this for a professional kitchen though, it's probably easier to justify the extra expense.
Zwilling J.A. Henckels is one of the oldest and most respected names in German cutlery. Unsurprisingly then, their bread knife is a finely tuned kitchen tool. The blade is sharp and durable, and it's balanced by a roomy and comfortable handle. With just a 7-inch blade, though, it's not exactly cut out for slicing big loaves of bread! If you really need to save space in your kitchen though, it's a petite alternative to the larger knives featured in my top picks.
German knife-making giant Wusthof is one of my favorite brands for chef's knives. But their Classic series bread knife leaves a lot to be desired for me. Clocking in at over $100, but featuring just a 9-inch blade, it doesn't feel like a lot of knife for the price. That handle is so comfortable and the blade is incredibly sharp, but I'd rather invest my kitchen budget elsewhere.
Buyer's Guide: How to Choose the Best Bread Knife
If the only thing you'll use your bread knife for is sawing through crusty loaves, almost any knife will do. But if you'd like a knife that will work with fruits, vegetables, and roast meats too, you'll need to get more specific.
What follows are the considerations I take into account before buying a bread knife for my own kitchen. Go through them one by one, and you'll be fully informed in your own purchasing decisions, too.
Type of Bread Knife
There are three major types of bread knives to choose from. Let's take a closer look at what makes each one best for particular jobs.
Flat bread knives are the oldest and most common style. As the name implies, they have a flat design from tip to handle. They're great for slicing bread, but often don't offer much knuckle clearance.
Curved bread knives let you use a rocking motion while you cut. They're equipped with more knuckle clearance, making for an excellent multi-purpose serrated knife.
Offset bread knives have a handle set a few inches off from the blade. This maximizes knuckle clearance, but also makes the blade more difficult to control while cutting. I would not recommend this style for most kitchens.
Sharpness and Edge Type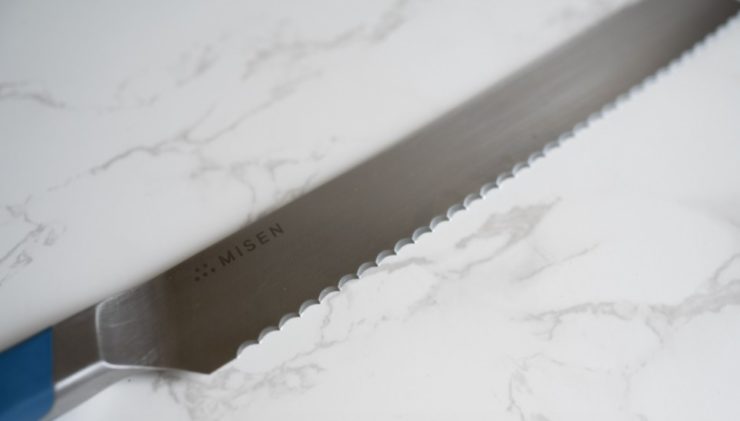 Bread knives come with two different edge types:
Pointed edges feature sharp points at the tip of each serration. They provide a firm grip into bread and fruits, allowing you to saw through even the thickest crust.
Scalloped edges use a gentle half-moon shape for each serration. This makes them better for smooth cuts through roast meats and vegetables. They lack the same grip on bread crusts as pointed edges, though.
Because of the difference in these edge types, pointed bread knives feel much sharper than scalloped ones. A scalloped bread knife can replace a traditional slicer knife, but maybe less than desirable for thick bread and tough vegetables.
Construction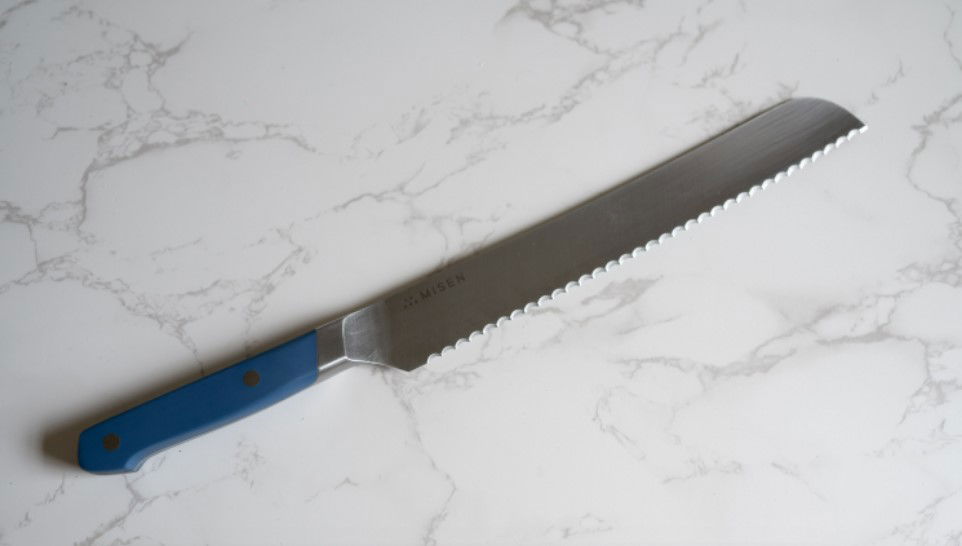 By their nature, bread knives won't be put to the same heavy-duty uses as chef's knives. Even so, the best bread knives employ many of the same touches as other kitchen knives.
If you want a bread knife that will last for decades, look first and foremost at the blade material.
Forged carbon steel is the metal of choice, as it provides excellent durability and sharpness. Knives made from one piece of metal that extends from the tip through the butt of the handle are best. Known as full tang knives, these are the longest-lasting and most well-balanced available.
Ergonomics
The handle design for a bread knife will make or break its comfort. That's why, first of all, I don't recommend the offset style bread knife. Even though it offers good knuckle clearance, this handle style puts awkward pressure on your wrists and is hard to control.
A great handle for a bread knife will give a smooth grip and sufficient knuckle clearance. Additionally, it will be complemented by a heavy bolster, the area where the blade and handle meet. That will make for a better balance as well as an easy place to grip while you cut.
Care, Maintenance, and Helpful Accessories.
Care and maintenance for bread knives couldn't be simpler.
Just keep them clean, keep them dry, and store them safely! Hand wash your knives, fully towel dry them, then put them away in a knife block or knife bag.
Also, an important note about sharpening: Even the most expert of home chefs will find it almost impossible to sharpen a serrated knife. While I'm all for the DIY spirit, in this case I strongly recommend taking your bread knife to a professional sharpener. Thankfully, you'll only need to do that once a year at most.
Frequently Asked Questions About Bread Knives
Before we get to my final recommendations, I'd like to take a minute to answer the most commonly asked questions about bread knives. Even experienced chefs may find something of use here, and beginners will certainly go away with a fuller perspective on what makes a great bread knife.
Do I Actually Need A Bread Knife?
For every job in the kitchen, there's a tool that's right for the job. Chef's knives hold a primary place because of their versatility. Paring knives complement this with the ability to make small, precise cuts. What about the bread knife? Is it really necessary for every kitchen?

At the risk of stating the obvious, bread knives are the right tool for cutting bread.
Every other knife in the kitchen will turn a fresh-baked loaf into a pile of scraps. If you're regularly buying or baking fresh bread, then yes — you need a bread knife! But if you're used to buying pre-sliced bread, a bread knife will probably just take up space in your drawers.
Of course, there are a few other kitchen jobs that bread knives can help with. Keep reading, as I have more on that in the next section.
What Else Can I Cut With A Bread Knife?
The serrations on a bread knife make it a great tool for three other jobs in the kitchen:
Cutting fruits and vegetables with soft skins. The serrated teeth on a bread knife make it easier to cut tomatoes, mangos, and more.
Leveling and shaping cakes. If you're interested in baking more than just bread loaves, a bread knife will help.
Preparing fruits and vegetables with thick rinds. Melons and squashes come apart easily with a bread knife. Trim away the outside rind, and then you have easy access to the succulent inner flesh.
What Other Knives Should I Have In My Kitchen?
Before you jump into buying a bread knife, make sure you have a top-quality chef's knife. They're the backbone of any kitchen knife selection. Add a paring knife next, for small and precise jobs. And from there, take a closer look at my guide to the 5 essential knives for at-home chefs to see what else your kitchen needs.
My Recommendations
We've covered quite a lot of ground together here today! Which of the bread knives featured here do you think would fit best in your kitchen? The Victorinox High Carbon Steel Bread Knife, with its razor-sharp gripping teeth? The ridiculously affordable KitchenAid Classic Forged Series Bread Knife? Or perhaps the immaculately designed Tojiro Bread Slicer? At this point, it's up to you to decide. Good luck, and happy slicing!