Even with a collection of nearly a dozen specialized kitchen knives, my love for kitchen shears hasn't diminished. When I'm looking to cut herbs, open packaging, or quickly prepare raw chicken, they're my first choice. Not just any pair of scissors will do — but thankfully, even the best kitchen shears are affordable enough for any home cook.
After being introduced to the versatility of kitchen shears through a chef I worked closely with, I set out to learn everything I could about these useful tools. Now, I'd like to share that with you in this guide! In it, we'll explore my favorite pairs of kitchen shears, as well as the reasoning behind my testing and reviews.
Our Top Picks
Features:

Comfortable, ambidextrous design
Micro-serrated blades give excellent cutting power
Pull-apart design for easy cleanup

Features:

Incredibly affordable
Padded, ambidextrous grips make them comfortable and easy to use
Sharp, micro-serrated blades give lots of cutting power

Features:

Sharp blades and spring-loaded handles give maximum cutting power
Ergonomic handles give a comfortable grip
Fully separable for easy cleanup
Best Overall
Features:
Comfortable, ambidextrous design
Micro-serrated blades give excellent cutting power
Pull-apart design for easy cleanup
Best Value
Features:
Incredibly affordable
Padded, ambidextrous grips make them comfortable and easy to use
Sharp, micro-serrated blades give lots of cutting power
Best Upgrade
Features:
Sharp blades and spring-loaded handles give maximum cutting power
Ergonomic handles give a comfortable grip
Fully separable for easy cleanup
11/30/2023 06:28 am GMT
The design and price point of the OXO Good Grips kitchen shears make them accessible to every at-home chef. They're made for use by both left- and right-handed cooks, and feature the most comfortable handles I've had the pleasure of using. That they're also exceptionally sharp and easy to clean has made them a constant standby in my own kitchen.
Padded, ambidextrous handles make for a pleasurable cutting experience every time you use these OXO shears. They're made from a hard plastic base, too, giving them excellent durability that will last for years. I also enjoy the addition of an herb stripper between the handles, making it quick and easy to trim hard sprigs of thyme and rosemary.
The micro-serrated stainless steel blades give OXO's shears serious cutting power. And since they can be separated at the hinge, you can use them for any kitchen task. You can prepare a whole chicken and trim portions of bacon, knowing that your shears can be fully cleaned and sanitized afterward.
Overall, the OXO Good Grips offer everything you want from a pair of kitchen shears. They're sharp, durable, comfortable to use, and available at a great price. I keep a pair in my own kitchen and strongly recommend them to all of my friends.
What we like
Comfortable, ambidextrous design
Micro-serrated blades give excellent cutting power
Pull-apart design for easy cleanup
What We don't
Some owners report rusting blades, but OXO will replace them if this happens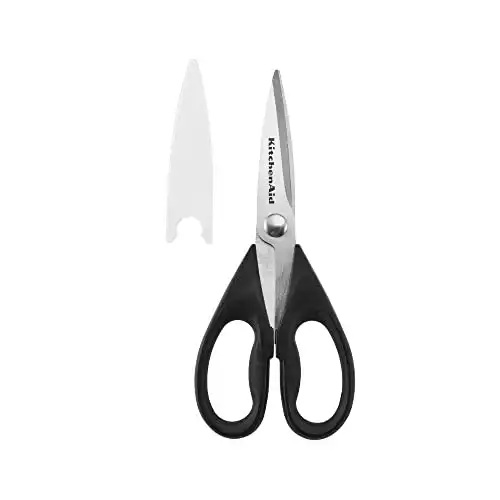 In the world of kitchen equipment, it doesn't get much more affordable than these KitchenAid shears. For about the price of a sandwich at your local deli, you can have a sharp, durable, comfortable pair of kitchen shears. If their design allowed the blades to be separated for easier cleaning, they would have been my top pick.
The ambidextrous handle design is complemented nicely by padded grips, making KitchenAid's shears a comfortable fit for just about anyone. They're slip-resistant, too, and have precisely sized thumb holes. This gives an overall effect of a solid grip no matter what you're cutting.
These shears' micro-serrated stainless steel blades are sharp, durable, and capable of handling most trimming and cutting tasks. The blades have a natural grip to them that makes it easy to make accurate cuts on whatever ingredients you need.
Sadly, though, I can't recommend these shears for cutting raw meat. Because they don't separate at the handle, it's hard to get a fully hygienic wash on these KitchenAid shears. While that's no problem if you're using them to cut paper and dry ingredients, any wet or sticky ingredients tend to get trapped around the hinge.
In short, KitchenAid's kitchen shears are the absolute most affordable pair you'll find. That comes with the tradeoff of being harder to clean, making them a good solution for casual use but not as versatile as other shears.
What we like
Incredibly affordable
Padded, ambidextrous grips make them comfortable and easy to use
Sharp, micro-serrated blades give lots of cutting power
What We don't
Cannot be separated, so they're harder to clean
The spring-loaded kitchen shears from OXO are a beefier, easier to use pair that can easily handle separating a whole chicken. And they're equipped with a generous array of safety features and labor-saving spring-loaded blades. Overall, this gives them a leg up on the competition for only a modest additional price.
By combining an offset handle design with a high-tension spring, OXO's poultry shears make it easy to cut through just about anything. Curved, micro-serrated blades further emphasize this, making these shears the easiest to cut with of any I've used.
These shears' comfortable, ergonomic handles are outfitted with two additional safety features. First, a handle lock to keep them safely closed when not in use. And second, a bolster and loop grip combo that will prevent your hands from slipping while you're using them. You can fully separate the handles, too, making it easy to keep these clean and sanitary.
Essentially, I think these are the best kitchen shears for someone who's already experienced with this type of tool. Beginners may find them to be a bit over the top. But if you've ever despaired at how much squeezing it takes for most scissors to get through a chicken breastbone, these shears will be a substantial quality of life improvement for you.
What we like
Sharp blades and spring-loaded handles give maximum cutting power
Ergonomic handles give a comfortable grip
Fully separable for easy cleanup
What We don't
Fairly pricey for kitchen shears
Runners Up: Other Styles and Brands to Consider
As a category, kitchen shears aren't nearly as expensive as other kitchen knives. This means that there are plenty of options to choose from — and not every great pair of shears could make it into my top 3 picks. With that in mind, let's take a closer look at a few other pairs of shears that might deserve a place in your kitchen.
Kai's kitchen shears are sleek, minimal, and streamlined — three things I like very much in my kitchen tools. And their blades are sharper than any of my top three picks. What they don't have, though, is the micro-serrated edges that prevent slip-ups while cutting wet ingredients. That's my personal preference showing, so if you'd prefer the sharpest pair of shears possible, go for the Kai kitchen scissors.
Shun's not kidding when they call these shears "multi-purpose". From a nutcracker, to a jar opener, to a bone notch, a lid lifter, and two screwdriver tips, they offer a formidable array of tools. Unfortunately, they also have an impressive price to match their features. If you have a generous budget, these kitchen shears by Shun would no doubt be a great addition to your home.
You know, I really wanted to love Tojiro's Pro Series kitchen shears. They appeal to my inner minimalist and have incredibly sharp blades. But they're not made for me — they're made for someone with much smaller hands than me. If that's you, I'm confident that you'd love using these shiny and durable shears.
Buyer's Guide: How to Choose the Best Kitchen Shears
The difference between a pair of the best kitchen shears and a generic set of scissors is night and day. That's a result of the shears' specialized design. But not all kitchen shears give equal attention to the details that improve their performance in the kitchen. So in this section, I'd like to give you my comprehensive overview of the details that set the best kitchen shears apart from those that are just okay.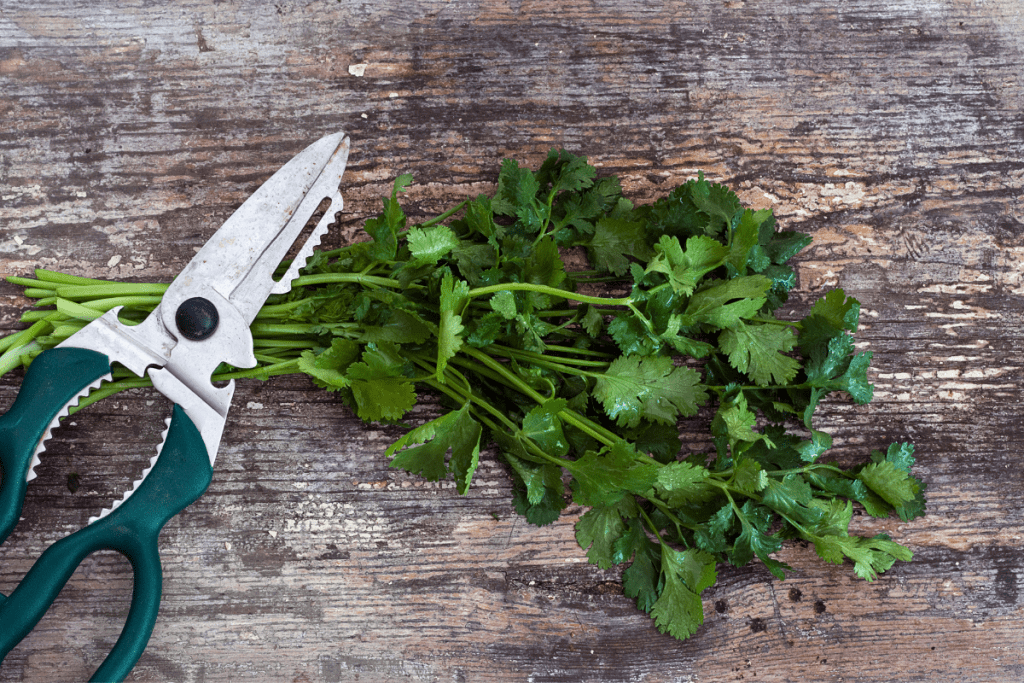 Type of Shears
First, you'll need to choose between two major styles of kitchen shears: Straight blade, or offset.
Straight blades are the easiest to use, and have the widest range of applications. They're great for trimming herbs, cutting parchment paper, and opening packaging with minimal fuss. This style is also the most affordable.
Offset blades are better for breaking down poultry, as they let you apply more leverage to your cuts. But this doesn't disqualify them from general-purpose use. Their specialty design means that you'll be paying a premium for this style, though.
So which type should you get? Straight blades if your budget is tight, and offset blades if you have a little extra money to invest in your kitchen tools. Though really, either style will work for the majority of kitchen tasks.
Grip
Above all else, your kitchen shears should feature a comfortable grip. If you don't like the feel of using a pair of shears, you may as well not have them in your kitchen. For that reason, I look for shears that have padded grips, preferably non-slip.
Also, keep in mind that not all kitchen shears are made for all sizes of hands. I've made an effort to only include shears that fit a range of people in my top picks. But if your hands are particularly large or small, you'll want a pair of shears to match.
Hinge Point and Separability
Perhaps the biggest difference between standard scissors and kitchen shears is their connection point. Standard scissors favor a hinge that's further up the blades, giving precise control of the blade tips. Kitchen shears place this hinge point closer to the handles, giving you more cutting force with less effort.
Most kitchen shears also feature a design where you can separate their two halves. This is especially important when you're working with raw meats, as it lets you fully clean and sanitize the blades. Without this feature, bacteria and grime can build up around the hinge point. That's why I always prefer kitchen shears that can be separated.
Construction and Durability
The materials that your shears are made from will determine how long they last in your kitchen.
Look for stainless steel blades and hard, molded plastic handles. This, combined with hand washing your shears rather than using the dishwasher, will keep them in operation for years to come. Avoid steel that's not stainless and overly lightweight plastic handles; both will reduce the longevity of your shears.
Edge Type
You may have noticed that all three of my favorite kitchen shears have a common design element: Micro-serrated blades. And though you can find shears with standard blades, micro-serrated edges have a lot going for them. They make it easier for the blades to grip what you're cutting, preventing slip-ups and allowing for more precise trimming.
The only downside, of course, is that micro-serrated blades are harder to sharpen. But as long as you're not trying to use your scissors to cut through large bones, it will be years before you need them sharpened. For reference, I've been using my own pair of OXO kitchen shears for three years, with no need for sharpening in sight.
Orientation: Left-Handed vs Right-Handed Design
If you're a lefty in a right-handed world, chances are you know how tough finding great kitchen tools can be. It's almost the same story for kitchen shears, with left-handed scissors being less available and more expensive. But that's also why I've chosen to showcase ambidextrous kitchen shears above right-handed ones! They work just as well (or better) than right-handed shears, and don't have an exaggerated price tag.
In short: Ambidextrous is the way to go for kitchen shears.
Care and Maintenance
For most kitchen shears, keeping them clean and dry is all the maintenance you'll need to do. This includes pulling them apart each time you've cut anything wet, and giving them plenty of time to dry.
And for goodness' sake, please don't wash your kitchen shears in the dishwasher. The high temperatures aren't good for the quality of the steel or the plastic, and will reduce the longevity of your shears.
Hand washing will always be the way to go for quality kitchen tools.
Cost
How much should a pair of the best kitchen shears cost? Not much at all, really. I've never paid more than $25 for a pair, and don't think that anybody else needs to pay more than that either. Unless you really want a fancy pair of shears to show off, in which case do what makes your heart happy.
Common Uses for Kitchen Shears
Think you'll just be trimming parchment paper with your shears? Think again. Here's a list of everything I've used my own kitchen shears for:
Trimming herbs, then chopping them for garnishes. If you grow your own countertop herbs, kitchen shears make it so easy to get fresh flavor into all of your meals.
Slicing rounds of green onions, and using them to dress up a bowl of ramen.
Cutting parchment paper to size for my baking projects.
Slicing pizza! Shears are much easier to use than a rolling pizza slicer.
Breaking down poultry. Chicken, pheasant, and duck are no match for a great pair of shears.
Cleaning shrimp. Just guide the tip inside the shell, and snip along the spine.
Making the fastest chopped salads you've ever had.
My Recommendations
At this point, I hope I've convinced you of the utility of a great pair of kitchen shears. They're quick and easy to use and are perfect for everyone from total beginners to experienced chefs. To recap, here are my three favorite pairs of shears:
The OXO Good Grips Multi-Purpose Kitchen Shears have been my go-to shears for years now. They're sharp, comfortable to use, affordable, and easy to clean. In short, they're the model of shears that I compare all other brands and styles to.
KitchenAid's All Purpose Shears are ridiculously affordable, but still made from quality materials. They're quite comfortable to use, but more difficult to clean than my other recommendations. Great for beginners who won't be trimming raw meat with their shears.
OXO's Good Grips Spring-Loaded Poultry Shears are the sharpest and most powerful of the bunch, but a tad more expensive than I'd usually like. Beginners won't find them to be much more useful than OXO's standard shears, but experienced chefs will appreciate their extra cutting power.
Which pair of shears do you think is best for your kitchen? Any way you choose, I wish you luck with all your future kitchen adventures!
FAQs
Shears VS Scissors: What's the Difference?
Look towards any sewing class or barbershop, and you'll get a clear definition of shears versus scissors. Shears have longer blades, with asymmetrical handles. Scissors have shorter blades, with symmetrical handles. 
But does this apply to kitchen tools, as well? In my experience, no. 
You'll find the terms "shears" and "scissors" used interchangeably in the kitchen, and neither refers to a specific design. In short, you can safely ignore this linguistic difference when it comes to kitchen tools.
Are Kitchen Shears Dishwasher Safe?
Nearly every pair of kitchen shears available today is technically dishwasher safe. But! That doesn't mean you should throw them in your dishwasher. If you take the time to hand wash your shears, that will extend the life of their blades, hinges, and handles. 
Are There Different Kitchen Shears for Different Types of Foods?
You'll notice two major designs of kitchen shears: Those with straight blades, or blades offset from the handle. Straight blades are the most general-purpose and can handle every kitchen task well. Offset blades make it easier to trim, separate, and prepare poultry. But really, either design can be used for both purposes.
Do They Make Kitchen Shears for Left-Handed People?
There are a few examples of kitchen shears specifically for left-handed people, like this pair from Seki Japan. But overall, my preference is to go for shears that can be used by both left- and right-handed people. That way, you'll be able to loan your shears to a temporary kitchen helper if you need to.