There's no tool more essential to cooking at home than a solid, reliable chef's knife. Honed to a razor-sharp edge, it will make every chop, slice, and dice fast, effortless, and safe.
Unfortunately, not every knife is a great fit for every kitchen.
After working a decade in professional bars and kitchens, I've used a chef knife in almost every culinary situation you could imagine. Since hanging up my apron, much of my time is now dedicated to imparting the lessons I learned through that experience.
In this article, my goal is to help you find the best chef knife for your kitchen.
Like I said before, just because a particular knife is awesome or famous doesn't mean that it will also be the best fit for your goals and purposes. I'll walk you through the criteria you can use to determine which chef knife fits your style. I'll also share a few of my favorite chef's knives that illustrate the differences you should expect from one blade to the next.
Our Top Picks
Features:

The high carbon steel blade is sharp and durable
The half bolster lets you use the whole length of the blade
The ergonomic handle design is comfortable for everyone

Features:

Damascus steel blade is the sharpest you'll find in a chef's knife
Lightweight construction makes for easy, precise cuts
Special finishing process protects the blade from staining and corrosion
Best German Chef Knife
Features:
The high carbon steel blade is sharp and durable
The half bolster lets you use the whole length of the blade
The ergonomic handle design is comfortable for everyone
Best Japanese Chef Knife
Features:
Damascus steel blade is the sharpest you'll find in a chef's knife
Lightweight construction makes for easy, precise cuts
Special finishing process protects the blade from staining and corrosion
09/28/2023 05:42 am GMT
Wusthof's Classic Ikon 8 inch chef's knife is a versatile kitchen workhorse with an impressive and robust construction. That's mainly a result of it being forged from a single block of high carbon steel and made with a rigid full tang. But to give it a fine balance, it incorporates a heavy half bolster. And with its ergonomic sloped handle design, it's comfortable for hands of all shapes and sizes. Add best-in-class sharpness to that list of features, and you've got the best chef's knife around.
The proprietary steel blend that Wusthof uses in all their knives gives them excellent sharpness and edge retention. That's combined with the full tang construction that extends the blade through the handle. The result? A strong and durable knife that will last for decades. And thanks to the addition of uncommon metals like molybdenum, these blades won't stain or discolor.
For Western chef's knives, the bolster is my make or break point. Full bolsters, while helpful for protecting your lead finger, don't let you use the full length of the blade. That's why I prefer the half bolster style featured in Wusthof's Classic Ikon 8 inch chef's knife. It has a graduated slope that still offers a firm place to grip while allowing you to use the full length of the blade.
All of those great things would be for naught if the Classic Ikon knife wasn't comfortable to hold, though. Thankfully, the advanced polycarbonate handle is meticulously molded to provide a comfortable grip. For a Western-style knife, it handles surprisingly lightly once you get familiar with it.
What we like
The high carbon steel blade is sharp and durable
The half bolster lets you use the whole length of the blade
The ergonomic handle design is comfortable for everyone
What We don't
Western chef's knives are heavy and can fatigue unpracticed hands
Chefs who want maximum sharpness and lightweight maneuverability will enjoy the Miyabi 8 Inch Gyuto. Made to the same painstaking specifications as traditional Japanese swords, it's a beautiful kitchen tool with unbeatable sharpness.
Thanks to Miyabi's ice-hardened finishing process, this Gyuto knife is not prone to the common problems that afflict many other Japanese knives. It's better suited to experienced chefs. But dedicated beginners can learn to wield this knife with impressive smoothness.
The secret to Japanese blades' sharpness comes from their samurai era production process. By folding high carbon and low carbon steel dozens of times, the resulting Damascus steel is made exceptionally hard and sharp. Usually, this also results in a blade that's easily stained if you don't keep it dry at all times. But thanks to Miyabi's finishing process, their blades are just as stain-resistant as their Western cousins.
After folding and ice hardening the blade for their gyuto, Miyabi uses the traditional honbazuke method to create a razor-sharp cutting edge. This laborious process means that the thin and lightweight blade on the Miyabi can be made sharper than any Western-style blade. For discerning chefs who value clean cuts, the Miyabi delivers impressive results.
That specialized edge comes with a price, though. Instead of working with a chopping motion, Miyabi's gyuto excels at cuts made with a pushing or pulling motion. Beginners may find this difficult to get used to. But if you're willing to slow down and practice, it offers effortless cutting that's much easier on your wrists and hands.
What we like
Damascus steel blade is the sharpest you'll find in a chef's knife
Lightweight construction makes for easy, precise cuts
Special finishing process protects the blade from staining and corrosion
What We don't
A steep learning curve for this cutting style may intimidate beginners

Why choose between a German knife and a Japanese one, when you can have the best of both? That's what Shun's santoku knife offers in a package that's ideal for beginners.
The Shun Classic Santoku made to the same exacting specifications as my favorite chef's knives. That includes a forged carbon steel blade, great balance, and a comfortable handle. But thanks to the size of its blade, newcomers to high-quality kitchen knives will find it much easier to cut with.
Forged from a single piece of high carbon steel, Shun's santoku features a full tang construction. And since the blade extends all the way through the handle, it has a pleasant weight and balance that makes it easy to maneuver. It'll hold a razor-sharp edge, too, meaning you won't need to sharpen it frequently. That's another big bonus for home cooks who want a low-maintenance knife.
The D-shaped handle for this santoku is made from pakkawood, a durable wood and resin composite. Though it lacks the molded shape of modern handles, I've still found it to be very comfortable to hold and cut with if you grip in the Japanese style. Choke up on the handle, and grip the connection point between your thumb and forefinger. That will give you maximum control over the santoku's blade.
Overall, this santoku knife by Shun offers the best chef's knife alternative for anyone who's still developing their knife skills. The shorter blade may struggle with large cuts of meat, but everything else is well within its capabilities. I strongly recommend that beginners consider a santoku knife as their main kitchen knife.
What we like
A shorter blade allows for easier control of cuts
Curved edge can be used for any style of cut
Lightweight construction is less fatiguing for your hands
What We don't
A shorter blade isn't great for handling large cuts of meat, fish, or poultry
It may feel awkward if you have large hands
Runners Up: Other Options to Consider
Every cutlery company makes a chef knife as part of their line, so you'll always have plenty of options to choose from. And while I think the knives listed above really are the best around, finding a chef knife with a good "feel" is a strongly personal thing.
With that in mind, I'd like to present a few other knives that come close to being the best chef knife. I'll mention where each one has notable strengths, as well as who each model might be best for.
Mac's Professional series 8-inch chef's knife has a cult following among internet-savvy chefs. They're made in Japan, feature incredibly sharp blades, and a hollow edge that helps keep food from sticking.
Overall, the Mac is a fantastic knife that I would always be happy to use — but I don't think it's the best Japanese blade. It's certainly less expensive than my top pick for a gyuto, but the balance is just a tiny bit off. If you're looking for a Japanese chef's knife at a great price though, it should be at the top of your list.
Another excellent Japanese chef's knife is Tojiro's DP gyuto. As far as I'm aware, it's the only Japanese chef's knife under $100 that's worth recommending! The quality of the steel can't quite match up to pricier blades, but other than that it's a great knife. The balance is surprisingly good, even if it's heavier than expected for a Japanese knife.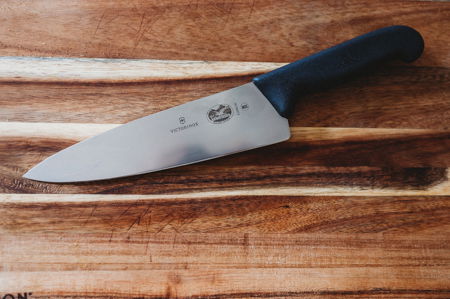 Leave it to the makers of the original Swiss Army Knife to make the only chef's knife under $50 that I'd consider using.
Is it the best chef's knife in absolute terms? No. But if your kitchen budget is especially tight, it offers surprisingly good performance for the price. The non-slip handle is beginner-friendly, and it keeps an edge better than you might expect at this price point.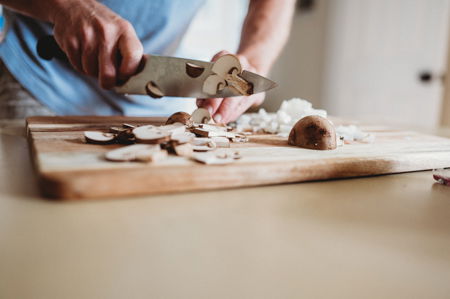 I'll be entirely honest: Messermeister's 8-inch chef's knife is my top pick's equal in almost every regard. It's made to the same specifications as Wusthof's Classic Ikon chef's knife. And if you put the two side by side, you'll see that they're almost identical!
So why isn't it numero uno in this review? Personal preference, plain and simple. Check out the small lip on the butt of the Messermeister's handle, and compare that to the smooth finish of the Classic Ikon. For my larger hands, that ridge rubs uncomfortably on my pinky finger. If your hands are on the smaller side, the Messermeister is probably an equal choice.
Either way, you'll have an awesome knife.
Buyer's Guide: How to Choose the Best Chef Knife
A great chef's knife should let you flawlessly chop, dice, mince, slice, and julienne to your heart's content.
I'll combine my hands-on experience with each of the chef's knives featured in this review and each of the most popular knives sold today. The following qualities informed my decision in choosing the best chef's knives, and can serve as a helpful guide for you to do the same.
Type of Knife
The first choice you'll have to make when looking for a chef's knife is whether Western or Japanese blades appeal to you.
These two categories were once more distinct. But now, globalization has brought the best qualities of both knives together in every finely crafted blade. That means your choice of Japanese or German blades will come down to two main things:
Do you prefer a lighter or a heavier knife? Lighter and thinner Japanese blades offer great precision and little fatigue while using them. Heavier German blades make it easier to handle large cuts of meat and thick root vegetables, but can quickly tire out your wrists and hands.
What type of cuts do you intend to make? Japanese knives use a pushing and pulling motion to make their effortless cuts, but they aren't great at vertical chopping or rocking cuts. German knives can chop and mince with the best of them, but aren't as effective at making ultra-thin slices.
That's a slight overgeneralization, but those are the most important things for a home chef to decide on. If you cook a lot of meats and barbecue, a German knife is probably best. People who trend towards fish and vegetables will find a Japanese knife more to their liking.
And if you can't choose between the two, go for a santoku! They're my top choice for a chef's knife alternative because they can handle the widest variety of home cooking jobs with ease.
Sharpness
Every chef's knife is judged first and foremost by its sharpness.
If you can't make clean cuts with your knife, why have it in your kitchen? That's why the best chef's knives are made with top quality steel that provides amazing sharpness and edge retention.
Always look for forged steel blades, not stamped, when you're picking out a chef's knife. Forged blades are more expensive because of the lengthy process of making them, but there's no comparison to their sharpness.
High carbon steel blades are the gold standard for both Eastern and Western chef's knives. They're harder, sharper, and more durable than older stainless steel models. Go for a brand that I've recommended, and they'll also feature special finishing processes that keep the blades from staining and corroding.
Construction
Pick up a high quality chef's knife in one hand, and a cheaper model in the other, and you'll notice one huge difference right away. Solidity. The best chef's knives have a solid, integrated body that extends from the tip of the blade to the butt of the handle. This full tang construction gives them exceptional balance and durability.
A chef knife's tang should be complemented by the shape and material of its handle.
Hardwood handles are lightweight and comfortable, but quite expensive. Synthetic blends have come a long way, allowing for precise molding and excellent hygienics. More than anything, though, you should look for a handle that's comfortable to hold for long periods of time.
Lastly, your chef's knife bolster: The place where the blade and handle connect. Heavy and well-balanced bolsters provide a comfortable point to grip, and can give a degree of protection for your lead finger while you cut. I strongly recommend half bolsters whenever they're available, as they still allow you to use the full length of your knife's blade.
Care and Maintenance
Providing a little bit of care and maintenance for your chef's knife will extend its life and make your kitchen jobs quick and easy. And really, proper care and maintenance come down to three basic practices:
Always keep your chef's knife dry! Even knives with stain-resistant finishes can develop discoloration if you leave the blade wet between uses. Be like a pro chef, and get in the habit of wiping your knife down in between jobs and giving it a thorough drying before storing it away.
Store your chef's knife safely. There's nothing worse than investing in a great chef's knife, then tossing it in a drawer with other kitchen tools. That's a guaranteed recipe for nicking, chipping, or otherwise damaging your blade. If you don't have a safe place to store it, consider getting a knife block or magnetic knife rack.
Keep your knife sharp, but don't oversharpen it. Beginners should take their knives to be sharpened every 6-12 months. More enthusiastic cooks can learn to sharpen their own knives and save on that expense.
FAQs
To round things out before my final recommendations, I'd like to take a closer look at the most commonly asked questions about chef's knives. Experienced cooks can likely skip over this section, but I'd encourage beginners to the world of fine chef's knives to give it a read. You'll go away with a fuller picture of everything that comes with owning a great chef's knife.
What Is the Difference Between A German and Japanese Chef Knife?
The German and Japanese chef's knives of today resemble each other closely. They're both made of high carbon steel, sharpened to a wicked edge, and have impeccable balance. The main difference is in the cutting style each knife employs. Japanese knives use a pushing and pulling motion to make smooth cuts, while German knives excel in rocking and chopping motions.
Should I Look for A Forged or Stamped Blade?
Forged blades, though more expensive, are superior to stamped blades in every way. They're sharper, hold an edge longer, and are much more durable. If you're looking for a knife that will last for a decade or more, a forged blade is the only way to go.
How Often Should I Sharpen My Chef Knife?
For most home chefs, top-quality chef's knives will only need to be sharpened every 6 months to a year. You'll notice when your knife needs to be sharpened by a "dragging" feeling when cutting through vegetables like onions or tomatoes. Basically, when it gets hard to make clean cuts without ragged edges, it's time to sharpen your knife.
What Should A Good Knife Feel Like?
A good knife feels, above all else, solid. It should feel durable, with a balanced weight from the tip of the blade to the butt of the handle. When you grip it, it should be comfortable in your hand with no points of unpleasant friction.
What Other Knives Should I Have In My Kitchen?
I could discuss this subject with you for hours. It's fun to think about, and there really isn't a "correct" answer. With that said, a paring knife is a perfect complement to a chef's knife. It will allow you to easily perform small and delicate cutting tasks, like peeling fruits or mincing garlic and herbs. After that, I would recommend checking out my guide to the 5 essential kitchen knives every home cook needs as a great jumping-off point.
Which Is Better: A Chef Knife Or Santoku?
Both the chef's knife and santoku have their virtues in a home kitchen. In fact, I'm of the opinion that neither is completely better than the other — it's just that they excel in different areas. 
Chef's knives require more practice to use well, but do a great job of handling large cuts of meat and fish. Santoku knives are more beginner-friendly, as their shorter blades are easier to maneuver.
In short, if you're looking for the easiest knife to use, go for a santoku. If you're looking for a knife that you can grow your kitchen skills with, go for a chef's knife.
My Recommendations
That wraps it up for my review of the best chef's knife for your home kitchen. Which knife do you think suits you best? The heavy-duty Wusthof Classic Ikon 8 Inch Chef's Knife? The razor-sharp Miyabi 8 Inch Gyuto Chef's Knife? Or perhaps the beginner-friendly Shun Classic 7 Inch Santoku Knife?
Each of them has a place in home kitchens, so now the choice is up to you!
The thing I'll remind anyone who has read to this point is that your next knife probably won't be your last. While the best chef knife may last a lifetime, it's also a gateway into a whole world of kitchen knife varieties that are begging to be explored. I'd encourage you to pick a chef knife that will serve you both now and in the future, learn to master the cutting techniques, and then branch out from there.