Though better known for their Swiss Army knives, Victorinox's cutlery is a popular choice in both home and professional kitchens. Made in a simple, unpretentious style, they're an excellent starting point for beginner and intermediate cooks.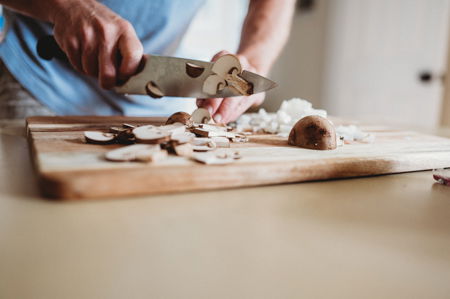 My first "real" chef's knife was a Victorinox, so I'm especially happy to share my thoughts on these wonderful budget-priced tools in this Victorinox knife review.
Victorinox Fibrox Pro Knife Set, 4-Piece
Victorinox's knives are the most affordable option for beginners looking for a real chef's knife. Even after you outgrow their introductory lines, the Grand Maitre series offers an inexpensive upgrade into the world of higher-quality kitchen knives. In short, I would recommend Victorinox's knives to anyone looking for their first kitchen knife, as well as intermediate home cooks looking to upgrade their knife selection.
Buy Now
We may earn a commission if you make a purchase, at no additional cost to you.
09/28/2023 04:28 am GMT
What we like
An affordable introduction to quality kitchen knives
Grand Maitre line is a notable upgrade
An excellent way to practice your sharpening skills
What We don't
Easy to outgrow most of their knives
Handle textures aren't the nicest to use for long periods
Prone to damage at the handle juncture
Victorinox's Knives, Reviewed by Series
Each of Victorinox's four knife series is designed with a specific user in mind. That includes everyone from the absolute beginner to the experienced chef. Let's take a closer look at each series, with an eye towards deciding who would benefit the most from each style.
Fibrox Pro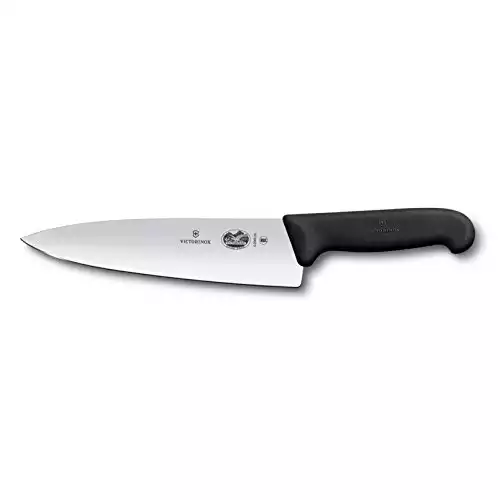 In every commercial kitchen I've worked in, from the fanciest to the most humble, there's always a Fibrox 8 inch chef's knife. Often used for the most punishing cutting jobs in the kitchen, these heavy-duty knives are a utilitarian dream.
Are they the sharpest knives you'll ever use? No. Their stamped blades can't match the sharpness of a properly forged knife. But among stamped blades, the Fibrox series takes the sharpest edge of any brand I've seen. That's a big benefit for anyone looking to learn how to sharpen their own knives.
The non-slip, ergonomically molded handle for the Fibrox series knives isn't the most comfortable I've ever used. But it is the most comfortable handle I've used for a knife at this price!
In Conclusion: The Fibrox series knives are a kitchen staple that's perfect for beginners. And it's affordable enough that even if you make a mistake while using it, you can practice your sharpening without worrying about making it worse.
Swiss Classic
The Swiss Classic series is Victorinox's flagship line, and it has the most types of knives available. This makes it an easy way to fill out the less common knives in your collection, like a bread knife and slicer.
And really, there's only one main difference between the Swiss Classic and the Fibrox: The handle.
Compared to the Fibrox, the Swiss Classic knives have a thinner, smoother handle. Some chefs find this more comfortable, but it also comes with a reduction in non-slip capabilities.
Swiss Modern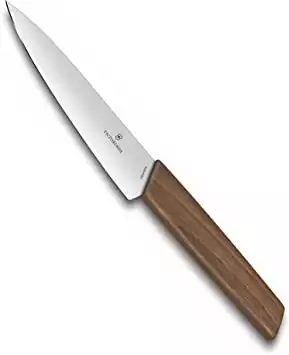 Take the Swiss Classic series, change the handle design and material, and you have the Swiss Modern.
With under a dozen types of knives in this series, it is a more targeted category. The carving knife and fork are my favorites from this line. They look great when you pull them out a few times a year to carve the holiday roast.
Natural walnut wood handles add a certain flair to Victorinox's classic blade styles, making this the best choice for people who want to display their knives prominently.
Grand Maitre
The Grand Maitre series is Victorinox's take on the higher class, forged knife style. Each blade is forged from a single piece of high carbon stainless steel, making these knives the sharpest and most durable in Victorinox's catalog.
At this price range, you're getting into the territory of kitchen knives produced by more famous knife makers like Wusthof and Zwilling. But the Grand Maitre series compares favorably, with equally well-made handles and blades.
Buyer's Guide
To make the best decision possible when buying a Victorinox knife, it pays to know how they stack up to the competition. In the following sections, I'll break down the most important aspects of a knife and explain where Victorinox fits in with each. Then, you can compare that information to any other knife brand you're looking at to decide which one is best for your needs.
Type of Knife
When I'm looking for a new knife from a company, I pay special attention to their chef's knives. Since you'll be using a chef's knife for the majority of the cuts you make in a kitchen, the quality of this type of blade is a good indicator for every other type of knife.
For example: The Victorinox Fibrox Pro chef knife is an affordable workhorse. It's made with a stamped blade, and has an ergonomic non-slip handle. Just like the chef knife, each other knife in the Fibrox Pro series shares these fundamental characteristics.
Compare that to the Grand Maitre chef knife. It's made with a forged blade and a full tang construction, making it both more expensive and much more durable than the Fibrox Pro. Similarly, every other knife in the Grand Maitre line is made with this traditional construction and durability.
Blade
Kitchen knives are made with two main types of blades: Stamped and forged.
Victorinox has knives in both styles (the Fibrox Pro and Grand Maitre, respectively). Stamped blades are much more affordable, but won't ever sharpen to the same degree as a forged blade. Knives with forged blades are also more durable, but much pricier than stamped blades.
The main reason that stamped blades won't ever have the same sharpness as forged blades is the quality of their steel. Stamped blades are made of less expensive stainless steel, while forged blades are made of harder, more expensive high carbon steel.
Tang
The tang of a knife describes how far the metal of the blade extends into the handle. This determines how durable the knife is, and how likely it is to resist bending and breaking.
Full tang knives are the gold standard of durability. Their metal extends from the tip of the blade through the butt of the handle. Victorinox's Grand Maitre line is the only series from the company to feature a full tang construction.
Handle
A knife's handle both provides balance and gives you a safe, comfortable place to grip. All of Victorinox's knives are made with ergonomically molded handles, making them comfortable for hands of all shapes and sizes. Every series from Victorinox features hygienic, synthetic handles that make them excellent for use in home and professional kitchens.
Care and Maintenance
At the low end of Victorinox's pricing, their knives are technically dishwasher safe. I say "technically," because even though you can clean them in a dishwasher, I don't recommend it. The heat and chemicals will degrade the quality of the knife faster, so hand washing is a better option. Dry your knife promptly after washing, and it will prevent rust and corrosion from forming.
An affordable knife like the Victorinox Fibrox Pro chef knife will give you ample opportunity to practice your sharpening, as well. Their edge retention is only so-so, making it an ideal knife for learning to sharpen before moving on to pricier knives.
Competitors
On the lower end of their pricing, Victorinox's knives have few if any competitors. And having tried a variety of chef's knives in the sub-$50 range, I can say without a doubt that Victorinox's are my top recommendation.
The story is a bit different when you look at the more expensive Grand Maitre line. At that price range, you'll find similar knives from Wusthof and Zwilling JA Henckels, two big names in the German knife market. The handles for all three brands are quite different, and are the main reason that chefs choose one of these brands over the other.
My Recommendation
So we've come to the end of our Victorinox knife journey. To recap, two of their knife series stand out to me:
The Fibrox Pro line is an ideal kitchen knife for beginners. It's affordable and well made, and a standby choice for professional and home kitchens alike.
The Grand Maitre line is Victorinox's answer to higher-class forged blades, and it does not disappoint. The quality of the steel is top-notch, and it can take a sharp edge and keep it for months between sharpenings.
Thank you for reading, and don't hesitate to reach out to me if you have any questions about this review!
FAQs
What Is the Best Victorinox Knife?
Victorinox's Fibrox Pro chef's knife is the ideal choice for beginners, as it is affordable and rugged. More experienced users will appreciate the forged blade of their Grand Maitre series, as it can take a sharper edge and has better edge retention.
Where Are Victorinox Knives Made?
All of Victorinox's knives are made in Ibach, Switzerland. Some of the accessories that Victorinox sells are made in China, but all of their knives are still manufactured in Switzerland.
Is Victorinox the Same As Swiss Army?
Yes! Victorinox is the name of the parent company that makes the original Swiss Army knife. They also make kitchen knives, watches, travel gear, and fragrances for men and women.
Which Knives Should I Have In My Kitchen?
Every home cook should start their knife collection with a good chef's knife. After that, a paring knife will open up more options for intricate, detailed cuts. With just those two knives, you'll be set for 90% of recipes. For that last 10%, check out my guide to the 5 essential kitchen knives every at-home chef needs to collect.