Carrying forward the tradition of bladesmithing from the Samurai era, the best Japanese knives are truly works of art.
I've been amazed by the traditional craftsmanship and continual refinement of Japanese blades for over two decades. Through my time in professional kitchens, I've had the chance to use dozens of hand-forged knives from top Japanese brands — and now, I'm happy to share that experience with you.
In this guide, I'll be introducing you to the best examples of each major variety of Japanese knives, as well as giving you the qualities I look for to decide on knives for my own kitchen. By the end of the article, you'll know everything you need to decide on the ideal Japanese knife for your own kitchen.
Best Santoku
Best Nakiri
Best Gyuto
Best Petty
Best Deba
Best Set
Shun Classic 7 inch Santoku Knife, Handcrafted in Japan, DM0702
Toijro DP Damascus 7-inch (180mm) Nakiri Knife
Miyabi Chef's Knife, 8-Inch, Birch/Stainless Steel
Yoshihiro Shiroko High Carbon Steel Kasumi Deba Japanese Fillet Butcher Chefs Knife 6.5inch (165mm)with Shitan Handle
Shun Classic 6-piece Slim Knife Block Set
Best Santoku
Shun Classic 7 inch Santoku Knife, Handcrafted in Japan, DM0702
Best Nakiri
Toijro DP Damascus 7-inch (180mm) Nakiri Knife
Best Gyuto
Miyabi Chef's Knife, 8-Inch, Birch/Stainless Steel
Best Petty
Best Deba
Yoshihiro Shiroko High Carbon Steel Kasumi Deba Japanese Fillet Butcher Chefs Knife 6.5inch (165mm)with Shitan Handle
Best Set
Shun Classic 6-piece Slim Knife Block Set
We may earn a commission if you make a purchase, at no additional cost to you.
Knife making is an art that can only be perfected with long years of practice and dedication. That's why, when I was looking for the Santoku that I prefer above all others, I chose Shun's 7-inch blade.
Shun has been honing their knifemaking craft in Seki, Japan's "city of blades", for over 112 years. Every single one of their knives is painstakingly handcrafted, going through over 100 manufacturing steps before being packaged and sold
If you've never used a Santoku knife before, Shun's Classic 7-Inch model is the perfect place to start. It's one of the most well-balanced knives that I've ever had the pleasure of using. With every cut, Shun's santoku seems to glide through the air, never fatiguing your hands or wrists.
Forged from high carbon stainless steel, this knife's 16 layers ensure maximum durability and corrosion resistance. The forging and honing process makes it razor-sharp, with an edge that keeps well with minimal re-sharpening.
Pakkawood, a durable and lightweight wood and resin composite, makes up the comfortable handle for Shun's santoku. It's joined with an offset steel bolster for better balance and handling, making it even more ergonomic.
If I could only choose one Japanese knife to use in my kitchen, it would be a santoku. They're one of the most versatile knives ever created, and can be used to slice and chop meat, fish, and vegetables with ease.
And if I could only choose one santoku knife, I would go with this one from Shun. To me, it offers an ideal combination of quality, heritage, and versatility at a surprisingly affordable price.
What we like
Traditional Japanese craftsmanship
Razor sharp edge
Durable high-carbon steel construction
What We don't
Jack of all trades is a master of none
We may earn a commission if you make a purchase, at no additional cost to you.
The nakiri knife is a uniquely Japanese addition to kitchen cutlery. Designed specifically for making precision cuts on vegetables, it's a lightweight and easy to use knife that has become a staple in my kitchen.
Tojiro was one of the first companies to use high-carbon steel for their knives. High-carbon steel is now the industry standard metal, as it creates a stronger, sharper, and more durable blade.
In their 7-Inch nakiri knife, this high-carbon steel is mixed with low-carbon steel and folded 37 times. Once it's been folded, this Damascus steel is laid over a thick cobalt alloy steel — creating a razor-sharp blade that's lightweight and exceptionally durable.
One of my favorite parts about Tojiro's nakiri is its large, centered bolster. Rather than weighing down the knife, this heavy bolster gives it greater balance and an easy straight-down slicing motion. If you've never cut tomatoes with a nakiri, you're really in for a treat! These knives make picture-perfect vegetable slices with ease.
A light but durable micarta handle is studded with three steel rivets, further refining the Tojiro's balance. The shape of the handle is about the only thing I don't like about this knife, as I prefer a straight handle without a raised back edge. That's personal preference, though, and anyone with smaller hands won't be bothered by it at all.
In short: Tojiro's nakiri knife makes it quick and easy to incorporate more vegetables into your cooking. It's a work of master craftsmanship combined with the latest steel technologies, giving you the best of both worlds.
What we like
Made of top-of-the-line Damascus steel
Center bolster gives it excellent balance
Razor edge makes chopping vegetables a breeze
What We don't
Raised back edge can be uncomfortable for people with larger hands
We may earn a commission if you make a purchase, at no additional cost to you.
Though the santoku has achieved greater popularity in the United States, I'm actually partial to the gyuto, or Japanese chef's knife. They feature longer and thinner blades than santoku knives, and can be used for an impressive variety of kitchen tasks. If your knife skills are well developed, the gyuto chef's knife should be right up your alley.
Miyabi's 8-inch gyuto is my Japanese chef's knife of choice because of the exacting specifications to which it is made. An offshoot of the venerable German knife company Zwilling, Miyabi combines the best in traditional Japanese craftsmanship with German technology and attention to detail.
Made of a special steel alloy known as SG2, this gyuto is the hardest and sharpest knife on this entire list. Where most German knives reach around 57 on the Rockwell hardness scale, and many Japanese blades don't top out over 61, Miyabi's gyuto hits a remarkable 64!
This exceptional hardness and sharpness come at a price, though. Unless you're a knife sharpening expert, you'll have to take it to a professional when it loses its edge.
The birchwood handle on this chef's knife combines form and function. It's lightweight, looks great, and gives a comfortable grip that will naturally take on the shape of your hand over time. Balanced against the thin and lightweight blade, it creates an effortless slicing motion every time.
Overall, a gyuto style chef's knife may not be the right choice for every home chef. But if you're confident in your knife skills and want to experience the sharpest blade possible, Miyabi's Japanese chef knife should be your next purchase.
What we like
Incredible sharpness
Beautiful birchwood handle
What We don't
Will need to be professionally sharpened
Not great for beginners
We may earn a commission if you make a purchase, at no additional cost to you.
Though often referred to as a utility or paring knife, the Japanese petty knife actually falls somewhere between the two. They resemble a smaller version of the gyuto, or chef's knife, and can be used for any small cutting job.
Since I'm such a fan of Miyabi's gyuto (featured above), it probably comes as no surprise that I love their petty knife, too. With a blade measuring in at 5.5 inches, it's an ideal companion to the gyuto as part of a professional-quality Japanese knife set.
When I choose a petty knife, though, I'm not nearly as particular about buying top-notch quality as I am with a gyuto. Why? Because in most instances, you'll be using a petty knife for small, undemanding jobs — and you won't need maximum sharpness to create clean cuts.
That's why I like Miyabi's classic utility knife. It's made with an ice-hardened carbide steel alloy that gives it excellent sharpness and edge retention. Since it's easier to produce, though, this type of blade isn't as expensive as more exotic steels.
A synthetic handle with three rivets gives Miyabi's petty knife good balance and grip. Combined with a small bolster, it's comfortable shape makes paring, trimming, and slicing a pleasure.
Do you absolutely need a petty knife for your kitchen? Probably not. But if you're looking for an elegant alternative to a paring knife that complements a Japanese knife set, Miyabi's petty knife is the way to go. Combined with their gyuto, it creates a formidable duo that can handle almost any kitchen task.
What we like
Affordable and versatile
Great when paired with a gyuto
What We don't
In-between size may be awkward for very small or very large hands
We may earn a commission if you make a purchase, at no additional cost to you.
Another little-known Japanese knife, the deba, is used similarly to a Western butcher's knife. In the case of Yoshihiro's Kasumi Deba, it can handle everything short of chopping through lamb, beef, or pork bones.
Ever since I used a deba knife to prepare a whole fish, I've kept one in my kitchen. Though they're not as heavy as a traditional cleaver, their design makes them a much more versatile choice for preparing cuts of fish, poultry, and meat.
It starts with the deba's pointed tip. When you're handling meat or fish with smaller bones and sinews, a deba can be used with laser-like precision to create the cleanest cuts possible. Add a refined edge to the mix, and you can use a deba to make perfect filets and skinless chicken breasts — something a butcher's knife could never do.
Yoshihiro's deba knife is made of a generous amount of high carbon stainless steel, giving it a heft and sharpness not seen in other Japanese blades. The 6.5-inch blade tapers from top to bottom, giving it a precise cutting edge and hefty weight. The result? A knife that does most of the work of butchery for you.
Though they're lesser known in the United States than big names like Shun or Miyabi, I've found Yoshihiro's blades to be every bit as good. The company has been making knives for over 100 years, and doesn't skimp on the quality of any component of their knives. They're pricey, for sure, but I'm impressed with their finesse and balance.
What we like
Heavy enough for big butchering tasks
Refined enough for detailed deboning and skinning
What We don't
Expensive
Not meant to cut through pork or beef bones
Shun Classic 6-Piece Slim Knife Block Set
Set includes: 3.5-inch Paring Knife, 7-inch Santoku Knife, 8-inch Chef's Knife, 9-inch Combination Honing Steel, Shun Multi-purpose Kitchen...
VG-MAX cutting core with 34-layers (each side) and stainless Damascus cladding
Rockwell Hardness: 60-61; hand-sharpened Japanese double-bevel blade angle 16° (each side)
We may earn a commission if you make a purchase, at no additional cost to you.
Are you ready to go all-in on Japanese kitchen knives? I know I am. As much as I love Western style knives, my favorite Japanese knives see just as much (or more) use in my kitchen. And with Shun's Japanese knife set, you can get everything you need at a lower price than buying each knife individually.
Shun's knives are widely regarded as some of the best Japanese blades on the market for good reason. In their Classic series, handcrafted Damascus steel is combined with lightweight pakkawood handles to create a set of knives admired by professional chefs.
In this 6-piece set, you'll get three kitchen knives that will cover all your bases: a 3.5-inch paring knife, 7-inch santoku knife, and 8-inch gyuto chef's knife. These are complemented by a honing steel and kitchen shears, and housed in a space-saving slim knife block.
At this point, I'd really like to stress the value of buying these Shun knives as a set. Assuming that you don't have any of the blades in question, just buying the three knives individually would cost the same or more than the set. If you go for this package deal, you're essentially getting a honing steel, kitchen shears, and handsome knife block for free.
My favorite part about getting a whole set of Shun knives is surprising, though: You won't have to sharpen them. This isn't because they won't get dull, but because Shun offers excellent customer service.
Whereas you'll be responsible for getting most Japanese blades sharpened at a cost to you, Shun offers free sharpening for all of their knives. As long as you own them, you can send your knives into the company, pay for shipping and handling, and have them expertly sharpened and sent back to you.
What we like
Full selection of Japanese knives at a great price
Free sharpening for life
What We don't
Kitchen shears and honing steel may not be something you want
Other Brands and Knives to Consider
I truly believe that the knives listed above represent the best options to consider for each of their respective categories. Keep in mind, however, that I'm biased towards knives that I've personally had success with in the kitchen.
To get a fuller picture of the world of quality Japanese knives, I asked a few of my chef friends for their recommendations on other Japanese knife brands. Here are their suggestions:
Buyer's Guide: How to Choose the Best Japanese Knives
There are subtle but important differences between Japanese knives and, say, German knives.
Because both types of kitchen knives were developed around regional food cultures, with certain expectations for how food is prepared. This led to differences in the variety of knives employed in Eastern and Western kitchens, as well as details of their construction.
With that in mind, let's take a closer look at how to choose the best Japanese kitchen knives for your home: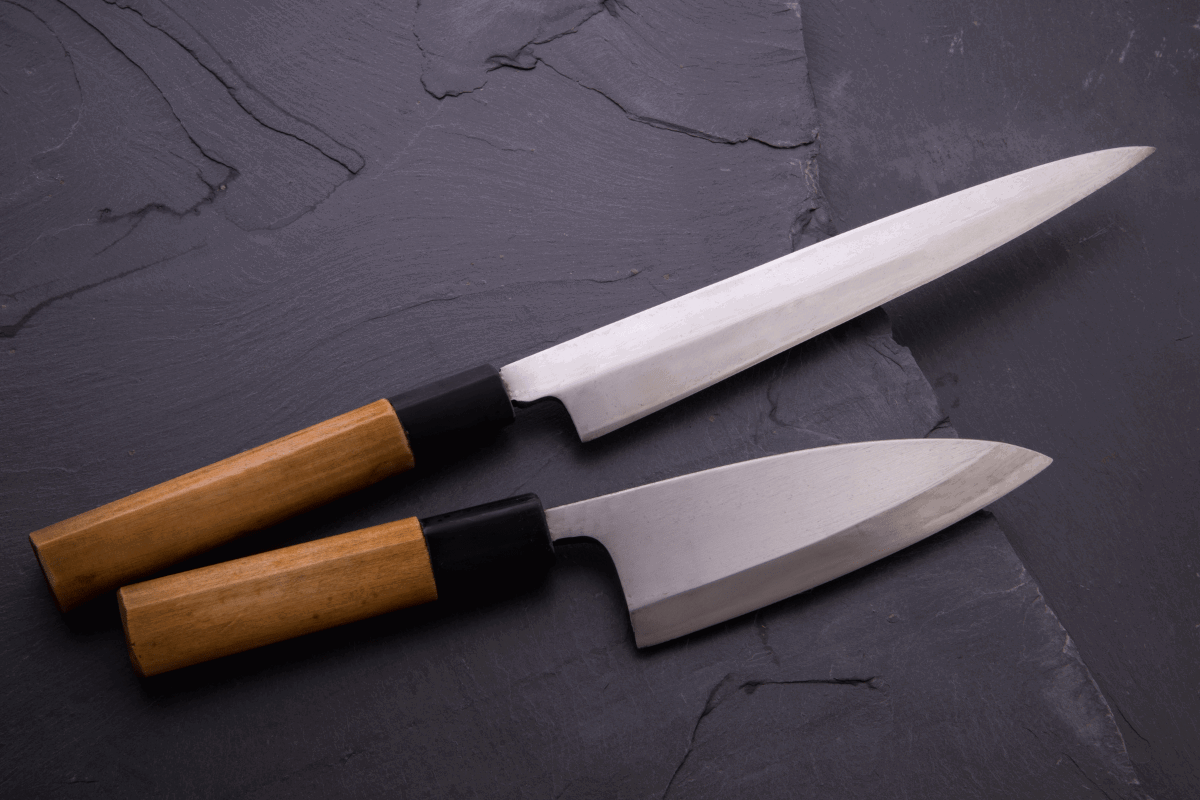 Type of Knives
The types of knives employed in making Japanese dishes may look quite different at first glance, but the essential knives of both Western and Eastern cooking perform similar functions.
If you're unfamiliar with Japanese knives, a santoku knife is the best place to start. It's the most general-purpose knife in the Japanese kitchen, and can be used for a majority of cooking tasks.
From there, you'll want to branch out into Japanese chef knives (gyuto) as well as paring and utility knives (petty). This combination of one large, extra-sharp blade and one small blade for precision cutting will cover 90% of your cutting needs.
After that, adding a nakiri knife will get you closer to the selection that professional chefs in Japan use. Nakiri are especially good for cutting vegetables, and are an excellent choice for anyone who prepares vegetarian meals.
Round that selection out with a deba kitchen knife for butchery, and you'll be fully prepared with your selection of traditional Japanese knives!
Construction
The construction of Japanese knives follows in the footsteps of ancient sword makers. Even today, many of the production steps for a Japanese knife are taken directly from the forging techniques used for swords.
This long tradition of bladesmithing is why I look towards companies that have been making knives for decades, and avoid companies that have popped up only as recently as the last few decades. In the case of Japanese knives, it really does take generations of trial and error to produce the best quality blades.
Blade
Japanese knives have developed their stellar reputation in large part because of the steel used for their blades. Knife makers take two main approaches to the materials used in their blades:
Folding high-carbon steel many times over, making an ultra-sharp edge.
Folding alternating layers of high-carbon and low-carbon steel, creating what's called "Damascus steel".
Damascus steel takes much more time and effort to produce, and is more expensive because of it. It also has the benefit of creating a blade that's more durable and able to take a better edge than plain steel.
As long as the Japanese knife you're looking at uses at least high carbon steel in its production, it will make for a quality blade. Spring for Damascus steel if you want the absolute best.
Handle
Two types of handles dominate the world of Japanese knives: Natural wood, or synthetic polymers. Both provide a nearly identical balance for their knives, but will feel notably different in your hands. Pakkawood, a lightweight wood and resin composite, falls somewhere in the middle.
Natural wood handles are my personal preference, but they're also considerably more expensive. For that reason, I recommend that anyone looking to buy the best Japanese knife for themselves pay more attention to the quality of the blade than the material of the handle. You'll get more knife for your money that way, and have the opportunity to learn how to use your knife without worrying about damaging the wooden handle.
Maintenance
Compared to their Western style knife cousins, Japanese knives require more care and attention.
The cost of the extra sharp edge of a Japanese knife is that they can be more difficult to sharpen. The hard steel is also more prone to chipping than Western knives. If you do happen to chip your knife, you'll need to take it to a professional sharpener for refinishing.
Additionally, you'll have to be especially careful to keep your Japanese blades dry at all times. Even a few drops of water left on the folded steel of a Japanese knife can discolor it, leading to damage over time.
If you're serious about maintaining your Japanese kitchen knives in top condition, you'll want to invest in a set of traditional Japanese sharpening stones, too. A two-sided sharpening stone like this one from King will allow you to hone your blade to a fine edge — but it will require quite a bit of practice to get it right.
Frequently Asked Questions About Japanese Knives
To round things out for this guide, let's answer some of the most common questions that come up about Japanese knives: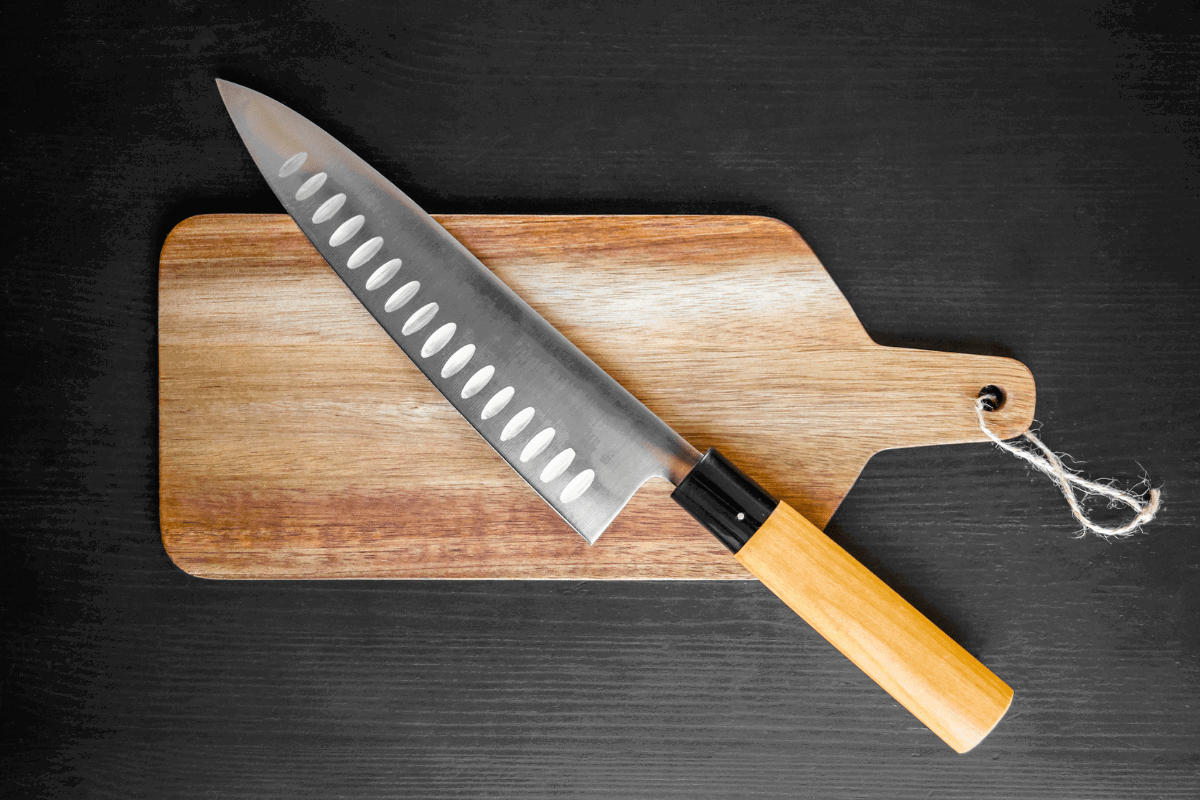 Are Japanese Knives Better than German Knives?
Solingen, Germany and Seki, Japan both have the honor of being known as their country's "city of blades". With blade making traditions spanning centuries, both German and Japanese knives are deserving of their reputations. And in my opinion, there's no way to say that one is better than the other.
In short, both German and Japanese knives have their own advantages and disadvantages. Some chefs love the precision sharpness of Japanese blades, while others prefer chip- and stain-proof German steel.
Overall, though, which type of knife is better will depend more on what you're cutting. Japanese knives have the upperhand in most fish and vegetable preparations, while German knives can handle big chopping and butchery jobs with much greater ease. Either way, you'll have a quality knife in your kitchen.
Advantages of Japanese Knives
More than anything, Japan's knives are renowned for the sharpness of their blades. Combining complex forging methods with high-carbon steel, their knives can be sharpened to a degree that other knives envy.
The hardness of the steel used for Japanese blades also gives them greater edge retention. You'll find yourself sharpening Japanese blades much less frequently than softer Western style blades.
Drawbacks of Japanese Knives
The same hardness of the steel that gives Japanese blades their superior performance gives them a serious drawback as well. If they encounter an especially hard surface — like a thick bone, or a stone cutting board — Japanese blades are at a great risk of chipping. When this happens, you'll need to have it professionally refinished.
Additionally, Japanese steel is more prone to tarnishing than Western steel. You'll need to be especially careful to keep water off of your blade, and store it in a cool, dry place.
My Recommendations
Choosing the best Japanese knives for your kitchen can revolutionize your cutting, slicing, and chopping experience. I really can't recommend Japanese blades highly enough, and would consider my kitchen incomplete without at least one.
If you want to test the waters with a single Japanese knife, the Shun Classic 7-Inch Santoku Knife is the way to go. It's a versatile blade that's a perfect introduction to traditional Japanese craftsmanship.
Thank you for taking the time to study up on these fine blades. I hope the information here serves you well, and that you can find a place in your kitchen for one of these beautiful knives!
We may earn a commission if you make a purchase, at no additional cost to you.