For the biggest jobs in the kitchen, set your chef's knife aside.
When it comes to preparing large cuts of chicken, beef, or pork, only a meat cleaver is up to the task. But how much do you need to spend to get the best meat cleaver for your kitchen? Not as much as you might think.
I've been testing and comparing meat cleavers for the better part of a decade, including a memorable year as a prep cook in a Chinese restaurant. In this guide, I'll walk you through my favorite meat cleavers and teach you how to find the perfect one for your cooking style.
Our Top Picks
Features:

Heavy-duty construction is built to last
Sharp carbon steel blade also has great edge retention
Full bolster protects your fingers while cleaving

Features:

Crazy cheap for the quality of its construction
Extra sharp Japanese steel blade
A thick spine gives great leverage for cuts

Features:

Short, heavy blade makes for easy cuts through bone
Full tang construction for maximum durability
Sharp enough to handle mincing and dicing tasks
Best Overall
Features:
Heavy-duty construction is built to last
Sharp carbon steel blade also has great edge retention
Full bolster protects your fingers while cleaving
Best Value
Features:
Crazy cheap for the quality of its construction
Extra sharp Japanese steel blade
A thick spine gives great leverage for cuts
Best Upgrade
Features:
Short, heavy blade makes for easy cuts through bone
Full tang construction for maximum durability
Sharp enough to handle mincing and dicing tasks
11/30/2023 10:47 am GMT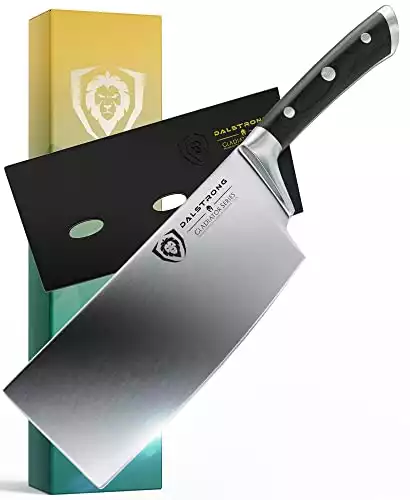 Beginners and experts alike will love Dalstrong's cleaver for its heavy-duty construction and tremendously sharp blade.
A high carbon steel blade is paired with full tang construction to create a durable and long-lasting cleaver. That's complemented nicely by a full bolster that provides complete protection for your lead finger. It weighs in at well over a pound too, ensuring that you can let the knife do the heavy chopping work for you.
The high carbon German steel used for the Dalstrong's blade is sharpened to a razor edge. That's paired with a thick spine that gives extra heft and weight to the knife. And since it's forged from a single piece of steel, the full tang construction ensures maximum durability as well.
I really can't recommend the full bolster design for this meat cleaver enough. Beginners will find it gives them peace of mind knowing that their fingers are protected from slipping onto the blade while chopping. But even experts will love the weight and balance it adds to the knife, as well as the ability to cut precisely with a pinch grip.
If you're still on the fence about a knife from a lesser-known company, I can understand that. But since Dalstrong offers a 100% satisfaction guarantee, you really can take a risk on this one. And in my experience, that risk is well worth the time and effort because of how well this cleaver works.
What we like
Heavy-duty construction is built to last
Sharp carbon steel blade also has great edge retention
Full bolster protects your fingers while cleaving
What We don't
Heavyweight construction can be fatiguing for some cooks
The versatile Mercer Culinary Chinese chef's knife doubles as a cleaver and costs just a fraction of what you'd expect. It's a perfect example of the hybrid Chinese chef knife style, with a thick spine and durable carbon steel blade. Paired with a wood handle that's naturally slip-resistant, it's a useful (if uncommon) kitchen tool.
Japanese steel is used for the Mercer Cutlery's blade, making for a razor-sharp edge that lasts for months at a time. It's specially treated after forging to prevent corrosion and staining too, making it quite low maintenance. As long as you hand wash this knife and dry it promptly, it will last for years.
I especially appreciate the thick and weighty spine on this cleaver's blade. It gives you plenty of weight and a place to apply additional leverage for making tough cuts. Though at nearly a pound in weight, this knife usually does most of the work for you.
If this cleaver's blade had a full tang construction, it would have easily been my top choice. That will give it slightly less longevity compared to my other picks. Even so, it does come with a limited lifetime warranty against manufacturer defects.
What we like
Crazy cheap for the quality of its construction
Extra sharp Japanese steel blade
A thick spine gives great leverage for cuts
What We don't
Lack of full tang construction makes it less durable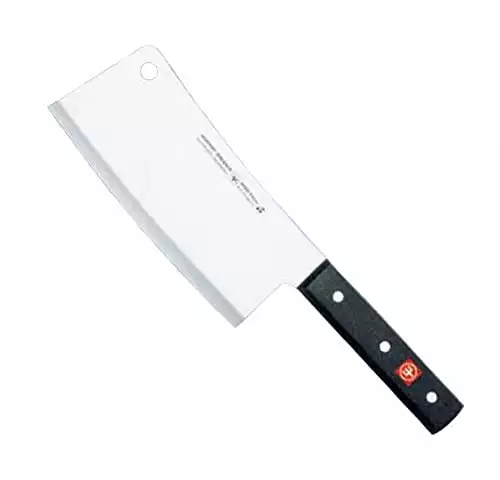 Anyone looking for a cleaver to last a lifetime will enjoy Wusthof's big, heavy, and sharp Classic series cleaver. It's forged from a single piece of high carbon steel, and made with a long-lasting full tang construction. Designed for chopping through bones with a single motion, it's also sharp enough to perform delicate mincing and chopping tasks.
Weighing in at over a pound, but with a blade that's just 6 inches long, Wusthof's cleaver is meant for serious business. Concentrating that much weight into a fairly short blade gives you the best leverage possible from a cleaver. If you've ever struggled to make clean cuts through meat and bones, this knife is the solution.
I can't overstate the importance of a full tang construction for your meat cleaver. By extending a single piece of steel from the tip of the cleaver to the butt of the handle, you get the strongest and longest-lasting knife. There's simply no getting around how much strength this adds to a blade, even though the extra material drives up the cost.
Overall, Wusthof's Classic meat cleaver offers the most cutting power of any cleaver on this list. It's incredibly sturdy, and with proper care, you'll be passing it down to your children and grandchildren.
What we like
Short, heavy blade makes for easy cuts through bone
Full tang construction for maximum durability
Sharp enough to handle mincing and dicing tasks
Runners Up: Other Cleavers Worth Considering
Coming from my experience, the three knives listed above will be the best meat cleavers for 90% of people. However, I have a few "honorable mentions" to make for the 10% of cases where another cleaver might be better. Let's take a closer look at three more knives worth considering.
Another of the Chinese chef's knife/cleaver combos, Zelit's Infinity Cleaver is quite the looker. It combines stainless and flexible German steel with the traditional Chinese cleaver shape.
Weighing in at under a pound, it's one of the lightest cleavers worth considering. That's great for anyone who wants their cleaver to double as a chef's knife, but less than desirable for heavy cutting jobs. Overall, it's a solid all-rounder of a cleaver knife.
If you want to drop a pretty penny on any kitchen knife, there's always a product out there for you. Zwilling's Pro Series meat cleaver is a great example, at around 4 times (!!) the price of my top pick. It's a veritable work of art, with the best balance I've ever seen in a meat cleaver. But that price is too rich for my blood, that's for sure.
Henckels' Classic Series cleaver looks nearly identical to my upgrade pick from Wusthof. But it costs only about half as much. How come? That's because it doesn't have a full tang construction.
This means that while the blade performs almost as well as Wusthof's blade, the overall life span of the knife will be limited. I'd rather invest a little bit more for a knife that will last years longer. But if you're short on cash, it's a decent alternative for a classic style cleaver.
Buyer's Guide: How to Choose the Best Meat Cleaver
Even if you've never used a meat cleaver before, the following guidelines will help you find the best one for your kitchen. More experienced cooks will still find some morsels of information here to further refine your cutlery choices.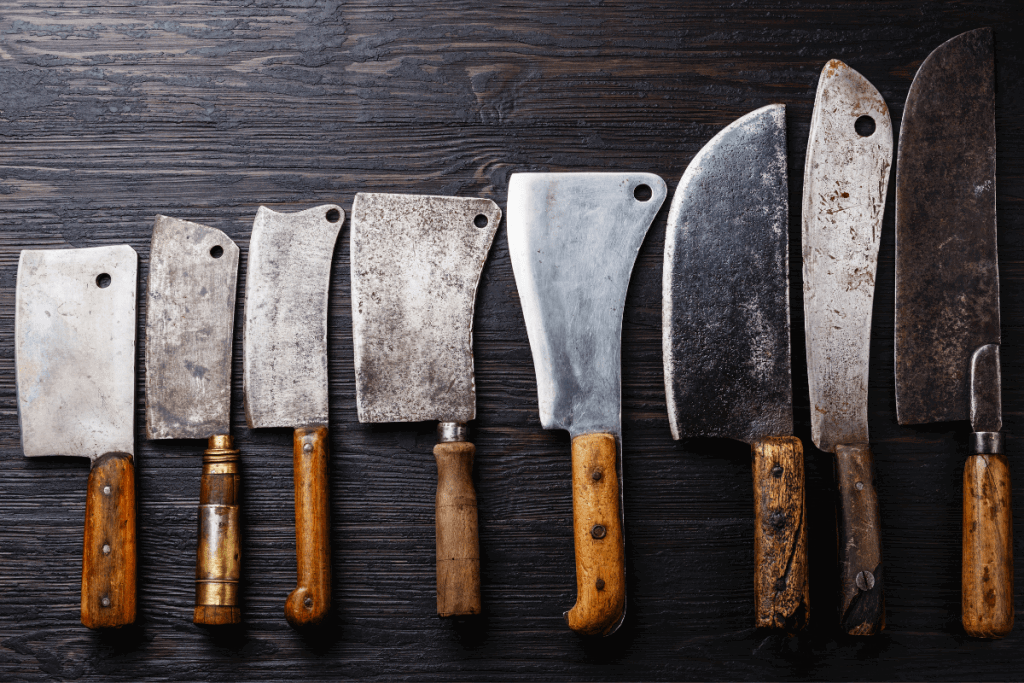 Type of Cleaver
Every meat-eating culture in the world has developed its own take on the meat cleaver. But three styles have come to be the main players in the cleaver category. Let's take a closer look at each one:
Western-style cleavers run the full gamut of shapes and sizes. You'll find straight and curved blades, short and long handles, and a wide range of weights. For ease of use, I strongly recommend straight blade cleavers. That way, you can put extra weight on the spine with your free hand to guide difficult cuts.
Chinese cleavers are remarkably similar in appearance to their chef's knives. They're immediately recognizable for their rectangular blades and short, straight handles. The thicker spine and heavier blade differentiate Chinese cleavers from their chef's knives. To cut effectively with a Chinese cleaver, you'll use a pinch grip on the part of the blade nearest to the handle.
Japanese cleavers, or chuka bocho, come in a wide variety of sizes. Because most Japanese regional cuisines focus more on fish than meat, their cleavers are made to accommodate this. Full tang handles ensure that even the smallest of Japanese cleavers are durable and long-lasting.
Construction
Of all the knives in your kitchen, meat cleavers are subject to the most abuse. That's why sturdy construction is doubly important in these knives.
Look for high carbon stainless steel blades with a full tang construction.
By extending the metal from the tip of the blade through the butt of the handle, the full tang design provides rigidity and durability. Paired with the high carbon stainless steel, this makes for a sharp and long-lasting blade that can handle any job.
Blade
Whereas the focus in most knives is on the edge of their blade, the entire blade is important for a cleaver knife. This includes the height, weight, length, sharpness, and thickness of the spine. And in every category, more really is better! The best meat cleavers have tall, heavy blades that are at least 6 inches in length. Additionally, they're forged from a single piece of high carbon steel for maximum sharpness.
Handle
Traditional meat cleavers were almost always made with wooden handles. This isn't necessarily because wood is the best choice for a handle, but because it was all that was available!
Now, a new generation of synthetic handles combine ergonomics and hygiene in one package. Even so, I still enjoy the feel of a natural wood handle, especially on a Chinese or Japanese cleaver.
More important than the material of the handle is the shape, and its fit to your hand. A traditional long and straight handle will give you the best grip.
For extra protection, I enjoy a cleaver with a full bolster, too. Extending the junction of the handle and the blade (as in my top pick) will keep your front finger from sliding towards the blade edge.
Care and Maintenance
Meat cleavers are about as rough and tumble as kitchen knives get. But that doesn't mean you can ignore basic upkeep for them!
Thankfully, a little bit of care and maintenance goes a long way for a meat cleaver. Be sure to towel them off and keep them dry between uses. And if your cleaver is starting to struggle through cuts, either sharpen it yourself or take it to a professional sharpener.
Under normal circumstances, you'll only have to sharpen your cleaver every 6 months to a year. If you hit a bone the wrong way and chip the blade edge, you'll need to take it to a sharpener right away. They can grind out the imperfection, greatly extending the life of your cleaver.
Price
It's almost impossible to get a top-quality chef's knife for under $100. But for a meat cleaver? I wouldn't ever recommend paying over $100.
There are so many good cleavers available in the $30 to $60 range, and you won't be sacrificing on quality. Perhaps the only exception to this would be a traditionally crafted Japanese cleaver. But for most kitchens, that's an unnecessarily specialized addition to their knife sets.
Frequently Asked Questions About Meat Cleavers
Before we wrap things up with my final recommendations, I'd like to take a few minutes to answer the most commonly asked questions about meat cleavers. Experienced chefs likely already know most of the information in this section, but it can still act as a good refresher course. And if you're a beginner, this section will get you up to speed on why you should have a cleaver in your kitchen.
Why Choose A Cleaver Over Another Knife?
So, you've already got a chef's knife. What do you need a cleaver for? Can't they both cut through meat? Well, yes — but I can't recommend doing so.
Cleavers are there for the toughest cutting jobs in the kitchen. If you're dealing with bones, you'll always want a cleaver knife. Other knives might be able to make it through butchering a whole chicken. But there's a good chance their blades would get damaged when they hit a bone. Save your other knives for smaller jobs, and break out a cleaver for any butchery.
What Do Butchers Use For Cutting Bone?
When a butcher is working from a whole carcass, they'll often begin by cutting the animal up with an electric saw. Once the carcass is separated into its major segments, a meat cleaver is used to further separate those segments into individual cuts. Both the saw and the meat cleaver can be used to cut through bones and cartilage during this process.
What Kind of Blade Edge Is Best For Cutting Bone?
It's tempting to use the sawtooth edge of a serrated knife for cutting through bone. But in reality, a straight edge blade does a better job. This is because a serrated edge can leave shards of bone in the meat you're cutting. And nobody wants that! Make firm, decisive cuts with a straight edge, and you can quickly and cleanly cut through bone.
Does the Handle Type Matter For A Cleaver?
As long as you can get a firm grip on a cleaver's handle, it's good to go. This includes finding a handle that won't slip much if your hands get wet. Look for natural wood or hard synthetic handles for best performance.
What Other Knives Should I Have In My Kitchen?
Every kitchen should be equipped with a quality chef's knife before any other knife. They're the knife you'll choose for 90% of cutting tasks in your kitchen. After that, you'll want a paring knife to take on small, intricate jobs like peeling fruits and trimming fresh herbs. From there, take a look at my guide to the 5 essential knives every home cook needs to decide if you need another specialty knife for your kitchen.
My Recommendations
Well, we sure have covered a lot of meat cleaver ground together here! Now that you're fully informed, which cleaver do you think deserves a place in your kitchen? The full bolstered Dalstrong Gladiator Series Cleaver? The versatile and inexpensive Mercer Cutlery Chinese Chef's Knife? Or perhaps the heavy-duty Wusthof Classic Cleaver? The choice is yours — good luck!