Those shopping for the best electric range have plenty to consider, with dozens of high-end models and a dizzying selection of features. A big part of my career as a food writer is about investing the time and effort to sort through these options and narrow down the list to a selection of top picks that balance power, versatility, and quality. Take a look at my favorites and see if any match your needs.
Our Top Picks
Features:

Alexa connectivity
Good selection of heating coils
Sleek glide touch controls

Features:

Spacepro bridge element is highly versatile
Good range of burner options
Custom-made look

Features:

Quality construction that's made to last
Plenty of cooktop space
Attractive design
Best Overall
Features:
Alexa connectivity
Good selection of heating coils
Sleek glide touch controls
Best Drop-in cooktop
Features:
Spacepro bridge element is highly versatile
Good range of burner options
Custom-made look
Best High-End Range
Features:
Quality construction that's made to last
Plenty of cooktop space
Attractive design
What makes this GE Profile Smart Slide-in Electric Range stand apart from other high-tech cooking appliances I've sfeen is how it incorporates its app connectivity features in a way that seems well-considered. For this appliance, it's not so much about a flashy design and piled-on features that you'll never use, but putting you in control of its substantial power.
The Chefconnect feature allows you to sync the oven's clock with any of its five range elements. While you shouldn't expect to simply flip it on and walk away, it makes it much easier to multitask. With Alexa connectivity, you can even control it through voice commands, which can be especially helpful if you happen to be kneading bread dough or pouring-over a recipe book at that moment.
Of course, connectivity features wouldn't be much use if the range itself weren't quality-made. Thankfully, the five heating elements are thoughtfully arranged across the smooth-top surface, and offer a versatile selection of options, from a 100W warming zone at the center, to a 3,600 powerboil coil. All of them can be managed with the glide touch controls on the front of the panel, which give the overall interface a feeling of sophistication.
Down below the cooktop, a 6.7 cu. ft. european convection double oven range offers plenty of flexibility when cooking. Even with the volume of the cavity split between two ovens, the larger one still feels roomy enough to handle elaborate baking projects. As an extra perk, this range comes with a precision temperature probe that connects via app to your smartphone, letting you closely monitor meat temperatures from your favorite spot on the couch.
The stainless steel design of this slide-in range tends minimal, making it a good choice for a variety of kitchen designs. Overall, this electric range can be a good match for anyone who wants to add a little convenience to their lives, even if they're not so tech savvy. The connectivity features may seem like a lot to master at first, but they end up being simple and intuitive once you get to know them.
What we like
Alexa connectivity
Good selection of heating coils
Sleek glide touch controls
What We don't
Control panel is flush with cooktop, a possible safety hazard
Double oven compartments still a bit smaller than a single
If you've never considered a drop-in cooktop for your kitchen, this Frigidaire professional range may be a good place to start. It offers everything you're looking for in an electric range, plus a few surprising features you may not have expected in such a compact package.
With five heating coils ranging between 800W and 3,200W, it leaves plenty of options when cooking. However, where this drop-in cooktop really shines is in the way it gets maximum versatility out of a limited space. The Spacepro bridge element is one highlight, which lets you sync two separate burners into one for griddling. The two burners are marked clearly with a pair of parallel lines, and are located on the left side of the cooktop.
Aside from this, the range comes with a Powerboil option for quick heating as well as a Keep Warm Zone which acts as a cooktop version of a warming drawer. Altogether, they leave you feeling as though you have plenty of options at your fingertips, even at it's relatively small 21" by 30: size.
Of course, when choosing a drop-in range, it's important to consider the layout of your kitchen carefully. It can be nice to have all your prepped meats and vegetables ready to go on an adjacent countertop, but only if you have countertop space to spare. In this way, the reduced size of this cooktop can be an advantage, but it still pays to plan thoroughly.
Ultimately, this drop-in range offers some unique features that match the utility of any slide-in or freestanding range. However, it's only a good choice for those who have enough space in their kitchen to give it the breathing room it needs. Most owners pair it with an independent wall oven, double oven, or countertop convection oven.
What we like
Spacepro bridge element is highly versatile
Good range of burner options
Custom-made look
What We don't
Smaller size leaves less room for pots and pans
Ideal for larger kitchens
Some chefs stick to the philosophy that the high-tech bells and whistles some appliances rely on are only a distraction. While I certainly don't mind taking advantage of app connectivity or digital controls, it's hard to deny the classic appeal of Verona's electric oven.
Don't expect to find a long list of automated functions here. This european-made electric range is all about simplicity and quality, with special attention paid to the small number of design elements that make it shine. A black ceramic glass cooktop, durable chrome knobs, and stainless steel oven handle give it a timeless quality that will work well for the right kitchen. While the all-chrome look might be a tad industrial for some, the range also comes in red, black, and white for a variety of tastes and styles.
This freestanding electric range is a good example of how and extra six inches in width can make all the difference. The overall sense of quality is enhanced by the 36-inch design, giving plenty of breathing room to the five electric burners, a wide oven window, and extra storage drawer at the bottom. Of course, this means that it might not be able to fit into smaller kitchens.
A closer look at the heating elements reveal a range between 700 and 2100 watts, with a dual center element that can alternate between these extremes when needed. It's worth noting that this is a smaller range of power options than the other appliances on this list, and the lack of a powerboil function might leave you waiting an extra few minutes when cooking spaghetti. However for most practical uses, you won't end up noticing the difference.
I would recommend this electric range to anyone who prefers the feeling of analog dials over a touchscreen interface. If this sounds like you, there will be plenty to appreciate about this classic electric range that make it well worth the higher price.
What we like
Quality construction that's made to last
Plenty of cooktop space
Attractive design
What We don't
More expensive than other options
Smaller range of power options
Other Options That are Great but Didn't Make the Cut
The best electric ranges come in all shapes and sizes. Take a look at these great options, which could be the perfect fit for the right kitchen.
There's little to complain about in this Frigidaire slide-in range. A compact and modern design, wide selection of power options on its five burners, and a price tag that outstrips any of the other options on this list. On paper, there's no reason why it can't be the perfect addition to the right buyer's kitchen.
However, when compared to other slide-in ranges I looked at, there simply isn't much that makes this range stand out. While bargain-hunters will love it's low cost, most people would do better to splurge an extra couple hundred dollars on a more impressive model.
If you're looking for a double oven range within a reasonable price range, this electric range by LG is worth considering. While it might not be as flashy as some of the options mentioned above, its total 7.3 cubic feet of oven space and 3,200W power boiler are nothing to scoff at.
The SmoothTouch Glass controls are another nice feature, though I have never been a fan positioning the control panel behind the heating coils. Though the front-mounted dials still let you fine-tune temperatures easily, and the combination of both digital and analog controls leaves plenty of options.
What I love most about this Samsung freestanding electric range is the layout of it's cooktop. A combination of five heating coils deliver four different power outputs, and can accommodate pan diameters between 6 and 12 inches. Even in the 30-inch design, the cooktop never feels crowded and you'll always feel like you have the tools you need at your disposal.
However, given Samsung's reputation for electronic gadgets, I was expecting a more expansive list of features, aside from a self-cleaning function and digital controls. It may be worth passing on Samsung for the time being, if you're looking for a more advanced appliance.
Buyer's Guide: What Features to Look Out For
Types of Ranges
Electric ranges come in all shapes and sizes, letting buyers choose the one that fits their kitchen layout and cooking needs. Whether you're looking at a slide-in, drop-in, or freestanding electric range, or one with a smooth surface or exposed coils, there's an option out there for you.
A freestanding electric range is one of the most versatile designs, and it is also the most common. Its standalone design allows you to place it between kitchen counters, or anywhere else you like. It's differentiated from the slide-in range, which is made to squeeze snugly between countertops and often features a slight overhang to transition seamlessly and create a tailor-fit look.
Drop-in cooktops are distinct from ranges in that they don't have an oven beneath your heating elements. They fit directly into your countertops, making them very versatile in terms of positioning. However if you have a smaller kitchen, it may be hard to find space for one, while still including an oven, and enough counter space to work with. Be sure to consider your layout carefully.
Surface Coils vs. Smooth Top
All electric ranges (besides induction) heat food with radiant heat generated by metal coils. However, the way these coils are incorporated into your electric range can vary between different models. The two main options are surface coil and smooth top ranges
Surface coil ranges have their heating element exposed. The coils glow orange when hot and cookware is placed directly on them. It's the standard option, and comes with a few disadvantages such as being more difficult to clean. However, they also tend to be less expensive to buy and maintain.
Smooth top ranges are a little more expensive, as their coils are hidden beneath a smooth piece of glass. This gives them a sleeker look, and makes them much easier to clean.
Power Rating
An electric range's power output is measured in watts, and the average range can draw anywhere between 2,000 and 6,000 watts in total. Each burner can vary between 500 and 2,000 watts.
While a high power heating element may sound like a top priority, the truth is that the best electric range should feature a versatile collection of different power outputs. It's always best to fit the size of your pan, and the type of cooking, to the appropriate burner. Small pans and low-heat cooking is best done on smaller burners, while it's better to save your 2,000 watt power-burner for boiling water or wok cooking.
When making your decision, look for an electric range that features four to six coils, with a few different sizes and power outputs spread between them.
Size
The vast majority of home ranges are either 30 or 36 inches wide. This lets them fit snugly in your kitchen, while still offering enough space to work with.
The best way to determine what size range you need is to measure the space you're looking to place it. Be sure to consider height, width, and depth so the range fits comfortably. Ideally, the upper surface of the cooktop should be flush with your counters, while the front is even with your kitchen cabinets.
When fine-tuning the details of your setup, it is also wise to take your range hood into consideration. Your range hood should be at least as wide as your cooktop, and preferably three inches wider on either side. This allows it to properly vent the heat and odors coming off your cooking.
Capacity
The size of your range's footprint plays a big factor in both oven capacity and stovetop space. While 30-inch ranges are often enough to fit five burners and a large oven, consider how a wider option might benefit your cooking. Larger cooktops are great for accommodating bigger pots and pans, and especially well-suited to griddling.
Your oven capacity is measured in cubic feet (cu. ft.) most range ovens have been 2 and 5 cu. ft. A large single oven can make it easy to heat several dishes on multiple wire racks.
Configuration
While size and capacity determine how much your electric range can fit into it, the configuration is just as important. The number and arrangement of the cooktop burners is one of the main questions. More burners can be an advantage to cooks who use them, but fewer burners with more space between them can add some much-needed elbow room. Larger oval-shaped burners can be used for griddling, which may be a feature that's important to you.
When it comes to your oven space, consider whether it would be more beneficial to have a large oven, or split the space with a double oven, which will let you heat to two temperatures at once. A warming drawer can be a nice perk that lets you keep multiple dishes warm until it's time to serve, while an on-board storage drawer will put all your favorite pans within easy reach.
Convection Oven
A convection oven is an appliance that incorporates one or more internal fans along with additional heating coils. This offers a few advantages over normal ovens, such as more even cooking and the ability to achieve a crispr finish on meats and roast vegetables. If you like baking crusts and pastries, convection ovens also help make them flakier.
Some ovens even include an air fryer function, which takes advantage of the convection design to produce healthy meals with the same crisp texture as traditional fried foods.
Safety Features
Different brands each offer their own safety features to help keep home cooks safe, which can range from auto shut-off features that prevent the oven or burners from being left on while unattended, or power-kill switches that allow you to shut off your range at the push of a button. At the very least, look for a range that includes a three or four prong outlet, to help prevent short-circuits.
Technology
As electric ranges continue to incorporate varied technological improvements into their designs, home cooks are finding whole new ways to cook. If you're looking for convenience, many ranges offer app-powered monitoring features, which can let you track temperature and cook time from anywhere in your home. They can also let you control your range remotely, setting it to preheat or turn off at the push of a button.
For those who want to use their next-gen range in other ways can try automated recipe programming. This increasingly-common feature programs cooking instructions into your range's memory, allowing it to automate much of the work.
Warranty
The purpose of a warranty is to protect buyers from damage or design flaws on the part of the manufacturer. It's always a good idea to look for ranges that have a one-year warranty at minimum, though two and three year warranties are preferable for higher-end models.
While they can be a great way to get peace of mind with your purchase, it's also important to understand the limitations of warranties. Generally, they won't cover most types of damage caused by the user. And if you try to repair the range yourself, you will likely void the warranty.
Frequently Asked Questions
Still have lingering questions about electric ranges? Find the answers you're looking for here.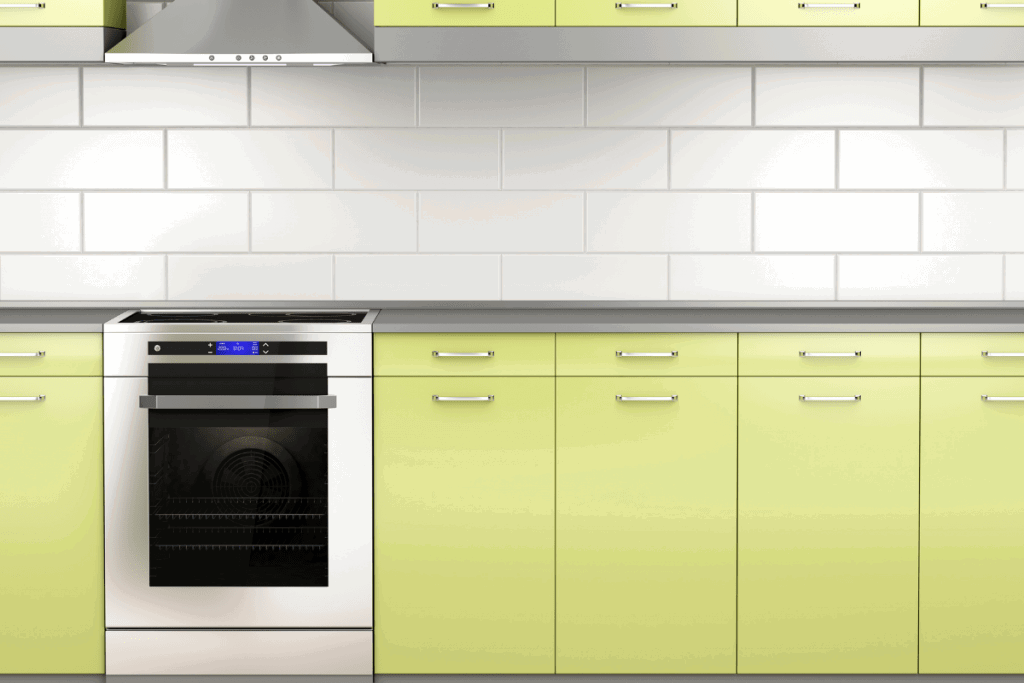 What Advantages Does an Electric Range Offer?
Electric ranges offer many of the same advantages found in induction stoves. While they are not quite as energy-efficient, they save more power than gas ranges. Plus, if you choose a ceramic glass cooktop, they have the same easy-clean design. However, unlike induction stoves, you never have to worry about finding compatible cookware. Electric ranges can use any pots and pans you may have on hand.
Do Electric Ranges Have Any Drawbacks?
Because of the way electric ranges work, they will never offer the same precise heat control that gas or induction ranges are prized for. As they cycle between different power outputs, your cookware becomes exposed to different extremes in temperature. If you're not using quality pots and pans with thick bottoms, this may affect your food.
Also, the coils on electric stoves take a bit longer to heat than induction or gas elements. However, using a powerful burner will often be enough to compensate for this.
Are Electric Ranges Worse Than Gas or Induction?
In some ways, electric ranges represent the middle ground in the three types of stove. They offer more energy efficiency than gas, but less than induction. When it comes to price point, electric ranges will tend to fall in the middle of the spectrum.
In the end, what matters most is the specifics of the range you have your eye on, what kinds of features you are prioritizing.
What are the Most Common Sizes for Ranges?
Most home ranges are either 36 or 30 inches wide. These standardized sizes make it easier for buyers to fit new appliances into their home without having to do major remodeling.
What's the Difference Between a Range and a Cooktop?
The term range refers to the combination of cooktop, oven, and other elements like a warming compartment or on-board storage drawer. A cooktop is the part of the range that includes exposed heating coils for pots and pans. Often the two terms go hand-in-hand, though drop-in cooktops do not include ovens, and are not considered full ranges.
What is the Best Way to Clean and Maintain an Electric Range?
Cleaning and maintaining an electric range depends largely on the style of your cooktop. If the upper surface of your range is made of a uniformly smooth material like ceramic glass, you can easily clean it after every use with the swipe of a wet rag. However, unlike induction cooktops, you must remember to wait until the surface has cooled first!
If you have exposed coils, regular cleaning may take a bit more effort. If food has caked on to the surface, the best way to clean is to detach the coil from the stove and clean thoroughly with a sponge or scrub pad. This should be done once per month at minimum.
What Are the Costs of Owning and Operating An Electric Range?
Electric ranges are a bit less energy efficient than their induction counterparts, and will make the biggest impact on your monthly electric bill. On the brightside, they won't add a cent to your home's gas usage.
The most common repairs that electric ranges require are replacing faulty components, including blown thermal fuses or defective thermostat sensors. On average, hiring a professional to replace either of these parts will average around $200 to $400 if your range is not under warranty.
The smooth surface of ceramic glass cooktops also runs the risk of getting cracked if cookware is dropped on it. It can cost between $50 to $200 to replace.
What is a Range Hood? Do I Need One? How Much Does it Cost?
Range hoods are a necessity for any home cook, but are especially important for those who cook at high temperatures, or love to prepare spicy dishes. Positioned directly above your range's heating elements, a range hood uses a high-powered fan to vent heat and odors released as your food cooks.
While prices can vary, you should expect to spend between $200 and $500 dollars on a quality range hood. Don't forget to size it appropriately to your range. At the very least it should be just as wide, if not a few inches wider.
What Should I know About Electric Range Safety?
Electric stoves pose a higher fire hazard risk than gas, partly due to drips of spilled food getting caked onto the electric coils. To avoid this danger, be sure to clean your electric coils regularly, and if you smell smoke, turn off your appliance immediately.
Also, avoid leaving anything besides cookware on the surface of your range. Metal utensils can become hot when in contact with heating elements, and other objects can catch fire.
Our Recommendations
Electric ranges create a unique cooking experience that blends many of the advantages found in induction and gas ranges. When making my choice, I prioritized the ranges that included a versatile selection of heating elements, high-tech features, and quality made design elements.
GE's Electric Smoothtop Range includes all of this and more, with a robust offering that seamlessly integrates smartphone connectivity with a versatile double-oven design. In comparison, Frigidaire's Electric Cooktop doesn't have all the same functionality, though its sleek custom-made look will leave many buyers wondering why they hadn't considered a drop-in range sooner.