If you're looking to add a bit of extra style to your kitchen, finding the best slide-in electric range can add that custom-built quality. However doing the research can take time, effort, and the knowledge to know what to look for. That's why I've lent my experienced eye to the cause and put together this list of top products. Check out some of the models for yourself and see which you like best.
You never know what kinds of cooking projects you'll find yourself drawn to next month, or even next week, which can make it challenging to choose the right range. Since it's such a big investment, it pays to find an option that's versatile enough for everything from high-heat stir-frys to low and slow sauces. Frigidaire's 30-inch gallery series slide-in electric range offers a good balance of features made with a variety of uses in mind.
A single glance at the range reveals five burners of four different sizes arranged across the cooktop. While four heating elements would have left a bit more space to squeeze in large pots, the layout makes sense and won't feel cluttered unless you're heating five separate dishes at once. The extra options offer a warm zone element, power boil element, and triple expandable heating element to accommodate three times as many temperatures and cookware sizes. Together it gives plenty of options for virtually all cooking needs.
Fridigaire doesn't skimp on the oven either, with a full 5.4 cu. ft. of space, big enough to fit three racks. The large oven comes equipped with true convection and air frying functions, which serve as nice accompaniments to the different options available on the cooktop above. For regular maintenance, the steam cleaning option takes out all the hassle.
Truth be told, it's hard for me to find much to complain about with this oven. Sure, the black-and-stainless-steel design leaves it looking like the vast majority of other slide-in ranges out there, and the standard control panel doesn't offer any of the flashier features like touch control, but the quality design and good selection of features more than make up for these shortcomings. I would recommend this electric oven to anyone who wants a quality, reliable standby with a manageable number of special features.
What we like
Self-cleaning function
Convection oven
Warm zone and power boil heating elements
What We don't
Cooktop is a bit more cluttered
Basic design
Those of us who know the difficulties of cooking elaborate meals in smaller-than-ideal kitchens can understand why a 20-inch electric slide-in oven might sound like an attractive idea. Of course, the first question is whether it will stand up to the expectations we have for full-size ranges.
This range by Summit Appliance is made to make the most out of a limited space, while offering everything you might want, plus a little more. While a 2.3 cubic foot oven is not as big as some of the other options on this list, it's still plenty of room for two baking trays on its double adjustable racks. It also includes a broiler located in the main oven compartment, which makes high-temperature cooking easy and saves space for an on-board storage section for your frequently used pots and pans.
The ceramic cooktop features four 6.5-inch 1200W heating elements. While I would have liked to see a greater variety of sizes and wattage options here, the medium wattage is perfectly suitable for caramelizing onions, searing meats, or boiling water. The smooth top surface is a nice touch that will keep your range easy to clean after every use.
I was also surprised to find such an impressive array of safety features on this slide-in electric range. The safety burners automatically shut off before overheating, while temperature indicators will let you know when your cooktop is on. Push-to-turn knobs keep you from accidentally switching on the cooktop while staying easy to operate.
The bottom line is that this electric slide-in range offers all the practical perks you'd expect in a quality appliance, while squeezing into a space that's almost half that of 36-inch ranges. This, combined with a more than affordable price tag, makes it a good choice for chefs with small kitchens who won't want to sacrifice all the luxuries of high-end ranges.
What we like
The most compact oven I've reviewed!
Smooth ceramic cooktop
Oven broiler
What We don't
Lacks a good range of coil sizes on the cooktop
Reduced cooktop and oven space
If you're looking for a slide-in electric range but haven't considered induction, you're missing out on some of the best options available. They do tend to be a bit more expensive than radiant-electric ranges, and this one by GE is no exception, though they offer a number of unique features that you can learn about in the buyers guide sections below.
What I like best about this slide-in electric range is the front control panel. The digital interface is touch operated and visually disappears when not in use. It fits in well with the rest of the range's sleek design, as do the stainless steel control knobs which offer greater precision while cooking and are made to stay durable. The controls include push button operation for baking, broiling, convection cooking, self cleaning, and more.
Aside from the design, there are a lot of helpful features packed into this 30-inch design as well. Five electric elements on the cooktop leave plenty of options for sauteing, simmering, and boiling, plus a flex element for griddling. Ample double oven capacity at a total of 6.7 cubic feet will soon have you inviting over the family for holiday meals and european convection with precise air will have them coming back for more.
My major complaint, of course, is the price. A higher cost is certainly justified given everything this double oven range offers, though I wonder if pairing-down the expansive list of features could have knocked a few hundred dollars off the pricetag. Still, when compared to other electric cooktops that cost less, this range offers plenty to brag about. It's a good choice for home cooks who have a little extra money to spend on quality, style, and high-end features.
What we like
Front control interface with touch controls
Self-cleaning function
Double oven
Other Great Products to Consider
Still hunting for the best slide-in electric range? One of these great products might be the perfect fit for your kitchen.
This slide-in electric range by GE has a lot going for it with a 5.3 cu. ft. capacity oven with a nice spread of heating elements raing up to a 3,100 watt power boil option. The clean look and finished sides will let it slide seamlessly into your existing kitchen decor.
Unfortunately, the design seems a little awkward to me, with the controls positioned face-up, in front of the cooktop. This pushes all the heating elements back a few inches, further out of reach, and will also have you spilling food on the controls on a regular basis.
I love electric ranges with dual digital controls and analog knobs, as they offer the perfect blend of simplicity and precision control. This model by Bosch incorporates them seamlessly into a skeel slide-in design that boasts a full 11 cooking modes.
However, as nice as this range looks on paper, some owners have complained about quality issues such as the dial indicators rubbing off in as little as a year. While it seems like a little detail, it forces me to wonder whether it's worth spending the extra money on the Bosch name.
A full 6.3 cubic feet of oven space on this 30-inch electric range is nice, and the inclusion of a convection oven is another nice plus.
The range doesn't offer a ton of extra features you might find on a higher-end model like wifi connectivity or steam cleaning, though if you are looking for a practical standby with a quality build, you will be more than satisfied.
Buyer's Guide: Features to Look Out for
There's more to electric slide-in ranges than you might expect, and when looking for the best it pays to consider every aspect. Don't forget to keep all these features in mind when making your decision.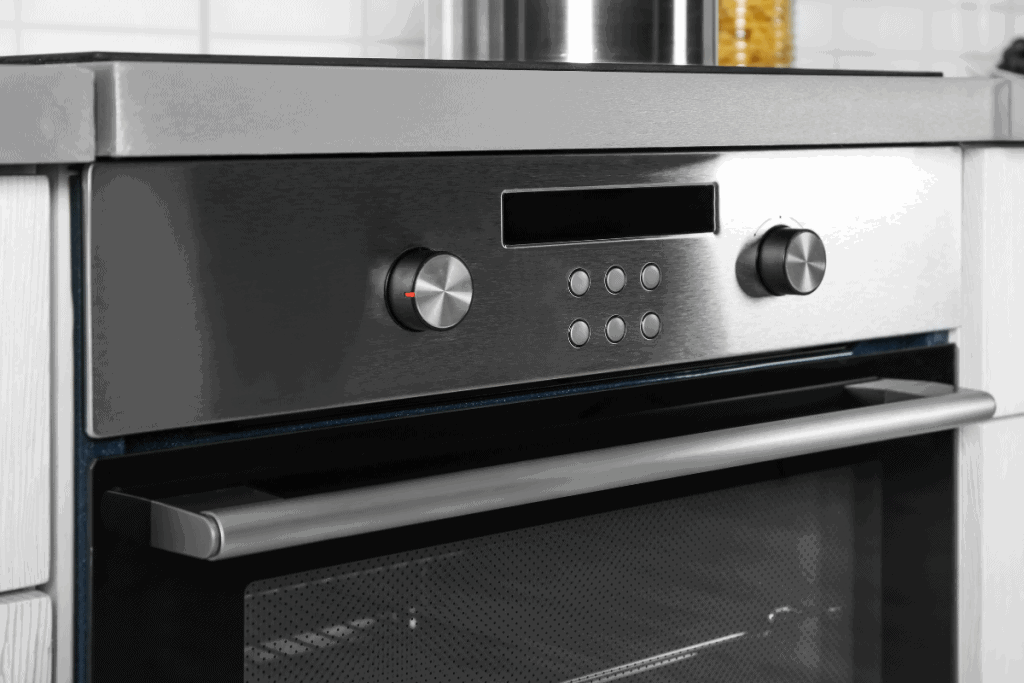 Size
Most slide-in electric ranges come in a standard 30-inch size, which helps when fitting it into existing cabinetry. If you're looking for a slightly bigger or smaller range, you can also find options that are 27 and 36 inches.
Since slide-in ranges need a tight fit to achieve that custom-made look, it's important to make sure your choice is well-fitted to the space you have available.
A wider range has the dual benefit of increased oven capacity and a wider cooktop, which can be a huge benefit to cooks who often find themselves managing multiple pots or large baking projects. If you're most often cooking for one or two however, a more compact oven could be the better choice. Generally, you should look for ranges that have a minimum of four heating elements and an internal oven capacity of 3 to 4 cu. ft.
While an oven's size is measured by its width, don't forget to check the manufacturer's specifications on the height and depth as well. The best slide in range for your kitchen should fit snugly within the existing elements.
Configuration
The way your slide-in range is configured is just as important as the size, though there are many more options to consider. You can choose a range with a single or double oven, or other helpful elements like a warming drawer or storage drawer. When it comes to the cooktop, you can look for options with four, five, or six heating elements, or specialized oval-shaped coils that are made to accommodate griddles.
And don't forget about elements like the controls, or range hood! The way all these parts fit together makes a big difference, and when making your choice, try to imagine which kinds of setups will be most useful to you.
Radiant-Electric vs. Induction
There are two types of electric ranges, and deciding which you prefer is a crucial starting point. The first, radiant-electric are a bit more common and simply referred to as 'electric'. They use heated coils both on the cooktop and in the oven to generate heat that cooks your food. These coils can be either exposed or embedded in a smoothtop range.
Induction ranges use similar electric coils, though instead of creating heat, they generate an electromagnetic field which causes your cookware to get hot.
While the science behind it is a little technical, the end result is the same. A one thing to keep in mind with induction ranges is that their surface never gets hot to the touch, only your cookware. Also, you can only use certain pots and pans which are induction compatible.
Cooktop
Unlike gas, an electric cooktop can come in a few different varieties. The most simple is an exposed coil, which is specific to radiant-electric ranges, and features the bare heating elements arranged on top of the range. There are also smooth top ranges which have a ceramic glass surface that cover the coils. Induction cooktops will always be smooth, which can be a real benefit when cleaning.
Power
Power is an important factor in electric ranges, though not in the way you might think. While some ranges may feature power burner burners that exceed 2,000 watts, the truth is that it's versatility rather than raw wattage you should prioritize.
This is especially important when using an electric range, as the coils used in them are only able to heat to preset temperatures. This means they need to cycle on and off to reach lower temperatures, resulting in wasted energy and uneven cooking.
Generally, you should look for a balance of heating elements with different power levels, ranging between 500 and 2000 watts. That way, you can use your higher-end wattage for boiling or stir-frying, and leave the others for everyday cooking.
Convection Oven
A convection oven is a feature found in many electric ranges, which can take your roast meats and baked goods to a whole other level. I know that the first time I tried one I was surprised at how much flakier my pie crust turned out!
The way it works is by using internal fans inside the oven to help circulate heat. This results in more even temperatures, more energy-efficient cooking, and best of all more crisp finishes on your food. You can also try true convection (also known as European convection), which adds an additional heating element to the internal fan for even better results.
Special Features
While you might think that ovens use much of the same technology as they did a hundred years ago, the truth is that they are always evolving. Whether you're looking to improve safety, simplify maintenance, or find whole new ways to cook, there are plenty of options to consider.
One must-have feature is a good self-cleaning function. The traditional kind works by using high heat to singe-off food from the inside of your oven. They still take a bit of effort to clean, but end up saving plenty of time on your hands and knees scrubbing. There are also steam clean ovens, which are the most convenient as they use pressurized steam to get your oven sparkling.
Another simple feature that's worth a try is a built-in temperature probe. Just like traditional meat thermometers, it is inserted in cooked meat to read internal temperatures. However, some new ovens feature a temperature probe that connects directly to your oven, so you can monitor your dinner from anywhere.
Many of these functions can be managed through a smartphone app, allowing you to control temperatures, cook times, self-clean cycles, and other functions from anywhere in your phone.
Reliability
Hopefully, your new oven won't have any serious problems for the first few years, though of course it always pays to plan ahead. The best way to ensure your peace of mind is to choose a manufacturer who has a good reputation for customer service, and offers a minimum of a one-year warranty. While it might not always be easy to tell whether a given brand or model is built to last, one good place to look is reviews left by previous customers.
Style
After you've picked all your favorite features, cooktop configuration, and power settings, it's time to consider the most important factor. While a good-looking oven might not make your food taste any better, it will definitely serve as a source of inspiration each time you step into the kitchen. When choosing your model, try to imagine how it will fit with your existing decor. One helpful feature offered by some brands is the ability to swap the color, material, or design elements of the range for a truly unique look.
Just be sure everything from the exterior finish and control panel, all the way to the door hinge should be considered. While there's no right answer, a bit of extra time and attention will lead you to the ideal look and feel.
Frequently Asked Questions
Still have questions about your slide-in electric range? Find answers to the most common queries here.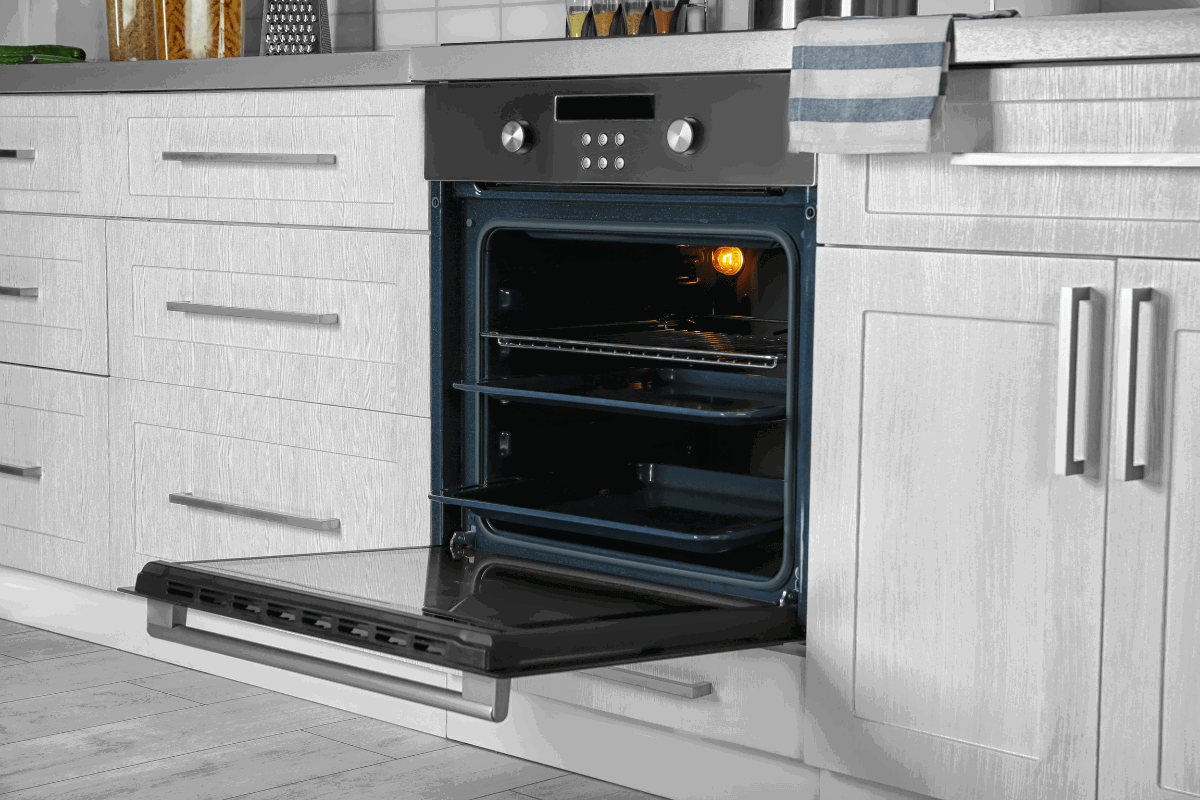 What are the Advantages of a Slide-in Range?
A slide-in range offers all the same features found in other ranges, except they are designed to slide cleanly into existing cabinetry. Many of them even include a slight overhang on either side of the cooktop for a more smooth transition to adjacent countertops. This adds a custom-built look to your kitchen.
If gas ranges are more your style, you might want to take a look at some of our top picks.
Are There Disadvantages to Owning a Slide-in Range
The main disadvantage to slide-in ranges is they require a bit of planning and commitment. Since they are sized to squeeze between existing cabinets, and often don't have finished sides, you won't be able to easily reposition them once placed. Of course, as long as you have a clear layout in mind, this shouldn't be a problem.
Is a Slide-in Range Right for My Kitchen?
A slide-in range can be a great addition to all kinds of kitchens, whether you prefer a classic or more modern aesthetic. The deciding factor is whether you have the available space and layout. If you're not sure, you can take careful measurements of your existing space and compare to the dimensions of some of the slide-in electric ranges listed above.
If you're looking to explore other styles of electric range, check out our in-depth article.
What is the Difference Between a Dop-in and Slide-in Range?
While slide-in ranges share many similarities with freestanding ranges, drop-in designs are in a class all their own. What makes them different is that they are built directly into countertops, and don't include an oven, storage drawer, or anything other than the heating element and front control panel. This gives a similar custom-built look as slide-in designs, though drop-in ranges are a bit more of a commitment.
What Makes Slide-in Ranges so Expensive?
On average, slide-in ranges tend to be a few hundred dollars more expensive than other designs. One of the main reasons for this simply comes down to popularity. As more and more home cooks are looking for the sleek, custom-made finish offered by slide-in options, demand continues to rise. Another factor that can contribute to overall cost is installation. While some kitchens are already able to accommodate a slide-in oven, others may need changes to their cabinetry or electrical wiring.
Another factor is that slide-in ranges don't always have as many options when placing the controls, which means they are often placed on the range's front panel. This adds an engineering challenge to the design, driving-up the price.
Can I replace a Freestanding Range With a Slide-in Range?
You can replace a freestanding range with a slide-in model as long as you have the correctly-sized space available. Don't forget that slide-in ranges need to be precisely sized to fit into your kitchen. If you are already considering a full kitchen remodel, this shouldn't be a problem. However you will want to measure carefully if your goal is to simply swap ranges.
Does a Slide-in Range Need a Backsplash?
Since many slide-in ranges don't have a built-in backsplash, they can be the perfect way to showcase the backsplash installed in your kitchen walls. Aside from adding a bit of extra color and texture to your interior design, a backsplash protects your wall from food particles that would otherwise damage the paint.
What is the Difference Between Radiant-Electric and Induction Ranges?
The term slide-in electric range can actually refer to either of two different products, radiant-electric or induction ranges. A radiant-electric range is the more common of the two and probably the first type most people will think of. They are characterized by electric coils that radiate heat when cooking.
Induction ranges on the other hand don't radiate heat at all, but produce different temperatures through an electromagnetic field which heats the ferrous metal in your cookware. Many people are surprised to find that when cooking with induction, your stovetop won't be hot at all.
My Recommendations
Slide-in electric ranges are a great option to consider if you're looking to add a sleek, custom-built finish to your home. While choosing the ideal option comes down to personal choice, I've found that the models that stand out are ones that offer the right balance of features with a design that's worthy of serving as your kitchen's centerpiece.
Frigidaire's Gallery-Series slide-in electric range is a good place to get started if you're still learning about everything these unique appliances have to offer. With plenty of space in the cooktop and oven, as well as an expansive list of features, it's easy to see why it's been so popular.
Depending on the style of your kitchen, and the size of your budget, you might also enjoy either Summit Appliance's 20-inch Smoothtop Range or GE's Stainless Steel Electric Range which represent both ends of the spectrum in cost and size. Though no matter what you're looking for, there are a wide range of exciting options to consider.