Convection ovens are the "secret ingredient" in a lot of professional kitchens and adding one to your home can quickly elevate your cooking.
I've cooked with a convection oven in every restaurant I've ever worked in, and adding a countertop model at home was one of the best things I've ever done.
In this article, I'll share my first-hand experience on how a small convection oven can change the way you cook at home. I'll cover a few favorites that I'd consider to be the best countertop convection ovens available today, and discuss more broadly what to look for when choosing one for your kitchen.
Our Top Picks
Features:

Excellent temperature control (from 80-450 F)
Built-in probe thermometer
Sleek design looks good in any kitchen

Features:

Very inexpensive
Rotisserie function with kit included
Stainless steel exterior looks good and is easy to clean

Features:

Offers the most control even with less presets
Two oven racks that glide smoothly in and out
Internal light that can be turned on and off at any time
Best Overall
Features:
Excellent temperature control (from 80-450 F)
Built-in probe thermometer
Sleek design looks good in any kitchen
Best Value
Features:
Very inexpensive
Rotisserie function with kit included
Stainless steel exterior looks good and is easy to clean
Best Upgrade
Features:
Offers the most control even with less presets
Two oven racks that glide smoothly in and out
Internal light that can be turned on and off at any time
11/30/2023 12:42 am GMT
This oven from KitchenAid has 12 preset cooking functions and looks better than any other option on the market.
When using the convection setting, two fans create an even temperature throughout the oven. They also produce a great amount of airflow. This helps to quickly evaporate moisture and achieves impressive browning and caramelization.
Most of the preset cooking functions are quite useful. Each setting is programmed to utilize the top, bottom, or both heating elements as well as the dual fans, and a specific cooking time.
If the preset function isn't exactly what you need, simply adjust the time and temperature of each one. The oven will even remember the adjustments each time you use that setting. That's a nice feature that saves time and the annoyance of adjusting dials every time you want to cook something.
The display and controls are simple and intuitive. They consist of six small buttons and a control knob that is precise and more reliable than touchscreen controls.
There are three cooking rack positions to choose from and the interior has an impressive cooking capacity. You can fit up to a 4-quart Dutch oven and can even roast two whole chickens at the same time. It's also the perfect size for common 9×13-inch baking dishes and a quarter size baking pan.
When it comes to cooking roasts or whole birds, the built-in probe thermometer gives you precise cooking control. Simply insert the thermometer and the oven will tell you when your desired internal temperature has been reached.
One of my favorite functions is the "Bagel" setting. Use this and the oven only toasts from the top, leaving the outside of your bagel soft and chewy. Pure genius if you ask me.
From 80 F at the lowest end, all the way up to 450 F you get a huge range of temperature control. And, preheating to the 450-degree max takes less than five minutes. That means when you forget to preheat your oven like I often do, you're not stuck twiddling your thumbs for an extra 20 minutes.
The dimensions of the whole unit are 16.4×18.5×13-inches, which is similar to a lot of microwave ovens.
The glass door is black and can't be seen through unless the interior light is on. It gives a sleek look and guests won't be able to see any grease or crumbs when you forget to clean the removable crumb tray.
For a little more than $200 this little countertop oven has the power, and versatility to all but replace your big standard oven.
What we like
Excellent temperature control (from 80-450 F)
Built-in probe thermometer
Sleek design looks good in any kitchen
What We don't
Some owners found the fans to be loud
No fan speed control
This countertop oven from Toshiba might not be able to replace your full-size oven. But, it's a huge step up from the standard toaster ovens most people are used to.
There are 10 built-in cooking functions. Most of them are pretty standard, with things like Toast, Bake, Broil, Keep Warm, etc. But a big selling point for some will be the Rotisserie function.
Toshiba includes a rotisserie kit that hooks into the sides of the oven and slowly rotates to make all of your spit-roasting dreams come true.
This oven doesn't have the same power as my other top picks. It gives you temperature control from 150-400 F. That's suitable for a lot of cooking tasks but it's a little low if you plan on using the oven for baking bread or cooking pizza.
This toaster oven is also a little lacking when it comes to the convection fan. The fan is located behind the right side wall and air is circulated through small vent holes. This design will provide some circulation for more even heating, but won't do much when it comes to evaporation and caramelization.
The control panel has a clean-looking digital display, three rotating knobs, and a stop/start button. Overall, it's very simple and easy to use.
The dimensions of the oven are 19×15.6×10.79-inches. That's similar to my top pick, but with the controls located on the side instead of the bottom you lose some of the internal cooking space.
The exterior is finished in black, brushed stainless steel, and has a clear glass door. I do wish there was an internal light to make monitoring food easier, but for less than $100 it's still an impressive kitchen appliance.
What we like
Very inexpensive
Rotisserie function with kit included
Stainless steel exterior looks good and is easy to clean
What We don't
No internal light
400 F max temperature is on the low side
Wolf makes some of the best full-size ranges and convection ovens on the market. Somehow they've managed to pack the same professional-level performance in an oven that will fit neatly on your countertop.
You may be surprised to find only 6 preset cooking functions when much of the less expensive competitors have 10 or more. But they are 6 functions that will actually get a lot of use.
The settings that you're losing are ones like "pizza" and "cookie". In reality those are just regular bake settings but with specific temperatures and times. So you may have to adjust your cooking settings more often but it's incredibly simple and makes for a display that doesn't look cluttered.
Even with only 6 presets, this oven gives you more control than any other. Most other models have a convection fan that is always running when in "convection mode". Wolf allows you to turn the fan on and off while you're cooking. This is very helpful if you notice your food is beginning to brown too quickly and you want to slow things down.
The included probe thermometer is very useful. It provides an accurate oven and probe temperature during the entire cooking process.
And perhaps the most simple but also most appreciated feature is an internal light that can be turned on and off whenever you want.
When it comes to design and build quality this is truly a miniature version of a professional convection oven. There are two adjustable and removable oven racks. They are made from sturdy, heavy gauge stainless steel and they smoothly slide in and out. That's another simple and appreciated feature that is often overlooked by most manufacturers.
You have temperature control from 80 F in the "proof" setting all the way up to 450 F for impressive pizzas and breads.
This countertop oven is the biggest of my top three, measuring 16.7×22.4×12.5-inches. If you also have a microwave they will eat up a large chunk of countertop real estate.
Yes this oven has high-end parts and is built to last, but be prepared to spend over $600 if you want one in your home. That's a big chunk of change for a toaster oven. But when it comes to temperature control and build quality, this is the very best.
What we like
Offers the most control even with less presets
Two oven racks that glide smoothly in and out
Internal light that can be turned on and off at any time
What We don't
Very expensive
Making toast can take a long time
Other Options That Are Great But Didn't Make The Cut
The Breville Smart Pro Oven is a great choice and was incredibly close to being my best countertop convection oven. The most intriguing feature is the Smart Element iQ System. This uses multiple quartz heating elements to provide stable and even heating throughout the entire oven. It sounds very high-tech but in practice doesn't seem to perform much better than my other top picks.
In the end, it was the lack of a built in probe thermometer, no proof setting, and higher price tag that kept Breville out of the top spot.
Black+Decker is known for it's no-frills, budget friendly toaster ovens. Their convection toaster oven is no different but it has a hard time standing up against the competition. This Black+Decker toaster oven looks like it belongs in the 80s or 90s. It has three dials for temperature and time control, which is nice and simple but doesn't offer any precision with the temperature markings in 50-degree increments.
This Black+Decker is definitely more toaster than anything else. For just a few bucks more, I would easily go with my Toshiba pick for a model that matches the century we're in.
This convection oven looks like it came straight out of a professional bakery. The French double doors and multi-button controls have a very commercial feel. It's also the biggest model that we explored. If you have the space it could definitely be a solid option. But it seems like overkill when using it for toast, and it may not fit the overall look of many home kitchens.
Buyers Guide: Choosing The Best Countertop Convection Oven
Size Considerations
Toaster ovens come in a wide range of sizes. When you decide to upgrade to a convection model, you'll want to be sure that you can fit more items than just toast.
I like to make sure that I can fit a whole chicken, a quarter-size baking pan, and a 13×9-inch casserole dish (one of my cookware essentials). That gives you the versatility to cook almost anything that you would normally use a full-size oven for.
Being able to fit everything you'd like inside is important, but you also need somewhere to put it. The main reason that the Oster two-door oven wasn't a top pick is that it was just too big. Make sure you have enough countertop real estate before you make a purchase.
All of my top picks and most household units will feature standard three-prong power cords. For most homes today that's no problem. But make sure you have a compatible outlet within reach. It's common for toaster ovens to come with short power cords that are only a few feet long.
Cooking Functions And Presets
Manufacturer's love to advertise as many built in cooking features and preset functions as possible. But, do you really need a dedicated "cookie" setting?
My Best Upgrade pick is a perfect example of less features but more control and precision. They use 6 simple settings and it's up to the user to select the desired temperature for each. If you're making cookies, just select "Bake" and choose your desired temperature, no dedicated button needed.
The most important settings to look for are: bake, broil, roast, toast/bagel, warm, proof. With those settings you can do everything that a 10 or 12 setting unit can do, it just requires more manual adjustments.
Heating Power And Insulation
Power
A convection oven needs more power than standard toaster ovens. Most top-end models like my best overall and upgrade options use 1800-watts of power. That's strong enough to easily roast something like a whole chicken. It's also more energy efficient than a regular oven and less energy means less money for your monthly bills.
Many budget friendly toaster ovens range in power from 1200 to 1500-watts. At that level they will still get the job done, but cooking times can be a bit longer.
Insulation
Good insulation is another factor to consider when choosing a countertop oven. When you're using a high-temperature setting, it's likely the outside of the oven will get pretty hot. All of my top picks have excellent insulation. They can still get hot when used for long periods but not enough to cause injury. Nonetheless, it's important to keep children out of reach while any oven is in use.
Reliability And Repair
It's unlikely that most countertop convection ovens will last as long as full-size, built-in models. But, you should be able to count on at least 5-years of solid use, especially on models costing more than a couple hundred dollars.
Lifespan will depend on how much a unit is used and moved around. If you move homes or apartments every year, the stress of packing and moving can cause serious wear on any small appliance.
You can expect 1 or 2-year manufacturers warranties on most affordable toaster ovens. And up to to 5-years on more expensive models like my Upgrade Pick. These warranties usually only cover manufacturers defects. But that can be very useful if a convection fan or one heating element stops working.
If something breaks that is not covered under warranty, it's likely that replacing the entire oven will be the most cost effective route. But, one of the benefits of spending so much on a Wolf toaster oven is that they can actually be serviced and repaired. Plus, it's much easier to purchase replacement parts when needed.
Design And Useability
Control Panel
Most countertop convection ovens today have some sort of digital display. Look for options that have a light-up display which are easy to read in low light situations. I also suggest choosing a control panel that has physical buttons or knobs. Touchscreens may look nice, but it's often more difficult to adjust settings accurately.
Lighting
Being able to see the food you are cooking seems like a no-brainer. An internal light is a very simple and useful feature that is often left off of the more affordable options. The best units will have a light that can be turned on and off with a button. Other options like my top pick have a light that automatically comes on but only while the oven is in use.
Oven Racks
Adjustable oven racks offer more control and versatility. The majority of countertop ovens only have one oven rack. Even if that's the case they should still have two or three adjustable height levels.
My upgrade pick has two racks and they're the only ones that I've found to slide in and out smoothly. This comes in (very) handy when checking the doneness of food or rotating a pan in the oven.
Thermometer
A built-in thermometer isn't a must have for everyone. But, if you plan on cooking whole chickens or other large roasts it is very useful. It takes the guesswork out of meat temperatures and you won't have to keep poking and prodding with a conventional thermometer.
Frequently Asked Questions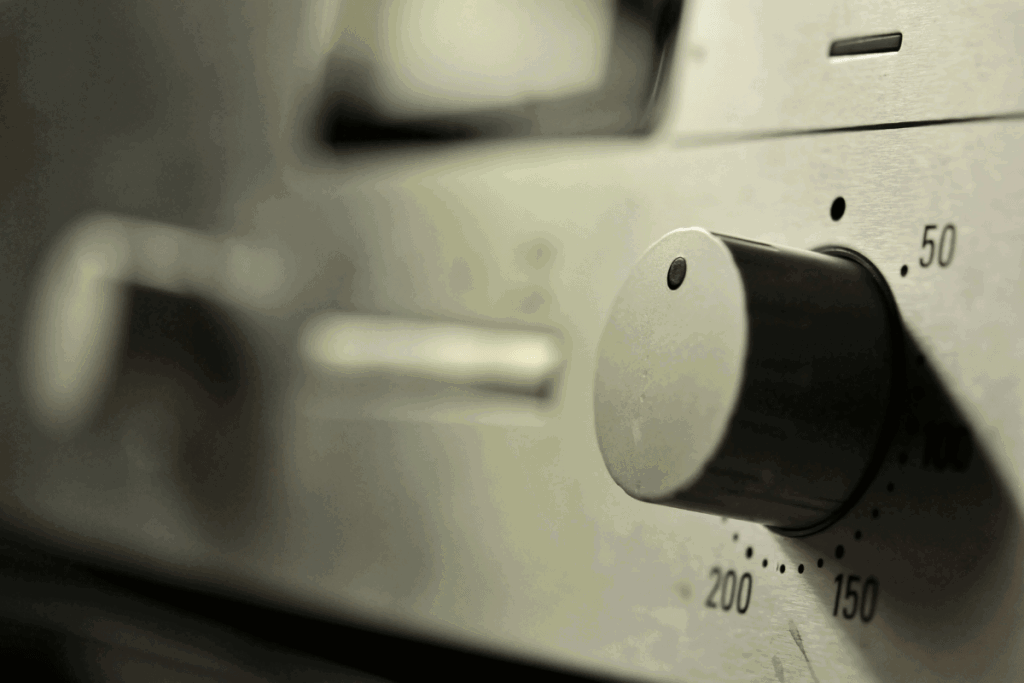 Who Should Buy A Countertop Convection Oven?
Countertop convection ovens are great for almost anyone. You can use one for anything a full-size wall oven can do, as long as you're not cooking really large quantities. On top of that, there's a good chance it will even offer better cooking performance.
I first bought one because I wasn't pleased with the oven that came with an apartment I was renting. I not only used the countertop oven for 90% of my oven needs, but it replaced my microwave and regular toaster. But, it doesn't handle frozen foods nearly as fast as a microwave.
Countertop convection ovens are a smarter choice than a regular toaster, toaster oven, or air fryers. They can do everything that each of those options can but with even more versatility and control.
What Are The Primary Advantages Of A Countertop Convection Oven?
It's all about air circulation. Most home ovens don't have a convection fan. Without any oven air circulation you will have uneven heating within the oven. Some areas will always be hotter than others.
The simple addition of a fan makes oven temperatures more even. That means food will cook more evenly and you don't have to worry about one side of your cookies always coming out darker than the other.
Air circulation also increases evaporation. When more moisture is pulled away from food while it's cooking, you will get much better browning and caramelization. It can also shorten cooking times by up to 30%.
What Are The Common Drawbacks Of A Countertop Convection Oven?
Countertop convection ovens can definitely eat up a good portion of counter space. If you have a very small kitchen, a regular toaster that can easily be stored when not in use may be the way to go. Countertop ovens can be rather large and also heavy. So moving them in and out of a cupboard can be a real nuisance.
Some models also have fans that are rather loud. That's no problem when using the oven for regular toasting and baking applications, but it can be annoying when using the convection setting for a long period.
What Can You Cook In A Countertop Convection Oven?
Anything that will fit! A countertop oven is incredibly versatile. All of my top picks can easily fit common sized baking trays and casseroles so you can use it for making a pizza bagel snack or an entire dinner for your family. The fast and even heating is perfectly suited for bread, pizza, cookies, and casseroles just to name a few.
I also love them for proofing doughs, or making sure my side dishes keep warm while I finish the main course on the stovetop.
Some models also come equipped with a rotisserie function, though you might be better off adding a dedicated rotisserie if that's a function you plan to use often. Rotisserie can be quite a messy clean in some convection ovens.
How Does A Convection Oven Work?
A convection oven works by adding air circulation to an oven. Moving around the oven air continuously distributes heat evenly. This eliminates hot and cold spots so food cooks more evenly.
The addition of air also helps to evaporate moisture from the surface of food. By keeping ingredients dryer while they cook, you will get much better browning and caramelization.
Can You Use Foil In A Convection Oven?
Yes you can use foil in a convection oven. There are just two considerations to keep in mind. You should always keep foil out of contact with any heating element as they can ignite and cause serious fires or other damage.
The other consideration is that the convection fan can blow foil around if it is not securely wrapped or weighed down. Also keep this in mind when using parchment paper, or if you are toasting very light-weight ingredients like oats or spices.
My Recommendations
As long as you have the space, a countertop convection oven is an excellent choice for most people. It can eliminate multiple other countertop appliances, and is often more convenient than the full size ovens that we usually turn to.
There are a lot of options in the $200 to $300 dollar range. My Best Overall pick is at the low end of that price range and it offers incredible versatility. Plus it gives you the same amount of cooking power as much more expensive models.
It might be hard to rationalize a $600 toaster oven. But if it's in your budget, the build quality of Wolf is unmatched in this category.