Electric glass top stoves are great in form and function, but they can also be susceptible to scratching and cracking when the wrong cookware is used.
In this article, we'll explore some of the best cookware for electric glass top stoves. From the best materials to the brands that make them, you'll learn what to look for when deciding which option fits your kitchen.
The KitchenAid 5-Ply stainless steel line won our selection as the best overall cookware for electric glass top stoves. This set is hard to beat, especially when you consider that it can last a lifetime.
KitchenAid is most widely renowned for its stand mixers and small appliances. The brand's cookware is lesser known, but also crafted to a very high quality.
5-Ply clad construction is a feature offered by many of the most expensive cookware brands out there. It means that there are five layers of metal used in making this cookware. KitchenAid offers this top-end characteristic at a modest price.
The cooking surface and exterior are thick-gauge stainless steel, which provides great durability and heat retention. Sandwiched between the exterior layers are three sheets of aluminum which offer some of the best heat conductivity available.
This line comes with riveted, black stainless steel handles. They are visually striking, unique, and incredibly sturdy. The handles also allow for easy maneuverability on and off the stove.
KitchenAid includes laser-etched measurement markers on the interior wall of the saucepans and large pots in this set. Displaying both liter and quart measurements, this is a simple but highly functional detail.
Along with the stainless steel lids, this set offers the most useful sized pots and pans. Because of their sealed rim construction, these pots and pans can be cleaned in an automatic dishwasher without the worry of corrosion.
KitchenAid provides a limited lifetime warranty on their cookware. Keep in mind that this only covers manufacturers defects and not everyday wear or accidental damage.
If you're looking for professional quality cookware at an affordable price point, this set by KitchenAid covers all the bases.
What we like
Durable construction
Attractive design
Good heat distribution and retention
Dishwasher safe (may dull appearance)
What We don't
Stainless steel requires some practice to master
Less affordable than our budget pick
If you really want to cook like the pros, choose the All-Clad D5 stainless steel cookware line. You'll find these exact pots and pans in many of the best restaurant kitchens, and for good reason.
All-Clad cookware does what it's supposed to do and it does it very well. The brand has been making stainless steel cookware from the same place in Pennsylvania since the early '70s. It's the only brand on our list that still produces cookware in the United States.
Like our best overall pick, All-Clad D5 is also made with five layers of metal.
Instead of three layers of aluminum in the middle, All-Clad uses two layers of aluminum with a layer of stainless steel in the very center. All-Clad claims that this extra stainless steel layer distributes heat more evenly and eliminates hot spots.
The extra stainless steel contained in the D5 line results in cookware that is slightly heavier than the competition. With excellent handles and permanent stainless steel rivets, the cookware remains very easy to lift and maneuver.
All-Clad's D5 cookware with high quality handled lids, and flared edges that allow for drip-free pouring.
A limited lifetime warranty comes with the cookware, protecting you from manufacturer defects. It does not cover normal wear or misuse.
All-Clad recommends hand-washing this set in order to maintain a "like new" appearance.
If you're already comfortable cooking with stainless steel, this top of the line set will be a joy to use and will last a lifetime.
What we like
Oven safe to 600F
Functional design features
Top of the line construction
What We don't
The price is an upgrade
Hand-washing recommended
Some practice with stainless steel may be needed
Cuisinart Chef
Buy Now
We may earn a commission if you make a purchase, at no additional cost to you.
12/02/2023 10:12 am GMT
Sticking with stainless steel again here, our recommendation for those on a budget is to consider the Chef's Classic cookware set by Cuisinart.
Stainless steel cookware has dominated these first three categories. That's due to its durability and also how well it works on electric glass top stoves.
This set is much more affordable than our KitchenAid and All-Clad picks.
Cuisinart's tri-ply design doesn't offer the same level of heat distribution or retention as our "best" and "upgrade" picks, though many cooks won't notice a meaningful difference. The Chef's Classic line is still very well-made and should last you a long time.
On top of the quality construction, the chef's classic line offers similar features to many of the higher-end brands. Flared edges for easy pouring, riveted stainless steel handles, and clad construction all help this cookware perform above its price tag.
This line comes with three layers of cladding. One layer of aluminum sandwiched between a stainless steel cooking surface and exterior. The result is cookware that is slightly thinner and lighter weight than the five-layered competition.
Our budget pick comes with tempered glass lids rather than stainless steel, allowing you to monitor food without removing the lid. This is also the only stainless steel set that includes a very useful steamer/strainer insert to but used with the stockpot.
Similar to the competition, Cuisinart offers a lifetime warranty. This once again only covers manufacturers' defects and not regular wear and tear.
If you want to ease into the world of stainless steel cookware, then the Cuisinart Chef's Classic cookware is a good place to start. Even if you were to upgrade in the future, this set could still provide many uses in the kitchen.
What we like
Lightweight, but sturdy enough to stay put on a glass top stove
Cost-effective
Dishwasher safe (may dull appearance)
What We don't
Less durable than top tier options
Some owners note inferior rivets
Glass lids (some may prefer)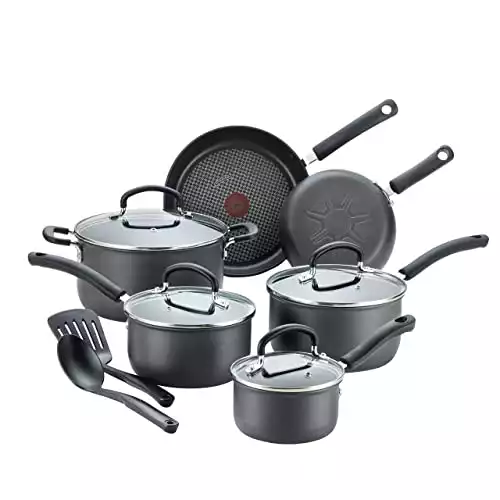 If ease of use and cleanup are top priorities for you, then the T-fal ultimate hard anodized nonstick cookware might fit the bill.
T-fal has been making cookware for over 60 years and is one of the largest producers of nonstick cookware globally. Their cookware is hard to beat when considering both cost and value for the features they provide.
As the name implies this line features hard-anodized aluminum. Anodization is a chemical process that hardens and reduces the reactivity of aluminum. The end result is a durable construction without the food reactivity of raw aluminum.
The cooking surface on this set is coated with a layer of PTFE-based and titanium-reinforced nonstick. While this layer is quite durable when compared with other nonstick pans, metal utensils and abrasive cleaners should never be used.
Dishwasher use may also create extra wear on this set, and many owners noted issues with exterior scratches or peeling after dishwasher use. With exceptional food release, handwashing the T-Fal set is simple and recommended.
The included fry pans are equipped with T-fal's "Thermo Spot Indicator" technology. With this feature, a white circle at the center of the cook surface will turn solid red once the pan is perfectly preheated. While this feature is an interesting talking point, it also has limited utility. We recommend not using Thermo Spot as a primary factor when determining if this set is right for you.
Along with tempered glass lids, the collection uses riveted silicon coated handles that remain cool to the touch when used on most stovetops. The pots and pans are oven-safe up to 400F and the lids up to 350F.
A limited lifetime warranty covers manufacturers' defects but not normal wear and tear.
The cookware set also includes a large plastic spoon and spatula. While not of the highest quality, they will certainly get the job done. With those additional pieces, you can go from zero equipment to cooking a multi-course feast with a single purchase.
What we like
Incredibly affordable
Durable nonstick coating
Hard anodized aluminum is durable and a solid weight
What We don't
400F temperature limit (350F for lids) is lower than the competition
Some owners had exterior wear issues after dishwasher use
For a PTFE-free option, Gotham steel's ceramic nonstick cookware is a great place to look.
Gotham Steel is a relatively new brand, but is quickly becoming well known. Infomercial programming and the endorsement of celebrity chef and shopping channel host, Daniel Green have bolstered its success.
The ultra nonstick ceramic cookware utilizes a Ti-Cerama nonstick coating. This material adds the strength and light-weight of titanium with the nonstick attributes of ceramic.
While the brand name suggests that this set is made from real steel, the pans are actually constructed from anodized aluminum, with the nonstick coating baked atop the cooking surface. The handles on the other hand are in fact stainless steel and are fastened with strong rivets.
The ceramic surface is free from controversial chemicals like PTFE and PFOA, and the set is rated for oven use up to 550 F. It is also rated for dishwasher use, although hand washing these pans is very easy.
Some owners report that the pan's nonstick nature was diminished after repeated dishwasher use.
Gotham Steel claims that their nonstick coating is so strong that metal utensils are safe to use. While that may be true for a period of time, we would always recommend using plastic or wood utensils in order to extend the life of the cookware.
This is the only cookware set on our list that does not come with a limited lifetime warranty. They do offer one good for ten years, and just like the competition, is good only for manufacturing defects.
For an alternative to Teflon nonstick cookware, the Gotham steel ceramic line offers great value and above-average durability. With higher-end features like stainless steel handles, this cookware set is a good PTFE-free option.
What we like
Affordable
Stainless steel handles
Oven safe to 550F
What We don't
Dishwashing may reduce non stick properties
Metal utensils should be still be avoided
Video demonstrations can be misleading
Why do glass top stoves require special cookware?
When cooking on a glass top stove it is possible that the glass itself can become damaged. This surface is generally made from ceramic glass. While very strong and durable, it is susceptible to scratches and cracking.
Electric glass top stoves have heating coils that are covered by a smooth glass cooking surface. When the coils are heated, they radiate heat through the glass above.
Because the cook top is flat and smooth, you should always seek out cookware with a flat bottom. Pans with bottom raises or ridges will generate poor contact with the stove top, and may not heat or perform well.
What types of cookware can be used on a glass top stove?
Most common types of cookware will work on electric glass top stoves, with just a few exceptions. There are however some options that will work better than others.
First of all, the cookware that you choose should have a flat bottom in order to achieve solid contact with the cooktop.
As far as cookware materials go, hard anodized aluminum, stainless steel and enamel coated cast iron will yield the best results. They will all transfer heat from the glass top to the cooking surface of the pan very well.
These three materials also typically have enough weight to maintain good contact with the stove. If using enamel coated cast iron, some care must be taken, as one drop from such a heavy piece of cookware can result in a cracked cooktop.
Key features to look for when comparing options?
When choosing cookware to use on electric glass top stoves it is important to pay attention to some very basic features.
A smooth flat bottom is important for both heat transfer and also so that you don't risk scratching the cooktop surface.
The cookware should also be sturdy enough that it will not bend or warp. Misshaped cookware leads to poor surface contact and uneven heating.
Care tips for using or maintaining a glass top stove.
One of the things that makes electric glass top stoves desirable is just how low maintenance they are. By following a few easy guidelines you can keep yours looking and functioning like new.
Choose cookware that takes advantage of the flat cooktop surface. Look for smooth, flat bottomed cookware, made from materials that have good conductivity (i.e. anodized aluminum, or clad stainless steel).
Keep the bottom of your cookware clean. Grease and other debris that can become cooked onto the base of cookware can also be transferred to the cooktop. This can create stains that are difficult to remove, not to mention unpleasant burning smells and smoke.
Clean any spills or splatters as soon as they happen. Spills that are left for long periods of time – especially if they are close to one of the burners – can become cooked on and very difficult to remove.
There are a wide range of cleaning products designed specifically for glass top stoves. I would recommend finding one that works well for you and keeping it on hand, just in case.
Be mindful when moving cookware on the cooktop surface, and gently lift and place pots and pans rather than sliding them. Even if you are using the proper cookware, you never know when something abrasive might get caught under a pan. If dragged, that can also scratch the glass top.
Types of cookware to avoid on a glass top stove, and why.
While glass top stoves will work with a wide range of cookware, some should be avoided to keep your stove top looking good and functioning properly.
Uncoated cast iron cookware tends to be a little rough around the edges (one of the reasons it's so beloved), which can be a problem with glass top stoves. The glass used in cooktop surfaces is very strong but the rough underside of cast iron can still cause scratches. This not only mars its appearance but also the integrity and durability of the glass.
Glass and ceramic or stoneware also pose the possibility of scratching your glass cooktop. On top of that, they are poor conductors of heat and will not perform well with the radiant heat provided by electric glass top stoves.
Copper and non-anodized aluminum, are both excellent heat conductors. But, if brought to very high temperatures, they can leave permanent stains on glass top stoves. This shouldn't be an issue in most everyday cooking, but it is something to keep in mind.
Consider getting the benefits of those metals from copper or aluminum core cookware instead.
Our Recommendation
With so many choices available, it's important to look at the longevity and useful features of your options.
While nonstick cookware sets are typically less expensive initially, they will need to be replaced. This leads to more costs down the line.
I think that stainless steel cookware, with its superior durability should be a top consideration. Plus there's always room for one or two nonstick pans used for specific duties.