Over the past ten years, I've used a gas range to perfect all of my favorite recipes, so when it comes to finding the best gas ranges, I know exactly what factors to look for.
After an exhaustive search of all the top brands, as well as some lesser-known names, I've handpicked a few that stand out for power, oven capacity, style, and safety features. Take a look at my favorites, and see whether they're a good fit for your kitchen.
Our Top Picks
Features:

Versatile collection of sealed burners
Reaches 17,400 BTU
Extra-large front window

Features:

Lower price point
Comes with a griddle burner
Self-cleaning feature

Features:

Highest pure power
Six gas burners and plenty of cooktop space
2-year limited warranty
Best Overall
Features:
Versatile collection of sealed burners
Reaches 17,400 BTU
Extra-large front window
Best Value
Features:
Lower price point
Comes with a griddle burner
Self-cleaning feature
Best Upgrade
Features:
Highest pure power
Six gas burners and plenty of cooktop space
2-year limited warranty
12/01/2023 02:38 pm GMT
While there are plenty of powerful, attractive, or high-tech gas ranges available today, finding everything in a single package isn't always easy. Cosmo's freestanding stainless steel gas range is one of the rare options that offers a balance of features without an oversized price tag.
Whether you prefer to cook low and slow, fast and furious, or anything in between, this range has a solution. Equipped with five burners with four different power outputs ranging between 5,000 and 17,400 BTU it's able to reach temperatures hot enough to put a good sear on meats while staying practical for home use. Of course, there are more powerful home gas ranges out there, though most cooks don't find as many uses for that 25,000 BTU burner as they'd like.
Read Also: 101 Guide to Range Hoods
When you're firing up the high-power triple-ring burner, you will likely want to have a quality range hood to soak up the excess smoke. In this case, Cosmo has thought ahead, including a 36-inch wall-mounted hood that matches the range's size and style. It adds an extra couple hundred dollars to the price tag however, so budget carefully.
Below the cooktop, this gas range features a 3.8 cu. ft. convection oven. While it may not be as spacious as the other top picks on this list, it's still able to squeeze in three oven racks. And with five push-button functions–bake, roast, broil, fan convection, and light–it still offers plenty of versatility. The front window is especially large, allowing you to monitor your cake as it rises.
All in all, it makes an excellent option for anyone who isn't expecting a BTU output over 20,000 and who likes the look of its industrial stainless steel design. Also, don't forget that this gas range is a full 36" wide, so it may not fit comfortably in all kitchens.
What we like
Versatile collection of sealed burners
Reaches 17,400 BTU
Extra-large front window
What We don't
The convection oven is a bit smaller than other top picks
May be too wide for some kitchens
Balancing quality with affordability is no simple task, and when investing in an appliance that serves as the centerpiece to your kitchen, every dollar counts. It's true that Frigidaire's 30-inch Gallery Series gas range is still a bit more expensive than your standard home stove, but for all the power, user-friendly features, and style it offers, its price seems fair.
What stands out about this slide-in gas range is its sleek design squeezed into a compact footprint. At just 30 inches wide it's still able to fit five burners and a 5.6 cu. ft. single oven. While the burners don't reach the same heat as other ranges, they offer a lot of utility. It's one of the few ranges to include an oval burner, which is ideal when using a griddle.
The stainless steel design is made to complement different kitchen styles, sliding directly between existing countertops for a seamless, tailor-made look. Continuous grates tie it all together, and make it easy to support larger pots and pans.
The simple digital interface is large, and makes it easy to access a few of its more interesting features. An airfryer option is one of them, which uses superheated air to cook meats, vegetables, and virtually anything else to golden perfection. The digital interface also allows you to access the self-cleaning feature, which uses pressurized steam to take the hassle out of regular oven maintenance.
Frigidaire's 30-inch Gallery Series gas range is a good choice for busy professionals, dedicated parents, or anyone looking to squeeze some cooking into an already packed schedule. At about half the price of other top-tier ranges it gives plenty of bang for your buck, and should last for years to come.
What we like
Lower price point
Comes with a griddle burner
Self-cleaning feature
What We don't
Lower heat output
Some users complain of poor customer service
If cooking power is your priority, NXR's Pro-Style gas range has got you covered. It's the closest you're going to get to industrial-level heat in your home. However, while it delivers higher BTU counts than the other two top picks on this list, each of its burners still feels like it has a purpose, and brings plenty of versatility.
The gas range's upper surface features six German-made single-stack burners delivering between 6,000 and 18,000 BTU, while the convection oven's internal burner reaches 22,000 BTU. This makes it a perfect range for searing and stir frying. For more common daily cooking, the lower heat simmer burner will serve you well.
Some may argue that a six-burner gas range is a little excessive for home use, and for many cooks that might be accurate. However, anyone who regularly hosts Thanksgiving for eight or more people might tell you otherwise. Either way, the 36-inch width will definitely be appreciated, along with the 5.5 cubic foot oven below.
From top to bottom, this gas range is made to approximate the experience of working with an industrial-grade appliance. It's stainless steel knobs and handle, heavy-duty cast iron grates, tough hinges, all add up to a professional look and feel. A 2-year limited warranty will add a little peace of mind, though user experiences tend to speak for this gas range's quality workmanship.
Try this pro-style gas range if the power of your current stove just isn't cutting and you're looking for an upgrade. If you plan on taking advantage of it's 18,000 BTU burner, you may want to consider investing in NXR's range hood, which is sized to fit and mounts directly to your wall.
What we like
High power
Six gas burners and plenty of cooktop space
2-year limited warranty
What We don't
It's 36" by 27" footprint may be too large for some kitchens
A more expensive option
Other Options That Are Great But Didn't Make the Cut
Whether you're looking for something a little different than the gas ranges listed above, or just want to check out their competition, take a look at these other options.
This slide-in gas range by Samsung features a sleek design and plenty of cooking power across its five sealed burners. Even better, each of the burners include a dual heating element, offering a wide range of power outputs to handle all kinds of cooking tasks.
Unfortunately, a sizable portion of buyers have complained about durability issues. While most of this gas range is made of durable stainless steel, the knobs are plastic, and prone to cracking. It's difficult to tell whether the other common complaints are due to low quality or misuse on the part of the customers, but in the end it may not be worth the risk.
This modest GE freestanding gas range has everything you need on a day-to-day basis with five sealed burners of all different heat outputs, a single oven with 5 cubic feet of space, and a few convenient perks like a self clean option and convection oven. One surprising perk is the oval center burner in the middle of the range, which is perfect for griddling.
While it doesn't include any of the more impressive bells and whistles of other higher-end ranges, it's also one of the least expensive. And with a slim 30-inch design, this oven fits easily into most kitchen layouts.
With two 18,000 BTU burners, a commercial convection fan, and a full 6 cubic foot oven, it's easy to see what buyers like about this gas range. In fact, it offers the highest total heat output of any range on this list.
The reason why it doesn't rank higher has more to do with its lack of versatility. The lowest-power burners are still a full 9,000 BTU, which may make it difficult to get the finesse you need when cooking at a low temperature. To make matters worse, they're located at the back of range where they can't be easily accessed or monitored.
This slide-in range by Bosch finds new ways to bring convenience into the kitchen with 9 cooking modes, a self-clean cycle, and a large door window that lets you easily keep on eye baked goods as they rise. The warming drawer is another nice touch, which will help ensure all your dishes are served warm.
It's worth noting that several customers have complained of inaccurate oven temperatures, which fluctuate as much as 50 degrees from the desired temperature.
Buyer's Guide: What Features to Look Out For
Knowing what features to watch out for is the most surefire way to find the best gas range for your needs. Whether you're prioritizing power, convenience, or versatility, be sure to keep all these points in mind.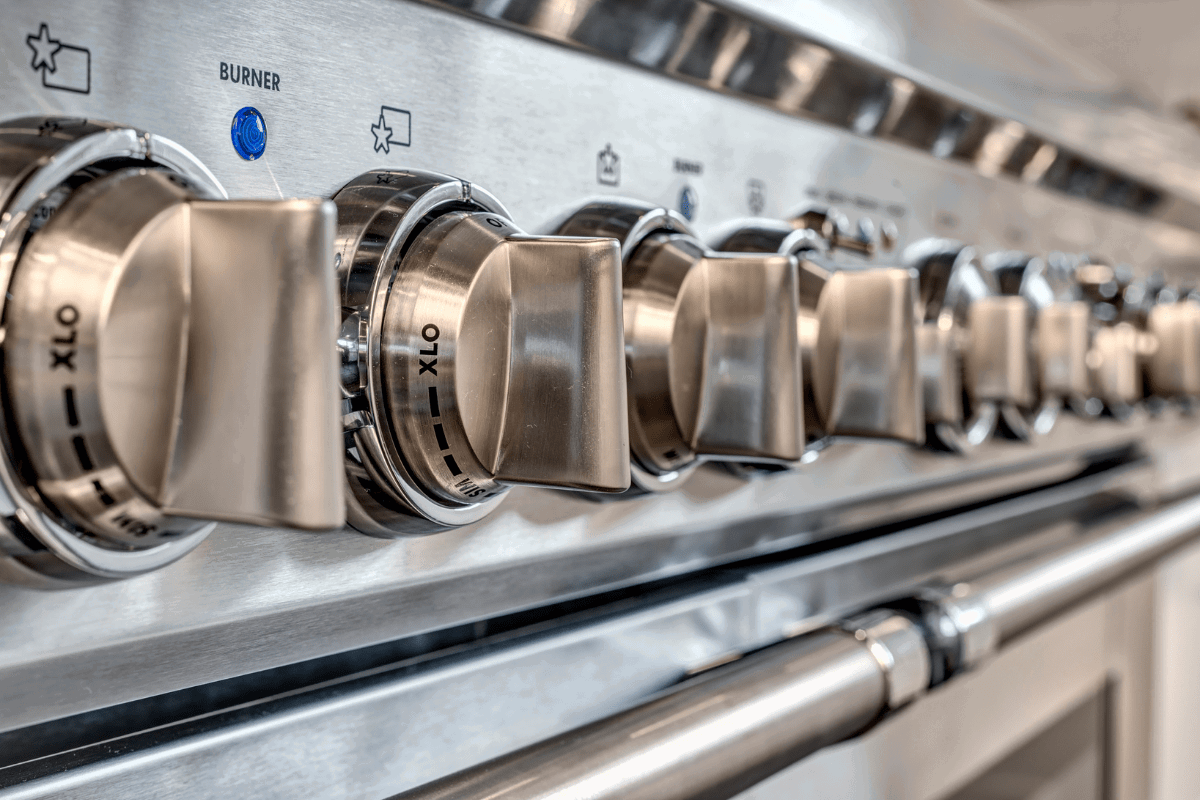 Freestanding, Drop-in, and Slide-in Ranges
The first and most basic option to consider when choosing a range is the type of appliance, and how it's going to fit into your kitchen. There are three basic options: freestanding ranges, slide-in ranges, and drop-in cooktops.
A freestanding gas range is the most common option and also the one that fits most easily into a variety of kitchens. Designed as a standalone, all-in-one appliance, they can be positioned anywhere that's most convenient, provided there is access to a gas line and power source.
Slide-in ranges are similar to freestanding except they are made to fit more snugly between existing countertops. With slightly angled sides and a small overhang on either side of the range, they can be appealing to buyers who prefer a sleek, custom-built look.
Of course, that means precise sizing is necessary to get the perfect fit.
Distinct from the other two options, drop-in cooktops are built directly into your existing countertops. This makes them different from ranges in that they don't include an oven cavity or storage drawer, so it's important to consider your kitchen's layout carefully before committing. One major benefit of drop-in gas cooktops is that they can be placed almost anywhere, and often pair nicely with an independent wall oven or double oven.
Power Rating
Your gas range's power rating is measured in BTUs (British Thermal Units) and determines the maximum heat it can achieve, as well as how quickly it can heat your pots and pans. Most home gas stoves have between 400 and 18,000 BTU, though it's not uncommon to find higher-powered options that exceed 20,000 BTU.
Knowing how much power you need depends entirely on the kind of cooking you do on a regular basis. If you're sticking to sauteing and simmering, then you may not need anything over 12,000 BTU. However, if you're looking to bust out your wok for quick and high-temperature Szechuan dishes, you may need 15,000 BTU or more. Just be sure to keep a $10 wok ring on standby.
Generally, it's best to go for versatility. The best gas ranges should have at least four burners with a range of different heat outputs. Even if you're never cooking at a high temperature, being able to boil water quickly is always a plus. Similarly, throwing an 8-inch pan on a 20,000 BTU power burner will result in most of the heat missing the pan bottom and getting redirected into your home.
Size
Your range's size determines how many gas burners it can fit on its upper surface, as well as the maximum capacity of it's oven. Of course, it also determines how it fits into the overall layout of your kitchen.
If you find yourself dissatisfied with a 30-inch range, it may be worth considering upgrading to 36 inches wide. The extra space means less clutter when cooking multiple dishes, or a greater variety of burners to choose from.
One other factor to keep in mind is whether you plan on installing a range hood. A larger range requires a larger hood, which can add to your overall remodeling cost.
Capacity
Most home ovens vary in capacity, between 2 to 4 cubic feet (cu ft). If you're planning on fitting your gas range into a small footprint, you may benefit from a smaller oven, however there are a number of benefits to going with larger capacity ovens.
A 5 cu. ft. oven can often fit as many as three wire racks, letting you fit more baking sheets. The largest capacity ranges may even include a double oven, allowing you to bake at two different temperatures at once.
Configuration
The configuration of your gas may seem relatively straightforward, but it can have a big impact on day-to-day convenience. While five or even six burners are great for multitasking, some home cooks might prefer a smaller number with a bit of extra elbow room.
A double oven can be another great feature to look for if you often find yourself wanting to bake at two different temperatures, but be sure to measure your baking pans first. On-board storage can be another convenient option, allowing you to keep your most-used pots and pans handy. Otherwise, a warming drawer is handy to have available to help keep foods at serving temperature.
Convection Oven
Convection ovens are becoming more and more common among the best gas ranges today, and can be a worthwhile perk for certain cooking applications. The way they work is by pairing a heat source with at least one convection fan inside your oven space to stimulate airflow. The result is more even heat distribution, and a more crisp finish when roasting.
For even better results, you can look for true convection, also known as a european convection system. This adds a third heating element behind the fan for more uniform temperature distribution.
Sometimes convection cooking can even take the form of an built-in air frying option. This lets you prepare healthy meals that have a satisfying crispy crunch.
Safety Features
It's always smart to carefully consider safety features when choosing a gas range, as it's not always possible to anticipate cooking accidents.
Auto-reignite is one common feature to keep an eye out for. Used in conjunction with a gas fume monitor, and senses whether an activated burner is lit, and reignites the flame if it happens to go out due to a strong wind or vibration. This prevents your range from leaking gas inside your home.
Technology
As top brands continue to develop more and more advanced gas ranges, new kinds of high-tech features become available. Whether you want to control your gas stove from afar, find fun new ways to cook, or expand your culinary horizons there's something out there for everyone.
Automated recipe programming is one of the latest innovations, where digital smart-stoves allow you to download video recipes which you can follow along with as your gas range automatically adjusts temperature and cook time. Other options include app interfaces that allow you to preheat your convection oven remotely, or monitor your cook times and temperatures from any room in your house.
Warranty
Even if you're confident that you'll love your range, be sure to look for one that comes with a one-year warranty at minimum. Not only can it protect you from costly repairs, it serves as a testament to the manufacturer's confidence in their product.
It's also worth noting that gas ranges are more costly to repair than their electric counterparts. Some of the most common reasons for repairs are broken gas igniters or malfunctioning digital components. Either of these can set you back several hundred dollars, making an extended warranty worth the money.
Of course, it's always a good idea to read the fine print on your range's warranty. Generally, your warranty will be voided if you perform improper maintenance or repairs.
Frequently Asked Questions
Have any lingering questions about gas ranges? See if you can find the answers you're looking for here.
What Makes Gas Different from Induction and Electric Ranges?
Where induction and electric ranges use metal coils to heat food, gas ranges use burners assemblies that expel gas and become flame when lit by an electric ignitor or pilot light.
The size of the flame can be adjusted with the knobs or control panel on the front of the range. While all three types of range are used by professionals and home chefs alike, gas ranges are still the most common cooking appliance in most professional kitchens.
What Advantages Does a Gas Range Offer?
Because the flames of gas ranges make direct contact with your cookware, they are able to deliver more steady heat. Electric stoves by contrast cycle on and off, which may not be ideal when looking for precise temperature control.
Another advantage you might not immediately consider is the fact that a gas stove will resist power outages. While you may need to light your gas burners manually, you'll still be able to serve dinner, even if it is by candle light.
One nice thing about gas ranges is that you can use whatever cookware you want. See our picks for the best pots and pans for a gas stove.
Do Gas Ranges Have Any Drawbacks?
The main disadvantage of a gas range is that they are less energy efficient than induction or electric ranges, often losing as much 50% of their heat to the surrounding environment. The fact that they use natural gas can also pose a safety risk if the right precautions aren't taken.
Their surfaces are also more difficult to clean, with cast iron grates that have plenty of nooks and crannies where food can get stuck.
What's the Difference Between a Range and a Cooktop?
Simply put, a cooktop is a surface which includes heating elements, whether gas, electric, or induction. A range is an appliance that includes a cooktop, oven, and other elements. All ranges include cooktops, however not all cooktops are ranges. In some cases, cooktops are installed directly onto countertops.
What is a Sealed Burner?
The term sealed burner refers to the way your range's cooktop is designed, where the upper metal surface extends all the way to the burner, without any gaps. The advantage of this is that food can't get trapped inside the range, making it easier to clean.
What Should I know about Cleaning and Maintenance?
Gas ranges take a bit of extra effort to clean because of their design. Be sure to wipe down the surface of your range each day with vinegar and dish soap to keep food from hardening.
A once per month deep clean is also recommended. The cast iron grates and burners should also be cleaned thoroughly.
To ensure your food is cooking evenly, check to make sure your burners are fully lit when on. If part of the burner remains unlit, you may need to remove the burner caps and clean the channels.
What Are the Costs of Owning and Operating a Gas Range?
Gas ranges tend to be cheaper than electric and induction stoves, saving a bit on upfront costs. On the downside, they are also less energy efficient than the other two. While a gas range won't contribute to your electricity bill, your gas bill will be higher.
What is a Range Hood? Do I Need One? How Much Does it Cost?
A range hood is essentially a large ventilation fan that is positioned over the top of your gas range. This helps carry heat and odors out of your home. They also often come equipped with lights to illuminate the surface of your cooktop.
Most range hoods are only a few hundred dollars, making them a worthwhile investment for any type of range. If you anticipate doing a lot of high-heat cooking, you may want to consider looking at more powerful range hoods.
Are There Any Safety Concerns Associated With Gas Ranges?
As will most cooking appliances, gas ranges come with their share of safety concerns that should be weighed carefully. Since gas ranges use natural gas to produce heat, they run the risk of leaking this gas into your home. This can lead to carbon monoxide poisoning, or in the worse cases gas line explosions.
Luckily, both of these concerns can be mitigated by proper maintenance and appropriate caution. If you notice your burners failing to light, be sure to resolve the problem as quickly as possible with a skilled technician.
Our Recommendations
In my opinion, the best gas range is the one that's always ready to handle what you throw at it. There's no telling what kinds of cooking projects you'll be taking on next month or next year, so choosing a range that's quality made and versatile is always the priority.
That's why Cosmo's stainless steel 5 burner cooktop takes my top pick. Flexible enough to handle a range of cooking tasks, and made with a durable and modern European design, it will stay looking good and working efficiently for years.
Of course, not everyone has the floor space to accommodate a 36-inch range, which is why I picked Frigidaire's Gallery Series range. It offers much of the same functionality as other top models, with a smaller price tag and slimmer design.