It takes careful planning to find the best double oven, as size, style, power, and features all need attention. Luckily, I've taken the time to scrutinize dozens of brands and models, and after hours of consideration, I can say with confidence that I've narrowed down my top picks to the best of the best. Check out all the best double ovens for yourself, right here.
The benefit of a double wall oven is having the flexibility to cook multiple dishes at once, and whatever temperature you need. However with a sensor cooking microwave, delay bake option, self cleaning feature, and a range of other surprises, this double wall oven by GE takes a strong lead in versatility.
The truth is that most of us find ourselves microwaving leftovers about as often as preparing a fresh meal. This combination wall oven lets you do both with a 1.7 cu. ft. sensor microwave located in the upper compartment. It's much larger and more powerful than your standard freestanding microwave, making it a good choice for taking on larger dishes that wouldn't otherwise fit. The built-in sensor is another bonus that simplifies precision cooking by automatically calculating and adjusting power levels and cook times.
The main oven compartment is 4.3 cu. ft. and features a 2,600W baking coil and 3,400W broiler element. Given the higher price of this oven it's a little smaller than I would prefer, and it may be difficult to fit it more than one large dish at a time. Though for most day-to-day uses it should offer everything you could need.
Between the two you have plenty of cooking power at your disposal, and all of it can be controlled with the glass touch controls on the upper panel. This double wall oven is a great choice if you're looking to squeeze as much versatility out of your appliance as possible. While the smaller size of both ovens may leave something to be desired, in the end I believe the sheer number of different cooking options makes this a strong choice.
What we like
Sensor-cooking microwave
Self-clean function
2,600W lower oven
What We don't
Both ovens are a little small
Lacks a second thermal oven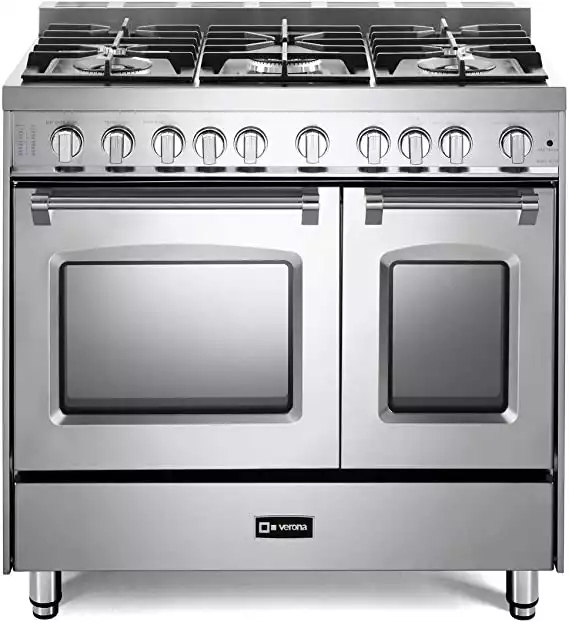 The vast majority of double ovens come in a similar format, with two large oven compartments stacked atop each other, built directly into the wall. It's a good formula that works for many kitchens, though if you're looking for a double oven that's a little different, Verona's gas range has plenty to pique your interest.
This freestanding gas range features two ovens arranged side-by-side, one 18 inches wide and 2.4 cubic feet, and the other 11 inches wide and 1.5 cubic feet. This makes a useful setup for chefs who want the versatility of a second oven without sacrificing the spacious interior of a standard-sized oven. While the 11-inch compartment might look a little small at first glance, it is still big enough to fit two stacked baking trays. The storage drawer at the bottom is a bonus that helps make up for the 36 inches worth of cabinet space this large range eats-up.
The other feature that makes this double oven distinct is its all-gas design. A total 52,000 BTU power output is split between five sealed gas burners and two oven compartments for impressive power. Lovers of electric double ovens may balk at the slightly reduced energy efficiency and even heating, though the sheer power should more than make up for it.
The design stays in-tune with the classic look Verona is known for. Stainless steel handles and knobs, beveled oven door, and continuous cast-iron grates create a professional aesthetic that looks as good in a home kitchen as it does in any high-end restaurants. Despite its classic design, there are plenty of features to be enjoyed, including an electric ignition flame failure safety device and turbo-electric true convection.
If you want a gas double oven with a classic design this model is worth a look. Just be sure to decide beforehand whether you won't miss a steam cleaning feature, or preprogrammed cooking modes of the more high-tech electric wall ovens.
What we like
Classic look and quality build
52,000 BTU power output
True convection oven
What We don't
No self-clean feature
Quite large at 36 inches
As the centerpiece of your kitchen, an oven should make a statement about who you are and what cooking means to you. While practically-minded appliances are always tempting, I frequently find myself drawn to the ovens that add an extra bit of luxury to the kitchen. Cafe's 30-inch double electric oven does just this, while offering so much more.
This appliance comes with all the smart features of the most advanced electric wall ovens. It connects directly to your smartphone and is even Alexa compatible, making more easy and fun to cook. 
Like many shoppers, I'm well-acquainted with the problem of finding an oven with all the right features, only to discover that it doesn't come in a color or style that matches my kitchen. What I love about Cafe's ovens is that they offer tons of customizable options that let you get exactly the look you're going for. Three different base colors and four distinct hardware tones make for a surprising diversity of styles. They also have a range of other models with slightly different layouts and door configurations.
If you're open to spending a little extra money and like the look of the french door design, don't pass on this 30-inch electric wall oven. The features listed above are just the tip of the iceberg. There is much more to discover in this unique pick.
What we like
Wifi connectivity
Temperature probe
What We don't
High price point
No touch display on this model
Other Options That Are Great But Didn't Make the Cut
There are plenty of other double wall ovens out there, each with their own unique perks to consider.
What I like about this 30inch double wall oven by Frigidaire is the selection of surprising features it offers. A temperature probe, true convection oven, quick preheat, a self-cleaning function are just a few, all included to simplify cooking and minimize maintenance. I would have liked to rate it higher on this list, though it has a number of odd design flaws that make it a bit less desirable. For example, if you want to change between different temperatures mid-bake, you need to switch the oven off and then on again.
There's a lot to love about this electric wall oven by Cosmo, not least of which is its affordable price tag. An automatic self-clean feature, european convection, and 5 cubic foot capacity in both the upper and bottom oven makes it an attractive choice for just about anybody.
However, the lack of a second heating coil on the upper oven of this appliance is a bit of a drawback that frequently results in an uneven temperature. While the convection cooking feature makes up for it, you have to remember to switch it on with each use.
Buyer's Guide: What Features to Look Out For
If you're looking for the best double oven, be sure to keep all of the following specs and features in mind.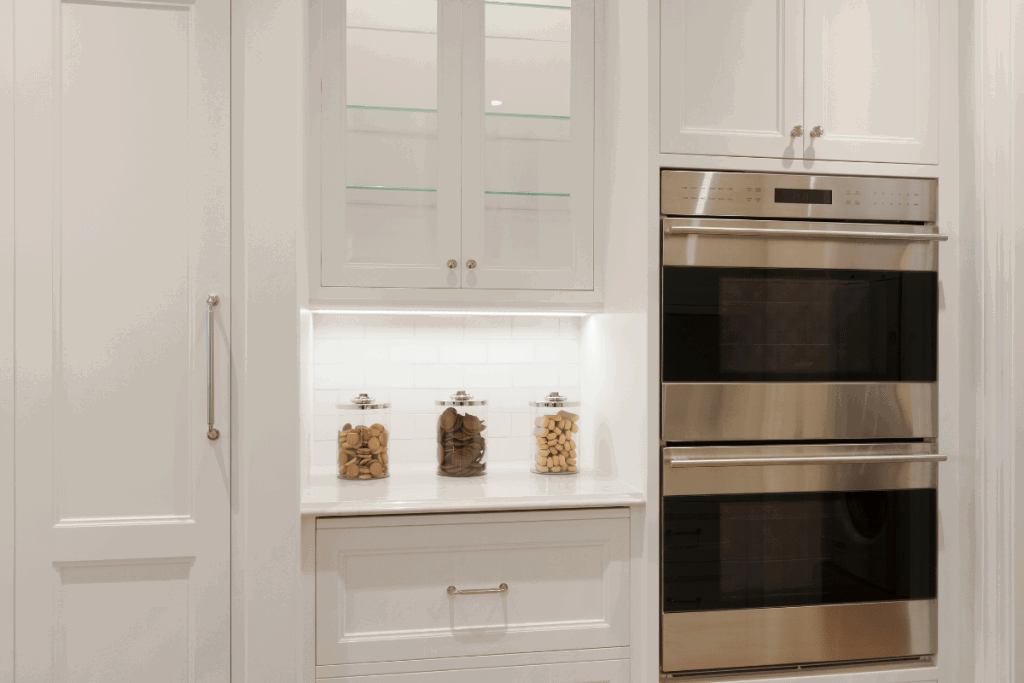 Electric vs. Gas
Both electric and gas ovens are common styles, but there are a number of important differences between the two that can affect the way you cook, how much you spend, and maintenance requirements. Be sure to know the difference between the two before you buy.
Electric ovens work by using one or more coils located within the oven cavity, which radiate heat to your food. It takes a bit longer than a gas oven to heat up and creates a dryer type of heat, which is great if you're looking to put a crisp skin on your meats. Another benefit of electric ovens is that they produce a heat that is more evenly distributed across the interior of the oven.
Gas ovens on the other hand use a burner ignition to produce flames at the bottom or top the oven cavity. They're a bit quicker to preheat than electric ovens and produce a slightly more moist heat which can benefit cakes and other baked goods.
Some double ovens can include a combination of gas and electric components. It's common for gas ovens to use an electric broiler, for example.
Convection Oven
Convection ovens can be a great way to create more crisp or flaky textures on your baked foods, and are a feature worth considering in your double oven. They work by paring a gas or electric heating element with internal fans that help distribute the heat inside the oven. This not only helps create more even cooking, but also moves the hot air over the surface of your food to achieve a unique type of finish.
A true convection oven, also known as a european convection oven, uses the same principle, but adds a third heating element directly to the internal fan. This makes the convection process more efficient and achieves even better results.
Either way, convection ovens tend to be more expensive than standard ones, so be sure to factor this into your budget.
Cooking Power
Your oven's power is an important factor to consider as it affects heating times, max temperature, as well as your utility bill. Gas oven's power is measured in BTU while electric ovens are measured in watts. If you're cooking in a double oven, you might use a combination of these.
Most ovens have a total power output between 2,000 to 5,000 watts, or 5,000 to 10,000 BTU. While higher power outputs have their advantages, it's important to remember that most of the cooking you will be doing is at the lower end of this range.
Size
When looking for the best double oven to fit your kitchen, it pays to find the right balance between size and capacity. A double oven is usually going to be bigger than a single oven, which means you will need to plan carefully to make the most out of your available space.
Since double ovens split their available space between two oven cavities, the individual capacity of each of them is a bit smaller than a single oven. Generally, you should look for a minimum of 2 cu. ft. on the smallest oven, though 4 cu. ft. will leave more space for additional racks or wider baking trays.
Freestanding ovens are usually 36 to 30 inches wide while wall ovens tend to come in 30, 27, and 24-inch sizes. The reason wall ovens are slightly slimmer is because they don't need to factor in cooktop space. Generally, even 24-inch ovens are big enough for most cooking projects.
Cleaning
A self-cleaning function can be one of the best time-saving features on a new oven. Rather than spending an hour or more on your hands and knees scrubbing, you can save the hassle with the push of a button.
There are two main types of self-cleaning function. The traditional type which is still found in many ovens today uses high temperatures to burn residue from the oven interior. While this still requires a bit of work to complete, it is much more easy than scraping and scrubbing by hand.
More advanced ovens may have a steam cleaning option that cleans the oven interior with high-pressure steam. It will add a few hundred dollars to the oven's price tag, but can be well worth it.
Reliability
The most common problems in both gas and electric ovens involve broken components like heating elements and control pads, as well as wear and tear on the door hinge. Even the most quality-made ovens will need repairs after enough time has passed, but investing in a high-end model will help save in this regard. A good oven should last you between 13 and 15 years.
If you're trying to gauge a particular oven's reliability at a glance, the best place to look is the warranty. It's a good way to judge the manufacturer's confidence in their product, and will protect you against any out-of-the-box design flaws. Look for warranties of at least one year, though the best models might have a warranty of two years or more.
Design
Ultimately, the style of your oven should be a question of personal preference. Materials, configuration, color, and size should be chosen to fit into the overall design of your kitchen while also making a unique statement. The best way to ensure you don't end up regretting your choice a year from now is to do your homework and have an idea of all the options that are out there.
A stainless steel finish is the most common material option, and is durable, easy to clean, and fits will with a wide range of styles. What you want to avoid are ovens that have components made of plastic or wood, as these will break much more quickly.
More technology-driven ovens will be more likely to have larger digital displays, full of buttons to control its various features. Other ovens prefer to go for the classic look, sometimes with as few as two or three dials to control the heat. When combined with elements like the door handle and window there are plenty of different arrangements to explore.
Special Features & Technology
If you haven't purchased a new oven in the past ten years, you might be surprised at the number of cutting-edge features that are out there. Whether you want to cook faster, smarter, or more efficiently, there's an option out there for you.
If you're like me and often find yourself up to the wrist in pasta dough while a pot of sauce is bubbling on the stove, multitasking tools are essential. Many of the newest ovens feature Alexa functionality which lets you adjust heat, time, and other cook settings through voice commands. App connectivity can also let you monitor your dinner with your smartphone, and even set it to preheat or steam clean at the push of a button.
Another recent innovation are speed ovens. By combining elements of convection cooking, grills, and microwaves, they are able to heat food as much as two to four times as fast as traditional ovens. Personally, I'm not sure that I'm ready to trade-in my gas oven for one of these just yet, but ask me again in a few years.
My Recommendations
There are as many different types of wall oven as there are cooks who use them, meaning that it's hard to pin-down one best model that will fit everyone's needs. In my opinion the best double wall ovens are those that strike a balance between style and substance, with the right number of features packed into an attractive design.
This is what made GE's combination wall oven stand out to me. Its choice of microwave and thermal cooking settings, substantial power, and sleek design make it the ideal package for a range of different interests. On the other hand, the Cafe double convection wall oven has a completely different style, with classic doors and a slew of customizable features that will make it eye-catching in any environment. Either way, they both deliver on the quality, custom-made look that marks double wall ovens unique.
FAQs
Learn more about the best double wall ovens here with a few of the questions most commonly asked by their owners.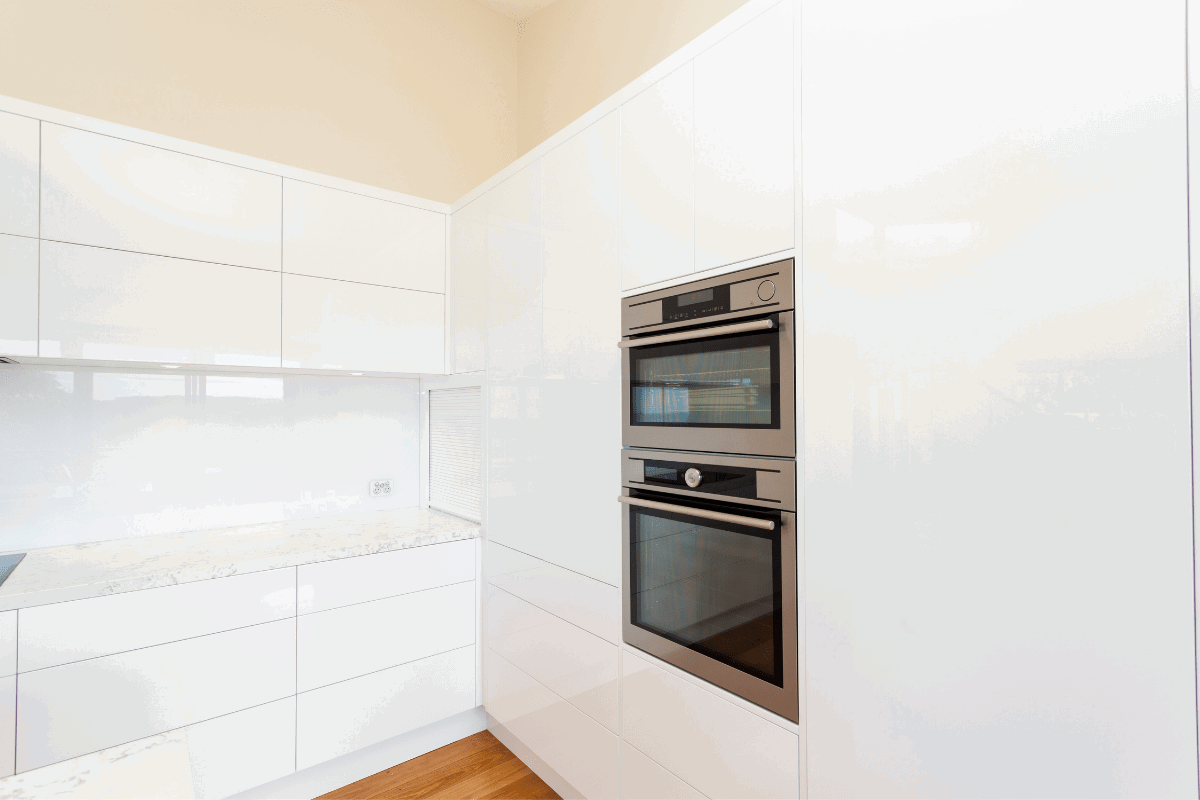 What Advantages do Double Wall Ovens Have?
A double wall oven is a great way to add a bit of convenience and flexibility to your kitchen. By adding a second top oven over the first, it allows you to manage separate cooking times and temperature settings without taking up additional floor space. If you're the kind of cook who regularly serves meals to a whole family, this can be invaluable.
As opposed to freestanding designs, a double wall oven adds a custom-built look that blends seamlessly into your kitchen. Many of them even include on-board storage, which can be a big help when it comes to saving space.
Do Double Wall Ovens Have any Drawbacks?
It is important to plan carefully if you're considering installing a double wall oven in your home. Since they don't include a cooktop, you will need to set aside separate space to have one installed. And remember that wall ovens are built directly into existing architecture, so once it's installed it will be more difficult to rearrange in the future.
If you can't change the existing architecture in your kitchen space, then you might also consider a countertop convection oven as a space-saving alternative.
Can You Install a Wall Oven Yourself? 
Double wall ovens take a lot of carpentry and electrical know-how and should only be handled by a qualified service technician. Installation costs between $100 and $250, so be sure to factor this into your oven's overall cost.
While you won't have a direct hand in the installation work yourself, it is important not to neglect the planning that will make the whole process move smoothly. Make sure to measure ahead and ensure you have a space in your kitchen that is well-fitted to the oven.
How Much Does it Cost to Own and Operate a Wall Oven?
The cost of owning and operating a double wall oven is much the same as a single oven, and varies depending on usage and your model. Whether you're cooking with electric or gas, your utility costs will range between 12 and 36 cents per hour, though this may tend toward the higher end if you're using two ovens at once.
Repairs are another common cost, and the most common involve a malfunctioning control panel, damaged heating coil, or broken self-cleaning function. Any of these can cost between $100 and $600 to fix.
Should I buy a Single or Double Oven?
The type of oven that's best for you depends entirely on your cooking habits. Are you someone who is most frequently cooking for one or two people? If so, one oven may be enough for you. Otherwise, if you often find yourself cooking for larger groups, or want to heat multiple dishes at the same time, a double oven can add the extra capacity you're looking for.
Can You Use Both Ovens at the Same Time?
Yes, the main benefit of a double oven is having the ability to heat both oven compartments at once. This adds extra cooking capacity, while also letting you cook at two different temperatures or settings at the same time.
Are Double Wall Ovens Safe?
Double wall ovens are just as safe as any other home appliance–as long as you use them properly and perform regular maintenance ,you have nothing to worry about. Just remember to keep the door closed, turn off the oven once you're done using it, and avoid putting anything inside that isn't food or cookware.
Do Wall Ovens Need a Vent?
Wall oven ventilation works a little differently than freestanding gas, electric, or induction ranges which often require a range hood. Wall ovens have an internal ventilation system that keeps excess heat or odors from entering your home. The vent can be located beneath the control panel or beneath the door, depending on when your oven was made.