I was first taught the value of a good stock pot when I was in culinary school. I learned that a flavorful stock is one of the key (or dare I say "secret") ingredients in many of the best restaurant dishes.
At home, I still use one to make my own stocks, but that's just one of its uses. Today, I'm excited to share three of the best stock pots that you can buy right now, and why this is one of the most essential cookware pieces.
Our Top Picks
Features:

Thick base with aluminum core conducts heat well
Flat handles are well designed for lifting and pouring
Stainless steel construction is durable and safe to use with all ingredients

Features:

Very inexpensive
Similar cooking performance to some more expensive options
Durable material and construction

Features:

Even heat distribution throughout the entire pot
Very sturdy and well-designed handles
Should last a lifetime
Best Overall
Features:
Thick base with aluminum core conducts heat well
Flat handles are well designed for lifting and pouring
Stainless steel construction is durable and safe to use with all ingredients
Best Value
Features:
Very inexpensive
Similar cooking performance to some more expensive options
Durable material and construction
Best Upgrade
Features:
Even heat distribution throughout the entire pot
Very sturdy and well-designed handles
Should last a lifetime
09/28/2023 05:47 am GMT
The best stockpot should have sturdy handles, a tight-fitting lid, a thick even heating base, and be made from a durable material. The 12-quart stainless steel stockpot from Cuisinart has all those critical details covered.
The thick base on this stainless steel stockpot heats evenly, reduces hot spots, and ensures the pot won't warp. There's nothing worse than a pot or pan that wobbles and sloshes because the flimsy base has become misshapen.
The Chef's Classic stainless steel stockpot is disc clad, meaning that a layer of aluminum is encapsulated inside of the stainless steel base. This provides exceptional heat distribution and allows the pot to warm more quickly than solid stainless.
The tall sidewalls are made from a single layer of non-reactive stainless steel. I'm a big fan of fully clad cookware. But, for such a large and tall pot I don't think it's necessary. The single-ply design is still very sturdy and you get a lot of weight and cost savings.
The riveted stainless steel handles are sturdy and might just be my favorite feature. They're well-positioned and large enough to easily grab even when wearing thick oven mitts. But the best thing about them is their flat shape.
The flat handle provides excellent leverage. This is extremely important when lifting and pouring from a large stockpot.
The included lid fits tightly and is made from stainless steel. Although you won't be able to monitor cooking with the lid on, I still prefer a metal lid like this for its durability and ease of cleaning.
If you have an oven large enough, the 12-quart stockpot is oven safe up to 550 F. It's also dishwasher safe, but handwashing will keep the stainless steel looking better, longer.
It's hard to go wrong with this option. It can handle heavy use and is big enough for large families, food prep projects, or canning and preserving.
What we like
Thick base with aluminum core conducts heat well
Flat handles are well designed for lifting and pouring
Stainless steel construction is durable and safe to use with all ingredients
What We don't
Some owners had poor results on induction stoves, and a full-clad stock pot is probably a better choice if that is how you'll be cooking.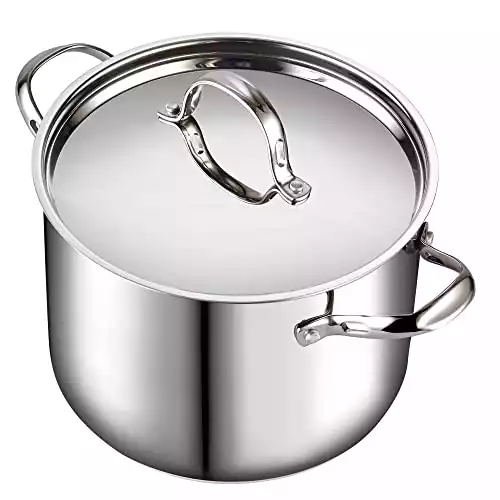 The Cooks Standard 12-quart stockpot is very similar to my "best overall" pick and, at about half the price, it's definitely worth a look.
You won't get the flat-handle design that is offered by the Cuisinart Chef's Classic, but otherwise the body and impact-bonded base on the Cooks Standard stainless steel stockpot will function almost identically AND at a large cost savings.
The Cooks Standard stockpot has an aluminum core surrounded by stainless steel for the base. This makes heat distribution along the bottom of the pot very even and it's also induction compatible. The sidewalls are sturdy, single-layer stainless steel, and have a nice flared rim for mess-free pouring.
Cooking performance is solid all-around. It is worth noting that this pot seems to discolor more easily than other options. Fortunately, there's an easy fix for discolored stainless steel and it won't have an impact on the safety or cooking performance of your stockpot. From personal experience, I can say that frequent discoloration can be a nuisance to deal with if you're persistent in managing it after every couple of uses.
This pot is dishwasher safe but that is where the most severe discoloration occurs. There are better dishes than a large stockpot for oven use, but if you don't have one (a dutch oven, for example) then this pot is oven safe to 500 F.
The handles are sturdy and easy to hold, but they don't have the flat design like my top pick. The lid is also constructed from stainless steel and has a tight fit and solid handle.
If the stainless steel discoloration doesn't bother you then this is probably the smartest pick of the bunch. Sure, the handle design could be a little better, but for less than $50 this pick is durable and will boil water as well as any other.
What we like
Very inexpensive
Similar cooking performance to some more expensive options
Durable material and construction
What We don't
Stainless steel discolors very easily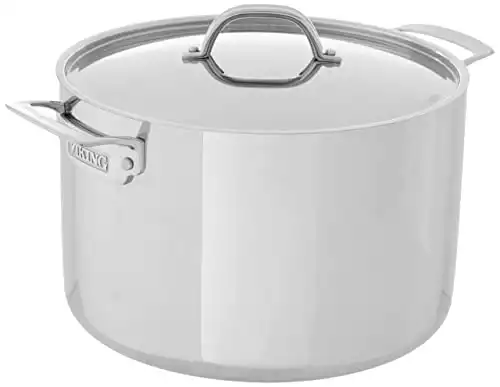 I know I just said that fully-clad stainless steel isn't necessary for a large stock pot. But, I didn't say it's not nice to have. If it's in your budget and you don't mind the added weight, I'm all for it.
The Viking 12-quart stockpot is built from tri-ply, fully clad stainless steel. Instead of just a multilayered base, like my other picks, there are three layers of metal throughout the entire pot.
The interior and exterior are made from stainless steel. That makes it durable and food safe for use with any ingredient. Between those layers is an aluminum core for fast and even heating on the bottom and sides of the pot.
Besides offering better heat distribution, full cladware is also more durable and this stockpot should easily last a lifetime.
The thick, heavy sidewalls won't have a huge impact when you're boiling water or making stock using a traditional gas or electric range. But they can be very beneficial if you're going to be slow cooking or braising large cuts of meat.
The only downside of clad pots and pans is they can be on the heavy side. This 12-quart stockpot weighs a whopping 8-pounds. That's 2-pounds more than my other top choices.
The stainless steel handles are very secure, easy to grab, and flat for better pouring leverage, and there are useful measurement markers etched inside the pot.
The whole thing is dishwasher safe and also oven safe up to 600 F.
Yes, this stockpot costs two or three times more than my other top picks. But, for a fully clad, tri-ply pot of this size, I would call it a bargain.
What we like
Even heat distribution throughout the entire pot
Very sturdy and well-designed handles
Should last a lifetime
What We don't
More expensive than the disc-clad options
Heavy
Other Options That Are Great But Didn't Make The Cut
All-Clad has been my go-to stainless steel cookware for years and it pains me that I couldn't put their 8-Quart Stockpot in my top three selections. Here's why,
The construction and durability of this stockpot is second to none, but so is the price. If it's in your budget then by all means, you won't be disappointed. But, Viking did such a good job with their tri-ply stockpot at more than half the price and 4-quarts larger.
I don't recommend going with a nonstick option when it comes to a large stockpot. Nonstick coatings are much less durable than stainless steel and I don't think the convenience factor is as useful in this type of pot.
However, if you'll be cooking things like mac and cheese or other sticky recipes, then the quick and easy cleanup of nonstick could be worth it for you.
Calphalon's hard-anodized nonstick is a good option. Their Contemporary line looks great and uses one of the more durable nonstick coatings on the market. They also use heavy-gauge aluminum that's built to last.
Buyers Guide: Choosing The Best Stock Pot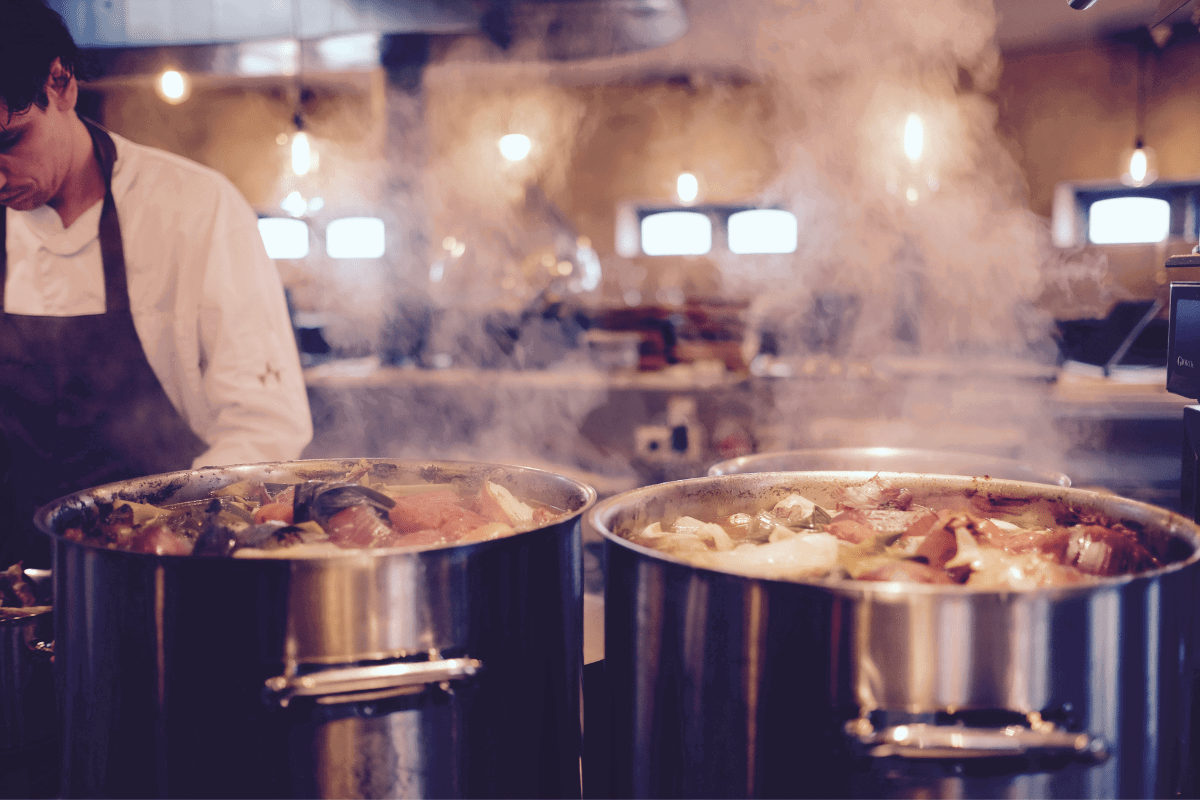 Materials: Durability vs. Convenience
There are two primary choices when choosing a stockpot. Stainless steel or aluminum. Within each of those are a couple different ways to go.
Stainless Steel: Fully-Clad or Disc-Clad
When it comes to stainless steel cookware, I almost always recommend going with a fully-clad option. It's generally more durable and heats evenly from base to rim. But, it's also much more expensive and large stock pots are one instance where a fully-clad option isn't necessarily worth the higher price.
Most stockpot uses revolve around large amounts of liquid. Think soup, stock, and boiling water for pasta or blanching. Fully clad options don't add much benefit to those tasks so disc-cladding is often the best and more affordable way to go.
Aluminum: Raw or Hard Anodized
Raw aluminum stock pots are inexpensive and lightweight. They're great for boiling water but they react poorly to acidic ingredients. For that reason I wouldn't recommend a raw aluminum stock pot for daily cooking since it's uses are limited.
But, raw aluminum stock pots are very useful in many other cases. Consider raw aluminum for a really large stock pot. These are lightweight and great for seafood boils, deep frying a turkey, or large canning projects, just to name a few.
The other option is hard anodized aluminum. This is aluminum that has gone through a chemical process which makes it more durable and also non reactive.
Hard anodized aluminum is almost always paired with a nonstick coating. A nonstick frying pan or griddle can be a great tool for easy and convenient cooking. But, the coatings always lack durability and will have to be replaced within a handful of years.
Since sticking is not a big problem for most stockpot uses, I dont think a nonstick option is the best way to go. It may save a few minutes of cleanup time, but it won't last nearly as long as a good stainless steel option.
Size: Go Big, But Not Too Big
Choosing the right size stockpot can be tricky. You want it to be big enough to make stock and boil a large amount of water for pasta or blanching vegetables. But you don't want it to be so big that it just collects dust and never gets used.
For four to eight people, a 10 or 12-quart stock pot is good size to start with. That's a versatile size that will give you ample room for just about any cooking needs.
If you're only cooking for two or three people, that may feel like overkill and will likely get very little use. Instead, consider going with a 6 or 8-quart stockpot. That's more manageable for less people, can still fit a whole chicken, and doesn't sacrifice the stockpot's versatility.
Design: Features To Pay Attention To
Look for features that will make the stockpot easier and more enjoyable to use.
When filled with liquid, a stockpot is probably one of the heaviest items in the kitchen. That's why I always pay attention to the handles. Handles should be very securely attached and a flat design goes a long way when you're pouring directly from the stock pot.
When it comes to pouring, the rim is another area to pay attention to. A rolled or flared rim is great for a cleaner pour. And some even have pour spouts for added precision.
A durable and tight-fitting lid is another key piece to a good stock pot. I prefer a stainless steel lid for durability, but tempered glass lids will allow you to monitor food while cooking.
I look at measurement markers on the inside of a stockpot as a bonus feature. I wouldn't go out of my way or spend more just for that feature, but it's a welcome and useful touch.
Heat Source: Stovetop Compatibility
If you have a gas or electric stove then you don't have to worry too much about what stockpot you choose. If you're cooking with induction then you'll want to make sure your choice is compatible with your stove.
Stainless steel is usually a safe bet for induction cooktops. Aluminum is another story and many options will be off the table. Just make sure you check the fine print before buying.
Affordability: Good Doesn't Have To Be Expensive
A good stockpot doesn't need to break the bank. My top three picks cover a wide range of price points starting at about $40 and going up to around $160. And, they're all made from stainless steel so you can count on a long and healthy relationship with them.
You can easily spend much more than that, but you won't find much difference in cooking performance. That's why this is a great place to save a little money in your kitchen budget, while still getting a high performing and long lasting pot.
FAQs
What Are The Advantages Of Using A Stock Pot?
A stock pot can't be beat when it comes to large, liquid based recipes or simply boiling water for various cooking tasks. It also helps that many options are lightweight. That can be a big deal when you're moving around 10-quarts of hot liquid. They're often relatively inexpensive, especially when you consider what a large piece of cookware a stockpot is
Are There Any Drawbacks To Using A Stock Pot?

For many tasks a stockpot can't be beat. But, they are quite large and can be difficult to maneuver, especially when full of food. Along the same lines, stockpots can take up a lot of storage space. I know people who have dedicated closet or garage space for their large stockpots since kitchen cupboard real estate is too valuable.
Stock Pot vs. Dutch Oven: Do I Need Both?
You don't absolutely have to have both, but I would recommend it if you can. If I could only choose one, it would be a Dutch oven. They're more versatile and in a pinch they can do just about anything a stock pot can.
But, I would hate to have to pull out my heavy dutch oven every time I want to boil water for spaghetti. Not to mention, a good enameled cast iron Dutch oven is going to cost significantly more for a much smaller size.
What Maintenance Is Required?
Most stainless steel and non stick stockpots are dishwasher safe. But because they're so large, you'll likely end up handwashing most of the time anyway. If you go with a non-stick option, avoid metal utensils at all times. Other than that, no special maintenance is needed.
Are There Any Safety Issues?
The only safety concern to keep in mind is the large size and weight of a stockpot full of food. It can be very dangerous to lift and move such a large pot that's full of hot liquid.
What Are Some Good Uses For A Stock Pot?
As the name implies, a stock pot is great for making stock or bone broth. And as simple as it may be, they are the king of boiling water. 
A large amount of water is key to properly cooking pasta, crab and lobster, or blanching vegetables. Having enough water so that you don't lose the boil as ingredients are added will ensure consistent and even cooking.
My Recommendation
In my view, a large stock pot is one of the most essential cookware pieces that you can own, and luckily good options are easy to find no matter your budget.
My best overall and budget pick are very similar when it comes to cooking performance. But, I think that the handle design of Cuisinart alone makes it worth the slightly higher price.
If you have a little extra room in your budget, the Viking stockpot is a bargain for a fully clad option. Just keep in mind the additional weight that comes along with it.