While a pasta pot is great for boiling noodles, it's no one-trick pony.
Large pots like this are workhorses in professional kitchens. Used for blanching vegetables, steaming seafood, and making large batches of stock and soup.
A pasta pot may not be a daily driver like a frying pan or saucepot, but having a good one at the ready is crucial in any kitchen, home or professional.
After looking at the wide range of pots available and comparing them with my own experience cooking in restaurants and at home. I've picked out the three best pasta pots and everything you need to know to make the best decision for your kitchen.
Best Overall: All-Clad Stainless Steel Pasta Pot Set
Best Overall
The All-Clad Stainless Steel 8-Quart Pasta Pot is the ideal pot for boiling, simmering, slow cooking, and more. It is perfect for professional chefs and avid home cooks alike.
Buy Now
We may earn a commission if you make a purchase, at no additional cost to you.
11/30/2023 10:22 pm GMT
All-Clad is known for making some of the most durable and well-designed cookware available. But, their fully-clad stainless steel comes with very hefty price tags.
However, their 8-quart pasta pot is one of the few pieces that's disc-clad rather than fully clad. So, instead of several layers of metal throughout the entire pot, you get single-walled sides with a thick aluminum encapsulated base.
That means you'll get very even heat distribution across the cooking surface of the pot, but not up the sides.
While I prefer fully clad cookware for saute pans and sauce pots, I almost always go the disc-clad route when it comes to large stock pots like this.
The main purpose of a stockpot or pasta pot in particular is to boil or simmer large amounts of liquid. And for that purpose, you don't really get a lot of benefit from the tall, fully clad side walls.
Sure, you may get a bit more durability, but you also get added weight and a higher price tag.
This All-Clad model includes a pasta strainer insert, as well as a steamer basket. Each one fits securely into the main pot so you can use it to strain pasta, blanch veggies, or steam seafood.
After seeing the abuse that All-Clad cookware can handle in professional kitchens, it has been my go-to stainless steel brand for years. But, the high prices can be hard to stomach. This pasta pot however, offers great durability and top of the line fit and finish, all in a much more affordable package.
What we like
Excellent heat distribution across the base of the pot
Compatible on all stoves including induction
Well designed handles make it easy to pour even when full of liquid
What We don't
Not made in the USA like their high end fully clad options
Doesn't handle dishwasher use well
Best Value
Cuisinart chef's classic cookware is a tried and true stainless steel option that offers incredible value.
Similar to the All-Clad option, this is a disc-clad pot. The thick base has a stainless steel exterior that's induction compatible and an aluminum core. Which is what helps the cooking surface to heat quickly and evenly.
The tall sides are single-walled stainless steel, which doesn't conduct heat exceptionally well. But, it's durable and safe to use with any ingredients.
The pasta strainer makes it easy to lift your cooked noodles out without having to pour boiling water from this very large, 12-quart pot. And, it works great as an easy way to strain vegetables and bones when you're making stock.
However, I should note that some owners had problems with corrosion and flaking of the pasta insert itself.
There's also a steamer insert that fits nicely on top. And, because the steam basket is on the shallow side, it can easily be used at the same time as the strainer insert.
The stainless steel "flavor lock lid", as Cuisinart likes to call it fits very nicely. But, because it's stainless steel you won't be able to monitor your food while the lid is on.
At 12-quarts, this is definitely on the large side and maybe too big for individuals or couples. But if you're cooking for a family or for large gatherings, this is a great option that will fit any budget.
What we like
Large capacity is great for groups or big batches of stock
Useful measurements etched on the interior of the pot
What We don't
May be too large for everyday use
Some owners had durability issues with the pasta insert
Best Upgrade
Viking 3-Ply Stainless Steel Pasta Pot with Steamer, 8 Quart
The Viking 3-Ply Stainless Steel 8-Quart Pasta Pot has a construction that transfers heat evenly across the bottom and sides of the pan with maximizing heat responsiveness. It is ideal for modern home chefs.
Buy Now
We may earn a commission if you make a purchase, at no additional cost to you.
11/30/2023 03:47 pm GMT
The Viking 3-ply pasta pot is a big step up in price, as well as durability and heat distribution. While a disc-clad pasta pot is good enough for most situations, this fully-clad option definitely has some additional benefits.
The interior and exterior are made from durable stainless steel, so you don't have to worry about rust. And, just like the others, it's safe to use on any cooktop.
The big difference here is that the aluminum core runs from the base all the way up to the rim. Adding much better heat distribution up the sides. That's going to speed up boiling times and can also reduce the likelihood of scorching in the corners of the pot.
With a multilayered base and sides, you're also getting beefed-up durability, and you should have no worries that this pasta pot will ever bend or warp.
As you would expect for the high price, the stainless steel lid, pasta insert, and steamer basket are all very sturdy and fit nicely together.
The riveted stay-cool handles are comfortable and offer a lot of leverage when lifting and pouring a lot of liquid. Plus, you get useful volume markers laser etched inside the pot.
While you don't need a fully clad pasta pot, if it's in your budget, it's nice to have. And, Viking manages to do it all without adding much, if any additional weight.
What we like
Great heat distribution throughout the entire pot
Sturdy, comfortable, useful handles
More durable without being too heavy
What We don't
Cooking performance isn't drastically better than the disc clad options
Buyers Guide: Choosing The Best Pasta Pot
Different Types Of Pot: Pasta vs. Stock vs. Dutch Oven
When it comes to cooking pasta, all you really need is a pot that can hold a large amount of water. And when it comes to choosing a large pot, there are two common choices.
A pasta pot and a stockpot are really the same thing. Though a pasta pot will often come with a pasta strainer insert. The other common choice is a Dutch oven.
The Dutch oven is king when it comes to long slow cooking. These are heavy, thick-walled pots with tight-fitting lids. They're usually made from cast iron, which makes them slow to heat up, but they hold heat incredibly well. If you'll be stewing and braising this is what you want.
But, when boiling water for pasta, they're a bit overkill. Dutch ovens often take a long time to boil, and they add a lot of weight which makes them more difficult to pour from.
A pasta pot or stockpot isn't as thick or heavy and they're made from materials that heat faster than cast iron. They're also taller and not as wide as a dutch oven. This helps them to heat up faster and evaporate slower.
Materials
You may have noticed that all of my top picks are stainless steel pasta pots, and there's a good reason for it.
Stainless steel is durable, easy to clean, and safe to use with any ingredients. Plus, when you combine it with an aluminum encapsulated base or fully-clad core, you also get fast and even heating.
Your other pasta pot options are aluminum or ones with a nonstick coating.
Plain aluminum models are prone to warping and corrosion. If you only plan on using it for boiling water, you'd probably be ok. But, if you ever want to put tomato sauce in there, this choice is out.
Nonstick pasta pots are common because they're easy to use and clean. The big downside is that they lack durability.
No matter how strong the non-stick coating claims to be, you can't use metal utensils. And the coating will eventually start scratching and flaking even when well cared for.
And, since you'll almost always be using a lot of liquid when using a pasta pot, you shouldn't have to worry about food sticking all that often anyway.
Pasta Pot Sizes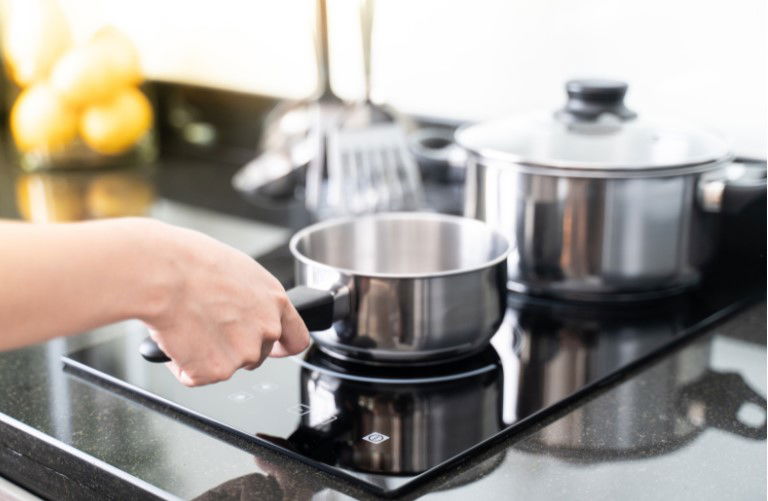 For many people, their pasta pot might be their largest piece of cookware. It needs to be large enough that it can hold an ample amount of water for boiling pasta, but you don't want it to be so big that you never want to use it.
The 6-to-8 quart range is perfect for a couple of people to a family of four. A 6 or 8-quart pasta pot will provide plenty of room for all the pasta you may need and is also a manageable size for blanching vegetables or making stock.
If you regularly cook for more than 4 people, you may consider sizing up to a 10 or 12-quart pasta pot. That way you won't be overcrowding your pot which can lead to mushy and unevenly cooked noodles.
Storage Considerations
Since pasta pots are on the large side, it can be tricky to find a good place to tuck them away. Especially for anyone living in cramped city apartments.
Unfortunately, there isn't really a good way around their large size. By choosing with an option that has a strainer insert, you can at least free up some space by eliminating the need for a separate colander.
Both the pasta insert and the steamer baskets of any of my top picks can easily double as a strainer or colander for any number of kitchen uses. And, since they all nest neatly together, they won't take up too much space in the cupboard.
Cladding
There are two cladding options when looking at stainless steel pasta pots. Fully clad options are built with several layers of metal from the base all the way up the sides to the rim. While disc clad options have a multi-layer base bonded to the bottom, with single-walled sides.
When it comes to stainless steel frying pans and smaller pots, I almost always go the fully clad route. It's generally more durable, but more importantly, the entire pan heats quickly and evenly. A big benefit when searing, sauteing, and sauce making.
But, when it comes to large pots like this, I don't think the benefit is as great. You might be able to get your water boiling a tiny bit faster with a fully clad model. But I don't know if that's necessarily worth the higher price tag.
Oven And Dishwasher Safe
You can almost always count on stainless steel cookware to be oven safe. And while all of my top picks are, it probably shouldn't be a very big deciding factor when choosing this type of pot.
Pasta pots tend to be so large that even if you could fit them in your oven, there are few recipes that would ask you to do so.
Being dishwasher safe on the other hand can be pretty helpful.
Handwashing any cookware is going to be your best and safest bet to get the longest life out of your pots and pans. But that can be difficult depending on how big your pot is and how small your sink is.
Being able to put a large pot like this in the dishwasher could be a big selling point for many people. While most options today are dishwasher safe, you should be aware that it could dull the appearance of stainless steel, and shorten the lifespan of nonstick models.
How Much You Can Expect To Spend
As with most pots and pans, there's a pretty large price range for pasta pots.
If you plan on going the fully clad stainless route, be prepared to spend a pretty penny. The large size means a lot of material, so you should plan on spending at least $200 on a good one.
Disc clad stainless is likely the best choice for most people, and you can find good options for most budgets. For this style look to spend anywhere from $50 up to around $200.
Nonstick options also cover a similar range. With budget models costing around $30, and more durable, high-end options costing up to $200 as well.
My Recommendations
A good pasta pot is a kitchen essential, and not just for boiling noodles. Choosing a stainless steel model is a good way to ensure a long and useful life of cooking. All without worrying about rust, scratches, or any special maintenance.
I think most people will be more than satisfied with either the All-Clad or Cuisinart options. Although the All-Clad looks a bit nicer and has a better fit and finish.
And, while a fully clad pasta pot won't make a huge difference in cooking performance, I would still probably go with the Viking option if it were in my budget.