Stainless steel cookware is the cornerstone of every professional kitchen I've ever worked in. It's also what I reach for 90% of the time at home.
Getting started with stainless steel comes with a noticeable learning curve. It can also be very expensive. Luckily, Cuisinart makes several high-performing options that offer incredible value for the price. It's a great entry point if you're just starting out with stainless steel cookware, or if you're shopping on a budget.
I've thoroughly explored Cuisinart's best stainless steel cookware options and, in this article, I'll break down the differences and similarities in simple terms. You'll learn the basic buying criteria that I'd recommend for anyone considering stainless steel cookware, plus what's good, bad, and worth bringing into your kitchen from Cuisinart. All that and more in my Cuisinart stainless steel cookware review. Here's a look at the lines: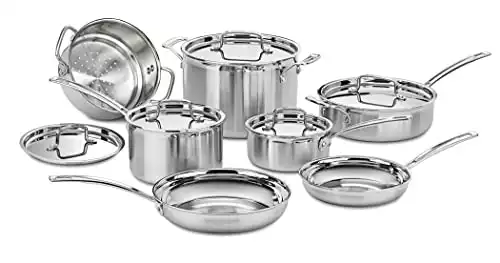 Cuisinart Multiclad Pro 12-Piece Cookware Set
Cuisinart offers a great introduction to stainless steel cookware. All three lines are functional and inexpensive. But, the Professional Series is too similar to the Chef's Classic stainless steel cookware to be worth the higher price tag. Instead, skip it and go for their higher-end (but still affordable) Multiclad Pro stainless.
Buy Now
We may earn a commission if you make a purchase, at no additional cost to you.
12/01/2023 02:07 pm GMT
What we like
Great entry-level stainless steel cookware
All three lines are budget-friendly
All lines come with a limited lifetime warranty
What We don't
Professional Series and Chef's Classic are too similar in performance
Several owners had problems with glass lids shattering
The Cuisinart Chef's Classic line is the entry-level and most affordable stainless steel cookware series.
It features disc-clad pots and pans. That means there is a multilayered base that helps the cookware heat more evenly. The middle layer (also called the "core") is made from highly conductive aluminum, and surrounded by durable stainless steel on all sides.
This configuration helps the bottom of the pan heat quickly and evenly. But, since the sides are only a single layer of stainless steel, heat won't transfer up the sides very well.
The lids for the Cuisinart Chef's Classic stainless steel line are all made from tempered glass. Something you'll appreciate if you like to keep a close eye on things with the cover on.
Each piece has solid stainless steel handles and is compatible with any type of cooktop, including induction. And, they're oven safe up to 500 F, and dishwasher safe as well.
The Cuisinart Professional Series is billed as a step up from the Cuisinart Chef's Classic stainless steel but with a similar design and construction.
The Pro Series also features a three-layer, disc-clad base for fast and even heating across the cooking surface. The base materials are the same, with an aluminum core surrounded by stainless steel.
This line uses what is called "wraparound disc-cladding". The multilayered base is still impact-bonded, but the disc is thicker, wider, and comes slightly up the sides of the pots.
When it comes to cooking performance, the Professional series functions very similarly to the Chef's Classic stainless steel. The thick and wide base delivers marginally better heat distribution. But, heat still doesn't effectively travel up the sides.
The handles are another noticeable difference. They are still made from stainless steel, but they are large and hollow cool grip handles, instead of solid metal.
The other features are about the same. This set is dishwasher safe, oven safe up to 500 F, can be used on any cooktop, and feature glass lids.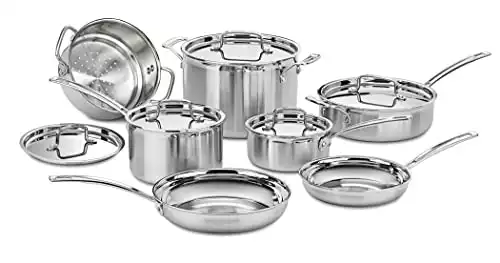 The Multiclad Pro line from Cuisinart cookware is where you'll find a big upgrade in both design and performance.
Rather than disc-clad, Multiclad Pro is fully clad. That means instead of only a tri-ply base, they feature three layers of material throughout the entire piece of cookware.
The three layers still include an aluminum core, sandwiched between stainless steel.
An aluminum layer throughout means that heat transfers from the base all the way up to the rim, for better and more consistent cooking results.
The full tri-ply construction also means there's a seamless transition from the bottom to the sides of each pot. This makes them look better and adds more durability.
Rather than tempered glass, Multiclad Pro features stainless steel lids. I prefer these for durability and ease of cleaning, but it means you can't monitor food with the lid on.
As you would expect, Multiclad Pro can be used on any cooktop and is dishwasher safe. But, you do get a small bump from 500 F up to 550 F for oven use.
Buyers Guide: Everything You Need To Know About Cuisinart Stainless Steel Cookware
Same Materials, Different Construction
All three Cuisinart cookware lines are built from stainless steel, plus a little aluminum. But, their construction and cladding-style make a world of difference.
Cladding
Cladding is a process where metals are sandwiched together in order to take advantage of the best qualities of each material.
For example, Aluminum is a great choice for the core of a pan, because it conducts heat extremely well. At the same time, aluminum isn't very durable and also reacts poorly to acidic ingredients.
When a product has been "clad," the core is surrounded by a second metal like stainless steel. For pans like those made by Cuisinart, this process helps to balance the material drawbacks of an aluminum core.
With a stainless steel exterior, you'll still benefit from the fast and even heating of aluminum. At the same time, you'll gain durability and eliminate reactivity which makes the pan food-safe for a variety of ingredients. It also looks great!
Tri-Ply Construction
Three layer (tri-ply) cladding is common, and offers a great balance of price, performance, and weight. But, you can also find five and seven-layer cladware.
Five and seven-layer options typically have alternating layers of aluminum and stainless steel. Or, you'll find layers of copper mixed in. Copper is the only material that conducts heat better than aluminum, but it's significantly more expensive.
Disc Clad
Disc clad cookware like the Chef's Classic and Professional Series use a multilayered disc that is impact-bonded to the base of the pan. It provides even heat distribution across the bottom, but not up the sides. Disc cladding is nice because it's inexpensive to produce, making it more affordable.
Fully Clad
Fully clad cookware like Multiclad Pro, features multiple layers of material from the base, all the way up the sides. That means you get the heating benefits of the core material throughout the entire piece of cookware.
It also means that you get a seamless pan, which looks good and adds more durability. The downside is that it's more expensive to produce, and more expensive to buy.
Cooking Properties: Practice Makes Perfect
Stainless steel is one of my favorite cookware materials because it's durable, versatile, and can be used on any cooking surface. But, if you've never cooked with it before, it can take some getting used to.
There's a misconception that if you buy a very expensive stainless steel pan it should be nonstick. But, stainless steel is simply not non-stick, no matter how much it costs.
By properly preheating your cookware and using enough fat, you can cook anything without it sticking. It might take some reading, YouTubing, and trial and error but you'll get there if you keep at it.
Type Of Pans: There Are A Lot, But You Only Need A Few
Stainless steel cookware is available in every shape and size imaginable. Buying a full set is an easy way to get cooking, but sets can also include pieces that take up space and don't get much use.
10 and 12-piece sets are a good bet for useful pots and pans. But, when you get into 17 and 20-plus pieces, you can start finding strainers and in-between sizes that are less useful.
My recommendation would be to start with a frying pan, stockpot, and saucepan, which are the most essential pieces of stainless steel cookware in my kitchen.
Design: How It Looks And Functions
A gleaming set of stainless steel cookware is a beautiful sight to behold, and Cuisinart's stainless steel offerings deliver in that regard.
The Chef's Classic and Professional Series look good, but the Multiclad Pro line is a cut above. The seamless construction and stainless steel lids look like professional-quality cookware.
The handles on all three lines are sturdy and comfortable, and there aren't any gimmicks or fancy features to muddle things up. It's simple, functional cookware.
Care: It's Hard To Ruin Stainless Steel
Another reason I love stainless steel is that it's easy to care for, and almost impossible to ruin.
Cleaning stainless steel is as easy as scrubbing with soapy water. And, even in messy situations, a good soak should get the job done.
Sure, food might stick or even get burnt on, but it can just about always be brought back from the brink and put back into action.
What You Can Expect To Spend
Because there are so many individual pots and pans in each of Cuisinart's lines, it can be complex to make an apples-to-apples comparison in less than a thousand words.
For the sake of simplicity, let's compare 12-piece sets.
As you upgrade from one line to the next, you'll gain about $50 in cost.
So, the Chef's Classic starts things off at a little more than $150. After that, the Professional Series is around $200. That leaves the Multiclad Pro line in $250 territory.
If you're comparing Cuisinart's products with other top makers of stainless steel cookware, you can easily spend 5x as much to buy a restaurant-quality product. All-Clad, for example, makes a series of copper core pans that will set you back almost $2k.
Top-end stainless steel cookware looks and performs great, but most home cooks don't need a product that can be used continuously for days on end. Unless you own a catering company, Cuisinart is going to be a great place to start. And for a much friendlier price.
My Recommendation
Cuisinart offers a great introduction to stainless steel cookware. Chef's Classic is one of the least expensive options that you'll find.
I don't think that the Professional Series offers enough cooking benefits over Chef's Classic to make it worth the extra money.
But, I do think it makes sense to skip those two and go straight to Multiclad Pro. Fully clad cookware is the way to go for durability, looks, and the best cooking performance. This is an option that you won't quickly outgrow and is definitely worth the slightly higher price tag.
FAQs
Is Cuisinart Stainless Steel Cookware Good?
Cuisinart makes great introductory stainless steel cookware. All of their lines are mass-produced, so you won't get the same fit and finish that you might expect from handmade brands. 
What Is The Best Grade Stainless Steel Cookware?
18/10 stainless steel is the standard for the cooking surface of high-quality cookware. It's durable and non-reactive so it's safe to use with any ingredients.
How Does Stainless Steel Cookware Compare With Nonstick?
Nonstick cookware is convenient and easy to use. But, it's not very durable and has limitations to how it can be used.
Stainless steel, on the other hand, requires a little more effort. But, it can handle metal utensils, high-heat, and will last much longer.
What Is The First Thing I Should Make With My Cuisinart Stainless Steel Cookware?
If you're used to cooking on a nonstick surface, you should try searing a steak in your new stainless steel cookware. This is a great and simple way to experience the benefit of stainless steel's cooking characteristics.