Range hoods are an integral part of any kitchen, and finding the best island range hood presents a couple of unique challenges in particular.
First they have to be mounted directly to the ceiling. And second, they need a little extra power since they're exposed on all sides and will be moving more air than other types of range hood.
Working in professional kitchens has given me more than my fair share of experience working with and cleaning all manner of range hood.
So, with my first hand experience combined with hours of in depth research, I've chosen four of the best island range hoods. They cover options for any stove and budget so your kitchen can be cleaner, safer, and more enjoyable to cook in.
Most Powerful
CAVALIERE 30" Range Hood - Wall Mounted - 900CFM
The Cavaliere Stainless Steel Island Range Hood has a sensational design that will make your kitchen look even better. It is a perfect choice for anyone that cooks a lot and isn't afraid of high heat and a little smoke.
Buy Now
We may earn a commission if you make a purchase, at no additional cost to you.
12/01/2023 04:53 pm GMT
The Cavaliere island range hood is the perfect choice for anyone who cooks a lot and isn't afraid of high heat and a little smoke. The 900 CFM blower will keep your air clean and can handle almost any cooking scenario.
Since island range hoods are exposed on all sides, a little extra power is helpful when clearing out smoke, fumes, and steam. And 900 CFM is more than a little extra. If you use an indoor grill burner, or like to cook with a wok, you'll appreciate and get a lot of use out of this powerful hood.
Even if you're not known for creating billowing smoke and steam while you cook, this hood has a setting for you. While most hoods have 3 or maybe 4 fan speeds, the Cavaliere has 6! That means you can perfectly dial in the suction you need no matter what or how you're cooking.
The sound level is also pretty impressive. On low, this hood clocks in at around 25 decibels. That's quieter than many refrigerators, which means you probably won't even know it's on. On high, the hood operates at less than 60 decibels. At that level you'll know it's on, but won't have to shout in order to have a conversation.
There are 4 bright LED lights, which offer great visibility across your entire range. And, there is an LCD display and controls on both sides of the hood. Making it easy to adjust no matter where you are in the kitchen.
The hood is convertible so you can install it ducted to vent outside, or ductless to clean and recirculate air indoors. And the stainless steel baffle filters are dishwasher safe for easy maintenance.
While this isn't the cheapest option out there, it's still way under the $1000 mark. And when you consider the power and features, it's well worth the cost.
What we like
Controls on both sides of the hood
What We don't
Installation can be challenging – if you're not handy, call a pro!
Best Design
Broan Elite E5490SS 36-Inch 480 CFM Stainless Steel Island Range Hood
The Broan Elite Stainless Steel Island Range Hood is a versatile range hood that offers a complete solution to your ventilation needs. It is a great choice for casual cooks that prefer a range hood that doesn't stand out.
Buy Now
We may earn a commission if you make a purchase, at no additional cost to you.
11/30/2023 06:28 am GMT
The Broan Elite island range hood looks better than most options out there. It has a clean and elegant design that will elevate the look of any kitchen.
The stainless steel hood has a very low profile, helping it to blend in without being an eyesore in the kitchen. An important factor since island range hoods are the center of attention, smack dab in the middle of the room.
Broan has also hidden all of the controls on the underside of the hood, which adds to its simple, attractive style.
The blower on the Broan Elite has a maximum CFM of 480 and three different fan speeds. That's strong enough for casual cooks and moderate-sized ranges, but on the lower side if you'll be grilling indoors or if you have a large or very powerful range.
This is another convertible hood, so you'll be able to use it even if you don't have any ductwork, or plan on adding it in the future.
The two metal baffle filters are easy to remove and can be tossed in the dishwasher for easy cleaning. And there's a one-piece aluminum grease trap that's dishwasher safe as well.
If you don't like the look of clunky metal hoods or the tempered glass variety, this Broan Elite hood is a very attractive alternative that's more elegant than most.
What we like
Can be used in ducted or ductless kitchens
Baffles and exterior of the hood are easy to clean
What We don't
Could offer more power for the price
Affordable And Powerful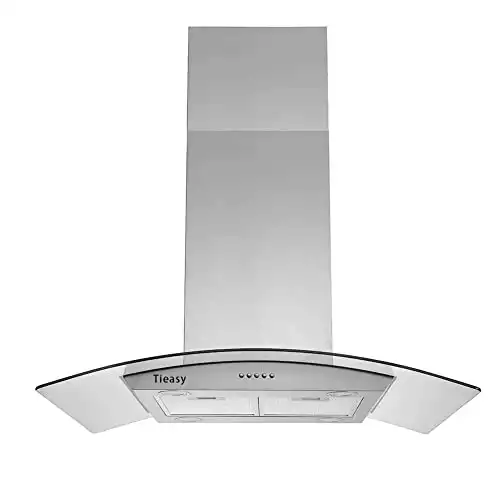 Tieasy 36-Inch 700 CFM Tempered Glass Island Range Hood
The Tieasy Tempered Glass Island Range Hood has a quiet and powerful motor that will provide a relaxing cooking time. It is a perfect choice if you're looking for an inexpensive option.
Buy Now
We may earn a commission if you make a purchase, at no additional cost to you.
11/30/2023 09:12 pm GMT
In many cases, if you want a lower-priced hood you also have to sacrifice power. But not here. The Tieasy glass range hood is an incredible value with impressive power.
At the highest of its three speeds, the Tieasy provides 700 CFM of airflow. That should be enough power for most home cooks, and will do a great job keeping your kitchen air clean.
Most hoods with that much power would easily cost over $500, but the Tieasy glass hood manages to do it for less than $400! But, if you want the more modern digital touchscreen instead of physical buttons, you'll have to fork over a few more bucks.
This hood has a stainless steel chimney and vent with an arched glass visor. That gives it a contemporary look that will fit in with most kitchens. The one downside to glass hoods is that they tend to show grease and dust a bit more than the all-metal versions.
You can use this hood ducted or ductless, and the 5-layer aluminum mesh filters are easy to remove and dishwasher safe.
For power and value, the Tieasy island range hood is really hard to beat no matter your budget.
What we like
Powerful blower (especially for the price)
Compatible with a wide range of ceiling heights
What We don't
Tempered glass visor shows more grease and dust
Great For Large Spaces & Budgets
Futuro Streamline 69-Inch 940 CFM Island Range Hood
The Futuro Streamline Island Range Hood is an immense range hood measuring double what we're accustomed to seeing with most models. It is a great choice for chefs with large kitchens.
Buy Now
We may earn a commission if you make a purchase, at no additional cost to you.
12/01/2023 11:32 am GMT
The Futuro Stream hood probably doesn't make sense for 99% of us. But, it's beautiful to look at and who knows, maybe you have a large kitchen and this is exactly what you've been searching for.
You definitely do need a large kitchen to make sense with this island range hood. This thing is immense, measuring a whopping 69-inches across. That's double what we're accustomed to seeing with most models.
Even being so large, it manages to look very sleek and elegant. And that's because it measures just 2-inches thick.
The hood is divided into two parts. The 36-inches directly under the chimney is where the suction and venting happens. Next to that is another 33-inches of capture area with no suction. This helps trap more smoke and fumes and helps funnel it towards the blower.
If you have a very large island, this is an excellent lighting solution as well. There are 4 light bars with a total of 12 LED lights, which is great for prepping and cooking.
Don't worry, this thing isn't just about the good looks either. It comes outfitted with a powerful 940 CFM blower. That should offer enough power and air cleaning for large gas stoves and all the high heat cooking you can throw at it.
What We don't
The large flat top collects grease and dust
Buyers Guide: Choosing The Best Island Range Hood
What Size Island Range Hood Do You Need?
Your island range hood should be as wide as your cooktop at the very least. However, it's much better if you can get a hood that is around 3-inches wider than your range on each side.
This will help ensure that the hood captures as much smoke, steam, and fumes as possible with them escaping into the rest of your kitchen.
So as an example, if you have a 30-inch range, aim for a 36-inch hood.
Island Range Hood Filter Types
There are three different hood filters that you should be familiar with when you're doing your shopping or research.
Baffles
In general, metal baffles are the best option for your island range hood. They're very efficient and allow the most airflow.
Stainless steel or aluminum baffles are relatively easy to clean and never need to be replaced. This is the filter style that you'll find in just about every professional kitchen.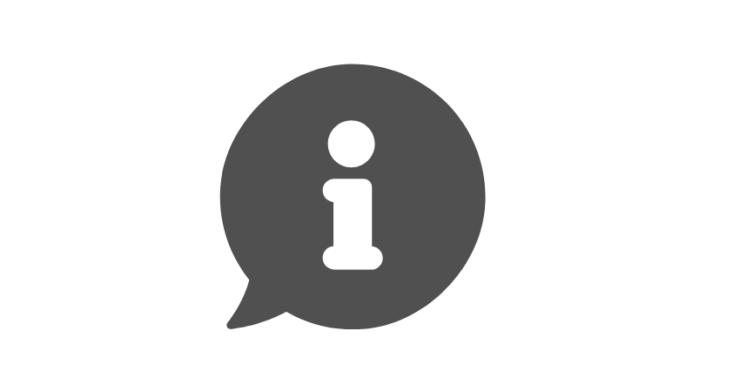 Pro Tip: Look for dishwasher-safe models to make your life a lot easier.
Mesh
Stainless steel and aluminum mesh filters are other options that can be washed and reused. These should never really need to be replaced unless they are damaged.
Metal mesh filters are a good option that tends to be a bit less expensive than baffles. The only downside is that they can get clogged with grease and may require more frequent cleanings in order to get the best airflow.
So again, go for models that are dishwasher safe.
Disposable Filters
Generally, disposable or charcoal air filters are used with ductless range hoods that recirculate air into your kitchen.
A carbon filter cleans the air as it moves through the hood, capturing and removing smoke and odors. In some cases, charcoal filters are used along with either mesh or baffle filters.
CFM: What Is It And How Much Do You Need?
CFM stands for Cubic Feet Per Minute. And that simply refers to the amount of air a hood is capable of moving. A higher number means more power, which means it can clear more smoke, fumes, and steam faster while you cook.
There's a fairly simple way to figure out how much CFM you need for your particular stove. It's a little different for gas and electric stoves, and this is just a rough baseline estimate.
For Gas Stoves
For gas, take your stove's total BTUs and divide that by 100. So, if you have a 50,000 BTU stove you would want at least a 500 CFM hood (50,000/100=500).
For Electric Stoves
If you have an electric stove you can multiply the width of your stove (in inches) by 10. If you have a 30-inch wide stove, you'd be in the market for a hood with at least 300 CFM (30×10=300).
A Special Consideration for Island Range Hoods
Now, since island hoods are open on all sides, they need to move more air than a standard wall or under cabinet mounted hood. So you may benefit from going with a slightly more powerful option than normal.
Ducted vs. Ductless
Ducted hoods physically move air from the kitchen and vent it outside through an air duct.
Ductless hoods, on the other hand, move air through a filter and recirculate it into the kitchen.
In general, a ducted system is the best way to go. This option removes the "dirty" air that can be full of smoke, fumes, and steam so it can be replaced with fresh, clean air.
Ductless systems rely on disposable carbon filters to clean the air and rid it of smoke and fumes. This option is definitely less expensive than installing ductwork if you don't already have it. But, it doesn't do as good a job removing contaminated air, especially when it comes to moisture and steam.
In the event that you find yourself in a kitchen full of smoke, a ductless hood will have a much harder and slower time clearing the air. While a ducted version will have you back cooking in no time so you can salvage what's left of dinner.
You'll find that many hoods are labeled as "convertible". This simply means that they can be installed and used with or without an outside duct. Even if you don't have a duct now, it can pay to go with a convertible model which will leave your options open for a future kitchen renovation.
Installing A Duct: What Size Do You Need?
If you'll also be installing a duct to go with your hood, there are two very common sizes to know about.
Rectangular ducts should be at least 3 ¼-inches by 10-inches wide. And for round ducts, they must be at least 4-inches in diameter, but 6-inches is very common and also beneficial. Some more powerful hoods will require an even larger duct for increased airflow. A larger duct can also have an effect on reducing hood noise.
Chimney Or No Chimney?
Island range hoods almost always have a chimney.
This is where the duct is located (if you have one), and can also house the blower in some situations. Not to mention, it's how the hood is actually mounted to the ceiling, or as a place to hide mounting hardware.
Ductless hoods don't necessarily need a chimney, but there's still the issue of mounting the hood to the ceiling above your island.
How High Should My Hood Be Mounted Above My Range?
Most island range hoods have an adjustable chimney. This allows them to be installed on a range of ceiling heights, and it also allows you to adjust how high above the range the hood is located. So how should they be?
In general, range hoods should be located between 24 and 30-inches above a gas cooktop, and between 20 and 24-inches above an electric stove.
The specifications for each particular model will vary, so it's important to check your installation instructions thoroughly before you get started.
Noise Level: Nobody Wants A Loud Hood
After cooking in restaurant kitchens for so many years, I became accustomed to the constant roar of a professional hood. It's actually quite dangerous (and illegal), to operate without one.
But when cooking at home, you want to be able to have a conversation or listen to music without competing with a loud fan.
You'll find hood noise ratings in either Decibels or Sones. The noise level of an average conversation is around 60 decibels or 9.5 sones. So sticking to hoods with noise ratings under those numbers is a good rule of thumb.
In most cases, the noise rating will refer to the hood at its highest setting. So, if you find a hood that operates at 60 decibels on high, you can at least feel good that the lower settings will be quieter and less of a nuisance.
Here's some additional guidance if you're looking for the quietest range hood out there.
Control Panel
Control panels are almost all pretty straightforward and fairly minimal. You can go with actual push buttons or opt for models with LCD touch panels.
All you really need to make sure of is that you have fan speed control and light control. Beyond that, it's common to find a shut-off timer and a button for filter cleaning reminders and resets.
Range Hood Lighting
Good lighting is important for a more enjoyable and safe cooking experience. Most island range hoods feature four lights, which should offer good coverage across your range.
In many cases, higher-end models will feature LED lights, while some older or more affordable options will use halogen bulbs.
LEDs have the benefit of using very little energy and lasting a very long time. The only real downside is that they can be more difficult to replace if they ever do burn out.
Style & Design
There are two primary categories when choosing the overall style of your island range hood: All Metal and Glass Visor.
The all-metal models (usually stainless steel) are a bit more traditional and have an industrial look to them.
The other option is the glass visor style. These still use a stainless steel chimney and vent, but they feature an arched glass visor that acts as a fume capture area.
The choice primarily comes down to personal preference. Although higher-end and most powerful options are often only available in the all-metal style.
Another design consideration is choosing between front-facing controls and hidden controls located under the hood. Again, this is a highly subjective and personal choice.
My Recommendation
An island range hood is a key and often underappreciated piece of kitchen equipment. And having one that works well makes a world of difference.
For anyone that does a lot of cooking, I think the Cavalier, with its impressive 900 CFM is the best choice and a great bargain for the price. And while the Broan Elite isn't nearly as powerful, it would make an attractive and still useful centerpiece in any kitchen.
FAQ
How Do Kitchen Island Range Hoods Work?
Island range hoods have blower motors that suck cooking fumes up and vent them outside, or pass them through carbon filters that recirculate the "clean" air inside.
Can I Install My Range Hood, Or Will I Need A Pro?
Range hoods can be installed on your own but it can be difficult depending on the model and your expertise. Since there's no wall support, Island range hoods can be particularly tricky to install, and should generally be done with at least two people.
Why Do All Island Range Hoods Look The Same?
The rectangular shape that covers the range then tapers up to a chimney is effective at capturing and removing cooking fumes. While the overall design is similar, there are several different styles of island range hood to choose from.
What Is The Difference Between Wall Mount And Island Mount Range Hoods?
Island mount range hoods are mounted directly to the ceiling so that they hang above an island cooktop. Wall mount hoods, on the other hand, are mounted directly to the wall above ranges that are located against a wall.