Kitchen ventilation is a crucial part of any well functioning kitchen. Even if you don't have expensive ducting in place, you can still keep your kitchen air clean and comfortable with a good ductless range hood.
Working in professional kitchens has given me a great appreciation for good kitchen ventilation. And I've also lived with my fair share of ductless range hoods that sound like jet engines but couldn't clear the smoke from a single candle.
Luckily, I've done hours of research so you can avoid such a fate. Today I'll break down the ins and outs of ductless range hoods. And I'll share with you three of the best options to enhance your cooking experience and the air quality in your kitchen.
Detailed Reviews of The Best Ventless Range Hoods
Great Value
The Broan-NuTone 413004 Under Cabinet Range Hood is one of the best sellers due to its amazing value, ease of use, and low maintenance. It is a great choice if you're looking for an affordable option.
Buy Now
We may earn a commission if you make a purchase, at no additional cost to you.
09/27/2023 04:27 am GMT
The Broan-NuTone 413004 isn't packed with features and high-tech gadgetry. But, it's affordable, reliable, and will still get the job done.
Broan is one of the biggest brands when it comes to range hoods, with options available at every price point. And this ductless model is one of their best sellers due to its amazing value, ease of use, and low maintenance.
The design is simple and effective. It's constructed from stainless steel, which looks good in any kitchen and makes it durable and easy to clean.
Underneath, you get one vent that's covered by a replaceable charcoal filter. And this is one of the few options that actually comes with the filter included. A nice touch especially when you consider the low cost to begin with.
Unlike many other options, there's no aluminum mesh filter or stainless steel baffle to cover the disposable charcoal filter. But that's where you get some of the cost savings.
On one hand this makes maintenance that much easier, since it's one less thing you have to worry about keeping clean. On other hand, the exposed charcoal filter and empty space have a somewhat unfinished look.
The controls also couldn't be any simpler. You get one rocker switch to select one of two fan speeds, and another to turn the light on and off. When it comes to the light, it takes a single incandescent bulb (sold separately).
Incandescent bulbs are a bit old-fashioned compared to most hoods that now use halogen or LEDs. But, it does provide nice warm light and they're inexpensive and easy to replace.
The simple design also makes this one of the lightest hoods around, weighing only 10 pounds. That makes it a bit easier to install than most, but an extra set of hands is still recommended.
What we like
Comes with a charcoal filter included
Lightweight and easy to install
What We don't
Incandescent bulbs are outdated and not included
No baffles or mesh filters lead to a lower-end look
The Hauslane PS16 is a good looking, no-frills ductless range hood with a low profile, clean lines, and a very quiet motor.
This hood has very simple and straight forward controls, but it still manages to maintain a very modern stainless steel look. On the front of the hood you get 5 reliable push button controls. One for power, one for lights, and one for each of the hoods three fan speeds.
A dedicated button for each speed allows you to quickly dial the power you need without having to cycle through all of the available choices.
At its lowest speed the PS16 operates at just a little over 33 decibels. That translates to a very quiet hum, and when cooking you would likely forget it was on at all. And even when you crank it up to it's max fan speed, it only clocks in at around 43 decibels.
At that level you'll know it's on, but you could easily listen to music or socialize without having to yell to be heard.
While you still need to purchase and use charcoal filters, you do get 6-layer aluminum mesh filters that latch onto the underside of the hood. These provide a higher-end look and also trap grease which can help prolong the life of the disposable charcoal filters.
But, it is important to remove and clean the aluminum mesh filters periodically. Otherwise they can accumulate grease which can reduce the air flow and suction from the fan.
As far as lighting goes, you get 2 modern and energy efficient LED bulbs. Some owners found them to be on the dim side, but they are very easy to replace with a brighter bulb if you so choose.
It's also worth mentioning that this is a convertible hood. That means it can be used right out of the box as a ductless unit. And if you end up installing ductwork down the line you'll be able to keep the same hood by connecting it to an outside vent.
What we like
Energy efficient LED lights
"Permanent" aluminum mesh filters
What We don't
Does not come with the necessary charcoal filters
Best Upgrade
The IKTCH 30-Inch Wall Mount Range Hood is packed with power and modern touches. It is a great choice for professional-looking kitchens.
Buy Now
We may earn a commission if you make a purchase, at no additional cost to you.
09/28/2023 02:34 am GMT
If you need a functional ductless hood now, but plan on installing ducting in the future, this IKTCH is the perfect range hood to grow into.
While the other two picks are simple and understated, the IKTCH will quickly become the focal point of your kitchen with its professional look. And, it's packed with power and modern touches.
The first big difference you may notice when looking at this hood is the large, backlit, digital touchscreen. From here you can control power, lighting, and the fans four speeds. And to make things a little more interesting, it also features gesture sensing controls.
On each side of the touch screen are motion sensors. These allow you to turn the power on and adjust the fan speed with a simple wave of the hand. A useful feature when you need to quickly clear smoke but your hands are covered in who knows what.
At the heart of this hood is a very powerful motor. But, there's only so much air that can move through and be effectively cleaned by a charcoal filter. So, when using the hood as a recirculating ductless unit, you won't get the full benefit of the impressive 900 CFM blower.
However, as soon as you connect this hood to an outside vent, it will clear as much smoke as you can throw at it.
This hood includes the charcoal filters you'll need to run it ductless, and you also get high quality stainless steel baffles. These help trap grease and do a great job maintaining high levels of airflow without getting clogged.
Baffles give a high end look and are what you'll find on almost any professional hood. Plus, they're dishwasher safe which is a big bonus when it comes to the routine cleaning.
You also get dual LED lights that have bright and dim settings and are easy to replace.
If you're only going to use this as a ductless hood, it'll look great but the power may be overkill. However, if kitchen upgrades on the horizon, you'll be able to keep the same hood and look forward to a big performance upgrade.
What we like
High quality stainless steel baffles
Touch screen with gesture sensing control
What We don't
Motion sensors can be accidentally triggered by taller cooks
What To Look For
Size
Picking the right size hood depends primarily on the size of your range. The goal of your hood is to capture and remove smoke and fumes before they escape into your kitchen. So, at the very least, your hood should be as wide as your range.
That means if you have a range that's 30-inches wide, you should have a hood that's at least 30-inches wide as well.
However, if you have the space for it, a hood that's actually around 6-inches wider than your range is ideal. That gives the hood 3-inches of overhang on each side of your cooktop. And that gives a bit more insurance that all of the smoke and fumes will be captured and neutralized through your hood's charcoal filter.
Filter Type
The most important filter in a ductless hood is the carbon or charcoal filter. Since the hood is recirculating air and not actually removing it from the kitchen, it's the charcoal filter that's keeping your air clean and smoke free.
These filters are fairly inexpensive, which is a good thing because they are disposable and often need to be replaced every few months.
Each ductless range hood will require a specific size filter. And I would always stick to the manufacturer's recommended option to ensure you get the best fit and performance.
It's also common to have an additional "permanent" filter that covers the disposable charcoal filters. They're called "permanent" because they are washable and reusable for the life of the hood, as long as they're not damaged.
These offer a more refined look and also act as the first line of defense by trapping grease, which can extend the life of your charcoal filter.
Stainless steel baffle filters are the best option because they maintain a high level of airflow even when dirty. Plus, these filters are very durable and are often dishwasher safe.
Aluminum mesh filters are the other permanent filter type you'll come across. These have several layers of metal mesh which also trap grease. This option tends to be less expensive than baffles, but they can be more prone to reduced airflow if they're not cleaned frequently.
CFM
When looking at how powerful a range hood is, you'll usually see the letters CFM thrown around. This stands for Cubic Feet Per Minute, and it refers to the amount of air a hood is capable of moving.
But, since ductless hoods are passing air through a filter within a small space instead of through an outside vent, CFM is less meaningful. So, ductless range hoods don't get as much benefit from an extremely powerful motor compared to their ducted counterparts. And many ductless specific models won't even provide a CFM at all.
Ductless hoods can do a decent job keeping kitchen air clean in smaller spaces and with less frequent or intense cooking.
If you have a large cooktop or a very powerful gas range, a ductless hood will be better than nothing. But it will probably lack the power and efficiency needed to really keep your air clean.
Noise
No range hood is completely silent, but choosing one that's on the quieter side makes for a better cooking experience and will ensure that you actually use it.
In general, ductless hoods tend to be a bit louder than ducted models. But, since you don't necessarily need as much power, you can find options that don't produce an obnoxious amount of noise.
Some of the lower powered ductless models won't actually provide a noise rating. But if that information is available, look for models that keep the noise under around 60 decibels. That's about as loud as your average conversation, so if you can keep things below that you shouldn't have to yell in order to be heard while in the kitchen.
That's one reason the Hauslane PS16 is so impressive, with a sound rating of just 43 decibels on high speed.
Mounting Height
The general rule of thumb for hood mounting height is between 24 and 30-inches above gas stoves. And for electric or induction ranges, between 20 and 24-inches.
Those are general guidelines, but always check your manufacturer's recommendations before installation. Getting the correct distance between your range and hood will ensure the best performance without damage to the hood or affecting it's warranty.
Control Panel
The controls for your hood don't need to be intricate and complicated. All you really need is power, fan speed, and lighting. When it comes to fan speed, I prefer models that have a dedicated button for each speed.
That allows you to more quickly select the air flow you need when you need it. But if you have to cycle through a few speeds instead, I suppose that's not asking too much.
Your main decision will come down to physical buttons versus a touchscreen control panel. Physical buttons can be more reliable and you almost always get the selection you want on the first try.
Touchpanels on the other hand give a very modern look, and have the benefit of being extremely easy to keep clean.
Lighting
Good lighting can make for a safer and more enjoyable cooking experience. Not to mention being able to better see when your food is browned and delicious or black and burnt.
When dealing with common 30 and 36-inch hoods, you'll probably be looking at two bulb setups, which should provide plenty of visibility. And if it's not, most bulbs can easily be replaced with a brighter option.
The bulb types you'll come across are incandescent, halogen, and LED. Incandescent bulbs are somewhat outdated because they're large, use a lot of energy, and can be quite fragile. But, they are inexpensive, easy to find, and provide a pleasant, warm tone.
Halogen bulbs are like a smaller, more durable, and more energy efficient version of incandescents. You'll find these in many modern hoods, but it seems like they are slowly being replaced by the incredibly long lasting and energy efficient LEDs.
Type
It may be true that there are fewer options for ductless hoods than there are for ducted ones. But, there's still no shortage of choice and you should be able to find one that fits your style and the design of your kitchen.
When it comes to models that are strictly ductless, choices are limited. Expand your search to include convertible range hoods and you should have no trouble finding one that suits you.
Whether you go with an under cabinet, wall mount, or island range hood you'll have a few style and design choices to make.
The most common color or material for range hoods is stainless steel. It's a timeless look that goes well with most decor, plus it's durable and easy to clean. Some models are also available in black, white, or beige, which can even offer some price savings over the stainless alternatives.
Another stylistic choice you may have is to go with a fully metal construction or a hood with a glass visor. The glass option is especially common on island range hoods, and can make for an interesting centerpiece in your kitchen.
Installation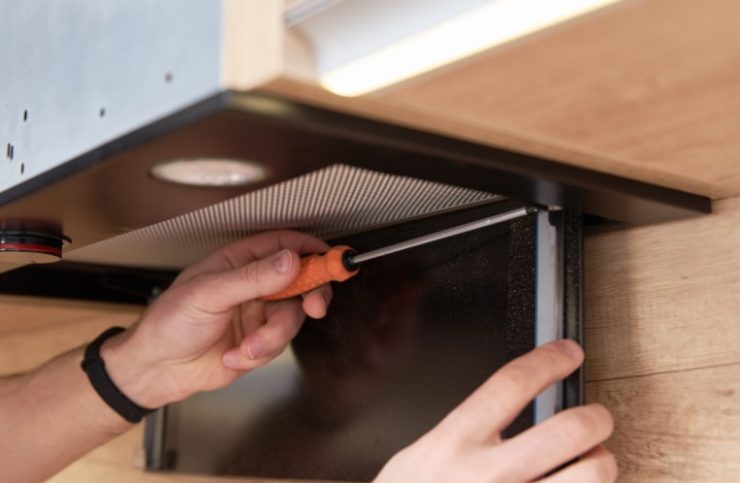 Range hood installation is usually a fairly straightforward project. But due to their weight and large size it can be a bit tricky if you're trying to tackle the instal on your own.
Ductless range hoods do have a big advantage when it comes to ease of installation. Since they don't need to be connected to any duct work, it's really just a matter of getting them securely mounted above your range.
Once mounted, some models can simply be plugged into a standard outlet. Others will need to be hard wired. This isn't an especially difficult task but it can be dangerous if you've never done it before, so that may be a job you leave to the pros.
My Recommendation
Your cooking style and needs will play a big role in what ductless range hood you choose. For pure value, I don't think the Broan-Nutone under cabinet range hood can be beat. It's just about the least expensive option you'll find, but it's still functional and reliable. The aesthetics aren't the best, but it gets the job done and it's well under $100.
If you have a little more cash, I think the Hauslane PS16 is the best ductless choice for most. It has good looks and power, but it's the quiet operation that makes it such a winner. Even at its highest setting it maintains a very quiet noise level, and that will ensure you actually use your hood as much as you should. Plus, it gives you the option to convert it to a ducted range hood should you ever want to upgrade down the line.
Frequently Asked Questions
What Are Ductless Range Hoods?
Ductless range hoods pull in air from above your range and force it through a charcoal filter before recirculating the air back into the kitchen. The charcoal filters are what clean the air by trapping and neutralizing grease, smoke, and other fumes.
Ducted vs. Ductless Range Hoods. Which Is Better?
Ducted range hoods are best because they are more efficient and can remove more smoke, fumes, and steam faster than ducted models. The only downside is that it can be expensive to install ductwork if it's not already in place.
Do Recirculating Range Hood Actually Work?
Yes, recirculating range hoods are an effective kitchen ventilation solution that can remove grease, smoke, and other fumes from your kitchen air. They are best suited for small ranges, kitchens, and less-intensive cooking.