If you're looking for a 48-inch range hood, chances are you've got a lot of cooking real estate to cover. And while a high-powered professional hood might be great for some, it could be overkill for others.
Using my professional and home cooking experience, I'll share a few of the very best 48-inch range hoods. I've also taken time to break down the important things you need to know about size, power, and everything in between.
Professional Power
Zline Professional Wall Mount Range Hood
The Zline Professional Wall Mount Range Hood has steel construction for longer-lasting durability and a quieter function. It is a perfect choice for chefs that prefer quiet while cooking.
Buy Now
We may earn a commission if you make a purchase, at no additional cost to you.
11/30/2023 09:18 am GMT
If you're looking for professional performance from a range hood, Zline delivers.
Their 48-inch wall mount range hood has all the power you could ever need, and it does it while remaining incredibly quiet.
On the highest setting, this hood delivers an impressively powerful 1200 CFM. That should be enough for even the most powerful ranges, and can easily handle indoor grilling as well.
But what's even more impressive is that it operates at only 52 decibels, even at high speed.
That means you can crank the heat on your range and still enjoy music or have a civilized conversation without having to yell over a blaring hood.
When you don't need that much power you can dial things down to three additional fan speeds. I like that this unit has a dedicated button for each speed setting. That way you can choose the airflow you need when you need it, without having to cycle through every setting.
The powerful blower motor that makes all the magic happen is truly built to last and even comes with an unheard-of lifetime warranty. So while the hood isn't cheap, at least you know it will last and that Zline stands behind its products.
The lighting is one area where this hood doesn't exactly impress. It comes standard with halogen bulbs, which are not known for their energy efficiency. Some owners found the brand's bulbs burnt out rather quickly. But, replacing them with LEDs is an easy fix for a small shortcoming.
What we like
Enough power for any cooking application
Very quiet, especially considering the power
Motor comes with a lifetime warranty
What We don't
Halogen lights are disappointing
Great Value
Cosmo COS-QS48 Under Cabinet Convertible Range Hood
The Cosmo COS-QS48 Under Cabinet Convertible Range Hood is one of the most affordable 48-inch options. It can be used as a ducted or ductless unit, which makes it a great option for anyone without outside ventilation.
Buy Now
We may earn a commission if you make a purchase, at no additional cost to you.
11/30/2023 10:17 pm GMT
The Cosmo 48-inch under cabinet range hood is one of the most affordable options you'll find. And, it's one of the few hoods this large that can be used without any ductwork.
Cosmo delivers great components for the price.It's made from premium brushed stainless steel, and has all the features you'd expect from a much more expensive model.
Now, this isn't the most powerful hood out there, with a maximum airflow of 500 CFM. With this hood you'll trade some power for affordability. At the same time, 500 CFM is still enough power for most electric or induction cooktops.
The power rating is a great fit for casual cooks that won't be doing any indoor grilling or wok cooking.
Another way this hood brings great value to the table is with it's installation versatility. Most 48-inch range hoods out there are designed to be ducted only. The Cosmo, on the other hand, is convertible so it can be used as a ducted or ductless unit.
That makes this a great option for anyone without outside ventilation. Just remember, you will need to purchase a couple of disposable charcoal filters if you go this route. And if you decide to add ducting down the line, you can do so without having to worry about purchasing an entirely new hood.
Everything on the hood is controlled with a modern LCD touch panel, or through the included wireless remote. You get 4 fan speed options with the highest setting operating at a respectable 65 decibels. And lighting is provided via 2 energy efficient LEDs that I wish were just a bit brighter.
While there are more "feature-rich" hoods, this one is about half the price as most 48-inch options. And, it doesn't require the additional expense of adding ductwork if it's not already in place.
What we like
One of the most affordable 48-inch options
Durable stainless steel baffles and hood
What We don't
Dual LEDs could be brighter
Best Built-In Option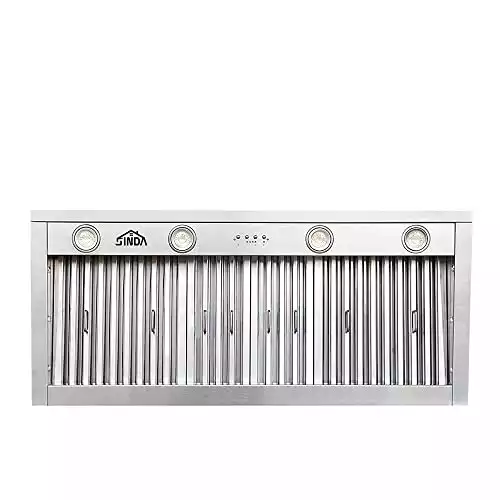 Sinda Stainless Steel Range Hood Insert
The Sinda Stainless Steel Range Hood Insert provides plenty of power, excellent lighting, and simple user-friendly controls. It is a great option if you want the sleek, low-profile look of a built-in range hood.
Buy Now
We may earn a commission if you make a purchase, at no additional cost to you.
11/30/2023 08:08 am GMT
If you want the sleek, low profile look of a built-in range hood the Sinda 48-inch insert should fit the bill. It provides plenty of power, excellent lighting, and simple user friendly controls.
The Sinda built-in hood blends seamlessly into most kitchens, with the lights and controls all hidden on the underside of the hood. And with 960 CFM of air flow it should have no problem keeping your kitchen air clean and smoke free.
The controls for the hood couldn't be more simple or better looking. There are 4 small, stainless steel buttons that control power, fan speed, and light level (finally an option with dimmable lighting!).
Read Also: All About Range Hoods In One Place
The four fan speeds produce air flow between 385 CFM and 46 decibels on low, and up to 960 CFM and 69 decibels on high. That's definitely on the louder side, but it's unlikely that you'll need the hood running full blast most of the time.
The stainless steel baffles are durable, well fitting, and dishwasher safe for easy maintenance. The Sinda hood is only compatible with ducted installation, so you'll have to factor in the price of adding ductwork if it's not in place already.
Overall the Sinda hood insert offers close to professional level suction in an attractive, low profile package. If you're building a kitchen from scratch or have the built-in hood space already, this is a great solution if you don't want the industrial look of a wall mounted option.
What we like
Doesn't stand out like under cabinet or wall mount hoods
Great lighting with dimmable option
What We don't
Fairly loud on highest settings
Buyers Guide: Choosing The Best 48 Inch Range Hood
Type of Range Hood
In addition to your stylistic preferences, your kitchen layout should play a big role in what type of hood you choose. Start by understanding your options:
Under Cabinet
This type of hood is used when you have cabinets directly above your range. They are mounted directly under the cabinet (hence the name), and can be installed ducted or ductless.
Hood Insert
A hood insert is also used when you have a cabinet or decorative insert cover directly over your range. Inserts are recessed and mounted up inside the cabinetry, giving a very clean look. This is often called a "built-in" range hood.
Wall Mount
If your range is against a wall and the space above it is open, a wall mount hood is your best bet. These are mounted directly to the wall and usually feature a stainless steel chimney to conceal any ductwork.
Ceiling Mount or Island Mount
If your range is located on a kitchen island, you'll want a island style hood which is mounted directly to the ceiling hanging over the cooktop.
Size
In general, your range hood should be at least as wide as your range. 48-inch range, 48-inch hood, minimum. However if you have the space, a hood that's 6-inches wider than your range is ideal.
That allows your hood to extend 3-inches over your range on each side. This extra capture space will ensure more smoke, steam, and fumes are sucked through the vent without escaping into the kitchen.
So, a 48-inch hood is perfect for a 42-inch range. While a 48-inch range could benefit from a 54-inch hood.
CFM
CFM stands for Cubic Feet Per Minute and it refers to the amount of air a hood can move. More CFM translates to faster smoke and fume clearing capabilities. So how much do you need?
For an electric or induction range, the simplest way to find out how much CFM you need is to multiply the range's width (in inches) by 10. If you have a 48-inch range, you'll want a hood with at least 480 CFM (10×48=480).
The formula for a gas range is different, but just as easy. Take your stove's total number of BTUs and divide that by 100. So, a 70,000 BTU range should have at least a 700 CFM hood (70,000/100=700).
Noise Level
Nobody wants to listen to a loud obnoxious fan while they cook. And while large, 48-inch hoods often come packed with more power, it doesn't mean they have to be louder as well.
60 decibels is about as loud as the average human conversation, so having a hood that keeps the noise below that is a good benchmark. Many 48-inch options go over the 60 decibel level on their high settings but are much quieter at lower speeds.
That's one of the reasons the Zline hood is such a good pick, as it keeps the noise to 52 decibels even when cranking at 1200 CFM.
Ducted vs. Ductless
Range hoods are generally installed in one of two ways, ducted or ductless. Ducted hoods are connected to an outside vent so they can physically remove air from the kitchen. Ductless hoods on the other hand, suck air through a carbon filter and then recirculate the "clean" air back into the kitchen.
Ducted hoods are preferable because they can remove more smoke, steam, and fumes faster than the ductless alternative.
The only downside to a ducted system is that it's expensive to initially install the duct work if it's not already in place.
Convertible hoods are designed to be installed with or without an air duct. A good option for anyone without an outside vent that may want to instal one in the future.
Range Hood Filters
When it comes to larger hoods like the 48-inch models we're looking at today, just about every model is going to use stainless steel baffle filters.
The purpose of a baffle filter is to allow smoke, steam, and grease to easily pass through, then collect grease so it doesn't find it's way back on to your range.
I've cleaned my fair share of professional hood baffles, and as surprising as this may be, it's not fun. While the home versions are much more manageable, you should definitely look for hoods with baffles that are dishwasher safe. You can thank me later.
Now, if you'll be using a ductless system you'll also need to use disposable carbon filters. These are what "clean" the air as it passes through before it's recirculated back into the kitchen.
Control Panel:
The control panel on your hood shouldn't be complicated. All you really need is a button for power, lighting, and fan speed. Choosing between physical buttons or a touch screen is a personal preference. But, there is less that can go wrong with an old fashioned button than a digital display.
Lighting
Being able to see what you're cooking is important. A 48-inch hood covers a lot of cooking space, and that's why I prefer the models with 4 lights.
Most options these days come standard with LED bulbs. And it can definitely be worth your while to find out how easy to find and replace a hood's bulbs are, as well as how expensive they're going to be each time.
My Recommendation
Anyone that puts their range to heavy use, will love the power and quiet operation of the Zline 48-inch hood. It's a bit of an investment up front, but it has all the power you'll ever need and the protection of a lifetime warranty to boot.
And for anyone on a budget or who isn't ready to take on duct installation as well, the Cosmo convertible range hood is a functional and versatile solution.
Frequently Asked Questions
What Is The Recommended CFM For A 48" Range Hood?
A 48" electric range should have a hood with at least 480 CFM. While the recommendation for a gas range will vary depending on the BTUs of the gas burners.
Should A Range Hood Be Wider Than The Range?
A range hood should be at least as wide as the range, but a hood that's 3-inches wider than the range on each side is ideal for the best performance.
Do I Really Need A Range Hood?
Yes, a range hood removes smoke, fumes, and steam from your kitchen, creating a safer and more enjoyable cooking environment.
what size Vent hood Do I Need for A 48″ range?
Ideally, your vent hood should be 6 inches wider than your range. This ensures that the fan will be able to capture a maximum amount of exhaust. A 48-inch range should be paired with a 54-inch vent hood.