A good range hood will keep your kitchen air clean, all without being loud and obnoxious. Since a 36-inch hood is a versatile and fairly common size, there are a lot of options to sift through.
Luckily, I've done the heavy lifting for you.
As a professional chef, I worked day in and day out with hoods of all shapes and sizes. Using my years of professional experience and applying it to the needs of the home cook, I've chosen 3 of the best 36-inch range hoods to keep you cooking in comfort.
IKTCH Under Cabinet Range Hood With Gesture Control
The IKTCH Under Cabinet Range Hood is packed with features you can find on more expensive models. It is perfect for a chef that wants to give his kitchen a modern, restaurant-like feel.
Buy Now
We may earn a commission if you make a purchase, at no additional cost to you.
09/28/2023 02:23 am GMT
The IKTCH 36-inch under cabinet range hood has enough power for even the most avid cooks. And it's packed with features that you'd normally find on much more expensive models.
First and foremost this thing is powerful. The 900 CFM blower is more than you'd need for any electric or induction stove, and enough for indoor grilling and some very powerful gas ranges.
Having a little (or alot) of extra blower power means you'll be able to operate this hood on one of the lower of its four speed settings. That translates to less noise and a more enjoyable cooking experience.
And when things really heat up, you'll have plenty of suction to clear all the smoke and steam you can throw at it.
The IKTCH hood is controlled through a digital touch screen that has a nifty trick up its sleeve. It has motion sensors on each end of the control pan that allow you to adjust fan speed with the wave of a hand. A convenient feature when prep turns messy and you need to quickly clear a smoky room.
On top of that, you'll also get a remote so you can turn the hood off and on, plus adjust fan speed from clear across the room.
When it comes to lighting, you get two adjustable LEDs that are nice and bright. And the 3-piece stainless steel filtration baffles are dishwasher safe and easy to remove.
The only real downside to the IKTCH is that it can only be installed as a ducted unit. So, if you don't already have outside venting set up, you're looking at a pricier installation.
What we like
Relatively quiet especially considering the power
What We don't
Motion sensors can be triggered by your head
Easiest To Install
Hauslane Chef Series PS18 Under Cabinet Range Hood
The Hauslane Chef Series PS18 will help eliminate harmful cooking fumes to deliver a cleaner and safer cooking experience. It is a great choice if you're remodeling your entire kitchen or just upgrading appliances.
Buy Now
We may earn a commission if you make a purchase, at no additional cost to you.
09/26/2023 05:52 pm GMT
The Hauslane PS18 has a clean professional-looking design, with versatile installation options.
Right off the bat, the PS18 looks great. It's all stainless steel, with clean lines and a sleek, simple touchscreen.
Although this model is not ductless compatible, it has incredibly versatile venting options that should work with almost any existing ductwork.
There are three different vent ports that are built into every unit. So, whether you need top, back, rectangular, or round venting, Hauslane has you covered. It even comes with adapters for each option as well.
The power rating, measured in CFM, is a bit confusing for this model. Hauslane claims that the PS18 has 525 CFM in laboratory testing, noting this is equivalent to 860 CFM in a real-world setting. While I don't know how they get from 525 to 860, most owners are more than happy with the suction in real-world cooking applications.
When it comes to choosing a fan speed, you get 6 options to select from. That allows you to better dial in the airflow you need compared to most models that only offer 3 or 4 choices.
Unfortunately, the lights are not dimmable or the most energy-efficient. But, they do use standard GU10 bulbs that are easy to find and replace. You can even find bulbs in a variety of different colors.
Beyond that, you get 3 stainless steel baffles and a grease tray that can all be easily cleaned by throwing them in the dishwasher.
This is a great option for kitchen upgrades since it's likely to fit any existing ductwork you already have. Pair that with its great looks and better than average customer support, and it's a tough option to beat.
What we like
Versatile venting options
Attractive professional look
What We don't
Lights are not dimmable or the most energy-efficient
Best For Island Ranges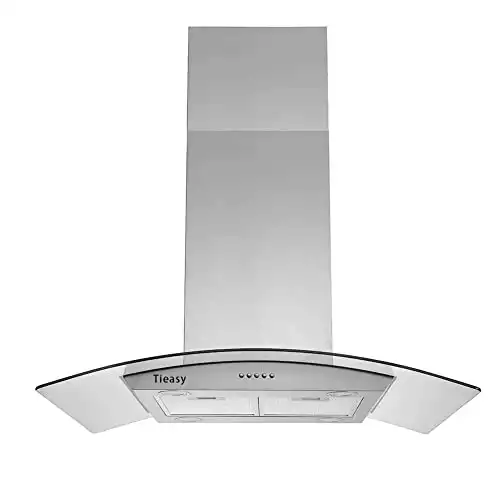 Tieasy 36-Inch 700 CFM Tempered Glass Island Range Hood
The Tieasy Tempered Glass Island Range Hood has a quiet and powerful motor that will provide a relaxing cooking time. It is a perfect choice if you're looking for an inexpensive option.
Buy Now
We may earn a commission if you make a purchase, at no additional cost to you.
09/27/2023 10:03 am GMT
If you have an island range in your kitchen, the Tieasy 36-inch tempered glass hood looks good and offers great value.
The large tempered glass visor fits in with any kitchen decor and creates a low-profile and unobtrusive look. And that's a big deal when your hood is hanging smack dab in the middle of the room.
Not only does the glass visor add subtlety to the hood but it also works to capture smoke, steam, and fumes so they can be more effectively sucked up through the vent.
The Tieasy hood has three speed settings that produce a maximum of 700 CFM. That should be plenty of power for most cooking tasks, but maybe save the grilling for outside. Everything is controlled through physical buttons, but you can also upgrade to a touch panel if that's more your style.
With this option, you also get four bright LED lights and easily removable, dishwasher safe, aluminum mesh filters.
All in all the 36-inch Tieasy island range hood is a no-frills option that does its job well. And, it has the versatility to be used in ducted or ductless kitchens.
What we like
The 4 LEDs provide great coverage across any range
Can accommodate ceiling heights between 7.5-9.5 feet
What We don't
LED lights are not dimmable
Glass visor shows grease and dust
Buyers Guide: Choosing The Best 36 Inch Range Hood
Type of Hood
There are a lot of different range hoods out there. Preference definitely plays a big role, but your kitchen layout will also help narrow down your choices.
If your range is against a wall (most are) then you have a lot of options to choose from. If there are cabinets above the range, you'll want an under cabinet range hood. If the space above your stove is open, then you'll most likely go with a wall-mounted, chimney hood.
You could also go with a microwave-hood combo, downdraft hood, or a hood insert. There's no shortage of choices here.
If you have an island range, your options are a bit more limited. In most cases, your best bet will likely be a ceiling-mounted hood. But, a downdraft hood is also a great choice that will keep your kitchen looking and feeling nice and open.
Size
If you're in the market for a 36-inch range hood, I'm going to take a wild guess that you have either a 30 or 36-inch range. Was I right?
The general rule of thumb is that your hood should be at least as wide as the range itself. But, if you have the space and budget, an extra few inches on each side is the best way to go.
So, if you have a 30-inch range, you're in the right place. A 36-inch hood is ideal. And if you have a 36-inch range, you can get by with one of these options but you may consider sizing up to a 42-inch or 48-inch range hood for better performance.
Ducted vs. Ductless
Hoods are designed to keep the air in your kitchen clean, and there are a couple of different ways they can do this.
The first option is a ducted hood. These hoods have a vent that connects to a duct that leads outside your house. Air is sucked through the hood and physically removed from the kitchen.
This is the best option because it's more efficient and can clear more smoke and steam faster than the other option. The only downside is that it can be expensive to install ductwork if you don't already have it in place.
Ductless hoods work by sucking air through a carbon filter and recirculating the "cleaned" air back into the kitchen. This method does an ok job for smaller kitchens and ranges, or for anyone that won't be producing much smoke and steam.
You'll also find convertible hoods. This simply means that they are compatible with or without an outside vent.
CFM: Range Hood Power
CFM stands for Cubic Feet Per Minute and it refers to the amount of air a hood is capable of moving. In general, a higher CFM means more suction power that can clear smoke, steam, and fumes faster.
The basic way to find how much CFM you need for an electric or induction cooktop is to multiply its width (in inches) by 10. So, for a 30-inch range, you'll want at least 300 CFM (10×30=300).
It's a little different if you have a gas stove because each one produces a different level of heat and fumes. For those, simply take the range's total number of BTUs and divide it by 100. If you have a 50,000 BTU range, you'll need at least 500 CFM from your hood (50,000/100=500).
And if you like to cook a lot and you anticipate billowing clouds of smoke and steam in your future, it's definitely a good idea to go with a more powerful unit.
Noise Level
While most people (myself included) only use their hoods when they think they're going to set off the smoke detector, you should really be using it every time you cook. But, nobody wants to cook while an obnoxious fan is blaring over your head.
Most hoods will have a sound rating measured in either Sones or Decibels. 60 decibels is about how loud an average conversation is.
So it can be a good idea (and not hard) to find options that can keep it under that 60-decibel level. That way you won't have to decide between a smoke-filled kitchen or a conversation with guests.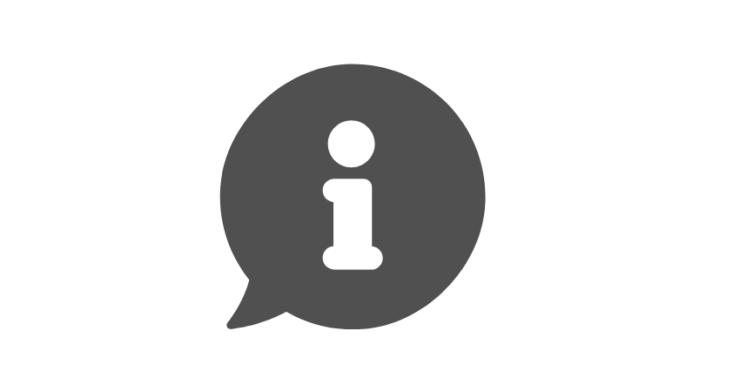 Pro Tip: get a quiet range hood. You'll use it more, especially if you like to socialize while you cook.
Filter Types
There are three common filter types that you'll come across when looking for a new range hood.
You'll find Baffle or Mesh filters on just about every ducted range hood out there. They're usually made from stainless steel or aluminum and their main purpose is to capture grease so it doesn't end up dripping back onto the stove.
I've cleaned my fair share of restaurant hood baffles, and I'll just say it's one of the less glamorous aspects of being a professional chef. So, go for options that are dishwasher safe.
For ductless hoods, you'll also need disposable carbon filters. These are what "clean" the air as it's sucked through and recirculated into the kitchen.
They can do a decent job with a small amount of smoke, but they can be slow to clear a room full of smoke and aren't great when it comes to steam and moisture removal.
Installation
Each hood is different, but they should all come with detailed instructions. While many options are fairly straightforward, the weight and awkward size make them tricky to install on your own.
It's definitely a good idea to have help when it comes to the actual mounting of the hood. Or you could try your hand with a set of cabinet jacks to stand in as a second set of hands.
My Recommendation
If you're looking for a hood for your 30-inch range, I think the Hauslane PS18 is a great choice. It will provide plenty of suction for most cooks, and the looks and build quality are top-notch.
But, if you're trying to squeeze a 36-inch hood over your 36-inch range, you'll definitely appreciate the extra power you get from the IKTCH. Even without any extra overhang on each side, it should have no problem clearing as much smoke and steam as you can produce.
FAQ
How Do Range Hoods Work?
Range hoods use an internal fan to suck smoke, steam, and fumes away from the cooktop. Ducted hoods physically remove air and vent it outside. Ductless models suck air through a carbon filter before recirculating it into the kitchen.
What Is The Difference Between Wall Mount And Island Range Hoods?
Wall mount hoods are mounted directly to the wall above a range. Island range hoods are mounted to the ceiling above an island cooktop and are also referred to as ceiling mount range hoods.