China is an enormous region, with some of the most diverse flavors and cooking techniques on the planet. And while it's not always the case, many Chinese and other Asian dishes utilize the infamous wok and other hot and fast cooking techniques.
This style of cooking can lead to a higher level of smoke and grease particles in the air. And having a hood that can keep the air clean even under high stress will make a big difference in cooking comfort.
Growing up with a Chinese grandma, I was spoiled with incredible food. But I distinctly remember her underpowered hood running non-stop, and the smoke alarm being triggered on a regular basis.
Today, I've chosen 3 of the best range hoods for Chinese cooking. I'll also break down the key features that make these hoods particularly well suited for this style of cooking.
Best Value
IKTCH 30-Inch Gesture Sensing Range Hood
The IKTCH 30-Inch Gesture Sensing Range Hood has a control panel with two motion sensors that use gesture sensing technology to control the hood. It is a great choice if you like cooking with wok.
Buy Now
We may earn a commission if you make a purchase, at no additional cost to you.
09/27/2023 09:17 am GMT
The IKTCH 30-inch under cabinet range hood has the power you need for high-heat stir fries and wok cooking, all at a very affordable price.
Many hoods that offer close to 1000 CFM will end up costing you upwards of $1000. While the IKTCH doesn't break the 1000 mark, you still get 900 CFM and it'll cost you less than $400. That's pretty impressive value for the money.
900 CFM is often considered the minimum airflow that you want if you're doing a lot of high heat cooking or anything that involves a lot of oil and fat. And wok cooking definitely fits the bill.
The IKTCH hood is controlled through a hightech digital touch screen. And it has an extra feature that really comes in handy when cooking over very high heat. The control panel has two motion sensors that use gesture sensing technology to control the hood.
This allows you to turn the hood on and adjust the fan speed with a quick wave of the hand. If you use a wok a lot then you know that cooking goes fast, and you can quickly smoke up a room if you're not paying attention.
Being able to increase the hood to high speed without having to touch or even look at the control panel is a great feature. Especially when you can't afford to take your eyes off of your pan for a second.
When you do have the fan operating at the highest of its 4 settings it only produces 60 decibels. And that's very good when you consider the high power and the low price.
The lights are another area where this hood shines and even outperforms some of the high-end competition. It uses modern and highly efficient LED bulbs, and also offers 2 brightness levels. A great feature that much of the competition seems to overlook.
You also get stainless steel baffle filters, which are another necessity for a lot of Chinese cooking. And, they are dishwasher safe for easy cleaning.
What we like
Awesome power for the price
What We don't
Motion sensors can be triggered by your head or while cleaning the hood
Quiet & Powerful
Zline Professional 36-Inch Ducted Range Hood
The Zline Professional 36-Inch Ducted Range Hood has easy-to-use controls that let you easily control fan speed and lighting. It is a great range that can handle any kind of cooking task.
Buy Now
We may earn a commission if you make a purchase, at no additional cost to you.
09/28/2023 08:38 am GMT
The Zline professional wall mount hood is a step up in power, looks, durability, and price.
First off let's talk about airflow and power. With the Zline hood, you get 4 different speed settings, starting at 280 CFM on low, all the way up to a whopping 1200 CFM on high. That gives you a great range that can handle any kind of cooking task.
1200 CFM is enough to handle even the most intense, high-heat cooking sessions. But you can also dial things down to a lower and quieter setting when that much power is overkill.
But, even when this hood is operating at full power, it still manages to keep the noise level down to only 52 decibels. That makes this one of the quietest 1200 CFM hoods around.
The controls are basic but very reliable. You get 6 small push buttons on the front of the hood. One for power, one for lights, and one for each of the 4-speed settings. Plus a very small digital display that will tell you the current fan speed. It's simple, but all you need.
The underside of this hood is similar to what you would find in a professional kitchen. You get 4 stainless steel baffle filters that hang at steep angles. The 4 filters allow for excellent suction across your entire range, while the steep angle helps excess grease flow into a channel that's easy to remove and dispose of.
All 4 baffles as well as the grease channel are also dishwasher safe for easy and mess-free cleaning.
While the lights on the hood only operate at one brightness level, you do get 4 bulbs that offer better visibility than most of the competition.
What we like
Enough airflow for almost any cooking task
Industry-leading lifetime warranty on motor
Quiet operation across all speeds
Best Design
Proline PLJW 109 Under Cabinet Range Hood
The Proline PLJW 109 Under Cabinet Range Hood is a high-powered range hood that offers professional performance. It is a great choice for a chef that wants a powerful range hood with a great design.
Buy Now
We may earn a commission if you make a purchase, at no additional cost to you.
09/28/2023 03:02 am GMT
The Proline PLJW 109 is another high-powered range hood that offers professional performance and looks.
This hood comes standard with a maximum airflow of 1000 CFM. That's enough power for most, and places this model right in the middle of the IKTCH and Zline options. But, if you want or need over-the-top power, this hood can be upgraded to a mind-blowing 2000 CFM.
That's probably more than most home cooks would ever need, but if you have a very powerful gas range or large wok burner, it could come in handy.
When you don't need that much power, this hood also operates at 400/600/800 CFM. That's not quite as wide a range as Zline, but still a good set of options depending on what you're cooking.
Proline also went with classic push-button controls, but they chose to hide them on the underside of the hood. This makes for a very elegant and clean look, with nothing but shiny stainless steel to be seen from the outside.
Underneath the hood, you get 3 angled baffle filters that are removable and dishwasher safe. And you'll find 3 bright LEDs that do a good job lighting up your cooktop. There's also another feature at the very back of the hood that is unique to this model.
There are two holes, one on each side, where you can install heat lamp bulbs. These have their own control switch and can be used to keep dishes warm on the stove, but also act as additional lighting. That gives you a total of 5 light bulbs, which will provide some of the best cooking visibility you can find.
What we like
Very powerful and even upgradable to 2000 CFM
Great design with clean lines and a hidden control panel
Heat lamps add versatility
Buyers Guide: Choosing The Best Range Hood For Chinese Cooking
Type
There are a wide range of hood types and styles. Your kitchen layout and cooktop location will play a large role in what hood type will work best in your home.
Here are some of the most common hood types that you'll come across. Within each type, you'll be able to find options with different power ratings as well as price tags and other features.
Ceiling or Island Mount
Under Cabinet
Wall Mount
Hood Insert
Microwave-Hood Combination
Down-Draft
Hood Size
What size hood will work best depends largely on the size of your cooktop. And when talking about hood size, we are usually referring to the width of the unit.
The basic rule of thumb is that your hood should be at least as wide as your stovetop. That means if you have a 30-inch cooktop, you'll want a hood that's at least 30-inches wide as well.
Now, if you'll be doing a lot of high heat cooking, which is common in many Asian cuisines, a slightly larger hood will be beneficial. If you have the space for it, look for a hood that's about 6-inches wider than your range. So for that same 30-inch cooktop, you would now want a 36-inch hood.
Those extra 6-inches will provide a good bit of overhang on each side of your stove. This creates a larger capture area so that more smoke, grease, and fumes will be collected by the hood before they can escape into your kitchen.
That extra width paired with a powerful blower motor should be all you need to keep your kitchen air clean and smoke-free.
Ducted vs Ductless
There are two basic ways that range hoods work to keep your kitchen air clean. Ducted hoods are connected to an outside vent. This allows them to suck up smoke and fumes and physically remove them from the house.
Ductless models are not connected to the outside. Instead, they suck up smoke and fumes and pass the air through a carbon filter before recirculating the "cleaned" air back into the kitchen.
A ducted hood is more effective and efficient when it comes to keeping your kitchen air clean. Since it sucks air and passes it through a large duct, it can remove large amounts of air much quicker than a ducted model.
If you'll be doing a lot of wok cooking or other high heat cooking that produces a lot of smoke and grease splatter, a ducted hood will be able to handle the high demand much better.
The only potential downside to a ducted hood system is that it can be quite expensive to initially install ductwork if it's not already in place.
CFM
CFM stands for Cubic Feet Per Minute, and this refers to the amount of air a hood can move. A hood with a higher CFM means more airflow, which means it can remove more smoke, grease, and fumes from your kitchen.
There's a basic formula for determining the minimum CFM you need for your cooktop. But that's pretty useless if you'll be doing a lot of Chinese cooking that requires high heat. If that's the case, you'll want more than the minimum.
Going with a hood that has at least 900 CFM is a great place to start. While a higher CFM will often mean a higher price tag, you can still find great options like the IKTCH which are much more budget-friendly.
And, if you can't find a hood with the right power at the right price, you might consider a dedicated outdoor wok burner for all your high-heat cooking needs. Not only are they fairly affordable, but they also provide more power and a better wok cooking experience than almost any indoor cooktop.
Filter Type
There are three primary filter types that you'll come across in your search for the perfect hood. Stainless steel baffles, aluminum mesh, and carbon filters.
If you plan on cooking a lot of Asian cuisine, your best bet is going to be a hood that utilizes stainless steel baffles. These allow for the best airflow and still do a great job separating and collecting grease from the air that passes through them.
Stainless steel baffles are what you'll find in 99% of the hoods in professional kitchens. And that's because they're durable, easy to clean, and almost impossible to clog up. Most models can be easily removed and run through the dishwasher for easy upkeep.
Aluminum mesh filters use several layers of fine mesh to separate grease as air passes through. Since many Asian dishes revolve around a hot and fast stir-fry technique, you tend to get a lot of grease particles in the air. And mesh filters can quickly become clogged, which will greatly decrease the airflow of your hood.
Carbon filters are only used in ductless hoods where the air is recirculated into the kitchen. And as we've already discussed, these are not an ideal hood option for a lot of Chinese cooking.
Noise Level
The quieter the hood the better. Not only will it be less obnoxious when it's on, but you'll be more likely to use it as much as you should.
Most hoods will come with a noise rating in decibels. The rating usually refers to how loud the hood is when running at its highest speed. Since 60 decibels is about the noise level of your average conversation, I like to use that as a baseline for how loud a hood will sound in your kitchen.
Sticking to models that don't go too far over the 60-decibel mark is a good way to go when possible. And anything under that is definitely a big plus.
While higher power often means a higher noise level, that's not always the case. But, you will often find that the higher-end models often put more emphasis on noise reduction. Both the Zline and Proline hoods are incredibly powerful, but they're also two of the quieter hoods that you'll come across. However, both options will run you over the $1000 mark.
Blower Type & Configuration
Most home-use range hoods use what's called an internal blower. That simply means that the motor and fan are located in the hood directly over the baffles or other filters.
Less commonly, you'll find hood systems with an inline or remote blower. Inline blowers are located inside the ductwork further away from the hood itself. While remote blowers are located outside of the building at the very end of the ductwork.
If you look on top of many restaurants you will often see a large remote blower. Sometimes billowing smoke and wafting delicious smells into the air.
Internal blowers are the most common and also the least expensive. But, they are usually the loudest option as well. The further you can get the blower from the hood itself, the quieter but more expensive it's going to be.
Mounting Height
The correct mounting height will ensure the best performance from your hood. But, each hood is different and will come with its own manufacturer's recommendation. Each hood will give a best height range. This provides some flexibility for different ceiling or cabinet heights.
While you should always go with the manufacturer's recommendation, the general guidelines for mounting height is 24-30 inches above a gas stove and 20-24 inches above an electric or induction cooktop.
Control Panel
The control panel for your hood is an essential component, but it doesn't need to be fancy or hi-tech. All you really need is a way to turn on the hood, the lights, and adjust the fan speed.
The main decision you'll have to make is whether you want physical buttons or a touch screen control panel.
Push buttons have the benefit of being reliable and easy to use. And while some touchscreens can be a bit more finicky, they are no doubt easier to keep clean. In the end, this choice comes down to personal preference and what you'd like to look at and use day in and day out.
Lighting
Good lighting and visibility on your stovetop are key when it comes to the best overall cooking experience. Being able to see what's going on in your pot, pan, or wok goes a long way in turning out the best food possible.
Most modern hoods will come standard with either Halogen or LED lights. If you're looking at older or some budget models you may also find incandescent bulbs being used. But those have largely been phased out over the years because they use lots of energy and have to be replaced fairly frequently.
Halogen bulbs produce a nice warm tone, but they aren't as energy-efficient and don't last as long as LEDs. In most cases, LEDs are the best choice because they last significantly longer than any other option and they use very little energy.
Most 30 and 36-inch range hoods (the two most common sizes) come standard with only 2 lights. If you can find options that feature 3 or 4 bulbs, you'll appreciate the increase in visibility while you're cooking.
Installation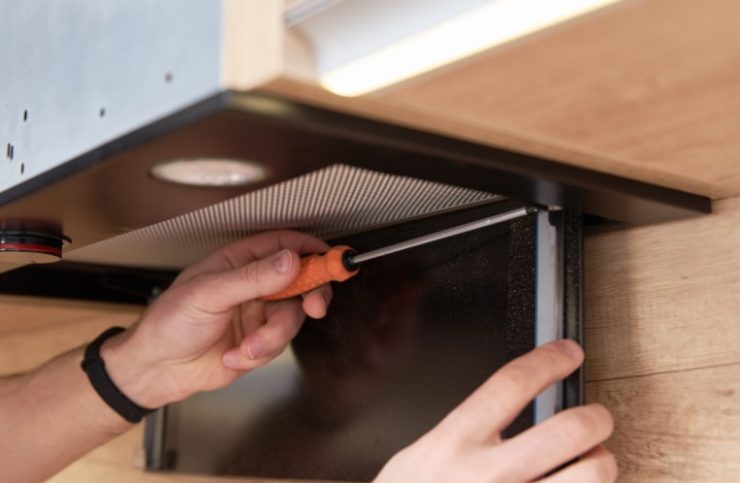 If you consider yourself a pretty handy DIY'er, you can probably tackle a hood installation yourself or with an extra set of hands. The most difficult part is the actual mounting of the hood to a wall or under a cabinet. That's where having someone to help hold the heavy and awkwardly shaped hood can be crucial.
Some models will also require some basic wiring, which is something to leave to a professional if you're not sure what you're doing.
My Recommendation
If you'll be doing a lot of Chinese cooking, or other types of cuisine that rely on high-heat cooking techniques, having a powerful hood is the way to go.
The IKTCH hood is a great option that will fit a wide range of budgets. It's not the most powerful hood out there, but 900 CFM should be plenty for most home cooks.
If you have a little (or a lot) bigger budget, the Zline professional hood is an upgrade in power and build quality. It offers professional performance and looks, plus it's backed by one of the best warranties in the industry.
Frequently Asked Questions
How Much CFM Do I Need For Chinese Cooking?
A 900 CFM hood will be enough for most Chinese cooking and other high-heat Asian cooking techniques.
What Is The Most Powerful Range Hood?
2000 CFM is about the most powerful range hood you'll find for home use. While those options are very limited, you can find a wide range of 1200 CFM hood options.
Is Too Much CFM Bad?
No, it's always better to have more CFM. A high CFM hood will be more effective at keeping the air clean, and it can always be used at a lower fan speed when you don't need as much power.
Which Range Hood Is Quietest?
Zline and Proline make some of the quietest, high-powered range hoods. But Broan makes quieter options that are much less powerful.