Range hoods are not a sexy kitchen appliance, but they can make a huge difference in your day-to-day cooking.
If you're cooking on a stovetop then you're basically guaranteed to be pumping steam, grease, and odor into your kitchen. Range hoods can solve that.
Here's what you should know.
Biggest Considerations
While picking out a range hood can certainly feel intimidating, there really are only a few aspects of these handy appliances that you need to understand before you start comparing products.
Ducting vs. Ductless
Most range hoods will require "ducting" to channel air from your range hood to a vent at the exterior of your home.
If you don't already have ducting in place, it can be a project to get it installed. Depending on the construction of your kitchen, walls, and ceiling this process can be simple or quite complex. It all depends on the nature of the space. In most cases, we'd recommend consulting a local pro to understand the cost of adding new duct work before springing on a ducted range hood.
If you have existing ductwork, then just be sure the connector on your range hood fits the dimensions of the inlet or can be fastened securely with an adaptor.
There are ductless range hoods available that will recirculate air through a carbon filter. This can remove some smoke, smell, and steam from your space. But generally, they aren't as effective as a ducted unit.
If you need a range hood today, and you don't have ducting, but you would consider adding it at a future date – you can also find some great convertible range hoods.
A convertible range hood is able to work with or without ducting.
Understanding if you would be best suited with a ducted, ductless or convertible range hood is a great first step.
Size
You can have the best range hood in the world, but if it doesn't properly fit your stovetop then it may not be of great service.
Look for a range hood that is at least as wide as your range, and preferably a few inches wider. So if you're cooking with a 30″ wide range, then consider looking at 36″ in range hoods. And if you have a wide or extra-wide range, then you might look at a 48″ range hood instead.
Power
More power is not always better, but it's usually more expensive.
A high-power range hood can move a lot of air, but in many cases aren't actually necessary for the majority of cooking that gets done in a home kitchen.
Range hood power is typically measured in CFM (Cubic feet per minute), which refers to the amount of air a hood can move at its high setting.
There is a broad range of power ratings available, from 100 CFM to more than 1000 CFM. On the higher end, you'll be better equipped for smokey high heat cooking like if you use a wok regularly on a high-BTU gas range or make a lot of fried food.
For most enthusiastic home cooks, we'd recommend a mid-level range hood in the ballpark of 400-600 CFM.
Noise
Range hoods are notoriously loud. Fortunately, there are some quiet models available today.
If you are a social cook, then noise level can be an especially important consideration. Noisiness is one of the main reasons why buy a range hood and then don't use it.
Range hood noise is generally measured in Sones, though some manufacturers will also publish their noise rating in decibels (dB).
Choosing a range hood under 60-decibels is a good rule of thumb for anybody. Though you may want to pick one with considerably less noise if you intend to have regular conversations while you cook, or have hearing difficulties.
| Sones | Decibels | Sound |
| --- | --- | --- |
| 0 | 10 | Normal Breathing |
| .5 | 25 | Broan NuTone Glacier Hood |
| 6.5 | 55 | Fotile & Broan NuTone Hood |
| 9.5 | 60 | Normal Conversation |
| 19 | 70 | Washing Machine |
Installation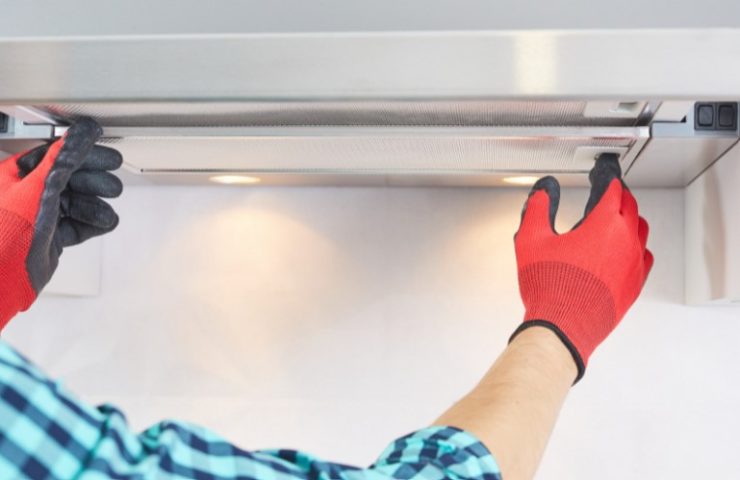 Every range hood is going to be a bit different when it comes to installation.
The design and weight of the hood are going to make a big difference in how easy it is to install. Even in cases where you're a handy person, you've chosen a lightweight product, and the design is easy to install, we'd recommend having an extra set of hands to assist with installation.
Some types of range hood are going to be naturally more difficult to install than others based on their design.
Most manufacturers will provide detailed instructions for installation, and accompanying "how-to" videos. These make installation considerably easier to understand.
Range Hood Types
Range hoods come in a variety of configurations, which we'll describe briefly below. Depending on the design of your kitchen, and the location of your stovetop you may find that a particular design fits your space the best.
Under Cabinet Range Hoods
Under-cabinet range hoods are generally the easiest to install because they mount under your existing cabinetry. This configuration, along with over-range microwave hoods are the most frequent.
Range Hood Insert
Rather than resting beneath existing cabinetry, a range hood insert actually nests into it. In this configuration the body of the range hood sits inside the cabinetry, meaning that you will lose some storage space, but also that you gain vertical space between the range top and range hood.
Wall Mount Range Hoods
In many ways, a wall mount range hood is similar in design to the under cabinet units. Instead of fixing beneath existing cabinetry, the hood typically sits underneath an adjustable chimney and is fastened against a wall to the rear.
Island Range Hood
Some range hoods are designed specifically to fit over a range that sits in the center of a kitchen island. Installation is typically more difficult with island range hoods than other types, but they can be incredibly beautiful and create a social space around your cooking space.
Other Features To Look For
While the size, power, ducting, and design type are the most important things to figure out before you start looking for a new range hood, there are other considerations worth knowing about.
Control Panel
The control unit on a range hood can come in a variety of different configurations, from knobs to push buttons, and switches to touch screens with motion-activated control.
If you want the latest tech, there is a lot to explore. Like anything else, the more bells and whistles you add to your device the more it's going to cost.
If you just want something that's going to work, it really comes down to personal preference.
We like a simple push-button configuration that includes a unique button for each fan speed and light setting. These are incredibly reliable, and you won't need to cycle through a bunch of speed settings to arrive at the right speed as you might with a single-button control.
It is worth noting that touch panels can be easier to keep clean than knobs, switches, and other controls that protrude from the face of a hood.
Fan Speeds
Most range hoods have at least a few different fan speeds. And the more powerful the range hood's motor, the more speed options you'll usually have.
We find that most people only use 2 speeds on their range hood, regardless of the total number of options available. One that is "quiet" and the other that is "powerful."
Do you really need 6 speeds on your hood? maybe, but you might consider spending a few extra dollars for a hood that is both powerful and quiet instead.
Filter Types
Most range hoods will have either a stainless steel baffle or an aluminum mesh filter. Both types can be removed and cleaned in the dishwasher, or by hand.
Steel baffles are typically considered more durable than aluminum mesh, and are less restrictive to airflow. They are, however, higher profile and a bit more expensive.
Lighting
Depending on the natural and other artificial lighting in your kitchen, the onboard lighting of your range hood may be more or less important to you.
Most hoods will include incandescent, halogen, or LED elements. Each of these types has different advantages and disadvantages.
Incandescent range hood bulbs are the least expensive, but also the least efficient and least durable.
Halogen bulbs are basically a more efficient and durable incandescent bulb. They can last 3 times longer.
LEDs run cooler and last longer than either Incandescent or Halogen options, but they typically cost more and are less widely available.
Regardless of which lighting you choose, your bulbs will need to be durable against heat, moisture, and vibration.