A blender is one of a home kitchen's most versatile tools. What other single appliance can make you sauces, dips, smoothies, and cocktails?
Unfortunately, a "less-than-great" blender is more likely to be a source of headaches than delicious drinks and snacks. This puts people on a tight kitchen budget in quite the pickle.
But fear not! With my expert guidance gained from 15 years of kitchen and bar work, I'll guide you through a foolproof process for choosing the best blender under $100. I've had success with blenders from $20 to $200 or more, and am happy to share my favorite choices with you.
Our Top Picks
Features:

Powerful 1200 Watt motor for easy blending
Large and durable glass blender jar
Extremely long warranty

Features:

Affordable enough for any kitchen
Easy pour spout is a great touch
Fairly powerful motor for the price

Features:

Space saving design
Powerful motor for its size
Great for on-the-go smoothies
Best Overall
Features:
Powerful 1200 Watt motor for easy blending
Large and durable glass blender jar
Extremely long warranty
Best Value
Features:
Affordable enough for any kitchen
Easy pour spout is a great touch
Fairly powerful motor for the price
Best Single Serve
Features:
Space saving design
Powerful motor for its size
Great for on-the-go smoothies
11/30/2023 12:37 pm GMT
Oster's Blender Pro 1200 combines a powerful motor, large capacity, variable speeds, and long warranty. These are basically all of the core features I'm looking for in a budget priced blender, which is why I would recommend it as the best pick for most home kitchens.
The blender makes it easy to achieve whatever texture you're looking for. A 1200 Watt motor gives the Oster Blender Pro more than enough power to create perfectly smooth purees and drinks. Combine that with seven speeds and three easy access presets, and it won't be hard to hit your target. On the lowest setting, it can prepare chunky salsas. And on the highest setting, it can create flawless oil emulsions.
Oster's blender jar looks and feels like it should be attached to a blender that costs twice as much. It's made of borosilicate glass and has a generous 6 cup capacity. You'll have plenty of room to make multiple servings at a time.
To top it all off, Oster's blender comes with an almost unheard of 10 year warranty on its motor. Compare that to the 1 to 3 years offered by most blenders, and it's easy to see why this one makes my top pick.
What we like
Powerful 1200 Watt motor for easy blending
Large and durable glass blender jar
Extremely long warranty
What We don't
Close to the top end of the $100 budget
It may be worth trading down on some convenience features to save a buck if you won't be using your blender all the time.
The Hamilton Beach Power Elite blender does a good job of retaining its core features while trading down on some non-essential components to maximize affordability. For the price, it has quite a powerful motor, good speed control, and a convenient easy pour spout.
At about half the price of my top pick, this blender still packs a decently powerful 700 Watt motor. That's enough to quickly blend small portions of anything. But if you're looking to make large batches of purees or drinks, you may want a more powerful blender.
Five speeds allow you to dial in the exact texture you're looking to blend. That makes it easy to make everything from chunky salsa to silky smoothies. They're mechanical buttons though, so they can be harder to clean than flat push buttons.
The easy pour spout on the lid is a surprisingly nice addition to this affordable blender. Instead of inevitably spilling a few drops from the side of the pitcher, it makes it easy to direct your blended ingredients wherever you'd like.
Overall, the Hamilton Beach Power Elite is a lovely little blender for how affordable it is. As long as you're willing to be patient with it, it will slowly but surely blend to your heart's content.
What we like
Affordable enough for any kitchen
Easy pour spout is a great touch
Fairly powerful motor for the price
What We don't
Not great for making multiple servings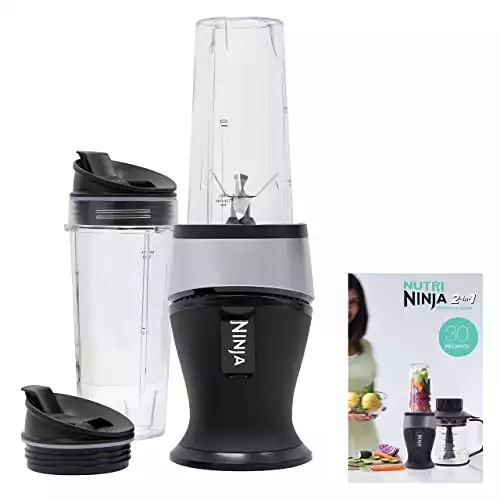 The Ninja Personal Blender is an excellent choice for cramped kitchens, as it's easy to store and as powerful as a full-size blender.
You'll notice right away that the blender jar for the Ninja personal blender is different from my other top picks. It's designed for on-the-go smoothie drinking more than sauces or dips. You can still prepare salsas or pureed soups in it, but the jar size means you'll need to run multiple batches.
Powered by a 700 Watt motor, this blender has more than enough strength to handle general blending tasks. It might struggle a bit with crushing nuts or hard cheeses, but fruits and vegetables are no match for it.
The footprint on the Ninja personal blender really is tiny. Measuring just under 10 x 6 inches, it's easy to store away in your cabinets when it's not in use. If you're already tight on space in your kitchen, this diminutive size is crucial for adding a blender to your tools. I would definitely recommend this blender to anyone living in a smaller apartment, or anyone who wants a blender only for occasional smoothies.
What we like
Space saving design
Powerful motor for its size
Great for on-the-go smoothies
What We don't
Can only handle small batches
Runners Up: Good But Not Great
There's no shortage of blender options to choose from for under $100. But honestly, I'm quite picky about which appliances end up in my kitchen. Allow me to explain why the following three competitors didn't make it on my list.
Though it's small and conveniently lightweight, I wouldn't recommend the Cuisinart CPB-300. With a motor that tops out at 350 watts of power, it will routinely struggle with even small blending jobs. And at nearly the same price as my top pick, that's not acceptable performance.
NutriBullet had its moment in the spotlight thanks to "As Seen On TV" marketing. But in my experience, that means their blenders are often overpriced for their performance. In the case of the NBR-1201, an underpowered motor and small blending cups make it unsuited to the tasks most home cooks expect.
NutriBullet's full size blender came close to making it onto my list. It has a sleek design and powerful 1200 Watt motor, as well as a generous blending cup size. But compared to my top picks, it's far more expensive without offering any extra benefits. I'd pass on this in favor of a more affordable blender.
Buyer's Guide: How to Choose the Best Blender Under $100
A great blender will make kitchen prep a breeze, but an inferior blender is just irritating. Having used both top quality blenders and troublesome imitators, I've learned how to spot the key differences between the two. These points may be old news for kitchen experts, but beginners may appreciate having a deeper insight into how to choose the best blender under $100.
Motor Strength: You Need At Least 700 Watts
What's the number one difference between cheap and expensive blenders? Their motor strength. The more powerful a blender is, the higher its price tag.
But that doesn't mean that finding a budget-friendly blender will always leave you disappointed in its power. The best blender for any given kitchen will always be the one that combines value and performance.
In the case of blenders under $100, look for at least 700 Watts of power. Anything less, and you'll struggle to efficiently create smoothies and purees. My top pick has 1200 Watts of power that makes it more than capable of handling any home kitchen task. Anything more powerful than this is generally intended for professional kitchens.
Construction: Look For Glass Jar Design
Even the best motor won't do much if you don't have an equally useful blender jar.
Premium blender jars are made of glass. Their thick walls won't expand or contract with changes in temperature. Budget-priced blenders more often feature plastic walls as an affordable substitute. Look for BPA free plastic to ensure that it's food safe and healthy for you.
Additionally, the shape of the blender jar will affect how easy it is to use. Look for blenders that feature an easy-pour lip, and avoid those that have a uniform lip. If it doesn't have a pour spout, you'll constantly be spilling out the sides when you pour.
Speed Control: More Settings, More Uses
Having a wide range of speeds that you can run a blender at is essential. Without them, you'll be unable to achieve the exact consistencies you're looking for. Perhaps the only exception here are personal blenders, which are designed to make smoothies for a single person. They don't need to have multiple speeds, because they're intended for a narrower range of recipes.
Care: Dishwasher Safe and Touch Pads Make Cleaning Easier
Cleanup is the hidden side of every kitchen appliance purchase. Even the best blenders in the world won't see much use if cleaning them is a pain! That's why I always look for blenders that feature dishwasher safe jars and lids. Also, look for touch pad buttons rather than physical switches. They're much easier to clean and won't trap food waste.
Noise: Budget Blenders Are All Loud
There's no getting around some noise from a blender, but proper housing will dampen the volume. Unfortunately, this is an area where bargain priced blenders suffer in comparison to pricier models. Even the best blender under $100 will produce more noise than its more expensive competitors. If noise is a major concern for you, I would recommend reconsidering your blender budget before making a purchase.
Price: A Wide Range Of Options
How much blender can you get for under $100? More than you might think. Take another look at my top picks, and you'll find blenders in a range from $30 to $80. Each of them offers a good mix of utility and affordability.
There are only two reasons I would recommend spending more than $100 on a blender. The first is if you'll be using it in a professional setting, where the added power and durability are necessary. The second is if you're looking for the quietest blender possible. Otherwise, spending less than $100 will get you a perfectly serviceable blender for home use.
Warranty: Look For At Least 1 Year
Even the highest quality blenders can be prone to manufacturer defects. While this isn't common, having a warranty will ensure that you're not wasting money on a new blender. Don't settle for less than a 1-year warranty on your blender. Three years and up is excellent, and the 10-year warranty of my top pick is exceptional.
Safety: Avoid Flimsy Plastic Blenders
Were it not for their safety features, blenders could be one of the most dangerous kitchen tools. Deep jars, tight fitting lids, and screw-on caps can all prevent unfortunate accidents. Above all, avoid flimsy plastic blenders. They're prone to cracking, leaving you with sharp bits of plastic in your blended foods.
Frequently Asked Questions About Blender Under $100
We're almost to my final recommendations for the best blenders under $100. But before we wrap things up, I'd like to address some of the most commonly asked questions about budget priced blenders.
Do You Need A Blender for Your Kitchen? Advantages Of Using A Blender
While blenders are most commonly associated with making smoothies, they offer many more functions to the home chef. From savory sauces to smooth dips and icy cocktails, a blender can open up many new recipe options.
Here are my main reasons for keeping a blender in my own kitchen:
They can replace the hard work of using a mortar and pestle. The best blenders under $100 can grind spices, make flours, and coarsely chop condiments like pesto.
They're the only tool for the job for making delicious fruit smoothies. Really, any iced beverage can benefit from the crushed ice a blender makes.
They're easy to clean. The glass jars and plastic lids of blenders are dishwasher safe, making cleanup a breeze.
Drawbacks (and Things to Get Used to) When Using A Blender
While blenders are a versatile and convenient kitchen tool, they're not without their downsides. Even the best blenders have a learning curve that can trip up novice chefs.
For one, high speed blenders can overprocess foods if you're not careful. What started as a delicious pico de gallo can quickly become a homogenous goop. Blenders require you to keep a close eye on them at all times, with your full attention focused on what you're blending.
Additionally, pouring from a blender requires a steady hand and a certain finesse. It's wise to have a spatula nearby to help you get the last bits of your smoothies and sauces out of the blender jar. And whenever possible, pour over something that you don't mind getting a few drops on.
Food Processor vs Blender: Which One Is Better for You?
Food processors and blenders perform similar functions in a kitchen. Both are capable of creating smooth sauces, dips, and purees. But they're not equally useful for all kitchen tasks.
If you'll mainly be making sauces, dips, and soups, a food processor is likely the better choice. Food processors excel at making thick and chunky sauces and salsas. But if you're at all interested in making smoothies or icy drinks, a blender is by far the better choice.
If you don't use either often, but want the functions of both food processor and blender there are some "combo" options that will do both, though not as effectively as a single-purpose appliance.
When Should I Replace My Blender?
Maybe you already have a blender, but it's looking a little bit long in the tooth. When should you keep using an old blender, and when is it time to buy a new one? There are two things that would make me replace my blender.
The first is a failing motor, which you'll recognize by a lack of blending power. Check if your motor is covered under your blender's warranty. If it's not, then it's time to replace your blender.
The second is damage to the blender cup and/or blades. The last thing you want is to have bits of glass, plastic, or metal ending up in your blended foods! If your blender cup or blades get cracked or chipped, it's time to buy a new one.
What Should I Try to Make With My Blender if I'm Just Getting Started?
Once your new blender arrives, you'll probably be excited to get started with it right away. Here are my top three recommendations for recipes that blenders work great for:
Smoothies! Any mix of fresh fruit, milk or milk substitutes, and ice is a great place to start. But really, the sky's the limit for what you can put in a smoothie. Try adding a spoonful of coconut oil or a dash of cinnamon to give one a tropical vibe.
Pesto is fast and easy in a blender or food processor. We have a recipe for vegan pesto that's particularly delicious. And it definitely beats crushing the whole recipe by hand in a mortar and pestle!
Hummus with or without tahini. Our recipe uses just a can of chickpeas, olive oil, and a few seasonings. Toss them all together in a blender or food processor, and you can whip up a fresh batch in no time.
My Recommendations
With all of that in mind, which blender suits you best? Is it the powerful Oster Blender Pro 1200, with its oversized blending jar? Maybe the ultra-affordable Hamilton Beach Power Elite? Or perhaps the space-saving Ninja Personal Blender? No matter which one you go for, you're now well equipped to make the right decision for your home kitchen. Good luck!