Looking to simplify chopping, slicing, and dicing but don't have the counter space for a full size food processor? You should consider going for the best mini food processor for your kitchen instead. These pint-sized powerhouses are excellent space (and labor) savers.
Thanks to a decade of professional kitchen and bar work, I've had my fair share of experience with food processors of all shapes and sizes. And in today's guide, I'll be sharing my first-hand knowledge with you to help you discover the perfect mini food processor for your home kitchen.
Our Top Picks
Features:

Powerful motor can handle any ingredients
Small footprint saves space on countertops
Large work bowl for a mini food processor

Features:

Tiny footprint makes it a big space saver
Exceptionally affordable
Dishwasher safe and easy to clean

Features:

Choose from 11 beautiful colors
Small footprint means you can leave it on your countertop
Powerful motor for easy processing
Best Overall
Features:
Powerful motor can handle any ingredients
Small footprint saves space on countertops
Large work bowl for a mini food processor
Best Value
Features:
Tiny footprint makes it a big space saver
Exceptionally affordable
Dishwasher safe and easy to clean
Best Design
Features:
Choose from 11 beautiful colors
Small footprint means you can leave it on your countertop
Powerful motor for easy processing
09/25/2023 12:17 pm GMT
For a mini food processor, the Mini-Prep Plus has a generous cup capacity, ample power and space saving footprint. And since it's made by cookware giant Cuisinart, the Mini-Prep Plus is durable and covered by an 18-month warranty.
I believe it's the best mini food processor for the majority of kitchens. Here's why,
First, let's take a look at just how compact the Mini-Prep Plus really is. Measuring in at just 11 x 9 x 6 inches, it's small enough to tuck away in your cabinets when it's not in use. That's offset by a robust 4 cup work bowl, offering nearly twice the space of comparably priced mini food processors. The Mini-Prep Plus is a space saver — but it doesn't skimp on work capacity.
Powered by a 250 watt motor, the Mini-Prep Plus is more than capable of handling big kitchen jobs. Combined with it's auto reversing smart blade technology, that means this food processor can even chop or grind solid foods. Grating a hard Parmesan cheese or turning oats into flour is easy with this little workhorse.
Better yet, this mini food processor is designed for easy cleanup too! The touch pad controls can be wiped clean with a damp cloth, and the entire work bowl is dishwasher safe. Give it a rinse after use, and then wash it on the top rack of your dishwasher to keep the plastic in great shape.
Overall, the Cuisinart Mini-Prep Plus is the right choice for most kitchens. It's not the most affordable model out there, but I believe the durability and warranty justify the added cost.
What we like
Powerful motor can handle any ingredients
Small footprint saves space on countertops
Large work bowl for a mini food processor
What We don't
Almost as expensive as a full size food processor
Proctor Silex makes the smallest and most affordable mini food processor you'll find, making it an ideal choice for single-serving prep.
It's a convenient processing solution for cramped kitchens at an affordable price. If you're looking to use a mini food processor primarily for chopping vegetables, I will strongly recommend this model.
Weighing in at just over one pound, this tool really puts the "mini" in "mini food processor." It measures a dainty 5.13 x 5.44 x 8.5 inches, making it small enough to leave out on your countertop. It is worth noting that the work bowl is limited to a 1.5 cup capacity. If you're making much more than a single serving, you'll need to do it in multiple batches.
A 70 watt motor gives the Proctor Silex just enough power to mince, chop, and grind vegetables. Anything harder, like nuts, can give it a little bit of trouble. Take it slowly though, and you can make smooth purees like guacamole.
The bowl, lid, and removable blades on this mini food processor are all dishwasher safe, making for easy cleanup. I'd recommend washing them on the top rack of your dishwasher, though. That will extend the life of the plastic parts and prevent them from cracking because of heat.
In short, I'd recommend the Proctor Silex to someone who is really tight on kitchen space or budget. It's not the best mini food processor out there power or capacity wise. But it is exceptionally affordable and takes up almost no space in the kitchen.
What we like
Tiny footprint makes it a big space saver
Exceptionally affordable
Dishwasher safe and easy to clean
What We don't
Very small work bowl capacity
Motor isn't very powerful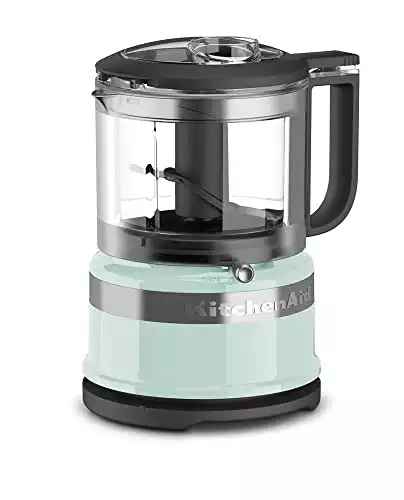 The KitchenAid Food Chopper combines excellent technical specifications with a wide variety of attractive colors.
One of the biggest draws of any mini food processor is being able to leave it on your countertop. This is where the KitchenAid 3.5 Cup Food Chopper really shines. If you have a color scheme you're going for in your kitchen, it'll be easy to find a match for it with this food processor!
The Kitchenaid's 3.5 cup work bowl capacity gives it plenty of room to make multiple servings at a time. This on its own is worth admiration, but it's not the end of the story. That Kitchenaid was able to offer that large a capacity in a 5.6 x 7 x 8.7 inches package is truly amazing.
That small size is one part of why the Kitchenaid food chopper deserves a spot on your countertop. Combined with a choice of 11 unique colors, it makes this tool a lovely addition to your kitchen decor.
If it was all show and no go, though, I wouldn't recommend this mini food processor. But at 240 watts of power, it has plenty of juice to crush, dice, and puree to your heart's content. And with a custom "drizzle basin" for adding liquids through the top, making sauces has never been easier.
To top it all off, the entire work bowl setup is dishwasher safe. Once again though, I do recommend washing it on the top rack to keep the plastic from weakening. Otherwise, the locking tab is likely to crack with extended use.
Basically, Kitchenaid's Food Chopper is nearly the equal of my top pick. It has a slightly smaller work bowl and slightly less power, but takes up less space and comes in a variety of colors. From there, it's up to you to decide which criteria are more important for your kitchen.
What we like
Choose from 11 beautiful colors
Small footprint means you can leave it on your countertop
Powerful motor for easy processing
What We don't
Locking tab on lid is more fragile than I'd like
Runners Up: Great, But Not the Best
The products I've chosen above represent what I consider to be the "best of the best" mini food processors. I see them as the best fit for most kitchens.
It's worth noting there are a lot of other options out there and, while I won't cover them in depth, I would like to point out a few that might have special utility for some kitchens,
I love KitchenAid's corded mini food processor. So why wouldn't I want the added convenience of going cord-free? Because that luxury comes with a tradeoff of a higher price tag and less power. It comes in at nearly double the cost of the corded 3.5 cup model featured above. I can't justify spending that much on a processor that also needs batteries to operate. If you really don't have any outlets to use though, this might be your best bet.
At first glance, the MultiChopper seems like an improvement on the classic food processor design. A small basket is designed to help feed your ingredients through at an even pace, leading to even chopping results. The only trouble is, the basket sometimes gets in the way! So overall, it's a cool idea with less than perfect execution. That's why I'll pass on this one.
Black and Decker's handheld food processor has a lot going for it in a small package. Measuring just 6 x 6 x 8 inches, it's a real space saver. But with that small size comes a serious reduction in power, too. Offering only 150 watts of power, it will have trouble creating smooth purees. And for the price, I would expect it to be able to handle any food processing job.
The most notable feature for the Ninja Express Chop is its dual blade rotor. This literally gives it twice the chopping power of most mini food processors! But in my experience, that's not always a good thing. For example, you won't be able to get a thicker cut for chunky salsa or pico de gallo. If you're mainly using a food processor for smoothies, soups, or purees though, this is a good option.
If you don't mind doing a fair bit of extra work with your food processing, then Zyliss' manual chopper is for you! Without a motor, it takes up less space than any other mini food processor on this list. But honestly, processing anything to a fine puree takes too much work for my tastes. I would specifically recommend this one for anyone who's trying to outfit an RV kitchen, though.
Buyer's Guide: How to Choose the Best Mini Food Processor
Choosing a mini food processor over a full sized model doesn't mean you have to give up versatility or efficiency. To find the best processors possible, I took the following considerations into account for each product. Read through them, and you'll be able to judge which mini food processor is best for you, too.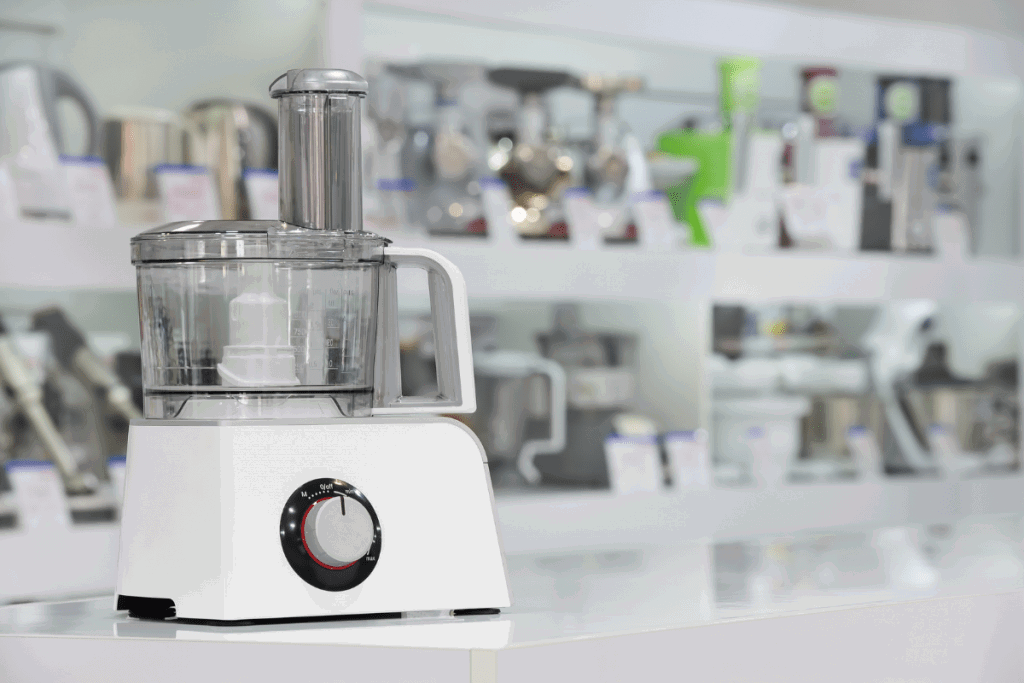 Capacity: Matching Size With Servings
A food processor's capacity will determine how many servings you can make in a single sitting. Because of that, you should try to match your food processor's capacity to the usual number of servings you want to make.
For a single person, a 2 cup capacity is plenty to make salsas, salad dressings, and dips. Cooking for a couple is best done with at least a 3 cup capacity, and families will want closer to 4 cups. And honestly, any size of food processor makes it easier to chop onions than using even the best kitchen knife!
Weight: Enough To Keep It Stable
Because your food processor's blade will be spinning quite fast, you want this kitchen tool to have some weight to it. Too much and it will be cumbersome to take in and out of cabinets. Too little, and you'll be struggling to keep the processor on your countertop while it's chopping.
I've found the sweet spot for the best mini food processors to be around two pounds. I wouldn't go for anything less than a pound, or anything heavier than three pounds. Though I'll make an exception and go lighter for a food processor that's meant for a single person.
Blade, Discs & Attachments: Focus On Traditional Blades
Larger food processors have the luxury of including a variety of attachments for different styles of cutting. Grinding discs can make it easy to finely dice onions, carrots, and other vegetables.
But for mini food processors, their limited work cup capacity means that traditional blades are the only way to go. Since their contents will spend more time in contact with the blades, you can achieve finer dices by letting mini food processors run longer.
Look for stainless steel blades that are securely mounted on a center post. That ensures that they're both durable and dishwasher safe for easy cleanup.
Control Settings: Variable Speeds Add More Control
Variable speeds on mini food processors will allow you to control how finely diced or pureed your ingredients are. That's why, for my top picks, I've leaned towards processors that feature multiple speeds. Be wary of single speed food processors, as they can be hard to produce consistent results with.
Also, I greatly prefer touch pad buttons over mechanical switches. They're much easier to clean because they don't let splattered food get stuck in open crevices. Trust me, you'll love being able to wipe them off with a damp cloth when you're finished cooking.
Warranty: Look For At Least A Year
Small kitchen appliances like food processors are prone to serious wear and tear. This is especially evident for their motors, where even a small design flaw can lead to burnout and a ruined appliance. That's why whenever possible, I look for kitchen tools that have at least a one year warranty. If that's combined with a 30 day money back guarantee, all the better! Because either way, you'll know that your investment is safely spent.
Safety: Always Choose A Locking Lid
A food processor's rapidly spinning blades are no laughing matter. If it weren't for robust safety features, these could easily be the most dangerous tools in the kitchen! That's why every mini food processor worth its salt features a locking lid. This way, you can't start the blades up unless every safety precaution is in place.
Even the best safety measures still leave food processors prone to one danger, though. Once you're done chopping or pureeing, it's easy to forget how sharp those blades really are. I'd urge you to treat your processor's blades the same way you treat any kitchen knife, and always handle them with utmost care.
Cleaning & Care: Choose A Dishwasher Safe Model
Chop an onion on a cutting board, and the most you'll have to do is throw away scraps and quickly wash the board. Chopped in a food processor though, that same onion will have touched a lot more surface area. If it weren't for dishwasher safe work bowls, that could lead to a lot of extra cleanup time. The lesson here: Always go for dishwasher safe food processors!
Even the best dishwasher safe food processor will be prone to damage if it is regularly overheated. The heating and cooling of a dishwasher can lead to plastic bowls cracking or chipping. So to get the best out of your food processor, always be sure to wash it in the top rack of your dishwasher.
Common Flaws: Handle Carefully To Prevent Chips
As with anything made of plastic, food processors are prone to damage if they're mishandled. Drop the work bowl a single time, and you may be looking at buying a whole new food processor.
While this is an unfortunate design flaw, it's also sadly unavoidable. But by working with care and caution, you can prevent the most common causes of damage. Handle your food processor bowl gently, and you'll effectively prevent chips and cracks.
The only other major design flaw of food processors shows up much less regularly. Occasionally, the motors on these little machines can get overheated and burn out faster than they should. That's why I recommend looking for processors that have a warranty against manufacturer defects.
Frequently Asked Questions About Mini Food Processor
Before sharing final recommendations, I'd like to take a minute to answer some common questions about mini food processors. If you're already a kitchen pro, some of this may be redundant. But if you're a beginner looking to improve their kitchen skills, this section will give you the fundamental building blocks for honing your kitchen knowledge.
Advantages of Using A Mini Food Processor
I've found mini food processors to be an exceptionally convenient addition to my own kitchen. And given the choice between a mini food processor and a full sized one, I'd still go for the mini. The extra counter space you get by going mini is definitely worth sometimes having to make a few batches.
Compared to pulling out a cutting board and manually chopping vegetables for sauces, they're lightning fast. And when you're cutting onions, their enclosed designs mean you won't have to shed a single tear. Add in the fact that they can make a puree in no time flat, and I think it's easy to see why they're such a versatile kitchen tool.
Drawbacks (and Things to Get Used to) When Using A Food Processor
Even the best mini food processor isn't a silver bullet for all of your kitchen prep needs. If you're looking for precise cuts on vegetables, you'll need to rely on your trusty chef's knife instead. Because when you're using a food processor, even a few seconds' extra runtime will drastically change the texture of your ingredients. In short, you'll need to practice with a food processor to be able to consistently hit a desired texture.
Food Processor vs Blender: Which One Do You Need?
At a glance, food processors and blenders appear quite similar. They both have glass or plastic housing, a set of spinning blades, a lid, and speed controls. Can't you use them interchangeably? Yes and no.
Food processors excel at chopping and dicing ingredients, and the best food processors can even make smooth purees. Even the most powerful food processor won't make a puree as smooth as a blender, though. And don't even think about using a blender to roughly chop a salsa!
Really, a fully equipped kitchen will have both a food processor and a blender. If you can only have one, choose based on what you prepare the most. Chopped onions, salsas, and chunky sauces? Go for a food processor. Purees, liquids, and smoothies? A blender will suit you better.
If you aren't using either appliance very often, but you still want to capture the functions of both – there are some blender food processor combo products out there. It won't be as good at either function, but it will do both just fine for the casual user.
When Should I Replace My Food Processor?
Even the nicest food processors are prone to wear and tear. But unless your processor has a broken piece that's affecting its functioning, there's hardly a reason to replace it. I'd recommend replacing your food processor in one of two situations:
A safety feature is no longer working. If the lid doesn't lock securely, it's time to get a new one.
The motor is losing power. Less power means a tougher time chopping, and that your food processor is on its way out.
What Should I Try to Make With My Food Processor If I'm Just Getting Started?
One of the beauties of getting a new food processor is the wide array of recipes it will let you make. Here are a few of our favorite recipes that can be made easier with the help of a food processor:
Tzatziki, a Greek yogurt sauce with plenty of cucumber and garlic. Use the food processor instead of a hand grater.
Argentine Chimichurri, a lovely green sauce that goes great with steaks. A food processor seriously cuts down on the prep time for chopping all those herbs.
Tahini-free hummus, a delicious anytime snack that's a flash to make in a food processor.
Our Recommendations
And with that, you are fully prepared to make a decision on the best mini food processors for your home kitchen. Are you inclined towards the power and capacity of the Cuisinart Mini-Prep Plus? The thrifty savings of the Proctor Silex Mini Food Processor? Or perhaps the handsome good looks of the KitchenAid 3.5 Cup Food Chopper? Any way you go, you'll have a wonderful addition to your kitchen repertoire.