Best Overall
Affordable Option
Best Upgrade
Oster Pro 1200 Blender with Professional Tritan Jar and Food Processor attachment, Metallic Grey
Cuisinart BFP-703BC Smart Power Duet Blender/Food Processor, Brushed Chrome, 3 cup, count of 6
Ninja BL770 Mega Kitchen System, 1500W, 4 Functions for Smoothies, Processing, Dough, Drinks & More, with 72-oz.* Blender Pitcher, 64-oz. Processor Bowl, (2) 16-oz. To-Go Cups & (2) Lids, Black
Best Overall
Oster Pro 1200 Blender with Professional Tritan Jar and Food Processor attachment, Metallic Grey
Affordable Option
Cuisinart BFP-703BC Smart Power Duet Blender/Food Processor, Brushed Chrome, 3 cup, count of 6
Best Upgrade
Ninja BL770 Mega Kitchen System, 1500W, 4 Functions for Smoothies, Processing, Dough, Drinks & More, with 72-oz.* Blender Pitcher, 64-oz. Processor Bowl, (2) 16-oz. To-Go Cups & (2) Lids, Black
I can say without a doubt that you won't find a kitchen appliance as good as the Oster Pro 1200 combo at this price. Between its powerful motor, thoughtfully designed mixing bowls, and extra long warranty, it's a slam dunk for thrifty home cooks everywhere.
Named for its powerful 1200 Watt motor, this blender/food processor has more than enough horsepower for all your kitchen tasks. From coarse dicing onions to making perfectly emulsified purees, it's strong enough to do it all. Combined with 7 precise touchpad speeds, it's easy to dial in the exact texture you're looking for.
Both the blender and food processor jars are generously sized for multiple servings. Coming in at 8 cups and 5 cups respectively, they're easily big enough to serve a family of four. And thanks to their Tritan plastic construction, they're incredibly durable as well.
All of that is made more impressive by the fact that this Oster appliance has an unheard of 3-year satisfaction guarantee. That's right! You have 3 years of coverage on anything that might happen to it, not just manufacturer defects. In short, it's the best blender food processor combo available on the market today.
What we like
Powerful 1200 Watt motor can handle anything
Extra large capacity blender and food processor jars
Super long satisfaction guarantee promise
What We don't
Larger size might not be great for small kitchens
We may earn a commission if you make a purchase, at no additional cost to you.
Cuisinart's Smart Power Duet will appeal strongly to the budget-conscious cook who's looking for a versatile and affordable kitchen tool. It has an uncommonly nice glass blender jar with an easy-measure lid that will speed up the preparation of your sauces and purees. If it were a bit more powerful, it would likely have been my top pick!
The Cuisinart's 6-cup borosilicate glass blender jar is typical of a blender at twice the price of this one. That gives it added durability, and makes it look quite a bit nicer sitting on your countertop. Which is a good thing, because this blender combo is heavy! I'd recommend finding a place to leave it out on your counter rather than putting it away in a cupboard between uses.
Unfortunately, this appliance's 500 Watt motor means you'll have to be patient with your blending and processing. The blade design will let it work through any preparation you need, but the lower power means it can take a while to do so.
Overall, the Cuisinart Smart Power Duet is a well-designed appliance that suffers only from its lack of motor strength. But for the price, it's a fantastic addition to a home kitchen.
What we like
Pretty and durable glass blender jar
Excellent price for its performance
What We don't
Heavy
Slightly underpowered motor
Best Upgrade
We may earn a commission if you make a purchase, at no additional cost to you.
Smoothie enthusiasts rejoice! The Ninja Mega Kitchen System will give you everything you could possibly need to process, blend, and liquefy anything you can get your hands on. It's big, pricey, and powerful. And an excellent addition to family kitchens where you need to prepare multiple servings at a time.
A 2-horsepower, 1500 Watt motor is at the heart of the Ninja Mega Kitchen System. To put that into perspective, this blender combo can turn a full pitcher of ice into snow cone shavings in under a minute. But with four adjustable speed settings and a variety of blade options, you can dial in whatever texture you want to blend or process.
The blender and food processor jars on this system are large enough for a family of four or more, too. Measuring in at 9 and 8 cups respectively, both functions of this appliance can save you hours of prep time for meals and snacks. There's really no more convenient way to prepare smoothies, dips, and salsas.
There's only one area where I honestly expected more out of the Ninja Kitchen System for the price. It's backed by only a 1-year warranty, which isn't bad but isn't great. If that had been a 3-year warranty, it may have secured my top pick.
What we like
Extremely powerful motor can pulverize ice in seconds
Extra large capacity blender and food processor jars
Includes single serving blender jars for on-the-go smoothies
What We don't
Expensive
Only a 1-year warranty.
Runners Up: Good But Not Great
Although I only made a few top picks, I did take time to complete a thorough review of every blender combo available today. While there were many close competitors, I'm still confident in my selections. To get a better sense of why, let's take a closer look at where three other products didn't match up.
Though I'm a huge fan of the Ninja Mega Kitchen System featured above, not all of their products are as impressive. Their QB1004 model blender/food processor features a top-down blending design that I find to be unnecessarily difficult to use. And though it may look cool, this top-down design doesn't offer any unique benefits. My advice: Stick with a traditional setup.
Cuisinart's addition to the blender/food processor arena is a big and powerful machine. It's equipped with five different blending and processing options, too. The problem? It's expensive and hard to use. I'll pass on this in favor of a more user friendly (and less expensive) model.
Kitchenware newcomer FOCHEA offers an awful lot of attachments at a low price. But judging from the design, they don't pay as much attention to detail as the major kitchenware companies. The plastic on their jars is too thin to be durable, making it a short term investment at best.
Buyer's Guide: How to Choose the Best Blender Food Processor Combo
Even if you're an experienced at-home chef, finding the best product for a narrow niche will prove tricky. Allow me to be your guide, as I explain the qualities and characteristics I look for in the best blender food processor combos.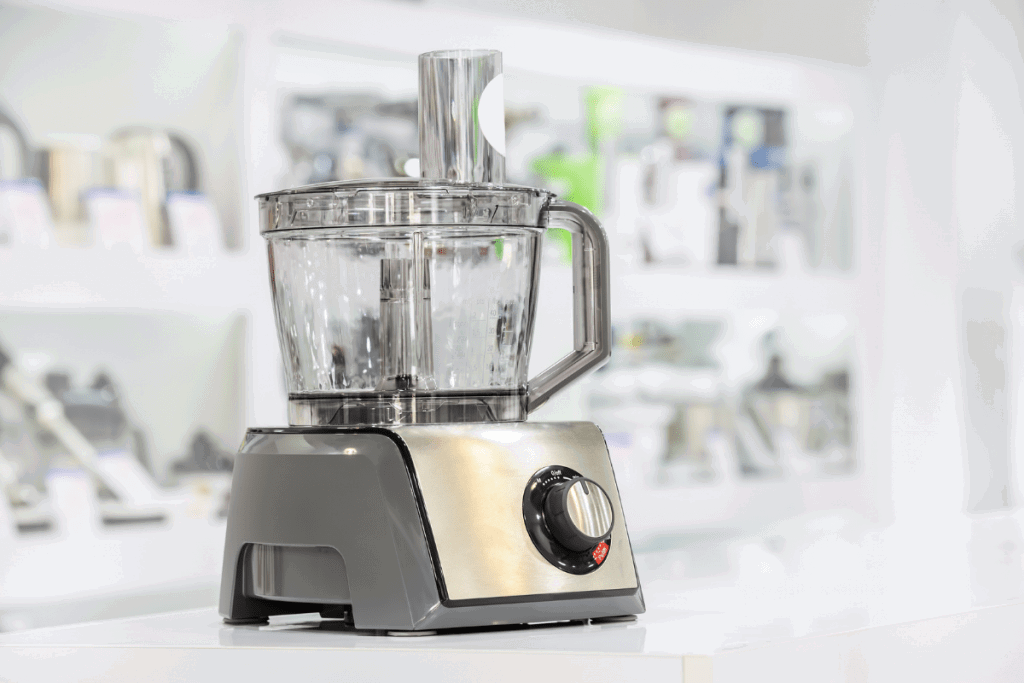 Power: Look For More Than 1000 Watts
Homing in on the right power for the best blender food processor combo is harder than it may seem. While food processors can get away with lower power requirements, blenders need quite a bit of juice to perform well. So ideally, the combo of the two will be on the more powerful end rather than less.
1000 Watts is the baseline amount that I look for to compare blender food processor combos. Less than this, and you'll have to work in smaller batches. More, and you can rest assured that your appliance will puree smoothies with ease.
Capacity: Size To Match People You're Serving
Just how big should your blender food processor combo be? Well, that depends on how many people you're usually serving.
Most of these appliances are made to serve 2 to 4 people. That means they feature blender jars with 6 to 9 cup capacities, and food processor jars from 3 to 8 cups. If you're cooking for a family of four, err on the side of larger models. For one or two people, smaller and more affordable models work just as well.
Blades & Discs: Less Is More
You'll find all manner of blades, discs, and attachments available for food processors. Not so much for blenders, which rely on finely tuned blades for their even blending action. And while it's tempting to go for the food processor with the most attachments, I'd honestly recommend against it.
When you're working with a combination appliance like this, adding more gadgets will only make it more complicated than it needs to be. Spend a little bit more time practicing with the speed settings, and you'll be able to achieve whatever consistency you're looking for in your food.
Controls: Touchpad Controls Are Superior
Above all, a combination appliance like this should be easy to use. That's why the best blender food processor combo appliances feature streamlined controls in addition to ergonomic designs.
Whenever possible, go for touch pad controls on these appliances rather than larger switches. They're easier to use and easier to clean, and have less chance of sticking or malfunctioning. And the wider the range of speeds one of these machines has, the easier it is to get the exact texture you're looking for.
Care, Cleaning & Maintenance: The Dishwasher Is Your Friend
Thankfully, all of the best blender food processor combo appliances feature dishwasher safe mixing bowls. If they didn't, it would make cleanup quite a burden! All you'll have to do is rinse off the individual parts, then wash them in the top rack of your dishwasher.
The best thing you can do for care and maintenance on a food processor or blender is to be gentle with it. Hard plastic and glass jars can chip or crack if handled roughly. And if those chips are bad enough, you'll have to replace the jar entirely. Exercise extra caution when you're moving these appliances, and they'll last for a very long time.
Durability: Keep An Eye On The Bowl Materials
Buying good kitchen equipment isn't cheap — which is why you want it to last as long as possible. And one of the best ways to ensure that your appliances will last is by paying attention to their construction.
The best blender food processor combos use either glass or Tritan plastic for their processing jars. Both of these provide long-lasting performance without inflating the price of the machine.
Past that, you'll also want to look for a processor with a good warranty. We'll cover that in the next section.
Warranty: Look For At Least 1 Year
The best laid kitchen plans are still prone to unexpected troubles. That's why no matter what kitchen appliance I'm buying, I always look at the warranty. Anything less than a year for a motorized appliance, and you should pass on it. And the longer a warranty lasts, the more highly I value a tool.
That goes doubly for blender food processor combos, as even a small defect in their motors can put them out of commission. Look for at least a 1-year warranty, and preferably a 3-year.
Price: Lots Of Options Under $100
How much do you need to pay for a blender food processor combo? Less than buying both of them individually, that's for sure. If you're committed to having the utility of both appliances, combining them will save you plenty of cash. Look to pay around $100 for a top quality machine, and more if it comes with extra mixing jars.
Frequently Asked Questions About Blender Food Processor Combo
Before we wrap things up with my final recommendations, I'd like to take a minute to answer some common questions. Beginners will find these useful for orienting themselves towards using a blender food processor combo. But even experienced cooks may find a few morsels of uncommon information, too.
What are the advantages of using a blender food processor combo?
Two really is better than one for a blender food processor combo. By mixing the two similar appliances into one product, you can cover every possible use with maximum efficiency. Whether you're roughly chopping, pureeing, or liquifying an ingredient, these appliances can handle it. And at a price not much more than either appliance individually, it seems like an easy choice to make!
Are there drawbacks with a blender food processor combo?
There's just one area where a blender food processor combo is worse than either appliance individually. Before you're familiar with the machine, it can be slow to switch between the two mixing jars. But with even a little bit of practice, you'll be swapping between the food processor and blender without any troubles.
Food Processor vs Blender vs Combo
To be worth buying, any combination appliance has to be better than the sum of its parts. So given the choice between a food processor, blender, or combo, which one is best for you? Let's take a closer look at why you'd choose each one.
Food processors come in a wide variety of shapes and sizes. They excel at making chunkier salsas and dips or dicing onions, but struggle with smooth emulsions. I'd recommend getting a food processor if you're looking for help with ingredient prep, but not trying to make many smooth purees.
Blenders are excellent for making smooth purees and emulsions. If you want an appliance mainly for smoothies and silky sauces, they're a better choice than a food processor. Chunky sauces and diced vegetables are much harder to get right in a blender, though.
Combine the two appliances together, and you really do have the best of both worlds. And while blender food processor combos won't ever be as powerful as industrial strength versions of their component parts, they're a perfect addition to home kitchens. If you're looking for one tool to streamline all of your kitchen prep, go for the combo.
Are There Any Safety Issues With Blender Food Processor Combos?
The safety issues for a blender food processor combo are the same as for their individual parts. If you ignore the warnings and operate these machines without their appropriate safeguards, their spinning blades are dangerous! Follow the directions though, and they're entirely safe to use.
What Can Beginners Make In A Blender Food Processor Combo?
When you combine a blender and a food processor, you open up a whole new world of recipes to explore. Here are three of my favorites:
Vegan pesto combines the best of fresh herbs, tart lemon, pungent garlic, and savory pine nuts. And if you use your blender food processor combo, it will come together with minimal effort.
Fresh hummus couldn't be easier to make than with one of these appliances. Our take on hummus without tahini makes it easier to get the ingredients at your neighborhood grocery store.
How could you pass up making delicious smoothies with the blender side of your new tool? Throw some fresh or frozen fruit in with ice and a milk of your choice, and you'll have a nutritious meal replacement.
My Recommendations
Now that you know a lot about them, which blender food processor combo do you think is best for your kitchen? Is it the Oster Pro 1200 Blender with Food Processor Attachment, with its great combination of performance and price? Maybe the very affordable Cuisinart Smart Power Duet Blender/Food Processor Combo? Or perhaps you want to go big on power and capacity with the Ninja Mega Kitchen System? Whichever way you choose, you'll be well on your way to simplifying your food prep life.