As much as I love full-sized blenders, they're not always the right tool for the job. Maybe you're short on counter space or just want a faster and easier way to make smoothies and sauces.
Personal blenders, with their smaller footprints and price tags, might be just the thing for your home. That's why today, we're reviewing the two major players in the personal blender category. As we pit Nutribullet vs Ninja, we'll explain the pros and cons of each — and give a verdict for which is best for each type of home cook.
Nutribullet: Simple & Streamlined
All the way back in 2007, Nutribullet paved the way for personal-sized at-home blenders with their Magic Bullet. A simple and streamlined appliance, it was advertised in a 30 minute infomercial as the solution to all your kitchen woes. And that infomercial was a big part of their initial success, as it was just wacky enough to capture people's attention on late-night television.
Now over a decade of sales later, Nutribullet has vastly expanded their appliance offerings. This includes personal, full size, and miniature blenders, as well as juicers, food processors, and even a line of supplements. And on a slightly stranger note, they also offer a smiley face blender — the Nutribullet Baby — for preparing baby food.

Of all these new products, though, the successor to their original Magic Bullet is far and away their best appliance. The Nutribullet 600 is compact and powerful and makes it easy to take a smoothie to work or the gym.
Overall, Nutribullet has one of the widest selections of products to choose from of any relevant company. If you're looking for a very specific appliance for your kitchen, they're probably the way to go. But, as we'll see in a moment, being a "jack of all trades" in the blender business may not be the best for everyone.
Ninja: Ultra-Powerful & Impeccable Design
In the world of professional blenders, perhaps none is more respected than the Vitamix. Its ultra-powerful motor and impeccable design have earned it a place in my pro kitchens, as well as the homes of discerning cooks. The only problem? It's so expensive as to be outside of the price range of most home cooks.
So when Ninja released their products in 2013 claiming to be a more affordable answer to the Vitamix, the culinary world was abuzz. Could it actually stand up to the performance of the most respected blender around?
Here is our review of the best Ninja Blender.
It turns out that yes, in fact, the Ninja blender is an affordable alternative to pro kitchen blenders. But their original full-sized blender isn't where Ninja has made the biggest impact. That would be the introduction of their Ninja Nutri-Blender Pro personal-sized blender.
A direct competitor to the Magic Bullet from Nutribullet, Ninja's mini blender made waves with its powerful but quiet motor. The only downside? It comes at a premium price despite its smaller size.
Head to Head: Nutribullet vs Ninja
With those bits of history and product lines in mind for both brands, you're well on your way to making a clear decision between the two. Let's take that understanding even further, by exploring the eight qualities that make or break a personal blender. We'll be focusing on the Nutribullet 600 Watt blender, as well as the Ninja Nutri-Blender Pro.
Motor Strength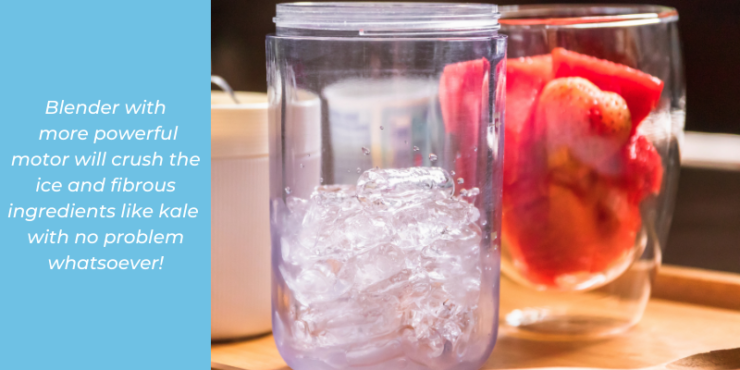 Aside from essential safety features, a blender's motor strength is its most important quality. It's what determines whether you'll get a silky smoothie or a chunky one, and whether you can whip up a flawless sauce or end up with a broken salad dressing. In short: Without sufficient motor strength, a blender isn't worth buying.
Motor strength also relies on other elements of a blender's construction to make fast and easy food and drinks (more on that in a moment). But for the time being, the main takeaway is that a more powerful motor will make for faster, easier, and more successful blending.
This is also the arena where the Nutribullet and the Ninja Nutri-Blender Pro are farthest apart.
With 600 Watts of power, the Nutribullet is certainly more capable than most department store blenders. It handles soft ingredients quite well, but will struggle a bit with ice or fibrous ingredients like kale.
The Ninja Nutri-Blender Pro, on the other hand, has nearly double the power. At 1100 Watts, it makes quick work of whatever you throw into it. In fact, it's powerful enough to make almonds and other nuts into flour for your baking projects.
The Winner:
This one's a no contest. The Ninja Nutri-Blender Pro has nearly twice the motor strength of the Nutribullet.
Noise
In many blender models, there's a tradeoff for having more motor power. If the housing isn't designed to muffle it, those larger motors can produce a lot more noise. So when I'm evaluating a blender, I always want to make sure that it's designed to run quietly.
This is also where you'll need to ask yourself an important question. What do you plan on using your blend for most often? If you don't need to puree frozen fruits or liquefy fibrous vegetables, a smaller blender will be just as good as a powerhouse one. This is doubly true for the noise factor, as lower-powered blenders are inherently quieter.
The Winner:
As you might expect from its lower power rating, the Nutribullet blender is significantly quieter. If noise is a major concern for you, know that the Ninja Nutri-Blender Pro blender is as loud as it is powerful.
Construction
In the same way the design influences its efficiency, the construction will determine its durability. After all, even the most impressively powerful blender won't be worth the price if it breaks in six months, right?
Both the Nutribullet and the Ninja Nutri-Blender Pro are made with durable BPA-free plastic for most of their components. The Ninja may have the upper hand on longevity, however, thanks to its mostly stainless steel base. It can take a tumble off the counter without cracking into pieces.
You'll also want to look closely at the blades of any blender you're thinking about buying. Stainless steel is the material of choice, and six-pronged blades are much better than two-pronged ones. In this regard, both machines perform identically.
Importantly, both the Nutribullet and Ninja Nutri-Blender Pro use a wide, U-shaped blender jar. Compared to taller, narrower blenders, this allows for smooth and full blending without having to scrape down the sides. If you're looking at other blenders as well, I would not recommend buying one without this wide-mouth jar style.
The Winner:
The Ninja's stainless steel base just barely gives it an edge over the Nutribullet, though both blenders are very well designed.
Safety and Convenience
One of the problems with traditional full-sized blenders is a matter of safety. Since their lids don't lock, the spinning blades and wide jars can become a safety hazard. And if the pitcher is made of glass, an accidental drop can turn it into dangerous shards.
Both the Nutribullet and Ninja have done away with these safety challenges. Instead of loading ingredients from the top, you first seal everything away in the jar. Then, turn it upside down and insert the whole unit into the base. That means you'll never have exposed blades while blending.
The design of the blending function is where the Nutribullet has a leg up on the Ninja blender, though. The Ninja requires you to hold the jar the entire time, while the Nutribullet can be twisted and locked into place. In my mind, that almost makes up for the lower power of the Nutribullet, since you can set it to blend and then walk away.
Lastly, both Ninja and Nutribullet have durable plastic blender jars with tightly sealing lids. No safety concerns here.
The Winner:
Though both blenders are equally safe to use, the Nutribullet's hands-free operation earns it more points in this category.
Lids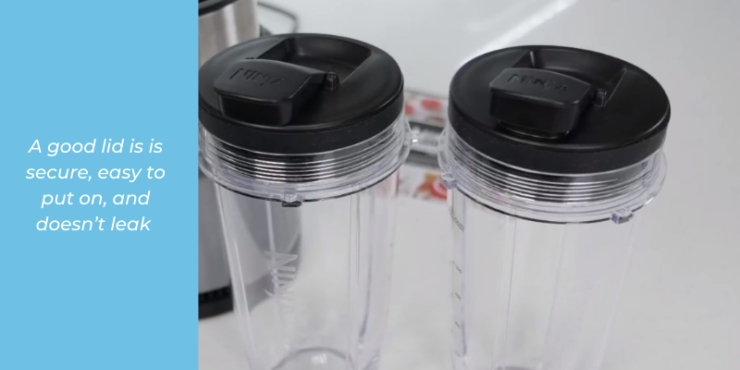 The best bullet blender will make it easy to take your smoothie on the go with you. To do so, it needs to have a lid that is secure, easy to put on, and doesn't leak.
This one's a relatively straightforward category. The Nutribullet does not come standard with a travel lid, and the Ninja Nutri-Blender Pro does. What's more, the Ninja is absolutely leak-proof and comes with a drink spout.
The Winner:
Ninja Nutri-Blender Pro blender is the clear winner, as it comes with two excellent travel lids.
Care and Maintenance
Both full-size and personal blenders are designed to require minimal care and maintenance. Or, perhaps I should say, the best blenders are. This includes having dishwasher safe parts, and no extraneous o-rings that will need to be replaced down the road.
Once again, both Ninja and Nutribullet perform equally well in this category. All of their parts are dishwasher safe, and there are no extra bits and pieces to worry about at a later date.
The Winner:
It's an even tie between the Nutribullet and Ninja when it comes to care and maintenance.
Warranty
Even the most well-designed blenders may have problems from time to time. Maybe they get damaged in shipping on their way to you, or perhaps one of their mechanical parts is faulty. Any way you cut it, the best blenders should be covered by a substantial warranty.
In the case of Nutribullet and Ninja, all of the products from both companies are covered by a 1-year limited warranty. That covers any defects in materials and workmanship for a full 12 months from the date of purchase. Just keep in mind that to make use of this warranty, you'll have to register your blender right away when you receive it.
From there, both companies have an additional warranty feature that may interest you. For a small fee, Nutribullet's products can be covered by an extended 3-year warranty. And while Ninja doesn't offer this same option, they do cover all of their products with a 60-day satisfaction guarantee.
The Winner:
With identical warranty options included with each brand, it's hard to call a clear winner here. If you're committed to long-term use for your blender, Nutribullet's extended warranty is a good option. But if you're not sure whether a bullet blender is right for you, Ninja's 60-day money-back guarantee is the better option.
Price
And now we come to the all-important question: How much do these blenders cost? And how much can you expect to pay for a really good personal blender?
At the time of writing, the Nutribullet is available for $69.99 through their website.
Similarly, the Ninja Nutri-Blender Pro is available through their website for $89.99.
You can check on the most recent Amazon price through the product boxes I included at the top of this article, and though there are periodic discounts or sales, I expect you will find a similar price gap.
That's a substantial difference! And at this price, you may be tempted to put your kitchen budget towards a full-sized option instead. Really, it's more of a matter of what you need to blend, and whether you want to take it on the go with you.
The Winner:
The Nutribullet is significantly less expensive than the Ninja Nutri-Blender Pro.
Final Decision: Ninja or Nutribullet
In the end, each of the two blenders featured here is right for a different sort of person.
If you're looking for an affordable and convenient way to blend smoothies, the Nutribullet is likely the right answer. It's not quite powerful enough to make smooth purees of rough ingredients, though, so it won't replace a full-sized variant.
If you want the power of a full-sized blender while saving countertop space, the Ninja Nutri-Blender Pro is the way to go. It's significantly more expensive than the Nutribullet, but you're paying for almost double the blending power. In small kitchens, it's a fantastic alternative to a larger blender that can handle any blending job.
Personally, I would go for the Ninja Nutri-Blender Pro. It's pricey, sure, but the increased performance will let you handle a wider range of blended recipes.
If you do have the counter space for a full-sized blender though, may I recommend that you check out our guide to the best blenders under $100? It has a full rundown of how to find an affordable full-sized blender for your home, as well as an alternative to the Ninja blender featured here.