The basil in our herb garden is exploding under the heat of the summer sun. What was once four petite plants is now a small army of green leaves that crowd out their bedmates (sage, mint, dill, oregano) and are starting to flower. Adding basil to your home harvest is easier than you might expect, and can be incredibly rewarding.
We found ladybugs on our plants, which is a great sign. They can prevent pest problems, particularly aphids. Aphids rob nutrients from your herbs, can slow growth and pass plant diseases into your garden.
Basil is usually a treat that we pick as it grows, but today our plants need special treatment. A mass harvest is in order, and delicious vegan pesto is a perfect pre-lunch project for two hungry parents and an ambitious toddler on a Saturday before noon.
Trimming basil before blooms form will push all of the plants energy into growing a leafier plant. You can see some blooms were forming on our harvest in the image above. This harvest was timely.
Preparation
Preparing vegan pesto requires no special skill, only a few fresh ingredients and about 10 minutes of your time. Or, save 30 minutes if you are cooking with a two-year-old like us.
People have been making traditional pesto or pesto-like dishes for centuries. A modern version of the sauce originated in Genoa in northern Italy where pesto is derived from the word pestare, meaning "to crush." In the summer months, the labor of crushing basil pesto with mortar and pestle is a weekly tradition for many families there. So much so that some locals claim if you live there, "and don't grow basil, you are nobody."
Now that sounds intense.
Our recipe mirrors the recommendations that gastronomist Giovanni Battista Ratto published in 1863,
"Take a clove of garlic, basil or, when that is lacking, marjoram and parsley, grated Dutch and Parmigiano cheese and mix them with pine nuts and crush it all together in a mortar with a little butter until reduced to a paste. Then dissolve it with good and abundant oil."
We added a few modifications to match our plant-forward preferences, the addition of local ingredients and sweat-saving conveniences of the modern kitchen.
Why It's Worth It
The end result of this recipe is a creamy convergence of flavors. If you're patient to taste it, you'll recognize each distinct note of the herbs, garlic, lemon, and nuts in the sauce. Depending on the variety of basil you may also notice mint, cinnamon, or anise undertones as well. 
It's easy to make substitutions if you're missing an ingredient or simply want to put a new twist on an old recipe. We like pesto because it's something we can make fresh from the garden, it's quick, the kids love it, and making it together creates several teachable moments.
Ingredients
2-cups, fresh basil leaves
1 lemon
3 cloves garlic
4-tablespoons, nutritional yeast
3-tablespoons, extra virgin olive oil
4-tablespoons, raw pumpkin seeds or pepitas
¼-teaspoon, granulated or sea salt (plus more to taste)
3 to 6 tablespoons of water (plus more as needed)
Traditionally you would use pine nuts while making pesto, but there is a lot of flexibility for what nuts you can use. Walnuts also taste great. If you are nut-free, try sunflower seeds or pumpkin seeds like we did. We also liked that the pumpkin seeds were a local flavor for us. And if you don't have 2 full cups of basil, try adding in some parsley to compensate.
We love using nutritional yeast because it is a protein powerhouse and it yields amazing nutritional benefits. It is rich in B vitamins, calcium, iron and potassium. It also has a cheesy flavor making the substitution for parmesan cheese an easy solution.
Supplies
Measuring Cups
Silicone Spoon or Spatula
While I would recommend using a food processor, not every kitchen has one. We substituted a high-speed blender while ours is temporarily out of commission. There were a few more starts and stops, but overall it worked great.
If you want an adventure you might also try mortar and pestle. We haven't done it, but it's the traditional way. More power to you, if you go the extra mile. A mezzaluna can also do the job.
Directions
Step 1
Prepare your ingredients. Measure portions of all ingredients and wash the basil.
When measuring the basil, send the stems to compost and measure leaves only. Pack them tightly into a glass measuring cup for a full 2 cups. It doesn't have to be exact, but we like this recipe when it's heavy on basil.
Also, be sure to wash your herbs. If you are harvesting from your herb garden this can help clear any insects, eggs or bird droppings that may have accumulated on the leaves. If store bought, it will wash any substances that may have accumulated across the supply chain.
Step 2
Add the basil leaves, pumpkin seeds, garlic, nutritional yeast and salt to your food processor or blender. Squeeze the lemon juice atop the dry ingredients. Mix until a loose paste forms.
If you're using a high-speed blender, put the basil on the bottom with the heavier ingredients resting atop it. In our experience, the blender tends to push the ingredients upward off of the mixing blades, so it was helpful to pulse the blender speed and have the weighty-er garlic and nuts pushing down from above.
Step 3
Drizzle the olive oil over the paste mixture.
We used Mt. Kofinas EVOO, which is a produced in a Sicilian-style. Unlike Tuscan-style oil, these olives were taken from a late-season harvest. This yields less bitterness and a more subtle olive flavor in the oil.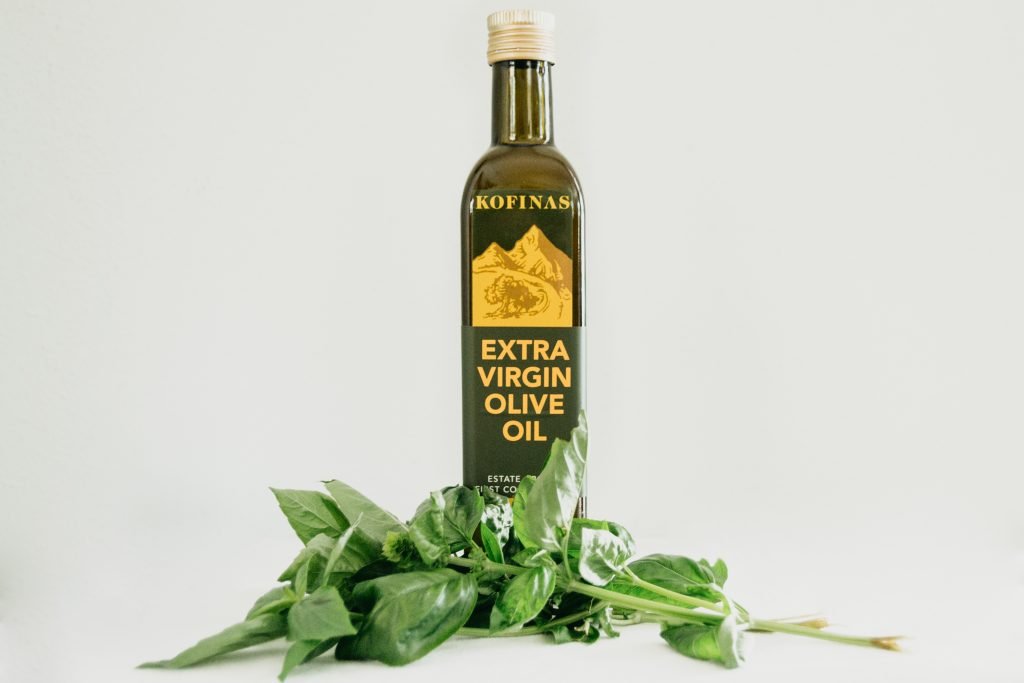 Use a silicone spoon or spatula to scrape down any paste that is climbing up the sides of your mixing container. Then add 1 Tbsp of water and mix briefly.
Continue adding water in 1 Tbsp increments and mixing it in with brief pulses until your desired consistency is reached.
We used 6 Tbsp for ours, but this is entirely an exercise of your own preference so we suggest doing one at a time!
If you're avoiding oil, you can substitute the oil with vegetable broth or just use all water.
Step 4
After you reach the desired consistency, taste and adjust the flavor profile as needed.
For example, you might consider adding more nutritional yeast to enhance the cheesy flavor or some garlic to increase the bite. We added lemon, and my wife put extra salt in half the batch to match her taste.
The Final Result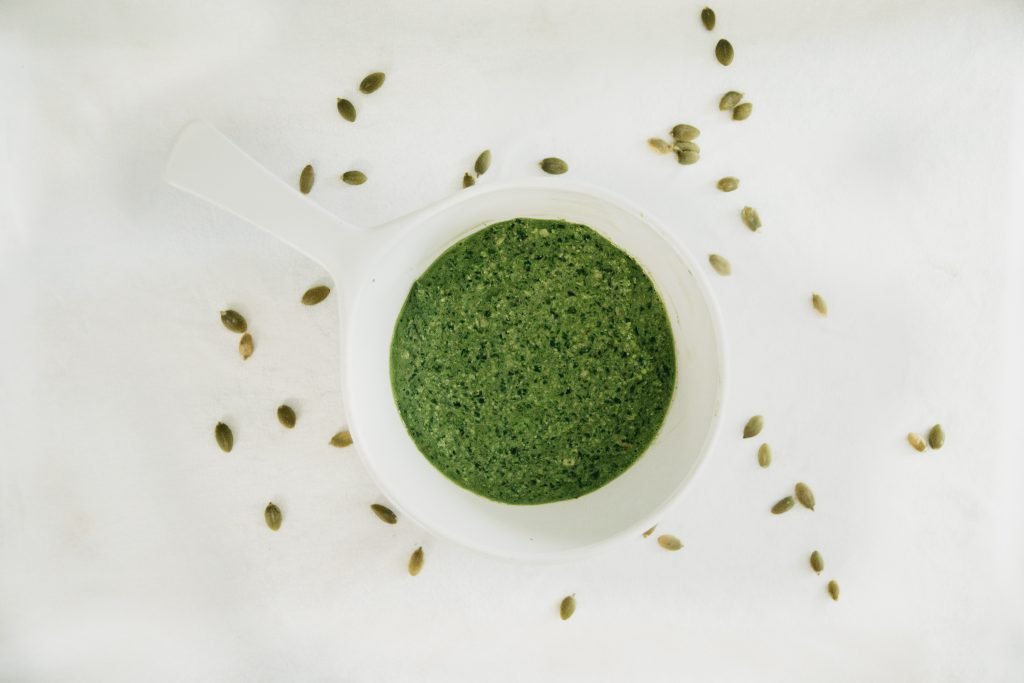 By the time we were done preparing and photographing, the time was half past lunch and everyone was famished. My wife suggested we toss the vegan pesto in pasta noodles for fast serving. Simple enough.
Fettuccine noodles are a great option for tossing pesto, but we decided to use Banza penne for this occasion. If you haven't heard of them before, Banza noodles are made from chickpeas. They have a similar taste to traditional pasta, but offer boosted protein, fiber, and less carbs.
At the end of the day, I think fresh garden pesto will become a fixture for us. Especially if our basil continues to shoot up at such a strong clip. If you're looking for other delicious applications for this recipe, try adding it to a Caprese Tart with Heirloom Tomatoes.
If you tried this recipe in your kitchen, let us know about your experience in the comments below. We would also love to hear about new variations and substitutions that weren't mentioned here.