If you're building out new custom cabinets or trying to find a replacement to squeeze into an existing shell, choosing a hood insert is no small task.
While looks are often less important than with standalone hoods, you still need to find the right balance of power, performance, and price.
With hours of research and years of cooking under and cleaning range hoods in professional kitchens, I've come up with three of the best range hood inserts you can buy.
I'll also provide a primer on what components you should weigh in order to find the best range hood insert to math the format of your kitchen and your preferred cooking style.
Most Powerful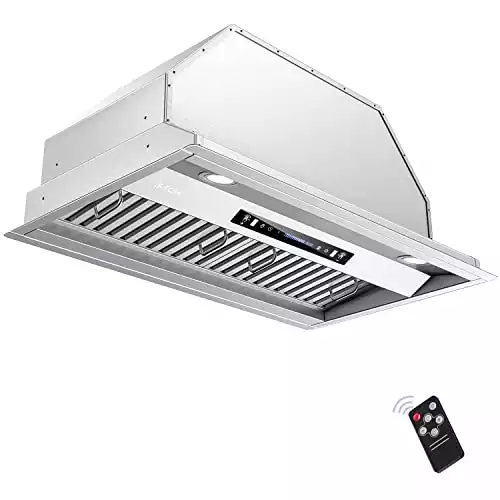 IKTCH 36-Inch Convertible Range Hood Insert 
The IKTCH 36-Inch Convertible Range Hood Insert is made from stainless steel, which has an elegant appearance and comes with remote control. It is a great choice for those who cook a lot and aren't afraid of high heat and a little (or a lot) of smoke.
Buy Now
We may earn a commission if you make a purchase, at no additional cost to you.
11/30/2023 04:33 am GMT
The IKTCH 36-inch convertible hood insert is a great choice for those who cook a lot, and aren't afraid of high heat and a little (or a lot) of smoke.
With an impressive 900 CFM, this hood has all the power you're likely to need and can even handle indoor grilling and deep frying.
When you don't need all that power, the 3 lower settings still provide excellent suction, and it's a great way to keep the noise down. But, even when this hood is operating at full bore, it manages to keep the noise down to only 65 decibels. Pretty impressive considering the power.
If you like digital touchscreen displays, you'll love the control panel on this hood insert. The backlit display is flat and smooth which makes it easy to clean, and it also features touchless gesture controls.
This allows you to turn the hood on and adjust its speed by simply waving your hand in front of the display. A neat feature that can come in handy when your hands are dirty and things are getting a little more smokey than they should be.
The stainless steel baffles are secure but very easy to remove thanks to the large d-ring handles. After they're removed, you can simply run the baffles through a cycle in the dishwasher for easy and mess-free cleaning.
This is a convertible hood, which means it can be used with or without ductwork. And as an added bonus it comes with the charcoal filters that you'll need if you run it as a ductless unit. Which is usually an item you'd need to purchase separately.
Lighting is provided by 2 bright LEDs with adjustable brightness. A nice feature that I wish more hoods would adopt.
As you can see there is no shortage of useful features in the IKTCH hood. Combine that with impressive power and a moderate price tag and it's hard to go wrong.
What we like
Includes charcoal filters for ductless use
What We don't
Motion controls can be accidentally triggered by your head
Quiet And Reliable
Zline 721 34-Inch Ducted Range Hood Insert 
The Zline 721 34-Inch Ducted Range Hood Insert when used on its highest setting, this Zline hood operates at a very quiet 52 decibels. It is an excellent choice if you're hoping to carry on a civilized conversation while cooking.
Buy Now
We may earn a commission if you make a purchase, at no additional cost to you.
12/01/2023 02:02 am GMT
Zline makes some of the best-looking and highest performing range hoods around. The price is on the higher end, but the craftsmanship and performance make it worth the investment.
At the heart of this hood, you'll find a dual blower that pulls in 700 CFM on its highest setting. That should be plenty of power for just about any electric cooktop and most powerful gas ranges as well.
When used on its highest setting, this Zline hood operates at a very quiet 52 decibels. This is valuable if you're hoping to carry on a civilized conversation while cooking, or you like to listen to your favorite tunes even when this hood is cranking on high.
When the Zline hood insert is running on one of its lower speeds (each with its own dedicated button), you may forget that it's on at all.
Not only is the motor powerful and quiet, but it's also backed by Zline's lifetime warranty. Lengthy warranties are uncommon for this appliance category, and it may help you feel better about the updgraded pricing.
Beyond its exceptional performance, the looks are great.
Sure, hood inserts are relatively hidden, but look up while you're cooking and I think you'll appreciate the design. There are three LEDs across the middle of the hood, which does a great job distributing light while you cook.
Instead of two or three stainless steel baffle filters like most competitors, with this Zline insert you get four – 2 in the front and 2 in the back.
Personally, I think the baffles look great. More practically, the extra baffles will help effectively remove fumes and steam from across all the burners on your range. It does mean more baffles to clean, but luckily they're dishwasher safe.
What we like
Very quiet across all speeds
Motor backed by a lifetime warranty
Excellent lighting and baffle layout
Great Value
MCBON 30-Inch Stainless Steel Range Hood Insert
With MCBON 30-Inch Stainless Steel Range Hood Insert you will get high-quality stainless steel baffles that are easy to remove and are dishwasher safe. You'll love this design if you're not a fan of the industrial look that comes with most stainless steel hoods.
Buy Now
We may earn a commission if you make a purchase, at no additional cost to you.
11/30/2023 03:57 am GMT
For the casual cook who doesn't need tons of power and fancy (err..costly) features, the MCBON 30-inch hood insert is highly functional and won't break the bank.
While this isn't a powerhouse like the 900 CFM IKTCH, it will certainly get the job done for your average daily cooking tasks. With 600 CFM, the MCBON does a solid job clearing steam and fumes when simmering and sauteing on one or two burners at a time.
If you like to really load up your stovetop with as many pots and pans as it can handle, you may find yourself wishing for a bit more power. But for most folks, 600 CFM on their home range will be plenty.
Just leave the grilling as an outside activity and you should be fine.
When the hood is operating at its highest speed it clocks in at 62 decibels. That's right around the same noise level as your average conversation, so you'll know it's on but you shouldn't have to yell in order to be heard.
And when you don't need as much airflow the two lower speeds are very quiet, with the lowest measuring only 35 decibels.
The rest of the hood's features are simple and straightforward. You get physical control buttons that are reliable, and feature dedicated buttons for each fan speed. Always a plus.
Even as an affordable option, you still get high-quality stainless steel baffle filters with a simple latch release system. They're also dishwasher safe so it's easy to keep them clean.
Lighting is provided by 2 energy-efficient LEDs that are not dimmable, but provide plenty of light across any 30-inch range.
Overall, this is a practical hood insert without all the high-tech features that would end up driving up the cost.
What we like
Great value for the money
Convertible installation options
Fairly quiet across all speeds
What We don't
Underpowered for heavy use or very high heat cooking
Buyers Guide: Choosing The Best Range Hood Insert
Size
To find the right size range hood insert for your situation, start with the size of your cooktop.
And remember, you'll also have to take into account your cabinetry and what size insert will fit.
The general rule of thumb is that your hood should be at least as wide as your range. 30-inch stovetop, 30-inch hood. That's the minimum, but if you have the space a hood that's 6-inches wider than your range is ideal.
So, for that same 30-inch range you would opt for a 36-inch hood. The extra 3-inches on each side do a better job capturing and removing more smoke, steam, and other fumes.
Only for a very large cooktop would you want to consider a 48-inch range hood, and basically none of those appliances are offered as inserts.
Ducted vs. Ductless
Range hoods can be installed and used in one of two ways, ducted or ductless.
Ducted hoods are connected to piping which leads to a vent outside your house. These work by sucking up the air in your kitchen and physically removing it to the outside.
If you are able, ducted is the best way to go. It's more efficient and can remove more smoke, faster than a ductless setup. Plus, it's much better at removing steam so you don't end up with excess moisture in the kitchen.
The only downside comes if you don't already have ductwork in place, as it can be quite expensive to install.
Ductless hoods work by filtering air through a carbon filter before recirculating it back into the kitchen. This option is great if you don't have an outside duct, but it's slower and less effective at removing smoke and other fumes.
Convertible hoods give you the option to run them ducted or ductless. A great option if you don't already have ductwork but may want to upgrade down the line.
CFM
CFM stands for Cubic Feet Per Minute. This is all about how powerful a hood is and how much air it is capable of moving.
There are a couple of simple formulas to get a baseline for how much power you need for your particular cooktop.
For an electric or induction stove, you simply take its width in inches and multiply it by 10. So if you have a 30-inch range you'll want at least a 300 CFM hood (10×30=300)
For a gas stove, you take the total number of BTUs for the entire range and divide that by 100. If you have a 50,000 BTU gas stove, you'll want a hood with at least 500 CFM (50,000/100=500).
Now, the reason I say "at least" is that there are some other factors that could require a bit more power from your hood.
The size of your kitchen as well as the length and layout of your ductwork are a couple of components that could change your CFM needs.
Another big factor is how and what you cook. If your cooking repertoire includes a lot of deep-frying, high heat, and smoke, you'll definitely benefit from more suction power and airflow from your hood.
Filter Type
When it comes to how your hood filters and cleans the air, there are a few different setups to be aware of.
Baffle filters are the first and best option that we'll go over. These are almost always made from stainless steel and they work by separating oil from the air as it passes through. Baffle filters offer the best airflow so you can clear more smoke and fumes faster than the other options.
Mesh filters are another "permanent" reusable filter type. These are made from several layers of aluminum mesh.
Mesh filters also work by separating grease as air passes through them. But, these can be more prone to getting clogged which can reduce airflow and hood performance. This is another instance where it pays to find a dishwasher-safe option.
The last filter type is carbon or charcoal filters. These are often used in conjunction with mesh or baffle filters but are only necessary if you're running a ductless hood. They work by capturing grease and neutralizing fumes as they pass through. In essence, it is cleaning the air before it is recirculated back into the kitchen.
Noise Level
A loud hood can be the number one reason you don't use it as much as you should. Whether you're trying to socialize as you cook, listen to music, or just hear yourself think, nobody wants an obnoxiously loud fan to compete with.
Most manufacturers provide a sound rating at the highest fan speed, so you know what you're getting into. Since 60 decibels is about as loud as the average speaking voice, I like to use that as a barometer for hood noise.
The quietest range hoods won't go too far over that 60-decibel mark. Picking a quiet hood is a good way to ensure you don't end up in a yelling match with your hood.
Mounting Height
The general guidelines for hood mounting height are 24 to 30-inches above gas stoves. And a bit closer at 20 to 24-inches above electric and induction cooktops. But each manufacturer should have a specific recommendation in their installation instructions.
The manufacturer's recommendation will take into account safety, efficiency, and overall performance.
With a range hood insert, you may be bound to the height of an existing fixture. If your mount falls outside of the manufacturer's recommendations then it's best practice to contact the manufacturer's customer support to confirm that the height of your mount will still allow the hood to give a proper performance.
Control Panel
The controls for your hood can and should be simple and straightforward. All you really need is power, fan speed, and lighting. I prefer dedicated buttons for each fan speed, but if you have to cycle through a few speeds it's not the end of the world.
When it comes to touchscreens vs. physical buttons, it primarily comes down to personal preference.
Personally, I like the feel and reliability of pushbuttons or knobs, but touchpanels are undeniably easier to keep clean and can provide a more modern look.
Lighting (LED vs. Halogen vs. Incandescent)
Hood lighting and the bulbs you use is another important factor in choosing a hood. Bad lighting can be a nuisance and have a negative impact on your overall cooking experience.
These days it's rare to find hoods using incandescent bulbs. Sure they're inexpensive, but they also use a lot of energy, don't last very long, and tend to be very fragile.
Halogen and LED lights are standard on most of the hoods you'll come across. Halogen bulbs are similar to incandescents except they're smaller, more durable, and more energy-efficient. They still put off quite a bit of heat while they're on but produce a warmer tone compared to LEDs.
LEDs last significantly longer than the other options, produce almost no heat, and use a fraction of the amount of energy to run. The downside to LEDs is that they are more expensive initially, and the color tone is not as warm as the others.
Both halogen and LED bulbs are easy to find, and in many cases, you can upgrade from halogen to LED bulbs if you so choose.
Installation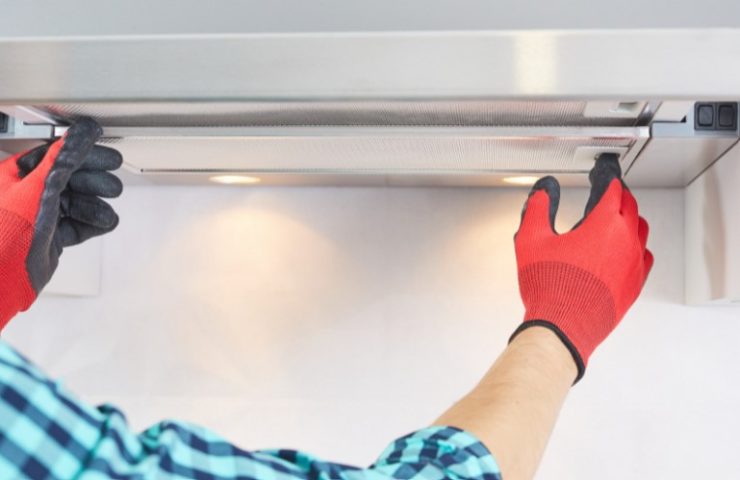 The cabinetry that you're installing your hood insert into will play a big role in how difficult the installation is. The process of installing a hood is fairly straightforward, but the weight and size of many hood inserts can make it a bit more tricky.
Fortunately, none of the insert models are quite as tricky as a free-floating island hood.
At the very least, it's a good idea to have someone who can assist in holding the hood for its initial mounting. And there's no shame in letting a professional take care of the whole thing!
Depending on the design of your cabinetry, you may have second thoughts about choosing a range hood insert, in order to save in-cabinet space for item storage rather than concealment of an appliance. If this sounds like you, it may be worth checking out under cabinet range hoods before moving forward with an insert.
My Recommendation
If you like cooking with fire, and smoke is the norm in your kitchen, the ITKCH convertible hood insert has the airflow you need. 900 CFM is all the power you could ask for, all in a reasonably priced package.
But, if your budget is a bit higher, the build quality, design, and lifetime warranty you get from Zline's ducted hood insert might be worth the investment.
Frequently Asked Questions
What Is A Range Hood Insert?
A range hood insert is an exhaust fan installed directly into a cabinet or custom hood cover.
What Is The Best CFM For A Range Hood Insert?
The best CFM for a range hood insert depends on the size and power of your stovetop, as well as your cooking style. Larger and more powerful ranges will require more CFM.
Which Brand Of Range Hood Insert Is Best?
There's no one-hood-fits-all, as different cooks and kitchens have different range hood insert needs. But, Zline is the only manufacturer that offers a lifetime warranty on their hood motors.