If you want the sharpest knives possible for your kitchen, choosing the best carbon steel knife will get you there. Renowned for their razor-sharp edges and impeccable craftsmanship, carbon steel knives are the gold standard among kitchen knives for edge retention, too.
I've been enamored of carbon steel blades since my introduction to Japanese swordsmanship through the martial arts. Fast forward 20 years, and working in restaurants across the United States gave me the opportunity to get intimately familiar with just about every brand of chef's knife available.
Now, I'm happy to share the results of that experience with you. Combined with hours of research and comparison, I'm confident that the three knives listed below represent the best of the best for carbon steel knives.
Our Top Picks
Features:

Incredible sharpness and edge retention
Excellent balance
Comfortable handle

Features:

Amazing value for the price
Excellent sharpness and edge retention

Features:

Sharpest knife on this list
Beautiful birchwood handle
Best Overall
Features:
Incredible sharpness and edge retention
Excellent balance
Comfortable handle
Best Value
Features:
Amazing value for the price
Excellent sharpness and edge retention
Best Upgrade
Features:
Sharpest knife on this list
Beautiful birchwood handle
06/05/2023 06:44 pm GMT
All of Wüsthof's knives offer an attractive combination of value, utility, and durability. And in my opinion, there's nowhere that this is more obvious than in their Classic Ikon series 8 inch chef's knife – a point that I covered extensively in a detailed breakdown of each Wusthof knife series.
Forged from a single block of high carbon steel, it's tempered to an impressive 58 HRC — a measure of steel hardness that, in turn, indicates how sharp the blade can be. Compared to the 54 HRC ratings of most stainless steel knives, this means that the Ikon chef's knife can take a razor sharp edge that will be exceptionally long lasting.
Some knife makers would stop there, knowing that the incredible sharpness of the blade is the biggest draw for carbon steel knives. Wusthof's Classic Ikon knife, though, is just getting started.
I'm particularly impressed by the attention to detail in the angled half bolster design. This gives the knife a pleasant weight and impeccable balance, allowing you to chop and slice almost effortlessly. And since the bolster fades away just before the bottom edge of the blade, you get all the benefits of a bolster without the downside of being unable to use the full length of the blade.
Even though I usually prefer straight tapered knife handles, I actually quite enjoy the shape of Wusthof's Classic Ikon knife handles. They're designed to fit a variety of hand sizes, shapes, and grips, and won't create unpleasant pressure points while you're cutting.
In short, Wüsthof's Classic Ikon chef's knife is a real kitchen workhorse that can handle nearly all cutting tasks. While it's certainly not as inexpensive as a stainless steel knife, the added benefits of sharpness and edge retention make it quite a steal for the price it's offered at.
What we like
Incredible sharpness and edge retention
Excellent balance
Comfortable handle
What We don't
Still a substantial financial investment for a single knife
Carbon steel knives have a well-deserved reputation for being expensive, on account of the time and materials necessary to make them. That's why I was so surprised to find a truly affordable carbon steel knife. And one that still performs quite well, to boot!
Dalstrong isn't a big name player in the kitchen knife business, so I was reserved about this knife at first. But on closer examination, it really checks out — with everything from the hardness of the steel to the construction of the handle comparing favorably to much pricier knives.
About the steel: Dalstrong's chef knife is forged from a single piece of Japanese high carbon steel, giving it a hardness rating of 58. Combine that with a 15 degree blade angle, and you have one seriously sharp knife with excellent edge retention.
Pakkawood, a wood and resin composite, makes for a pleasantly natural-feeling handle that's very durable. It's a fairly bulky handle, though, so I wouldn't always recommend this knife to people with smaller hands.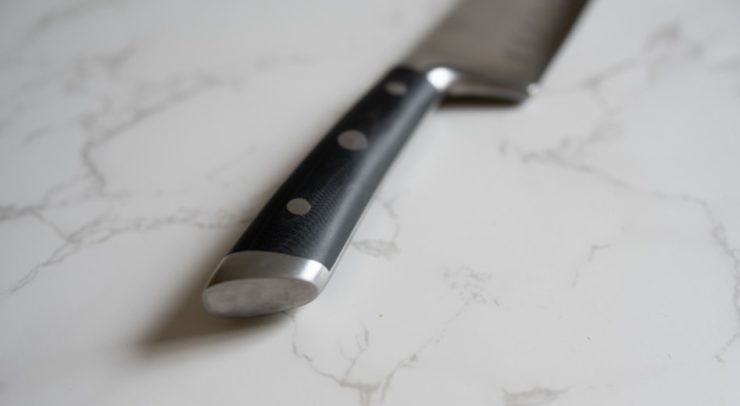 My only real gripe with the Dalstrong Phantom Series chef's knife is the shape of the very back end of the blade. When I'm cutting, I grip very close to or on top of the bolster of my knife. With this knife, the slight backwards curve at the handle end of the blade makes it harder for me to use my preferred grip without running into a steel nub.
Overall, Dalstrong's Phantom Series chef's knife is almost shockingly affordable for its quality. It may not be as perfectly fine-tuned as other big name carbon steel knives, but it's still an impressive piece of kitchen equipment at a great price. I would definitely recommend this to casual home cooks who are looking to upgrade their chef's knife without breaking their bank accounts!
What we like
Amazing value for the price
Excellent sharpness and edge retention
What We don't
Shape of blade near handle makes it harder to grip
At some point in your hunt for a carbon steel knife, you'll have to make a tough decision: Do you want to go with a German knife, or a Japanese one? Both countries have a long history of producing top-quality blades, so much of this decision comes down to your preference of handle style.
For Japanese knives, I'm a huge fan of Miyabi's gyuto style chef's knife. It's made in a classic Japanese knife style, with a straight handle that tapers towards the blade. The blade is extra thin, and ground to a razor-sharp 10 degree edge — something that you won't find in almost any other knife. This gives it a cutting power that's truly amazing, allowing you to cut paper-thin slices with ease.
A lot of the added price of Miyabi's gyuto comes from the natural birch wood handle. Aside from its gorgeous appearance, natural wood will also conform to the shape of your hand over time. It also has the added benefit of balancing this chef's knife, giving it an extra-smooth slicing motion.
The added sharpness of Miyabi's knife comes with a tradeoff, though: You'll need to keep up with more regular maintenance. It's especially important to keep the blade completely dry while you're storing it, as even a little bit of moisture can lead to corrosion. Most Japanese knife manufacturers recommend that you regularly coat your blade with mineral oil after using it, which helps to further protect it from corrosion and oxidation.
Is this knife for everyone? In my opinion, no. But if you're looking to invest in a carbon steel knife that will give top-notch performance year in and year out, a Miyabi blade should be on the top of your list. It's a genuine example of the art of Japanese knife making, and you'd be hard-pressed to find a better blade on the market today.
What we like
Sharpest knife on this list
Beautiful birchwood handle
What We don't
Requires a lot of maintenance
Runners Up: Great, But Not the Best
Two other knife makers stand out to me as producers of quality high carbon blades: Shun and Zelite. Let's take a quick look at why these knives are great, but didn't quite make it on this list:
In general, I'm a big fan of Shun's knives. Heck, I even featured their santoku as one of my top picks for the best Japanese knives. But in the case of their chef's knife, I don't think it stacks up well against the competition for that type of knife. It's neither fully a Japanese or a Western style chef's knife, but somewhere in between. This gives it a slightly awkward cutting motion that can take a lot of getting used to, and is my reason for not including it as a top pick for this list.
Zelite's damascus steel chef's knife has a lot going for it. It's a blend of high carbon and low carbon steels, folded 67 times before being hand-finished for a razor sharp edge. And if I was only looking at the blade, I would be impressed! But unfortunately the handle shape on Zelite's Infinity chef's knife is not so comfortable to use. The bolster is oddly positioned compared to other chef's knives, and the sloping back edge of the handle can create pressure points on the heel of your palm.
Buyer's Guide: How to Choose the Best Carbon Steel Knife
Even though they're all made with the same blade material, all carbon steel knives are not equal. To choose the best one for your kitchen (and your budget), we recommend taking the following considerations into account:
Types of Knives
In most cases, having a well-rounded selection of different types of knives is the right choice for home kitchens. When it comes to carbon steel knives, though, their higher cost may prevent you from collecting a whole set.
That's why, for carbon steel knives, I always recommend investing as much as possible into the best quality chef's knife you can afford. In a perfect world, it would be great to have a whole selection of knives made from carbon steel. But for most intents and purposes, budgeting for the best chef's knife possible and complementing that with more affordable accessory knives is the way to go.
Handle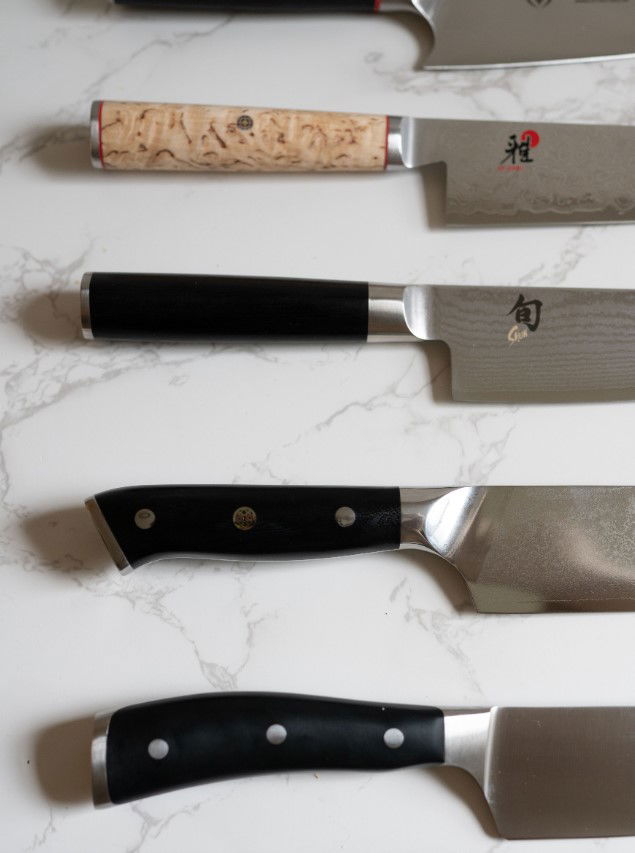 When I'm looking at chef's knives, I pay special attention to two things about the handle: The material it's made of, and how it's shaped.
For the material, most chef's knives these days are made with a composite synthetic handle. The exact details of these handles differ from producer to producer, but generally give the same result: A smooth, comfortable, durable, and slip-resistant handle.
Wooden handles are a more niche pick, as they add a significant amount to the cost of the knife. That said, they also look fantastic — and will grow to the shape of your hand over years of use.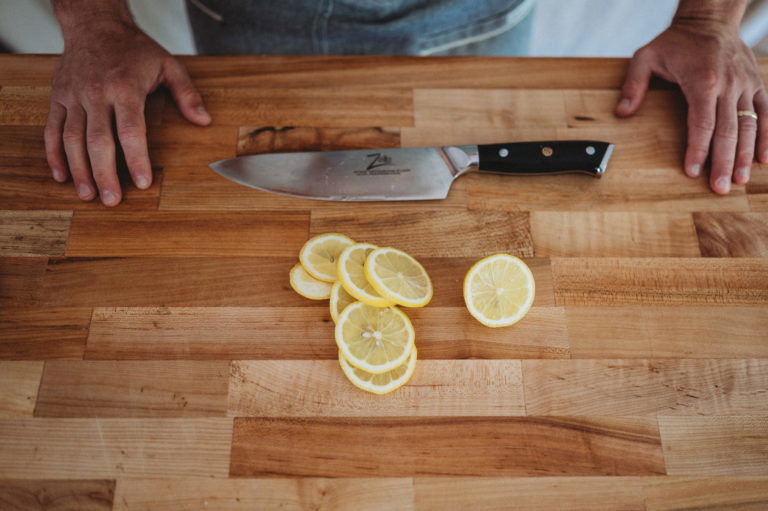 The shape of a knife's handle determines a lot about how comfortable you will find it is to use. Depending on the size and shape of your hand, you may want to lean more towards either a straight or a curved handle. For example: I have large hands with long fingers, so I generally prefer a completely straight handle that tapers from small at the blade end to large at the handle. My partner, who has small and thin hands, finds knives with curved grips to fit her hands better.
Blade
Carbon steel knives are sought after for the quality of the steel used in their blades. But outside of authentic high carbon steel, what makes one blade better than another? In my experience, the shape of the blade and design of the bolster can make or break a knife.
This is also where you'll find the major difference between Western and Japanese knives. Most Western blades are made with a shape that allows chopping with a rocking motion, while most Japanese blades are designed to be pushed and pulled to make cuts.
I strongly prefer blades that have a sloped or half bolster, allowing you to use the entire length of the knife while cutting. Full bolsters have an advantage of fully protecting your lead finger from cuts, but also make knives much harder to sharpen.
Maintenance
The tradeoff for the sharpness and edge retention offered by carbon steel knives is that required maintenance is more frequent.
Unlike stainless steel knives, carbon steel blades are prone to corrosion. No matter what carbon steel knife you get, you'll need to keep it dry when storing it, and plan on giving it regular coatings of mineral oil.
It is possible to find a blade made from Japanese Niigata high carbon steel (like those produced by Kamikoto), which is corrosion resistant, but will lose its edge more quickly than alternatives.
Carbon steel blades are more difficult to sharpen than stainless steel. You'll need a whetstone and plenty of practice to get it right. Most often, I recommend having a specialist sharpen a carbon steel blade for you, as they can get the exact right blade angle that you're looking for.
Frequently Asked Questions About Carbon Steel Knives
To round things out, let's answer some of the most common questions about carbon steel knives:
What are the advantages of Carbon Steel Knives?
The biggest advantage of a carbon steel knife is definitely the sharpness of its cutting edge. Extra carbon means harder steel, which in turn means that the knife can be sharpened to a greater degree than stainless steel.
Additionally, carbon steel knives are well respected for their edge retention, or ability to hold a cutting edge for long periods without sharpening.
What are the drawbacks of carbon steel knives?
The biggest drawback of using a carbon steel knife is the additional maintenance they require. 
You'll need to keep them dry while in storage, as even a small amount of water will corrode their blades. Applying mineral oil regularly helps with this.
Sharpening these knives can be more difficult than stainless steel, as well. It usually requires specialized sharpening stones and lots of practice, so I often recommend taking your carbon steel chef's knives to a professional sharpener instead.
Do Carbon Steel Knives Get Dull?
There's no getting around it: Every knife will get dull eventually. Compared to stainless steel knives, though, carbon steel knives take a much longer time to get dull — think months, rather than weeks.
What Steel Holds the Sharpest Edge?
Japanese steel was once the title holder for sharpest edge, but recent developments in German steel production have put the two types on par. High carbon steel definitely holds a sharper edge than stainless steel.
What Should You Not Cut With A Carbon Steel Knife?
Because of the increased hardness of their blades, carbon steel knives are more prone to chipping than stainless steel. Avoid cutting on glass, ceramic, or granite surfaces, and be particularly careful around large bones if you're using your knife for butchery.
Do Chefs Use Carbon Steel Knives?
Carbon steel blades are the tool of choice for many professional chefs, thanks to their ability to hold an incredibly sharp edge. Many chefs will learn how to sharpen their own knives, too, making it easy to keep that sharp edge even as they use their knife day in and day out.
My Recommendations
By now, you should have a clear idea of which carbon steel knife is best for your kitchen. Is it the all-around workhorse, the Wüsthof Classic Ikon 8 Inch Chef's Knife? Or perhaps the traditionally crafted Miyabi Gyuto 8 inch Chef's Knife? The Dalstrong Phantom Series 8 Inch Chef's Knife offers a lot for anyone on a budget, too.
Really though, no matter which of these carbon steel knives you choose, you'll be in good shape. Get yourself prepared for the maintenance that a carbon steel blade requires, and you'll quickly develop a loving relationship with your standby chef's knife.
If you want to dig deeper on this subject, check out my recent exploration into "best kitchen knives," where I took an in-depth look at the best eastern and western knives and how regional cuisines influenced the blades we use today.