Are you in the market for a new blender, but unsure which Ninja model is the best fit for your needs?
With so many options available, it can be overwhelming to make a decision. As a home chef, professional cocktail consultant and long-time user of Ninja blenders, I understand the struggle.
In this article, we'll explore the various models available and I'll share my expertise and experience to help you find the perfect blender that fits your budget and cooking style.
Whether you're looking for a personal-use blender or a specialized model for specific tasks, I'll guide you through the pros and cons of each option, so you can make an informed decision, avoid the common mistakes many buyers make, and pick the best Ninja blender for your specific situation.
Best Overall
The Ninja BL660 Professional Countertop Blender has the best combination of price, performance, and power. In my opinion, it's easily the best Ninja blender for 90% of at-home chefs. Allow me to explore and expand on that idea by taking a closer look at each of the BL660's features.
The Ninja BL660's 1100-watt motor gives it enough power to perfectly puree and liquefy soups and smoothies in no time at all. It's powerful enough to create emulsions of fat and oil too, letting you make things like tahini and hummus at home. And three speed settings mean that the BL660 can make everything from a chunky salsa to a smooth puree with ease.
That pairs nicely with the extra-large 72 oz pitcher, allowing you to make portions big enough to feed a family of four. The two added to-go blender cups make it even more versatile, and easy to whip up a smoothie in no time at all.
Combine that with an entirely dishwasher-safe design for easy cleanup, and you have one of the best Ninja blenders that money can buy. And at just over $100, it's affordable enough for just about any home kitchen. Overall, the BL660 Professional Countertop Blender gets my highest recommendation for at-home chefs.
What we like
Excellent combination of power and performance
Great for at-home blending or on-the-go smoothies
Handles everything from smoothies to sauces, purees, and emulsions
What We don't
Still a substantial investment for beginning cooks
1 year warranty could be better
Best Value
If you're working with limited kitchen space, you know how much of a hassle it can be to look for new appliances. Most kitchenware is designed for someone with plenty of extra room in their kitchen, after all. If that's the case for you, the Ninja BL480D Nutri Blender is the answer to your problems.
An uncommonly powerful 1000-watt motor is the main draw for this compact and affordable personal blender. That easily gives it enough power to craft perfect smoothies. But if you work in small batches, it can even fully emulsify sauces and purees. Good luck finding that in any other blender at this size!
Also uncommon for a personal blender, the BL480D has variable speed controls. Combined with its high-powered motor, this makes it stand out as a space-saving alternative to a full-size blender. The speed controls will let you prep everything from chunky salsas to small batches of soup and sauces.
All of that is paired with a small to-go cup and lid, giving you on-the-go smoothie making power. And at under $100, that's an awful lot of blender for a low price. If you're tight on space or low on cash, it's one of the best Ninja blenders for your situation.
What we like
Space-saving design is perfect for small kitchens
Surprisingly powerful for its size and price
Variable speeds give i
What We don't
Small pitcher means you'll sometimes have to work in batches
Not a perfect substitute for a food processor
Not as many advantages if you're not trying to save space
Best Upgrade
So far, the blenders we've looked at have been the best for specific, budget-limited situations. But if you have extra money in your kitchen budget, upgrading to the Ninja BL770 Mega Kitchen System and Blender is a great move. It's truly an all-in-one solution to your food preparation, and the most powerful blender that Ninja has to offer.
At 1500 watts of power, the base for the BL770 is over-the-top powerful. I'm talking "make your smoothie in 15 seconds" powerful, even "make 2 pounds of dough in 30 seconds" powerful. Short of buying a much more expensive commercial blender like the Vitamix, the BL770 is easily the most powerful home blender you'll find.
Included with this package are a big 72 oz blender jar, 8 cup food processor bowl, and two personal blender cups. This means you can make anything you want, from chunky salsas to emulsified purees to soups and smoothies.
Every component is dishwasher safe, too, making for easy cleanup no matter how big your kitchen projects get. Basically, if you have the space and the budget for this kitchen system, it's the most comprehensive blending solution you'll find.
What we like
Most powerful blender Ninja offers
Prepares you for almost any recipe you could want to make
Great for making cookie dough, bread, and pizza dough
What We don't
A big investment for most home kitchens
Requires a lot of storage space
Quite heavy
Runners Up: For Special Cases
The three blenders listed above will fit the needs of probably 90 percent of home chefs. But if you're looking for a more specialized type of appliance, Ninja makes three other blenders that I can heartily recommend.
The glass jar on the HB152 puts it in a separate category from every other Ninja blender. Its easily one of the best Ninja blenders overall when comparing power. But it's more specialized than Ninja's other offerings, and not as good for making quick personal-sized smoothies. If you're looking for a blender that can handle every recipe though, only the HB152 will do.
The compact, lightweight, top-loading design of the Ninja Blender/Food Processor makes food prep fast and easy. It's small enough to keep in your kitchen cupboards, but large enough to dice a whole onion with ease. Its small 450 watt motor isn't the best for smoothies, but it does a great job of making coarser sauces and soups.
Nearly identical to the blender/food processor listed above, this one features a taller and slimmer design. That saves a good bit of countertop space, freeing up extra room in small kitchens. With its smaller motor, expect to blend for longer times to achieve smooth results.
Buyer's Guide: How to Choose the Best Ninja Blender
Every one of Ninja's blenders is a well-designed kitchen tool. So how can you know which one is best for your kitchen? Let's take a closer look at what makes each Ninja blender special, and how to find the best combination of price and performance to fit your budget.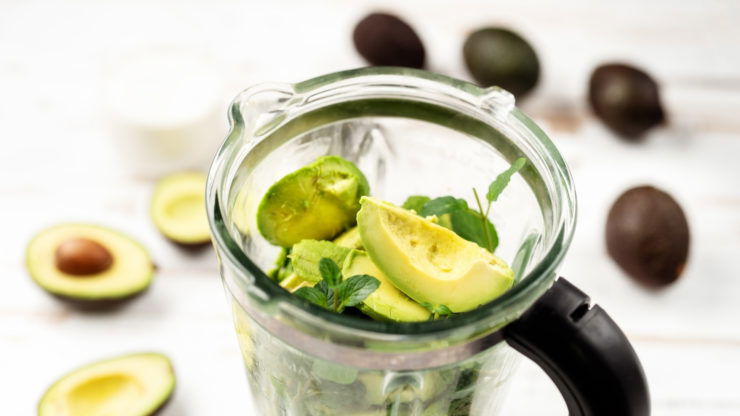 Motor Strength
Motor strength is a blender's most important functional quality. Without sufficient motor strength, your blending efforts will take longer. Or your ingredients will not come out fully blended.
Thankfully, every one of Ninja's blenders has good power and torque for its size. The company has made its name on offering powerful, compact, affordable blenders.
That makes the decision of which is the best Ninja blender for you more one of size and budget. More on that in a moment.
Jar Design
Each of Ninja's blender jars is designed for optimal blending performance. This means that when you're looking at the jar to decide on which Ninja is right for you, you'll need to pay attention to size more than anything else.
Are you looking to blend personal-sized smoothies and the occasional soup or sauce? The BL480D's smaller jar size is perfect. And it has the added bonus of an easy-travel lid system, too.
If you're looking for a blender that can handle everything from smoothies to soups and sauces for a whole family, you'll need a larger jar. The BL660 is the most affordable large blender from Ninja. While the BL770 comes with a huge range of blending and food processing attachments.
Speed Control
When it comes to speed control, Ninja's blenders are divided into two categories:
Personal sized blenders with a single speed
Countertop blenders with variable speeds
Single-speed blenders are great for making quick on-the-go smoothies. They're also the most affordable style of blender.
Variable speeds are most useful when you're making sauces. They allow you to aim for a specific texture, from chunky salsa to smooth hummus.
There's only one exception to this rule: The BL480D. It's easily one of the best Ninja blenders based just on affordability. But it's also a rare example of a personal-sized blender with speed controls. That means you can use it as a substitute for a full-sized blender in a smaller kitchen, without sacrificing power and performance.
Care and Cleaning
If every other element of a blender is excellent, but it's difficult to clean, you'll eventually stop using it as much.
All of Ninja's blenders use dishwasher-safe components for all their blending surfaces. This gives it an advantage over some competitors who have hand wash only lids. Just be sure to wash plastics in the top rack, so they don't deform over time.
Noise
A quiet blender is a good blender. And to make a quiet blender, careful attention has to be paid to every aspect of a blender's design.
Of the Ninja blenders listed here, the BL660 Countertop blender is the quietest. That's followed closely by the BL770, which is only louder because it has a more powerful motor. The personal-size BL480 is the loudest, since it has less material covering the motor.
Price
What is your kitchen budget for a Ninja blender? Each of their offerings is affordable for its power. But the prices range from under $100 to nearly $200, depending on the jar capacity, motor strength, and accessories. The more you can invest in your Ninja blender, the more kitchen projects it will be able to handle.
If you're looking for a simple personal blender, the BL480D Nutri Blender is the best choice. For all-round performance, the BL660 Countertop Blender is a great combination of affordability and power. But if you want one do-it-all blender system, the BL770 Mega Kitchen System offers the widest range of functions and the greatest blending power.
Warranty
All of the Ninja blenders in this review come with a 1-year limited warranty. That covers any manufacturer defects, but not normal wear and tear. You can find more information on Ninja's warranty policies here.
This warranty time is standard for most blenders you can buy today. That includes Ninja's biggest competitor, Nutribullet, who also offers a 1-year limited warranty. Vitamix is the most prominent company with a longer warranty, coming in at 7 years for all of their blenders.
Safety Features
The upside-down design of Ninja's personal blender cups is one of the safest ways you can possibly blend. Because there's no way to access the blades while it's working, even children can be taught to operate the personal blenders safely.
The larger countertop blenders require more careful supervision. Their lids are designed to let you pour and add ingredients while you're blending, so they don't have the same safety features.
If you're looking for the safest blender possible, go for the upside-down design of Ninja's personal blenders. For wider culinary applications, the larger countertop blenders are a better choice.
My Recommendations
Any of the Ninja blenders listed here will be a great fit for someone's home kitchen. But to recap, here are the best Ninja blenders for each budget range:
The Ninja BL660 Professional Countertop Blender is the best overall combination of price, performance, and versatility. It's my top recommendation for the majority of home kitchens.
The small and affordable Ninja BL480D Nutri Blender is surprisingly powerful. It's excellent for anyone with a small kitchen or a small budget.
And the Ninja BL770 Mega Kitchen System and Blender is the most comprehensive of the bunch. It's expensive but exceptionally powerful. And with blender, food processor, and personal blender cups, it can handle any kitchen task.
Frequently Asked Questions About Ninja Blenders
Before we wrap up with my final recommendations, I'd like to offer up answers to the most commonly asked questions about Ninja blenders. Combine this with what we've already talked about, and you'll have a clear picture of whether a Ninja blender is right for you.
Are Ninja blenders dishwasher safe?
All of Ninja's blender components are dishwasher safe. The pitchers can be washed on the bottom rack, but it's best to keep the lids on the top rack. This will keep the plastic cooler, and prevent the lids from bending over time.
Can I blend hot liquids in my Ninja blender?
Only one of Ninja's blenders, the HB152 Foodi, can handle hot liquids. Its tempered glass pitcher means you can take liquids just under boiling hot, and blend them safely.
Ninja's other countertop blenders and food processors can handle warm ingredients, but not boiling hot ones. Their personal-sized blenders should not be used for warm ingredients, as they have no way to vent steam while you blend.
How does Ninja compare with other brands? 
The Ninja blender was designed to compete with two other major brands: Vitamix and Nutribullet.
In the Ninja vs Nutribullet battle, Ninja blenders offer more power and attachments for the price. 
Compared to Vitamix, Ninja blenders are a much more affordable option for home cooks. They're less powerful though and come with a much shorter warranty.
Can I use my Ninja blender as a juicer?
No blender will be a perfect stand-in for a commercial quality juicer. You can achieve some of the same results by blending whole fruit and passing it through a fine mesh strainer. But there will be more pulp in the final product. 
Can I grind coffee in my Ninja Blender?
If you're not particular about the exact fineness of your coffee grind, you can use a blender to grind coffee.
But the advantage that a coffee grinder has over a blender is that the grinds will all be of a uniform size. Then when you brew your coffee, all of the evenly-sized grinds will be extracted at the same rate. That will result in a smoother, tastier cup of coffee.