Cooking and serving duck makes any meal feel special. So naturally, you'll want the sides you serve to compliment and stand up to but not overshadow the main component of the plate.
The options you have when looking for things to pair with duck are endless. But I'm here to steer you in the right direction.
Throughout my time in culinary school and professional kitchens, I've encountered several sides that elevated a duck course. Choose any of these options to serve alongside duck, and your meal will go from delicious to mouthwatering.
1. Sauteed Green Beans With Garlic
The most common variation of duck served worldwide is Peking duck. It features crispy skin and tender meat, and my favorite side to compliment any Asian-inspired duck dish is sauteéd green beans with garlic.
Simple yet delectable and highly effective when trying to round out a meal with the focus remaining on the protein.
These Sauteéd Garlicky Green Beans can surely hold their own alongside some tasty Peking duck. But if you want to bulk up the meal, add a simple side of rice seasoned to your liking.
2. Honey Garlic Veggie Stir-Fry
Another option when trying to find a pairing worthy of any Asian roast duck is a honey garlic veggie stir-fry. You can utilize whatever vegetables your family prefers or whatever you have on hand to tailor this side to your hungry eaters.
I love this recipe for a Honey Garlic Veggie Stir-Fry because I take inspiration from the range of vegetables used. Shallots, chickpeas, snap peas, and red peppers, among others, create a visually pleasing rainbow on the plate.
The salty-sweet umami sauce is delicious not only covering the side dish, but also when you sweep a bite of duck through the sauce left on the plate. Once you've tried this combination, you might never serve duck any other way.
3. Duck Fat Fries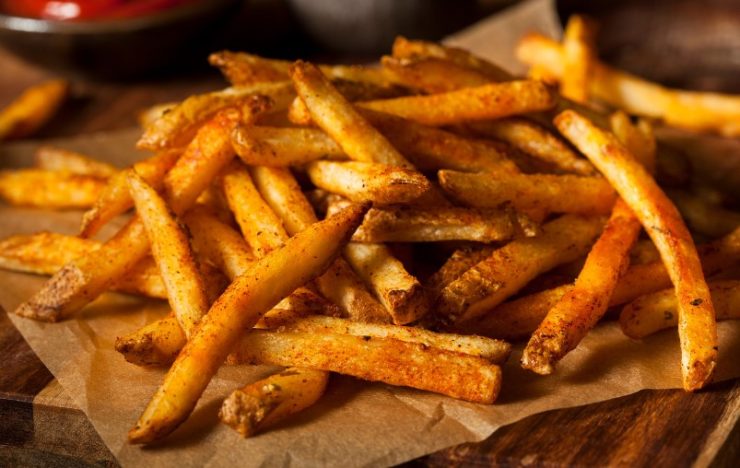 Traditionally, you would serve duck confit with duck fat fries, otherwise known as Pommes de Terre à la Sarladaise. These are thick, coin-sized potatoes that you fry in the rendered fat from the main dish.
There are many different ways you can make duck fat fries and different potatoes that will yield new results. I love splitting fingerling potatoes in half and using those as my fries. Their edges and skins get crispy and salty while the middle stays pillowy and soft.
This Extra Crispy Duck Fat-Fried Fingerling Potatoes recipe is super simple and uses only three ingredients. You get loads of flavor from the duck fat, and when topped with coarse, flaky salt, it's a match made in heaven.
Pair your duck confit or pan-seared duck breast with some duck fat fries, and you won't be sorry. But make sure to make extra because you'll definitely want more after tasting this combination.
4. Scalloped Potatoes
I'm convinced that scalloped potatoes go with everything. How can thinly sliced potatoes, paired with a rich and creamy cheese sauce, be wrong? Duck is a decadent protein, so why not double down and serve it with an equally decadent side dish?
Scalloped potatoes are surprisingly easy to make at home, and trust me, once you taste a from-scratch version, you'll never reach for the boxed kind again. I like to serve this alongside pan-seared, roasted, or braised duck.
You can easily scale up this recipe for Scalloped Potatoes if you're serving a large dinner party or just have a few very hungry guests. Everyone will be impressed with this combination, and there probably won't be room for dessert.
5. Sesame Glazed Carrots
Sesame glazed carrots are one of those dishes that sounds, looks, and tastes very fancy but are seriously simple to throw together.
No matter how you prepare your duck or what spices you use, sesame-glazed carrots will pair well. I prefer petite or baby carrots for this recipe because their super sweet, soft, and tender flesh goes perfectly with the simple glaze.
I reference this Honey-Roasted Carrots with Sesame Seeds recipe when cooking up this side in my kitchen. Feel free to scale the recipe up or down to suit your needs. You can add more veggies to the mix or even dish it up on top of some rice. Either way, the glaze on these carrots compliments the flavor of duck so well that you'll keep going back for more.
6. Fresh Herb Polenta with Parsnip Chips and Maple Butter
If you're really looking to "wow" your guests, consider serving pan-seared, roasted, or braised duck with fresh herb polenta.
We would serve a variation of this recipe at one of the restaurants I worked in, and let me tell you, it was always a crowd favorite. You have to try this recipe for Fresh Herb Polenta with Parsnip Chips and Maple Butter. This is absolutely the side dish that will take your duck to the next level.
The tender and fatty duck flavor plays off the creamy polenta with an herbaceous kick. The parsnip chips add crunch and texture, while the maple butter is surprising and keeps you wanting more.
If I could only choose one recipe from this list to serve alongside any kind of duck, it would be this one.
7. Balsamic Spinach Salad
Perhaps you want a lighter side to pair with your rich duck course. Often duck is cooked in fat, so pairing it with a bright balsamic and spinach salad could be just the pairing you've been searching for.
Serve this salad alongside duck, no matter the cooking application. You can never go wrong with a fresh green salad.
Feel free to make this salad to your preferences, but if you're looking for a starting point, check out this Easy Spinach Salad with Creamy Balsamic Vinaigrette.
Bulk up the salad with nuts, seeds, avocado, and cheese so it can hold its own as a standalone side dish. On the other hand, you could keep it really simple and serve it to start the meal.
FAQs
What kind of wine do you drink with duck?
Pinot noir is a tried and true companion to any duck dish. Also, Malbec, Syrah, and Chianti are delicious when paired with grilled or crispy duck breast.
What sides go with duck confit?
Traditionally, you would serve duck confit with duck fat fries, otherwise known as Pommes de Terre à la Sarladaise. These are thick, coin-sized potatoes that you fry in the resulting duck fat.