When compared with other cookware categories like ceramic non-stick pans, there aren't a ton of brands specializing in cast iron dutch ovens. Even with few well-known names on the market, it can be difficult to feel confident in a purchasing decision.
We spent 10 hours compiling owner feedback and product information on the Tramontina Enameled Cast Iron Dutch Oven, and comparing this product with other leading brands. You will find a concise analysis assembled in our Tramontina Dutch Oven reviews, including specific information on how this product performs and a general framework for what to look for when purchasing a dutch oven.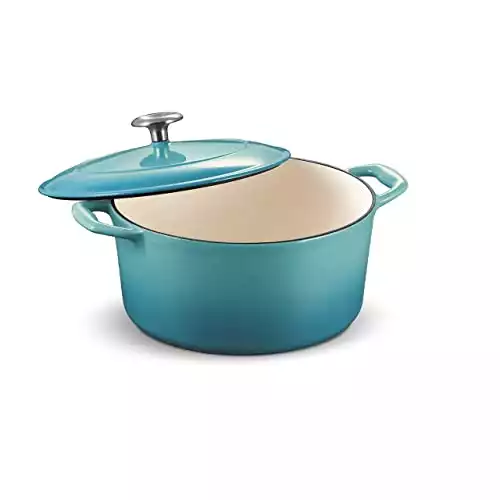 What we like
Enamel coating means seasoning not required.
Multiple sizes available between ¼ quart and 9 quarts
Thick cast iron walls create even heating, and great heat retention.
What We don't
Hand-wash only.
Less durable than Staub or Le Creuset, though it's significantly more cost-effective.
If you do have a problem, the customer service is not great.
Tramontina Cast Iron Dutch Oven
The Tramontina company started more than a century ago, making cast iron cookware in Brazil. Today, the brand manufactures a variety of kitchenware items that are distributed globally including its enameled cast iron Dutch Ovens which are now produced in China.
A covered dutch oven is among the most versatile of modern cookware tools. With a single dish you can roast, stew, sear, bake or braise.
Tramontina's collection of covered dutch ovens comes in a variety of shapes, sizes, and color options. Each model is constructed of thick enameled cast iron for even heat distribution and retention.
Enamel
The primary benefit of using enameled rather than raw cast iron is that it removes the need to season the coated areas of the dish.
The enamel used in the dish interior is white across all different product configurations. This white color reflects light more effectively than raw cast iron and therefore provides a helpful visual contrast. This makes it easy to examine the done-ness of a meal.
The dish exterior is available in gradated red, dark and medium blue, cobalt, majolica red, and white options. We prefer the medium blue colorway because it adds a nice splash of color against our white subway surfaces. Our course, our preference is highly subjective and you may find that another color works best in your kitchen.
Because the enamel is somewhat porous, it is also likely that surfaces will collect stains when exposed to dark acidic foods like tomatoes at high temperatures. This can be especially noticeable across the pan interior, which generates the most contact with food, but is also worth considering if you're considering the white exterior color option.
Sizing
Most dutch ovens are sized between 3-5 quarts, but you can find them as small as ¼ quart and occasionally as large as 9 quarts.
Tramontina offers a 3.5, 5.5 and 6.5 quart covered round dutch oven. The company also offers their dutch oven in an oval-shaped configuration at volumes of 5.5 and 7 quarts.
For most kitchens, a good starting assumption is that you will need a 3 quart base volume for your oven plus one additional quart capacity for each family member.
Handles and Lids
Each pot comes with a solid cast iron lid, which is designed with self basting condensation ridges across the underside. These ridges collect steam and allow condensed liquid to drip back down evenly across the food, rather than only at the edges of the lid.
While the inside of the pot has been pre-seasoned, the lid and the rim of the pot which meets the lid have not been seasoned by a manufacturer. For best results, brush the lid and the rim with oil and heat up the pieces in the oven for one hour to season.
A note for your safety, use an oven mitt when cooking with this dish. Both the stainless steel lid handle and cast iron handles on the primary dish can get dangerously hot when used in the oven and on the stovetop. This can become a safety hazard if you aren't prepared with the right gear.
Performance
Most of the feedback we reviewed from owners of the Tramontina dutch oven praised the product's performance.
The cast iron walls are thick and even, so they hold and distribute heat effectively throughout the dish. To that effect, material weight is one basic indicator of quality. The 5.5-Qt Tramontina Round Dutch Oven weighs in at 11.94 lb which is incredibly similar to the weight of market leading Staub and Le Creuset dutch oven products, only at a fraction of the price.
Some owners noted that the 5.5-Qt round dutch oven is slightly narrower and taller than other dutch ovens of the same volume. These dimensions occasionally presented a challenge to kitchens who were hoping to braise large slabs of meat. Specifically this was an issue when the shape of meat the cut of meat was wider than the dish.
In similar cases, an easy solution might be to pick Tramontina's oval shape Dutch Oven instead of the round counterpart. You could also size up to the 6.5-Qt dish for a wider dimension.
Cleaning
Owners noted Tramontina is also easy to clean. The manufacturer instructs to simply use soap and water to wipe off any spills and stains. Note that this product is hand wash only: you can't load it into the dishwasher, which makes clean-up a little inconvenient.
Durability
When properly cared for cast iron cookware can be passed down across generations. For example, we use a Griswold frying pan set in our kitchen that is nearly 100 years old.
While cast iron will oxidize and rust if exposed to the elements, the primary durability issue for enameled dutch ovens is actually the enamel coating.
Enamel durability seems to be the primary differentiator in quality between affordable brands like Tramontina, and the similar luxury-priced dutch ovens produced by Le Creuset or Staub.
Many owners who provided a review of their experience with this product noted that the interior enamel began to wear off after a few years of use. There were also a handful of cases where an owner highlighted chips or cracks in the enamel that occurred during use
Incremental wear over a 3-5 year window seems to be a feature of this product, while the more abrupt or significant damage typically resulted from handling. Most damage we analyzed occured to the dish interior.
Warranty
The Tramontina dutch oven comes with a lifetime warranty against product defects.
The warranty only applies where Tramontina is 100% at fault. If you drop your dutch oven and break or chip it, you can't request a new one. The warranty only covers dutch ovens that have been properly cared for according to the manufacturer's instructions and were not damaged in any way by the owner. Additionally, the warranty does not cover minor color variations.
Owners trying to exactly color match this dish with another in their collection might be disappointed. Several owners noted there are slight color variations based on the manufacturing lot of the product they purchased.
If you buy a defective Tramontina product, you can contact the manufacturer through a form here on their website. Some owners complained about slow responsiveness from the brand to their inquiries. If enough time goes by without a response, try calling the support hotline listed on their website instead.
What To Look For In A Dutch Oven
The best dutch ovens are made from strong, durable cast iron materials that retain heat and distribute it evenly throughout the dish.
Some brands offer a dutch oven product that has been constructed of alternative materials, like clad stainless steel or aluminum. While these materials may be lighter, occasionally cheaper, and more responsive to changes in temperature, they don't serve the traditional purpose of a dutch oven to seamlessly hold a consistent and high temperature for long periods of time.
An example of an alternative material dutch oven dish is the one included as part of the Tramontina Gourmet Ceramica line. The limitations of its ceramic-coated aluminum construction make the dish impractical as an oven, so it really only functions effectively as a stock pot.
What are the drawbacks of owning a dutch oven?
While heavy cast iron is a good indicator of quality, make sure the dish you choose is light enough to maneuver about the kitchen. There is such a thing as "too heavy."
For example, if you purchase a 15 lb dutch oven and fill it with water which weighs just over 2 lbs per quart…you can probably already see where I'm going with this.
It's simply not safe for most people to attempt a balancing act with 30 lbs of scalding hot anything in a small kitchen space. Be mindful that the size and weight of your dish fit within the constraints of your facilities and personal mobility. Bigger isn't always better.
Some dutch ovens don't come pre-seasoned, so you'll have to season them yourself before you can start cooking. Dutch oven enamel also tends to chip easily for many brands. Be careful when handling your dutch oven and don't slam the lid too forcefully.
What's the best brand on the market?
Le Creuset is a high-quality brand that's loved and revered by chefs around the world. They make an exceptionally attractive and durable product, but you'll probably pay 3-4x more for a similarly sized dutch oven to those offered by Tramontina.
Staub is also a very reputable maker. Their products tend to be slightly cheaper than Le Creuset, but still near the top of the market. If you are looking for a vibrant dish, they offer nine attractive color options that will stand out in most kitchens.
Besides Tramontina, the Martha Stewart Collection is more attainable for most budgets. Their dutch ovens are generally of good quality, although there have been some manufacturing inconsistencies that resulted in product recalls due to enamel chipping.
My Recommendations
This is a decent product at a good value.
It is less durable than products priced on the luxury-end of the market, but also significantly more affordable for most kitchen budgets. It is a great place to start, and if you use it heavily over the next several years then you might consider upgrading on the next purchase.
While a dutch oven is an incredibly versatile dish, it's not a daily-use item for most people. We like to invest heavily in the most frequently used items for our kitchen, and pick more affordable options for lesser used dishes.
You may be able to beat Tramontina's durability with a dutch oven from the Martha Stewart Collection. In our view, the potential for improved durability might not be worth the risk of buying a defective Martha Stewart product. Given Stewart's recent manufacturing recalls, and that most buying options are available only through Macy's brick-and-mortar stores, Tramontina may be a safer option for an affordable dutch oven.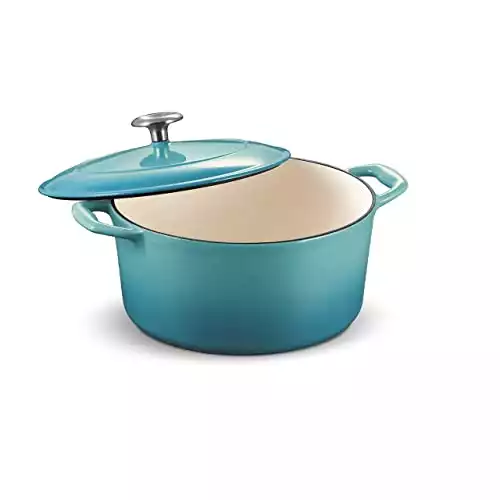 Click here to check current pricing and see more product specs.