In a restaurant, the value-conscious chef will always order whole romaine lettuce versus pre-chopped. It lasts longer, and you have more control over what kind of cut you want.
The same is true at home. Buying whole romaine and cutting it yourself will save money and reduce waste.
After over ten years in professional kitchens, I've cut more than my fair share of this leafy green. And in this article, I'll share the best and easiest ways to prepare romaine lettuce for salads, stir-fries, sandwiches, and more.
How To Cut Romaine Lettuce
Before You Cut, Always Wash
Always rinse leafy greens before you eat or cut them. This is especially important for produce like lettuce, which is eaten raw nine times out of ten.
Running them under cold water in the sink is a simple but important step to remove any dirt, pesticides, and bacteria.
If you'll be using the entire head of lettuce, lay it on your cutting board and chop off the base. This is the fastest and easiest way to separate all of the leaves so you can get on to whatever type of cut you'll be using.
However, if you're only preparing a small amount, pull back and break off only the leaves you need. Keeping the rest of the head intact will help prolong its life in the fridge.
Large Pieces Of Lettuce
Large pieces of lettuce are perfect for salads and stir-fries. Plus, it's fast and involves little (or even no) knife skills.
To start, lay a clean head of lettuce (or a stack of as many leaves as you'll be using) on your cutting board and split it in half lengthwise.
If you want your chopped romaine pieces to be smaller, make another lengthwise cut to make the leaves thinner before moving on to the next step.
Next, keep your strips of romaine in a bunch and make cross cuts starting at one end and moving down toward the other.
You can make cuts about an inch apart or vary this to make your pieces larger or smaller.
Pro-tip: Using a very sharp knife makes your cuts more effortless and leads to less bruising of the leaves. Also, using a larger knife will help with more consistent and safe cuts.
No Knife, No Problem
Another option if you need large pieces of lettuce is to tear them by hand. As a bonus, tearing romaine breaks the leaves along its natural seams, which can reduce browning. It also gives a rustic look and doesn't require a knife.
First, make a stack of 3-4 whole romaine leaves.
Then, hold the stack with both hands close together and tear the leaves with a twisting motion.
Repeat the process, tearing segments as large or small as you'd like.
Lettuce Ribbons (Chiffonade)
Thin ribbons of romaine lettuce are great for tacos, salads, burgers, and wraps. By cutting the lettuce into very small pieces, you get better distribution, and you don't risk pulling all the lettuce out of your sandwich in one bite.
To start, remove whole leaves of lettuce from the core, and make a stack of two or three similarly-sized leaves. You can do it one at a time, but it will take much longer.
If the leaves are large, fold them in half lengthwise or roll your stack into a long tube. If they're on the smaller side, you can go ahead and leave the stack flat while you make your cuts.
Turn your stack, or roll, of leaves so that it is perpendicular to your knife.
Then, make cuts starting from the leafy side down to the core end of the lettuce. It can help to use your non-cutting hand as a guide to make these cuts as thin as possible.
The Best Way To Store Romaine
After your romaine is cut, place it in a container or plastic bag with a paper towel at the bottom. The towel will help absorb excess moisture and help keep the romaine from getting slimy. Prepped romaine lettuce will last up to a week in the refrigerator.
Use a crisper or humidity-controlled drawer if you have it. And if you don't need to chop the lettuce right away, keeping the romaine head whole can extend the shelf life to about 10-11 days in the refrigerator.
Unsightly leaves and lettuce cores don't have much use in the kitchen. Go ahead and throw them in the trash, compost them, or feed them to your rabbits or chickens.
Frequently Asked Questions
Should you wash romaine lettuce before cutting?
Always wash leafy greens before cutting to remove dirt, pesticides, and bacteria. An especially important step when eating produce that won't be cooked.
Is it better to cut or tear romaine lettuce?
Tearing romaine lettuce is fine for a quick salad and can cut down on bruising. Cutting is more consistent and can be faster if you're prepping large quantities. 
Does cutting lettuce make it go bad faster?
Yes, whole romaine lettuce lasts longer and is less prone to browning than cut lettuce. 
Print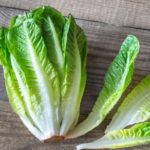 How To Cut Romaine Lettuce
---
Author:

Total Time:

5 minutes

Yield:

Varies
Description
Learn how to cut romaine lettuce for salads, stir-fries, and as a topping.
---
---
Instructions
Thoroughly wash romaine leaves before making any cuts.
For Large Pieces
Split romaine leaves in half lengthwise to form strips. Split them again if you want smaller pieces.

Make cross cuts to make pieces the size of your liking.
For Thin Ribbons (Chiffonade)
Create a stack of 2-3 similarly sized romaine leaves

Fold or roll the stack into a long tube.

Use your knife to make cross cuts as thin as possible.
Notes
Large lettuce pieces can also be made by tearing whole leaves by hand.
Prep Time:

5 minutes

Category:

Knife Skills

Cuisine:

Any
Keywords: cutting romaine lettuce, chopped romaine lettuce, romaine salad