Frying pans are arguably the most used piece of cookware in both professional and home kitchens.
I've easily used 50 or more frying pans in a single, busy restaurant dinner service where pans were continuously used, washed, and reloaded in stacks on the stove.
After doing that night after night, I would say that I've become somewhat familiar with what makes a good frying pan. Now, I hope to use that knowledge and expertise to highlight the best frying pans that will get you through a busy dinner service at home.
Our Top Picks
Features:

Best in class durability that will last a lifetime
Excellent heat distribution from base to rim
Compatible with all cooking surfaces

Features:

Very inexpensive
Will last several generations
Incredible heat retention and distribution

Features:

Heavy-gauge, hard-anodized aluminum heats quickly and evenly
3-layer nonstick is quite durable
Very easy to use and clean straight out of the box
Best Overall
Features:
Best in class durability that will last a lifetime
Excellent heat distribution from base to rim
Compatible with all cooking surfaces
Best Cast Iron
Features:
Very inexpensive
Will last several generations
Incredible heat retention and distribution
Best Nonstick
Features:
Heavy-gauge, hard-anodized aluminum heats quickly and evenly
3-layer nonstick is quite durable
Very easy to use and clean straight out of the box
09/25/2023 05:17 am GMT
In all my years of professional cooking, All-Clad is the brand that I've consistently found in the most demanding kitchens. Their frying pan is often the piece that is the most used and abused, or "loved" as I like to call it.
The 10-inch D3 frying pan is a fully clad stainless steel pan. It's built with a thick aluminum core that provides impressively fast and even heat distribution from base to rim. The core is then surrounded by durable and non-reactive stainless steel.
The high-quality stainless steel makes it easy to clean and safe to use with any ingredients. Plus, it's compatible with any cooktop type, including induction ranges.
The handle is made from solid stainless steel and has a deep groove that runs down the top. It's a unique design that offers excellent grip but can take a little getting used to.
With its high oven-safe rating of 600 F, this frying pan is perfect for starting dishes on the stovetop and finishing them in the oven. And, when it comes to cleaning up, the pan is dishwasher safe but hand washing is recommended to keep the pan looking its best.
The price is a little steep, and if you've never cooked with stainless steel before there can be a bit of a learning curve. But, with a little practice and know-how, this pan is one of the ultimate kitchen multitaskers that you'll find yourself reaching for at every meal.
What we like
Best in class durability that will last a lifetime
Excellent heat distribution from base to rim
Compatible with all cooking surfaces
A cast-iron frying pan is my trusty standby when it comes to pancakes, shallow frying, and baking. This model from Lodge is a perfect choice that's practical, and durable enough to become a treasured family heirloom.
The Lodge 10.25-inch pan is made entirely from cast iron. That makes it strong and heavy, weighing in at a whopping 5-pounds. And, if you jump up to the 12-inch version, you're looking at 7.5-pounds. The weight means it's not the best choice for tossing and flipping, but it does provide some other excellent cooking attributes.
The weight and thickness of the pan are what give it even heat distribution and incredible heat retention. It may take a little more time to thoroughly preheat, but once it comes up to temperature, the entire cooking surface will brown and caramelize more evenly than almost any other pan.
Since it's made completely from raw cast iron, the Lodge frying pan will require some maintenance in order to keep it from rusting and functioning at its best.
Lodge ships the pan with a factory seasoning so that it won't rust and is ready to cook straight out of the box. But, taking a little extra time to apply an additional seasoning layer or two will pay dividends in rust protection and food release.
Once your pan is properly seasoned, it should continue to develop better non-stick properties the more it is used. But, it's worth mentioning that the seasoning you work hard to develop can also be destroyed if you wash the pan with too much soap, or when you cook highly acidic foods.
So, this pan does require a little care and maintenance. But, your efforts will be rewarded with a "nonstick" pan that will last for generations. I have one that is about 10 years old (so still just a baby in pan-years), and it's like an entirely different pan in terms of food release and ease of cleaning.
Oh, and I forgot to mention, it is usually available for less than $20. So, go collect the spare change lying around your house and add one of these to your collection.
What we like
Very inexpensive
Will last several generations
Incredible heat retention and distribution
What We don't
Requires ongoing maintenance
Best Overall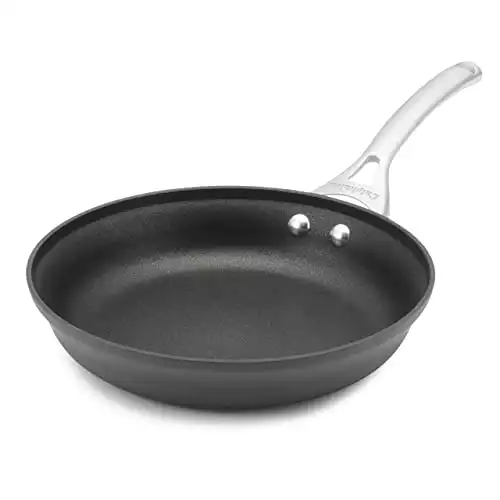 For sheer convenience, a nonstick frying pan simply can't be beat.
They're incredibly easy to use and clean but often lack the durability that you'd find with cast iron or stainless steel. That's why I've chosen the Calphalon Contemporary frying pan as the best nonstick option. It provides all the convenience of a nonstick pan and also brings much-needed durability to the table.
The pan is constructed from heavy-gauge, hard-anodized aluminum. That provides you with fast and even heating, which is very responsive to temperature changes. It's also more durable than plain aluminum so you shouldn't have any issues with bending, warping, or rusting.
The nonstick coating that is applied to the pan is a three-layer coating and is one of the best you're going to find. The first two layers help with adhesion and durability, and the top layer is where the "magic" happens.
You'll be able to use very little oil when cooking with this pan, and ingredients will still easily release and slide around. It's also perfect for going from stovetop to oven and can handle oven temperatures up to 450 F. Hot enough for just about any cooking needs
And, since it's actually difficult to get food stuck to this pan, cleaning up is as easy as wiping the pan down with a soft cloth after it has cooled. This option is dishwasher safe, but handwashing will go a long way in extending the life of the non-stick cooking surface.
While this does have one of the more durable non-stick coatings, you should still avoid using a metal utensil and stick to wood or silicone. Metal abrasion is one of the fastest ways to end food release on any nonstick pan.
When it comes to non-stick frying pans this option is on the expensive end. But, what you're paying for is an impressive non-stick performance that will last for years rather than months.
What we like
Heavy-gauge, hard-anodized aluminum heats quickly and evenly
3-layer nonstick is quite durable
Very easy to use and clean straight out of the box
What We don't
On the expensive end for non-stick
Not compatible with induction cooktops
Other Options That Are Great But Didn't Make The Cut
The De Buyer carbon steel frying pan is another one of my favorite pieces of cookware. It's like a light version of a cast iron skillet. It offers the same durability and potential nonstick properties, but in a lighter weight package that's easier to maneuver.
If you have space, it's definitely worthy of a spot in your kitchen. But if I had to choose between the two, I would pick cast iron for its versatility and usefulness as a baking tool.
If you want to go non-stick, but you're concerned about potentially harmful chemicals, the GreenPan ceramic frying pan is one to consider. The ceramic-based non-stick coating is free from PFAS, PFOA, lead, and cadmium, and offers excellent food release and easy clean-up.
The one big downside is that the ceramic coating is not as durable as the Teflon-based coating used in my pick for "Best non-stick option." The price is lower, but it's likely that you would need to replace this pan sooner than my Calphalon pick.
If you love the idea of a cast iron skillet but don't want to deal with the seasoning and upkeep, then the Le Creuset enameled cast iron frying pan might be for you. The price is much, much higher, but you get similar heating benefits and durability in a pan that's easy to care for and even dishwasher safe.
The Mauviel copper frying pan is beautiful and a dream to cook with. The thick copper construction makes it heat faster and more evenly than almost any other pan out there. And, the stainless steel interior makes it durable and virtually maintenance-free.
It sounds like a perfect pan, and it may be pretty close to it. But, at well over $300, it might not make sense for a majority of home cooks.
Buyers Guide: Choosing The Best Frying Pan
Materials: Exploring Their Strengths And Weaknesses
Stainless Steel
Stainless steel is a great option for a frying pan because it's durable, versatile, and low maintenance.
One thing to remember with stainless steel is that it is NOT non-stick, no matter how expensive it is. Once you know what you're doing you can very effectively cook without food sticking, but it can definitely take some trial and error.
Fully clad stainless steel is the best way to go, for even heat distribution and durability. But, it can also be quite expensive especially if you're considering copper-core stainless steel like is offered in some of All-Clad's premium lines.
Cast Iron
Cast iron is another durable and versatile option for a frying pan.
These heavy pans offer some of the best heat distribution and retention around. Raw cast iron is an excellent value for a pan that will last forever. But, it also requires some maintenance to keep it from rusting.
If you're willing to spend a bit more, you can opt for an enameled version that has similar cooking characteristics without the necessary upkeep.
Carbon Steel
Carbon steel shares a lot of similarities with cast iron but in a lighter weight package. It's incredibly durable, can handle high heat, and will develop non-stick properties when handled correctly.
The downside to carbon steel is that it must be seasoned and maintained in order to keep it properly performing.
If you're up for the task, it can be well worth the extra effort.
Non-Stick
Non-stick frying pans are easy to use and clean.
Even if you're brand new to cooking, a non-stick pan can be very forgiving and a good way to learn the basics of cooking and seasoning.
The big downfall of non-stick cooking surfaces is that they are not very durable. Even when treated right, non-stick coatings will degrade and become ineffective over time.
In most cases, a well-loved nonstick pan will lose its food release property in under 5 years. There are always exceptions to this rule, but it's safe to say that short lifespans are a feature of nonstick pans, not a bug.
Size: Getting The Most Use Out Of One Pan
Frying pans come in a handful of common sizes. Choosing the one that you'll use the most will help ensure you're getting your money's worth.
The most common sizes are 8, 10, and 12-inches. That size refers to the diameter of the pan from one side of the rim to the other. Since the sidewalls of a frying pan are usually angled out, that means the actual cooking surface is going to be an inch or two smaller than the pan size.
An 8-inch option makes a perfect egg pan but is generally too small for more than one person.
The 10-inch range is often the most versatile size and is likely to get the most use. This is a great size for up to four eggs, two or three chicken breasts, or a couple of steaks. And, even if you're only cooking for one or two, it won't feel too big.
A 12-inch frying pan is the way to go if you regularly cook for more than four people. If you're only feeding two or three, it can feel a bit heavy and unwieldy. A 12-inch frying pan may also feel cumbersome to store. That being said, I love using a 12-inch pan for pancakes and stir-fries – both meals take great benefit from a large cooking surface.
Stove Type: Make Sure Your Pan Is Compatible
If you have a gas or electric stove then you're pretty much safe to use any frying pan out there. But, if you have an induction stove, you'll want to follow a few simple steps to make sure your frying pan of choice is compatible.
Carbon steel, cast iron, and most stainless steel options are safe bets for induction.
Aluminum pans are going to be on a case-by-case basis, so make sure you read the fine print. And any pans that have a real copper exterior are likely going to be a no-go.
Pan Design And Its Effect On Cooking
In general, most frying pans share a pretty similar design: a flat bottom, shallow sloping sides, and a long handle.
An angled or slightly curved handle can provide useful balance and leverage when lifting and tossing ingredients in the pan. It also makes it easier to grab and maneuver on a crowded stove.
The shallow sides allow for fast evaporation and reduction. Sides that are more rounded can make it easier to toss and flip ingredients like a pro.
Maintenance: Know What To Expect Before You Buy
For a low-maintenance frying pan, stainless steel and non-stick are going to be your best bets.
These materials don't have to be seasoned, and washing is as easy as scrubbing with soapy water, or even throwing them in the dishwasher.
If you go with a raw cast iron or carbon steel frying pan, be prepared to put in a little work. These options must be seasoned initially and should be washed by hand without the use of soap.
Price: Options For Every Budget
Frying pans are available in every price range. My top picks are all high-quality options and they start at less than $20 and go well over $100. So, no matter what your budget, you can find a frying pan that fits your cooking style and needs.
FAQs
My Recommendations
A frying pan is one of my essential cookware pieces. It's incredibly versatile and necessary for a number of recipes in cuisines around the world.
The All-Clad D3 stainless steel frying pan is hard to beat for versatility without any necessary maintenance. But, they can be expensive and will take some practice to master.
On the other hand, it's difficult to turn down the value of the Lodge cast iron skillet that costs less than $20 and will last a lifetime.
On the other hand, sometimes you just want to cook eggs or fried rice without worrying about them sticking to your pan, in which case the Calphalon non-stick frying pan is the way to go.
I guess my recommendation is to get one of each! Which is what I did, and I don't regret it.