When it comes to making perfect pancakes, feeding a crowd, or doing meal prep for yourself, a griddle is often the best tool for the job. With a large, flat cooking surface, a griddle can be a versatile kitchen workhorse.
When choosing a griddle for an induction cooktop, there is an additional consideration to keep in mind, and that is the material that the griddle is made of. Induction cooktops utilize an electromagnetic field to heat pots and pans, this means that certain materials that are not magnetic (e.g. glass, copper, aluminum) will not work on an induction cooktop or induction range.
Here are three great choices that can help increase your kitchen productivity.
Our Pick
In most cases I prefer not to use nonstick cookware, but this is an exception. There are few things more convenient than a nonstick pan or griddle at breakfast time when you're feeding a crowd. And a griddle is always going to be more convenient for that purpose than small individual pans.
This 10″x18″ griddle by Cuisinart is designed specifically for this situation. It's lightweight, nonstick, and heats very effectively when used on an induction range.
The drip-free rims aren't especially useful for pouring and, in general, I wouldn't recommend pouring anything from a hot griddle. But they are incredibly helpful when it comes to cleanup after the meal. The curved shape means that spills and crumbs don't get caught in a hard-to-clean crevice.
The large loop handles on either side of the griddle make it easy to move, and it only weighs 4 lbs. Compared to a traditional cast iron griddle, this is a humongous benefit if you do need to relocate or adjust the griddle during use. I'd still recommend getting a pair of hot mitts, just to be safe.
What we like
Lightweight compared to other options
A very cost effective option
Nonstick makes for easy cook-and-clean with delicate ingredients like eggs and pancakes
What We don't
Nonstick is less durable than other options
Less effective for induction cooking than a cast iron option, but still effective and way more user friendly
The enameled cast iron griddle from Le Creuset is hard to beat in just about any category. If you are familiar with the Le Creuset brand, then you know that this griddle is going to be functional, durable, and attractive.
With the same heavy-duty enamel coating as many of the company's famed Dutch ovens and pans, you get impressive heat retention and distribution, as well as searing capabilities, all without the upkeep and care that is required of unfinished cast iron pans.
Offering a cooking surface of 13"x8.5", the skinny griddle is far from the largest on the market, but the unbeatable form and function easily make up for the smaller size.
While some may be tempted to opt for a reversible griddle with a grill pan on the opposite side, you have to keep in mind that induction cooktops rely primarily on the contact between the pan and cooktop surface. A pan that has a raised grill surface will not have full contact with the cooktop, resulting in low and uneven heating.
What we like
Durable
Low maintenance
Dishwasher safe
What We don't
Expensive
Smaller size
Heavy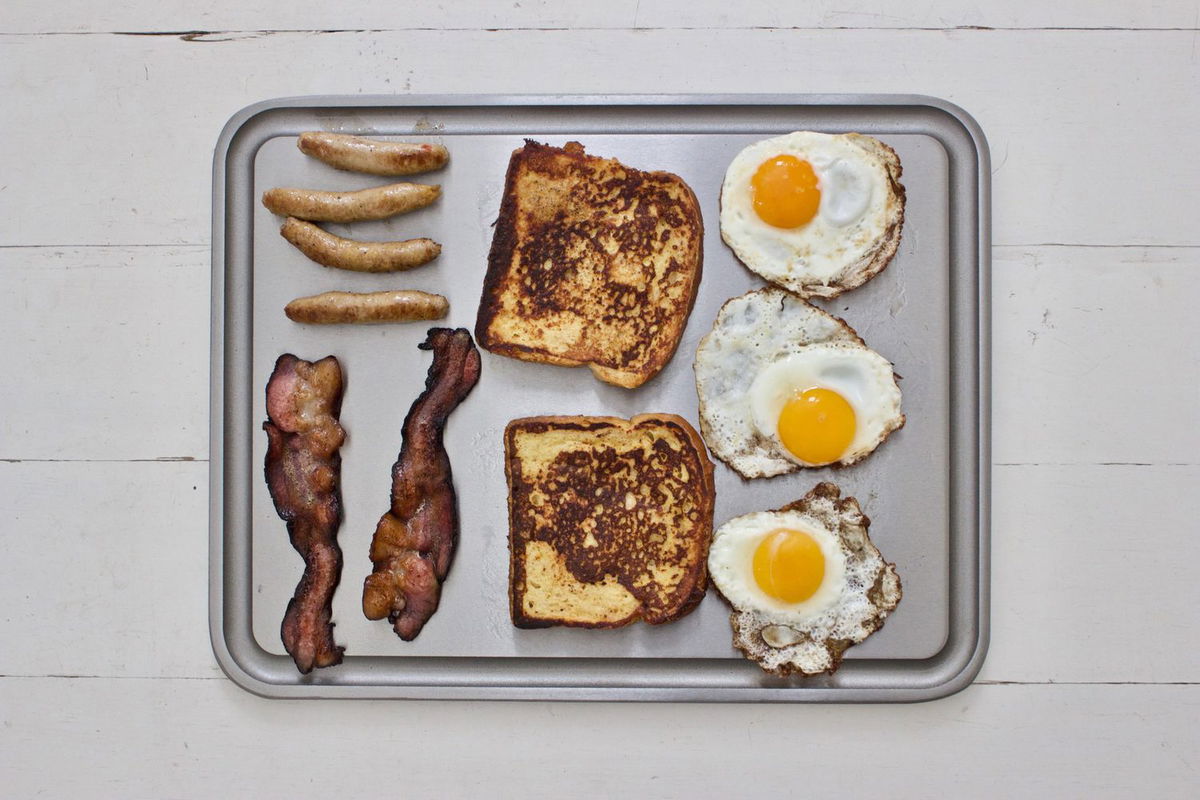 The Baking Steel Griddle is the new kid on the block when it comes to high-quality griddles, but I can see it standing the test of time. This griddle is a beast, measuring 18"x14" and weighing 25 pounds, the solid carbon steel griddle will easily last multiple lifetimes, especially when you consider that the company guarantees against cracks and breaks.
The Baking Steel Griddle is the only reversible griddle that made the list, and that's because both sides are perfectly flat, which once again is important when it comes to induction cooking. The griddle side has a deep groove around the perimeter which works well to catch grease and other juices, while the other side is flat from edge to edge and is meant to be used as a pizza/baking "stone" in the oven. This means you can also store the griddle in your oven when not in use.
This griddle retains heat at least as well as cast iron, and you can get it screaming hot for all of your searing needs. The griddle is in essence, just a solid piece of steel, and so some care must be taken in order to maintain a proper "seasoning". The company provides great use and care instructions online, but the gist is to keep the griddle lightly oiled and avoid cleaning with soap (this means the dishwasher is off-limits). If you follow the basic guidelines provided, then this griddle should only get better with use.
The only possible downside to this griddle is that it does not have any sort of handle. This can make it quite difficult to move, especially while it's hot, and remember, it's going to stay hot for quite some time after cooking.
For people looking for a smaller option, they also offer an 11.5"x11.5" version which is perfect for portable, single burner induction cooktops.
What we like
Durable
Wide variety of uses
Large cooking surface
What We don't
Expensive
Heavy
No handles
Some care/maintenance required
Conclusion
If you are looking for a griddle to use on an induction cooktop, you really can't go wrong with any of the options on this list. Each of the three griddles listed will really shine with certain cooking tasks but may fall short in others.
Take a moment to think about what features are the most important to you. If you want something that can become a family heirloom and can be prominently displayed in the kitchen, then maybe it's the Le Creuset, but if you just want a kitchen workhorse that can be beat up and will last for decades, then perhaps the Baking Steel is the way to go.
Whatever griddle you choose, I hope that this list has given some valuable insight into some of the various options and features available.