Whether you're renovating your kitchen, looking for new appliances, or just shopping around for a new cookware set, our guide to best cookware brands should help make your decision easier.
Best Cast Iron Cookware Brands
Cast iron cookware has been around for centuries. This material was used for cookware in Asia as early as the 600s, and over the past century it has been a staple in American kitchens.
There are two types of cast iron cookware that are widely available today: enameled or raw seasoned.
Cast iron is known for withstanding high temperatures, heat retention, and slow and even cooking. It can last for generations, thanks to its impressive durability. From sauteing to searing, browning, frying, braising, roasting, and stewing—this material can do it all.
Some may find it tedious to take care of a cast iron, as it requires maintenance and must be seasoned. Also, it is bulkier and heavier than other types of cookware. However, the material is still popular because it is worthwhile to maintain due to its versatility.
Cast iron is often the best cookware when your priorities are heat retention and overall durability.
Le Creuset
Le Creuset is one of the most popular cast iron brands worldwide. This French maker is known for its colorful, enameled products since 1925.
Because of its high quality, durability, and color options, Le Creuset is the world's most expensive cast iron brand. Le Creuset also makes stainless steel, stoneware, and nonstick cookware sets. Le Creuset is best known for its high-quality dutch oven.
In 1925, the "Volcanic orange" color on its products made its debut, inspired by the color of molten iron. Le Creuset takes its time crafting each product, which is why it takes roughly 120 hours to make one Le Creuset pot. Le Creuset also made headway when they sold its most expensive cookware set to Marilyn Monroe, who personally used the Elysees Yellow set.
Owners of the Le Creuset love the aesthetics and durability. The cast iron also brings out more flavor in their food. Le Creuset's enameled cast iron is beautiful and brings life into the kitchen. Their dutch oven is incredibly versatile.
Owners note how expensive these dishes are but appreciate the lifetime warranty and expect the product to last a lifetime. While the cast iron is heavy, they are sturdy and can withstand anything, giving users confidence in its design and quality.
Staub
Staub is another French maker from Alsace, a region in France known for culinary greatness. Famous for its exceptional self-basting cocotte, this French brand also makes ceramic tableware and bakeware.
Staub is a primary competitor of Le Creuset on the luxury end of the market. Their products are generally priced more affordably, but with fewer color options.
Staub takes quality control seriously by inspecting a product technically and visually 100 times before it goes onto the market.
The Staub cocotte also holds up to 10% more moisture than its competitors after 55 minutes of cooking. The self-basting system locks in more moisture and allows the contents to cook evenly and continually basted.
Users of the Staub cocotte admire the matte black finish interior inside the pot. It's convenient for everyday cooking and various dishes.
The affordability of the Staub cocotte attracted many people, especially compared to the Le Creuset sets. The pot may be harder to clean, but it makes the extra elbow grease worth it due to the affordability.
Lodge
Lodge is the longest-running cast iron manufacturer in the United States. Based in South Pittsburg, Tennessee, since 1896, making it the oldest producer of cast iron products in the USA. This company is especially well-known for its grill and frying pans.
Lodge uses a mixture of pig iron, alloys, recycled steel, and casting from their foundry to melt in a furnace to create their products.
They were the first company in America to use a Disamatic, a Danish molding machine known for manufacturing during World War II. In 2002, Lodge released a pre-seasoned skillet, which was a first in the industry.
Lodge users love the affordability and size of Lodge cast iron products, specifically the skillets. Owners cooked anything from salmon to steak or vegetables and were amazed at the quality despite the low price. Some skillet surfaces are a bit rough, making them harder to clean, but a tough scrubber can do the job.
Best Stainless Steel Cookware Brands
In Sheffield, England, an English metallurgist named Harry Brearly invented "rustless steel," later known as stainless steel. Thanks to this invention, he changed cutlery and brought affordable stainless steel cookware sets to the masses.
Stainless steel is usually made by cladding it atop a copper or aluminum core to reduce "hot spots" since stainless steel does not spread heat evenly. Unlike cast iron, a stainless steel cookware set does not require seasoning to protect from rust but may provide a nonstick surface for cooking.
People love stainless steel for its durability and easy care. Most products are dishwasher safe and oven safe.
Stainless steel can be harder to clean and on the pricier side. Stainless products have recently become more affordable as the manufacturing is now widespread.
Stainless steel is often the best cookware when your priorities are durability, responsiveness to changing temperatures, and compatibility with induction and traditional stoves.
Let's take a closer look at the best cookware brands known for their stainless steel products.
All-Clad
All-Clad is known for its tri-ply and five-ply cookware, which is widely regarded as the best on the market. John Ulman, a metallurgist, founded the company in Canonsburg, Pennsylvania. It is known as a premium brand made in the USA, although some of the auxiliary pieces like lids and handles are actually made in Asia.
Currently, the five-ply is All-Clad's most unique product, after their tri-ply patent expired allowing knock-offs to flood to market.
Ulman was an avid cook who wondered what would happen if he patented crafting methods for cookware using metal. Layers of stainless steel bond with aluminum, shaping them into pans. As a result, a new type of cookware set was born. People loved it because it didn't tarnish, warp, or alter flavors.
Owners love that their All-Clad sets are "built like a tank." While it's heavy, they're sturdy and boasts high-quality. Users enjoy heat distribution throughout the surface, while the handle remains cool during cooking.
Calphalon
Calphalon invented hard-anodized aluminum cookware, making lightweight cookware sets more durable and less reactive with food. When All-Clad's tri-ply patent expired, Calphalon began making clad cookware overseas, allowing prices to be significantly lower than All-Clad. As a result, Calphalon has made a name for itself as cost-effective yet durable.
In 1963, Ronald Kasperzak founded Commercial Aluminum Cookware, which changed to Calphalon in 1992. In 1968, he invented anodized aluminum cookware, using a process from the aerospace industry.
Thus, cookware that is more resistant to corrosion and more durable is born. The culinary world embraced the high-performance cookware, where professionals swore by the product.
Many Calphalon owners enjoy how evenly the heat distributes on the surface, cooking their favorite foods to perfection. One gripe may be that if you don't wait for the pan to heat evenly before applying oil when cooking, it could cause sticking. With some patience, however, it can be avoided.
Cuisinart
Cuisinart is one of the most famous kitchen appliances in the world. In 1973, they introduced the food processor, which changed the culinary industry forever. After, they expanded into other products and cooking utensils, including clad stainless steel cookware sets in 2001.
Carl Sontheimer, a New Yorker raised in France, attended a cooking show in France and noticed an appliance called the Robot-Coupe, which was like a "blender on steroids." Sontheimer, an inventor, got the Robot-Coupe distribution rights and modified the design to fit countertops.
From there, the Cuisinart food processor made its way into every American kitchen. Following its success, Cuisinart dived into other appliances, becoming a household name.
Cuisinart owners love the finish and heat distribution, cooking evenly and just right. Like most stainless steel, however, there may be food sticking if you dive in too early. However, Cuisinart heats up more quickly than Calphalon, reducing the likelihood of this small problem. The lifetime warranty also gives users confidence in the product.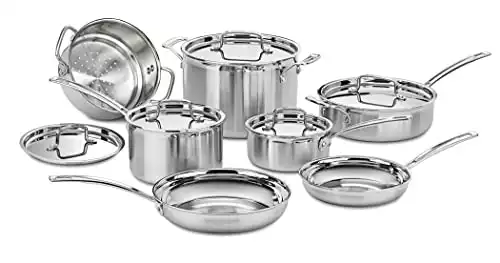 Best Nonstick Cookware Brands
In 1938, a DuPont scientist discovered polytetrafluoroethylene (PTFE), which has become widely known by the brand name "Teflon." It is one of the slickest substances in the world and sparked the nonstick cookware revolution.
People love how a nonstick pan easy to clean, requires less oil, more affordable, and lightweight, as it is made with aluminum with a nonstick coating applied to the pan's surface.
Many non-stick cookware sets aren't compatible with induction stovetops. If you plan to cook with induction, look for a set that includes a steel plate in the construction. The presence magnetic metal will ensure that it works on your stove.
While a nonstick cookware set can be incredibly convenient for food release and cleaning, the top complaint about this category is related to its durability. Most PTFE-coated nonstick products will not last longer than five years. While some brands claim otherwise, a good rule-of-thumb is that your nonstick pan will last longer if you avoid metal utensils.
Recently, ceramic nonstick frying pans also gained popularity. Ceramic is considered by many kitchens to be a healthier alternative to traditional nonstick following Teflon manufacturing controversies in the early 2000s.
Nonstick products are often the best cookware when your priorities are affordability and cleaning ease.
Here's a look at some of the best cookware brands known for their nonstick products.
T-Fal
T-Fal is the market leader for Teflon coated cookware, as it's the original nonstick brand to hit the market. A ceramic alternative is also available through the brand, which is great as an entry-level set. They're practical and easy to use, requiring less clean up than traditional cookware.
In 1954, Marc Gregoire would coat his fishing gear with a substance he created. His wife proposed he coat her cookware set the same he would with his fishing gear.
The results spoke for themselves, and two years later, T-Fal launched to produce nonstick pans, becoming the first inventor of nonstick cookware. The creation marks the launch of nonstick cookware, making its way into nearly every American kitchen.
Easy to clean and ease of use are features that many T-Fal owners love about their nonstick pans. The drawback is that they don't last as long as other cookware. However, they're incredibly affordable and a great fit for most kitchens.
Rachael Ray
Since the 2000s, celebrity-endorsed cookware has made the scene, becoming widely popular in American homes. These cookware sets tend to be affordable and end up on infomercials that catapult their success.
Rachael Ray cookware sets tend to be the most popular of celebrity-backed nonstick cookware set due to constant advertising and their spokeswoman's high media profile.
Inspired by her Sicilian grandfather in her youth with her love for Italian food, Rachael Ray launched a successful culinary career in 2001. She began with a book deal and a Food Network show called 30 Minute Meals. From there, she has been the face of several cooking appliances, including Rachael Ray nonstick cookware sets.
Owners of the Rachael Ray nonstick cookware set love how it's easy to clean, dishwasher safe, and food doesn't stick onto the surface. Some owners say that scratches began showing up after multiple uses, but the cookware still works as intended despite showing wear and tear.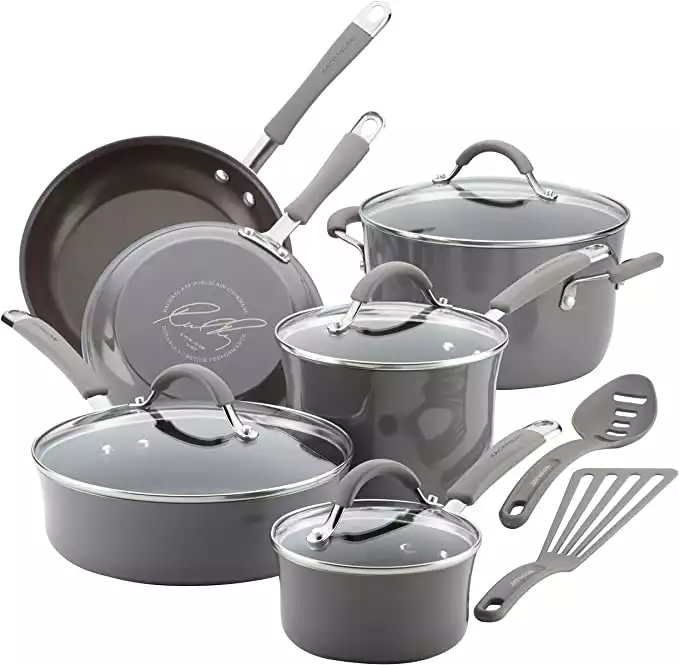 GreenLife
GreenLife products are aesthetically pleasing to the eye, with bright, beautiful ceramic cookware in turquoise. Several different sets are available for the price-conscious, as they are more affordable than other competitors.
The Cookware Company (TCC), who created GreenLife, wanted to develop Teflon-free nonstick frying pan. As a result, GreenLife became a hit with environmentally friendly consumers.
GreenLife says their cookware is free of PFAS, PFOA, lead, and cadmium.
Health-oriented kitchens love this alternative, as people begin to question Teflon. They claim to be the first natural ceramic nonstick coating cookware product.
GreenLife cookware owners love knowing that their cookware set is free of harmful chemicals and available at an affordable price. These sets cook quickly and make cleaning up a breeze. Their iconic turquoise color brings about a positive vibe in the kitchen, making the cooking process more enjoyable.
The sets don't last long, however, which is a common complaint of nonstick ware. Luckily, GreenLife is one of the most affordable brands, which has eased criticism about their durability.
Choosing the Right Brand For You
Determining what brand is "the best" for your kitchen is a highly subjective process.
We highlighted several category-leaders above, which are widely regarded as most innovative, highest quality or best-in-class. These brands are a great starting point.
While we can't know your exact priorities and requirements, our goal is to provide a basic framework of questions that would be helpful for most kitchens to ask before making a purchase decision.
Affordability
Understanding your budget is a great place to start.
Nonstick cookware is generally going to be the most affordable materials option. While there is a high-end of the market, in many cases you can find a full 10-to-12 piece set for under $150.
Some individual cast iron products, like a basic pre-seasoned skillet by Lodge are often available for under $30. Cast iron is generally not made in as many shapes and sizes as nonstick aluminum, but you can often find a basic 3-to-5 piece set for under $200. Luxury products like Le Creuset will be much more expensive.
Most stainless steel cookware products start around $300 for a full set, though you can pay 5-10x that for a premium multi-clad set.
Materials Durability
There are different ways of looking at "value," and for many kitchens durability is core consideration.
Cast iron is incredibly durable. It can last for generations and, in fact, our kitchen uses a Griswold skillet set that was produced nearly a century ago. The trade-off is that it does take some effort to maintain.
Cast iron rusts in the presence of oxygen, including the oxygen in water. Regular seasoning protects cast iron from oxygen exposure. An enamel coating can accomplish the same result, though the enamel is likely to wear out long before the cast iron core of a pan.
Stainless steel is about 70% iron, which makes it also incredibly durable. It doesn't require nearly as much care since stainless steel is not food reactive and will not rust. Many sets last for decades, and typically attached components like handles or lids will wear out long before the pots and pans.
While non-stick is generally the most affordable option, it also tends to be the least durable. A good PTFE-nonstick is likely to wear out in under 5 years. Ceramic nonstick tends to be even less durable, with most products needing replacement in 2 years or less.
With nonstick, the pan base is usually quite durable, it is the slick coatings that tend to be fragile and wear out first.
Materials Performance
Each of the materials we covered in this article perform best in different situations.
Most intermediate and advanced kitchens will benefit from having a few dishes constructed of each material. If you're a beginner, or outfitting a new kitchen on a budget, then you may have less incentive to mix-and-match.
Most nonstick cookware is constructed atop a pressed or cast aluminum base. One or more layers of nonstick material is then baked atop the cooking surface of each pan. Aluminum will provide quick and even heating with responsiveness to changes in temperature. Most nonstick sets are not compatible with induction stoves.
The nonstick coating creates excellent food release for delicate items, like eggs where you want to keep the yolk intact.
Most nonstick cookware is intended for use at low and medium temperatures, and doesn't work great in the oven. Many brands also advertise their products as "dishwasher safe," but our experience says this isn't a great idea for the durability of your pots and pans.
Cast iron cookware is not very responsive to changes in temperature. This is a blessing and a curse. It will take forever to heat a pan, but once heated the dish will retain a steady temperature for a long time. This is not a great quality for delicate or precise dishes, but can be especially useful for braising and slow cooking.
While cast iron isn't as slick as Teflon, with proper seasoning and practice you can actually achieve a great food release. Cleaning isn't as easy as with nonstick, but also tends to me much easier than cleaning stainless steel.
Clad steel cookware most often includes a layer of copper, aluminum or both sandwiched between outer layers of stainless steel. The inner layers create positive heat distribution for fast heating and even cooking. Expect your set to be much more responsive than cast iron, but probably slower than an aluminum pan to heat up.
Stainless steel provides a lot of flexibility compared with nonstick alternatives when it comes to using high cooking temperatures, dishwasher and oven safe compatibility. They can also be much more difficult to clean, and require more cooking oil to achieve any nonstick quality.
What We Missed
Many great brands, such as Scanpan, Tramontina, Paula Deen, Abbio, Viking, Anolon, Circulon, Stoneline, Farberware, Wearever, Starfrit—we did not discuss. Some are great, and some are not up to our standards.
Many brands simply try to imitate the category leaders, while injecting a unique value proposition. This could mean a bargain bin price achieved by discount manufacturing. In other cases a brand will simply offer more colors, special handles, or a unique shape.
Recently, there is a lot of hype about copper, diamond, and stone nonstick cookware. By and large, these are marketing add-ons to traditional or ceramic nonstick pans.
We also didn't cover a variety of aluminum cookware in this article. We don't recommend raw aluminum as it is food reactive. Hard anodized aluminum is treated to not be food reactive, and often is accompanied by a baked on non stick coating. These options are widely available.
Copper and carbon steel cookware are also not present in this article, as it is expensive, less popular, and often highly specialized. You may find great products, but they will be costly. If you're curious, Brooklyn Copper Cookware is a great place to explore.
Lastly, it's clear that Amazon is (still) taking over the world, including cookware with its Basics cookware brand. They essentially replicate market trends and monopolize on their existing traffic to boom sales. Within cookware products, Amazon is an affordable option, but the Basics brand is definitely following the market rather than leading it.
Finding the Right Brand for You
When choosing the best cookware brand, you don't necessarily have to buy the whole set.
Think about how often you cook. Do you need a bulky pot or a lightweight pan? Then, match the cookware to your cooktop to avoid sizing problems with burners and the bottom of appliances.
It's helpful to get familiar with all the types of pans available, and what they're used for.
Cookware can also have health effects depending on what you choose. Understanding the hard facts about materials may help in your decision. Consider your budget, durability, brand quality, and other factors above to find the best cookware for your needs.
Happy cooking!