Choosing the right enameled cast iron cookware can be tricky. Dishes start at around $50 but quickly jump to $300. So why the big price difference and is it worth spending that much on a single piece of cookware? Those are the questions I'm here to answer.
I've been cooking with enameled cast iron for over 15 years and have spent time selling the stuff in a well known boutique. I'm going to use my years of experience to break down what makes the best enameled cast iron so you can make the right choice for your home.
Our Top Picks
Buy on Amazon

We may earn a commission if you make a purchase, at no additional cost to you.

09/25/2023 08:58 am GMT

Buy on Amazon Buy on Zwilling

We may earn a commission if you make a purchase, at no additional cost to you.

09/25/2023 10:38 am GMT

Buy on Amazon

We may earn a commission if you make a purchase, at no additional cost to you.

09/25/2023 12:22 pm GMT
A Detailed Breakdown Of The Best Enameled Cast Iron Cookware
Best Dutch Oven
Buy on Amazon
We may earn a commission if you make a purchase, at no additional cost to you.
09/25/2023 08:58 am GMT
If I could only have one piece of enameled cast iron cookware, a Dutch oven would be it. And the one I would choose is the 5.5-quart Le Creuset Signature model.
Raw cast iron Dutch ovens are great, but they take some work to maintain. Even if you have developed a good seasoning, one long braise or tomato-based soup could completely ruin it. That's a big deal since soups and braises are some of the best uses for a Dutch oven.
Now, you don't have to go with Le Creuset for your Dutch oven needs. But, if you want top-of-the-line construction, looks, and heirloom-quality, it's the best you're going to find.
Le Creuset is one of the most expensive brands that you will come across. They've also maintained their reputation as one of the best enameled cast iron cookware manufacturers for almost 100 years.
The price is steep but their enamel coating is the best in the biz. It's a completely smooth and non-porous, glass enamel. That means you don't have to worry about acidic foods reacting with the cast iron, and food release is very impressive. The coating is also incredibly durable, easy to use, and easy to clean.
A 5.5-quart Dutch oven is a great all-purpose size, but Le Creuset offers nine different options of their infamous round Dutch oven. They range in size from 1-quart all the way up to 13.25-quarts, giving options for any size family or individual.
Le Creuset's handles are another simple feature that makes them hard to beat. They are comfortable and large enough to easily grab with a bulky oven mitt.
They truly provide everything you want in a Dutch oven and nothing you don't.
What we like
Best in class durability and build quality
Enough sizes to meet anyone's needs
Over 20 colors available
What We don't
Very expensive
Metal utensils can leave visible marks on the interior
Best Frying Pan
An enameled cast iron frying pan is another kitchen workhorse. It offers many of the benefits of raw cast iron without any of the maintenance.
Rather than a completely smooth enamel cooking surface, Staub uses a textured black enamel coating. The surface is very hard-wearing and excels at high-heat cooking. That makes this a perfect pan for searing a steak.
While this cast iron skillet easily tackles high-temperature cooking, it's no one-trick pony.
With its excellent heat retention and distribution, you get impressively even heating across the entire cooking surface. This makes cooking more delicate items like fish, eggs, or pancakes easy and consistent every time.
There is no seasoning required to use this pan. You won't be able to develop the same non-stick properties that you would with a raw cast iron skillet. But what you can do is soak your Staub frying pan or even put it in the dishwasher.
Staub offers enameled cast iron skillets in a 10 and 12-inch model. 10-inch skillets are perfect everyday pans for one or two people. Jumping up to a 12-incher makes sense if you cook for more than three people, and makes an excellent breakfast pan for bacon and pancakes.
This frying pan is another pricey piece of cookware. Staub hasn't been around as long as Le Creuset but they are about equal when it comes to quality and durability. This is an investment that will easily last a lifetime, and look good doing it.
What we like
Matte black enamel is great for high-heat cooking
Oven safe to 900 F
Top of the line craftsmanship and durability
What We don't
Very expensive
Helper handle could be bigger
Best Value
Buy on Amazon
We may earn a commission if you make a purchase, at no additional cost to you.
09/25/2023 12:22 pm GMT
The casserole dish from Lodge falls somewhere between a Dutch oven and a frying pan, and is very budget-friendly. By combining the two dishes, you'll save money and space in your cupboards.
The greatest benefit of a casserole (also known as a braiser) is its versatility. The Lodge 3.6-quart casserole provides excellent braising capabilities but also has a wide cooking surface that's great for stir-fries or even searing steaks.
When it comes to braising tough cuts of meat for long periods of time, this dish can't be beat. The large cooking surface allows you to easily brown your meat and vegetables. Then just add liquid, the tight-fitting lid, and into the oven it goes.
The cast iron works its magic by evenly distributing heat throughout the entire pan and the heavy lid keeps moisture from escaping.
The only area where a casserole falls short is when it comes to making soups and stocks. The wide cooking surface and short sides are just not very well suited for the task.
The glass-enamel cooking surface is similar to Le Creuset in both function and color. It's a non-porous coating that protects the internal cast iron and eliminates maintenance.
The surface is very smooth for increased food release, and the light color makes it easy to monitor browning and caramelization as you cook.
Lodge is best known for their durable, no-frills, raw cast iron cookware that has been around for over 120 years. Their foray into enamel-coated cast iron is fairly recent. We'll have to wait and see if it can stand the test of time like their original offerings. But at such an affordable price it's definitely worth a try.
What we like
Very inexpensive
Combines the traits of a Dutch oven and skillet
Very good heat distribution and retention
What We don't
The durability of the enamel coating is yet to be proven over time
Other Great Options
Enameled cast iron cookware is available in a wide range of shapes and sizes, each with its own set of cooking benefits. When building a collection, I would start with my top three pieces. If you have more room in your kitchen and budget, these other pieces are good additions to consider.
An oval Dutch oven has a slightly different shape but is used very similarly to a round one. If you braise or roast a lot of large cuts of meat you may consider choosing this over a round model. While the oval shape is great for things like ribs or a large pot roast, they don't always work as well on electric stovetops with smaller burners.
I really like an enameled cast iron roasting pan for things like lasagna or for roasting whole chickens or a turkey. They are extremely durable and they distribute heat very well. That leads to dishes that are always evenly cooked and caramelized. The other great thing about them is that they look good enough to use directly on the table as a serving dish.
One thing to keep in mind when using a cast iron roasting pan is that they take longer to heat up. So you may need to increase cooking times if you're used to cooking in thin metal baking pans.
An enameled cast iron saucepan is another useful tool in the kitchen. It's smaller size is perfect for sauces, rice, and other graines. My go-to saucepan is usually a stainless steel one, but I love using a cast iron model because of the way it retains heat so well.
I can use it to cook something like rice or gravy. Then when it's time to eat, I place it right on the table and it stays warm through the entire meal.
Factors To Consider When Shopping For Enameled Cast Iron
Types Of Enameled Cast Iron Dishes
There's an enameled cast iron dish for just about every cooking task. I always try to choose cookware that can be used for as many things as possible and that's one of the biggest considerations for my top three picks. I recently wrote a primer about all the types of pans you should know.
Here are the main dishes that you should know when looking at enameled cast iron.
Dutch Oven
This is a large pot with a tight fitting lid, and sturdy handles. Use this for soups, stews, braises, deep frying, baking bread, and steaming. This is usually the first piece of enameled cast iron cookware that I recommend people buy.
It has more uses than most pieces of cookware in the kitchen, and you really benefit from the low-maintenance enamel coating. Dutch ovens come in round or oval shapes and range in size from 1-quart, all the way up to around 13-quarts.
Skillet
Most people are probably familiar with raw cast iron skillets. Enameled versions give you most of the same benefits without any maintenance required. You can soak and scrub these pans without worrying about rust, and some are even dishwasher safe. The downside is that you won't get the same nonstick properties that you will from a well-seasoned, raw iron pan.
Skillets are great for high-heat cooking, but also do a great job with things like eggs and pancakes. There are three common sizes to consider; 8,10, and 12-inches. You can also find enameled cast iron grill pans. These have ridges on the cooking surface for indoor "grilling".
Braiser/Casserole
This is like a combination between a dutch oven and a skillet. Braisers have a large, wide cooking surface, a tight-fitting lid, and sides that are around 3-inches high. The shape is perfect for long braises like the name implies. But, the shallow sides are not very well suited for dishes with a lot of liquid like soups and stews.
The large cooking surface is great for browning and caramelizing and the short sides help with rapid evaporation. Sizes range from around 2 to 5-quarts, but I would recommend staying above 3-quarts to get the full versatility of this dish.
Roasting Pan
A roasting pan is just like the metal or porcelain baking dishes that most of us are used to, but with better heat distribution and retention. This is a great dish for recipes that call for long cooking times. Things like lasagna and roasts are always what come to mind.
The cast iron will do a great job of evenly cooking your food, but it can take extra time coming up to temperature. With that in mind, be careful when using it for delicate items like cakes and brownies. By the time the bottom and inside is fully cooked, the top may be overdone.
Lid And Handle Design
When it comes to Dutch ovens and braisers, a tight-fitting lid and sturdy handles are absolutely essential.
Lids should also be made from enameled cast iron, and should have a knob or handle that can withstand high oven temperatures. I regularly use my dutch oven to bake bread, so a knob that can handle 500 F is a must for me.
Some lids also feature "self basting" spikes that drip moisture back on food while you cook. That's not as important to me as a heavy, tight-fitting lid that keeps moisture in the pot.
Side handles should be big enough to give you confidence when carrying a dish that may weigh 20-pounds or more. Take a look at Le Creuset for the best and most comfortable handles that are very easy to grab even with a large towel or oven mitts.
Heating Capacity And Oven Safety
Oven safe limits should always match or exceed your cooking needs. If you bake bread in your enameled Dutch oven be sure the whole thing is oven-safe up to 500 F. If you only use yours on the stovetop, then a lower heat limit is fine. But, a higher oven-safe limit will offer more versatility just in case you're ever bitten by the baking bug.
Enamel Coating
It's the enamel coating that makes this type of cookware versatile and easy to use. It eliminates the need for seasoning and allows you to use soap when soaking and cleaning. It's also what makes it more expensive.
Most manufacturers have their own proprietary glass-enamel coating, and the durability and performance of each will vary. All enamel coatings work to protect the internal cast iron which is reactive and prone to rusting.
You will generally find smooth enamel that is a light, sandy color, or textured black enamel. The lighter variety is best suited for low and medium heat cooking and is great when it comes to visually monitoring food. The textured black enamel excels with high-temperature cooking but makes it more difficult to observe browning in the pot or pan.
Accessories You'll Need
There are no real must-haves when it comes to enameled cast iron. If you have a piece of cookware with a light-colored interior you may want to stick to wood and silicone cooking utensils. Metal utensils will often leave visible markings but shouldn't cause any damage. That is as long as you refrain from banging them on the cooking surface or edge.
Other than that, a good towel or oven mitt should always be close by since cast iron handles tend to get very hot.
Durability And Affordability
When it comes to the durability of enameled cast iron cookware, you really do get what you pay for. As much as I hate to admit it, Le Creuset and Staub with their lofty price tags are the best you can buy. When treated well, the cookware from those brands will last for generations.
Brands like Lodge and Tramontina offer some great and affordable options. But, their enamel coatings are much more likely to chip and crack with heavy use. That being said, you could replace a Lodge Dutch oven three or four times and still end up spending less than one from the top-end brands.
Other Questions Worth Asking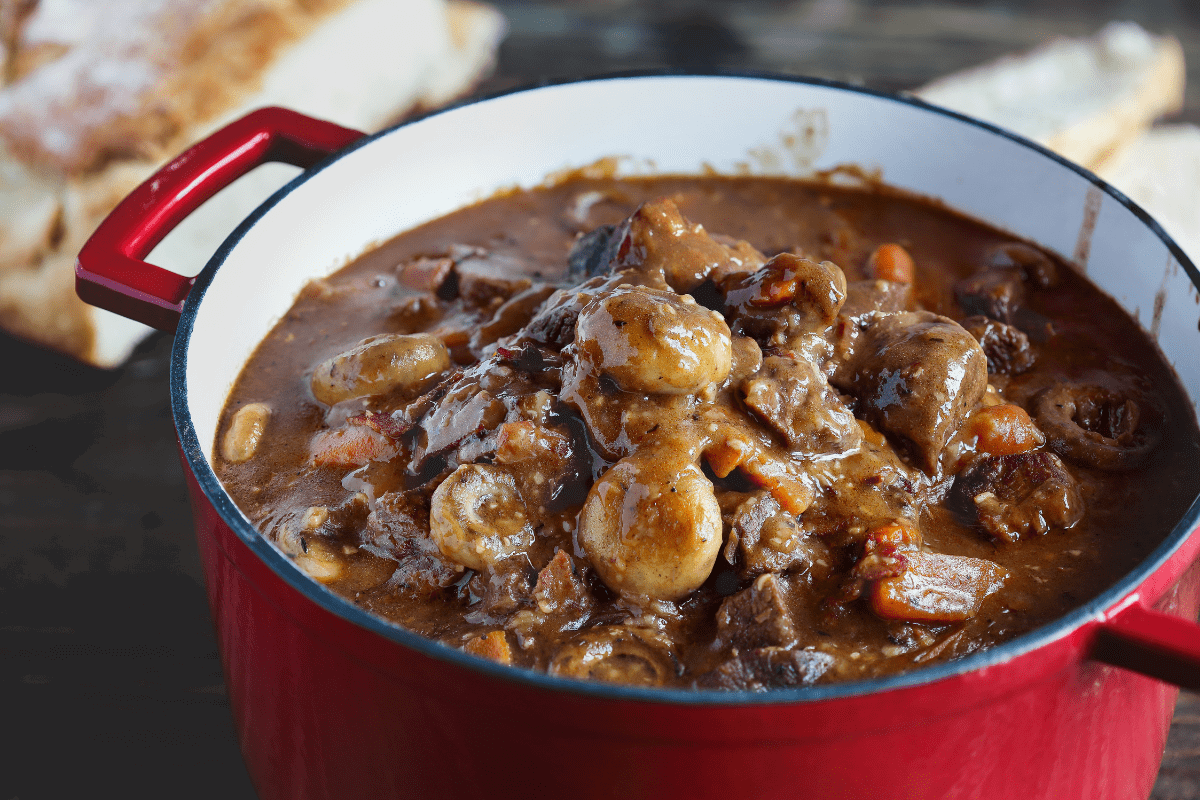 What Are The Advantages Of Cooking With Enameled Cast Iron?
Enameled cast iron provides the same excellent heat distribution and retention of traditional cast iron, but without the maintenance. That gets you cooking straight out the box, and clean up is as easy as soaking and scrubbing with soapy water.
While the smooth enamel cooking surface won't match a well seasoned, raw cast iron pan, it does offer good food release without much effort.
What Are The Common Drawbacks Of Cooking With Enameled Cast Iron?
The best enameled cast iron can be very expensive. There are some really good budget options available but you will be sacrificing some durability. Even with the best of the best, there is always the possibility of chipping and cracking.
Which Is Better: Round Or Oval Dutch Oven?
I think that a round Dutch oven is a better all-purpose pot. You can use a round Dutch oven for just about everything an Oval one can, plus they fit much better on most cooktops. The place where an oval model excels is with things like whole racks of ribs or large fish. But, if you have an electric stovetop with smaller burners, it can be difficult to heat the oval shape very effectively.
What Are The Best Things To Cook In Enameled Cast Iron?
Some of best uses for enameled cast iron are tough cuts of meat that require long cooking times. If you use a Dutch oven or braiser you can cook items for hours without losing moisture and drying out.
As I mentioned before I also love to bake bread in my enameled cast iron Dutch oven. The high heat and moisture-trapping lid act like a miniature bread oven with impressive results.
My Recommendation
If you're buying your first piece of enameled cast iron, I highly recommend going with a Dutch oven. Le Creuset is my go-to for performance, durability, and beauty. But, if you're not sure about that sort of investment right off the bat, Lodge and Tramontina are still solid pieces of cookware.
For a closer look at the two best enameled cast iron manufacturers, check out my head to head comparison of Staub and Le Creuset.
Frequently Asked Questions
Where Are The Best Enameled Cast Iron Products Made?
Le Creuset and Staub are arguably the best manufacturers of enameled cast iron and they are both made in France. A big reason for that is their strict quality control standards. Each piece passes through several human hands before it is approved to leave the factory.
Most of the inexpensive options like Lodge and Tramontina are mass produced in China where there is less quality oversight. 
Is Enameled Cast Iron Safe To Cook With?
Enameled cast iron is very safe to cook with. It is non reactive so it is safe to use with any ingredients and you don't have to worry about metal leaching into your food. It is made by melting powdered glass and fusing it to cast iron. That means there are no chemicals or mystery compounds to worry about.