Not enough people take full advantage of the versatile roasting pan. Most of the time they sit in a cupboard or closet until a holiday rolls around, then they're thrust into the spotlight. I'm here to tell you that it doesn't have to be that way, and a good roaster can be a useful tool all year long.
In professional kitchens, a roasting pan is an essential piece of cookware that's used daily. It's called upon to roast meat, veggies, and bones, but also to make sauces and even sauté directly on the stovetop.
I'm going to guide you through choosing the best roaster so that you can get more use out of a pan that has the potential to be a true kitchen workhorse.
The Cuisinart multiclad pro roaster has everything you'd want in a roasting pan. Even heat distribution, excellent handles, durability, and classic good looks. All that, and the price is very reasonable.
This is a fully clad, tri-ply stainless steel roasting pan. That means the entire pan is constructed from three layers of metal. The middle (or core) layer is made from highly conductive aluminum. This helps distribute heat quickly and evenly throughout the entire pan.
Surrounding the core are layers of durable stainless steel. This makes the roaster safe to use with any ingredients, easy to clean, and compatible with any cooktop, including induction. It also creates a very attractive look.
The three-layer construction makes the pan sturdy enough to use directly on the stovetop. This can be a really useful feature when reducing large amounts of liquid or when making a pan sauce directly in the roaster.
The riveted stainless steel handles are another component that is well thought out and user-friendly. They jut out slightly then rise up with a nice, flat top. This makes them easy to grab and very comfortable and stable to hold.
The included stainless steel rack has a rounded shape that can easily hold very large roasts or turkeys. And it keeps everything off the bottom of the pan for increased air circulation. This leads to more evenly cooked and caramelized food.
This is an impressive pan with great looks and excellent build quality to match. There are no gimmicks or fancy features here, just quality design and construction, which is always what I look for in the best cookware.
What we like
Tri-ply construction is durable and heats very evenly
Excellent handle design
Very affordable for a fully clad pan
What We don't
Easily discolors with dishwasher use
The Le Creuset enameled cast iron roaster is a high-end model with the best heat distribution and retention you're going to find. And, if you're familiar with Le Creuset, then you can bet it's going to look good enough to go straight from the oven to the center of the dinner table.
This roasting pan is constructed from heavy and durable cast iron. That makes for a pan that distributes heat evenly from base to rim. It also means the pan is going to stay hot for a long time after it's taken out of the oven. That means your food will still be warm when everyone is ready for seconds.
And, you never have to worry about rust or seasoning this cast iron roasting pan, since the entire thing is encapsulated in durable glass enamel.
This protective layer is impermeable so nothing ever comes in contact with the cast iron itself. Making it safe to use with any ingredients and incredibly easy to clean. The pan is even dishwasher safe. Although, handwashing is recommended to avoid discoloration.
One thing to keep in mind when cooking with a cast-iron roaster is that it takes a little longer to heat up. It shouldn't be a problem in most cases, but you may need to add a few extra minutes to allow the pan to come up to temperature.
Le Creuset makes some of the highest quality cookware around, but it's also some of the most expensive. This roaster comes in at over $250. Plus, you're on your own to purchase a roasting rack separately. But, if it's in your budget, this is an heirloom-quality pan that looks as good as it cooks.
What we like
Best heat distribution and retention around
Beautifully designed and built
Easy to clean and care for
What We don't
Very expensive
Does not come with a roasting rack
For a roasting pan that's easy to use, easy to clean, and easy on the wallet, take a look at the Calphalon contemporary non-stick roasting pan.
This roasting pan is made from hard-anodized aluminum. Making it durable, light-weight, and excellent when it comes to heat distribution.
The interior has a three-layer nonstick coating. This is one of the better non-stick coatings around and offers impressive food release combined with great durability. That makes it easy to scrape (with a silicone spatula of course) every last bit of drippings or sauce out of the pan.
Easy cleanup is definitely one of this roaster's best features. I have memories of the roasting pan being the last dreaded dish to clean after any family gathering, often being left out and dealt with the day after. Fortunately, that shouldn't be the case if you're working with this roaster.
Even the included roasting rack has a non-stick coating! Handwashing is easy and will increase the lifespan of the nonstick cooking surface, but the whole thing is dishwasher safe as well.
The stainless steel handles are sturdy, but they curve in towards the center rather than out. This makes it easier to fit in smaller ovens, but can be awkward to grab, especially when cooking very large roasts.
If convenience is a major deciding factor, this is a good option to consider. Aside from being easy to clean, this roaster has good heating performance and above-average durability. And, with a price of around just $50, this could be a serious contender.
What we like
Fast and even heat distribution
Very easy to clean
Inexpensive
What We don't
The handle design is a bit awkward
Non-stick coating can be easily scratched with metal utensils
Buyers Guide: Choosing The Best Roasting Pan
Size & Shape: Versatile And Oven Friendly
The best and most versatile roasting pans should be big enough for a whole turkey or large roast, but not so big that they only get used once or twice a year.
And that makes a 16-inch roasting pan the perfect candidate for just about any home. This size can hold a turkey up to around 25 pounds, a large prime rib roast, or enough vegetables for a large family or other gatherings. It's also a good size that will fit in just about any home oven and can easily be used on the stovetop across two burners.
Materials: Weighing The Pros And Cons
Stainless Steel
This is my preferred roasting pan material. It's durable, easy to care for, looks good, and doesn't have to cost a fortune.
Fully clad options are the best way to go for both durability and even heating. Plus, as my best overall pick shows, they can be very reasonably priced.
Cast Iron
Cast iron is another durable and functional option for a roasting pan. Most cast iron roasting pans are enamel coated, just like my Le Creuset choice. This makes them easy to care for, while still getting the excellent heat distribution and retention that cast iron offers.
The downside of cast iron is that it's very heavy and can take some extra time to come up to temperature. Not to mention, the best models can be quite expensive.
Non-Stick
A non-stick roaster is a good option if you want a pan that's easy to use and easy to clean. And, these are often (but not always) the least expensive of the bunch.
Non-stick roasting pans are usually constructed from aluminum. This makes them lighter than the other options and also excellent at conducting heat. The downside is that non-stick coatings lack durability and are easily scratched with metal utensils.
Roasting Rack: Useful But Not Always Necessary
A roasting rack can be a huge help when it comes to cooking large roasts or whole birds. It allows air to circulate around the meat so that it is more evenly cooked and browned. It also allows drippings to collect in the bottom of the pan so you can make easy and delicious pan sauces.
Do you absolutely need a rack? Definitely not. It's nice that many roasting pans come with one, but I've survived (thrived) most of my life roasting things directly on the bottom of the pan. And, if you go without one, it's one less thing to wash and store.
No Flimsy Handles Allowed
Moving a hot and heavy roasting pan in and out of a low oven can be a precarious endeavor. That's why good handles are a key component of the best roasting pans.
Handles should be easy and large enough to grab with an oven mitt or towel. And, they should be sturdy enough to give you confidence that they won't break, bend, or become loose.
I've had many encounters with this style of handle, and I can't express how frustrating it can be trying to lift them out of a screaming hot oven with a towel or mitt. Buyer beware.
Stovetop Use
A good roasting pan should also be usable directly on the stove. If you use your pan for roasting meat, don't waste those juices and brown bits that collect in the bottom of the pan to make a delicious sauce.
You can even skip the oven altogether and use your roaster as a way to make large batches of chili or tomato sauce, all on the stovetop.
Pans that have a thick, heavy bottom are best suited for the task. My stainless steel and cast iron picks both function like high-end pans when used directly on a stovetop burner. They both distribute heat very well and are strong enough not to warp over direct heat.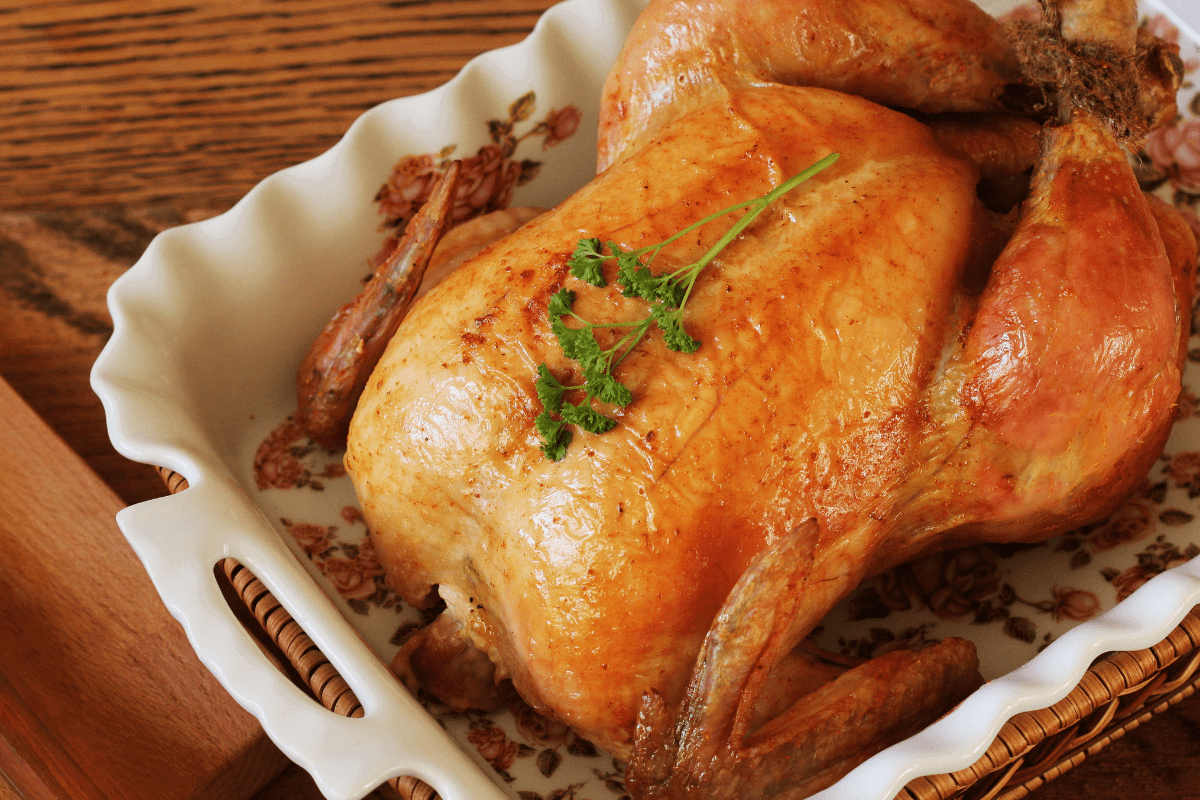 Care And Storage
Large roasting pans don't generally require any special care or maintenance. Since they are so large, I almost always end up hand washing them just because they would otherwise take up an entire rack in the dishwasher. For that reason, I don't think the fact that a pan is rated as dishwasher safe adds much value.
Storing such a large pan can also be a bit tricky depending on the size of your kitchen. I tend to use mine as the bottom layer of my rectangular pan stack. If you do this with a non-stick roaster you should take some precautions and lay a soft towel inside. This will help ensure the non-stick finish doesn't get damaged.
What You Can Expect To Spend
Roasting pans cover a huge range of prices that change depending on the material, size, and brand.
There is a range of fully clad stainless steel roasting pans that can be found for around $50, and these offer incredible value and performance. But if you go for the cream of the crop, expect to spend about three times as much.
The same goes for non-stick roasters. The $50 range is a great place to look for highly functional options. Again, if you'd like, you can also spend well over $100 on this style.
There are far fewer enameled cast iron options available. There are a couple of budget options that are in the $50 range, but they tend to be on the small side. From there, you basically jump all the way up to $200 and above. At that price, you'll be getting an excellent pan, but definitely paying for it.
My Recommendation
Roasting pans are a versatile pan that shouldn't be relegated to Thanksgiving and Christmas use, spending the rest of the year collecting dust. But, even if they are, you'll appreciate having a good option at the ready.
I think the Cuisinart multiclad roaster offers the best bang for the buck and is really the best option for most cooking scenarios. It provides durability, even heating, and no maintenance, all at a very reasonable price. This option is really hard to beat, no matter what you cook or how often you use it.
FAQs
What Is A Roasting Pan Used For?
Roasting pans are used primarily for cooking large cuts of meat or whole birds. Need a pan for your Thanksgiving turkey? This is the pan for the job.
Aside from that, a roasting pan is great if you need to cook a lot of vegetables or even sear several steaks at once. The large surface area allows you to fit a lot of food in the pan without everything being too crowded together.
What Can I Use Instead Of A Roasting Pan?
A roasting pan provides the perfect environment for roasting, but it's not the only option for the job.
A baking dish is a great option, especially if you don't need something really large. The shape is very similar, just in a smaller package, and often made of stoneware or glass. 
A half sheet tray is one of my favorite alternatives for roasting food. They have very short sides which directly expose more of the food to the heat of the oven, leading to better browning. But, the shallow rim is also this pans weak point, since it can't hold as much food, and balancing a large roast can be tricky. 
A Dutch oven is another option that can be used for roasting. These may be better known for soups and braises, but it is truly a pan that can do it all. The tall sides do make browning more difficult to achieve, but it'll get the job done in a pinch.
What Is The Best Roasting Pan For Vegetables?
A stainless steel pan is the best option for roasting vegetables because they heat up quickly and produce excellent caramelization.
Cast iron roasters take too long to get hot. This can lead to vegetables that release too much liquid, becoming soggy rather than nicely browned and crisp.
Non-stick roasters, on the other hand, heat very quickly but can't produce the same char or caramelization as stainless steel. And I would say that's the best part about nicely roasted veggies.
What Roasting Pan Recipes Should I Try At Home?
I'm a sucker for simple, but well-roasted chicken, and a roasting pan with a rack is the perfect tool for the job. 
Try placing a layer of seasoned carrots, potatoes, and onions underneath the roasting rack. They'll collect all the fat and juices that drip down from the rack, and should be perfectly cooked at the same time as the bird.