A good cast iron skillet is one of the few "must have" items in any serious kitchen. 
With this single dish you can sear, bake, sauté, pan-fry, braise, broil, roast and more. It works on stovetops, ovens, grills and even campfires. I even use a 10″ Lodge skillet for steam injection at my nano-bakery. The bread crust comes out better that way.
In spite of its versatility, not every cast iron skillet is going to be the right fit for your kitchen.
For some people, a $20 American made skillet will do more than they ever need it to. For others, a $200 enameled French skillet is going to be a better fit…and for real functional benefit too, not just style points!
In this article, I'll teach you how to pick the best cast iron skillet for your situation. We'll also walk though the real world benefits and drawbacks of top brands like Lodge, Staub, Le Creuset and a few others that you probably don't about know yet.
Our Top Picks – Cast Iron Skillet
Detailed Reviews of The Best Cast Iron Skillet Brands & Makers
Best Overall
Buy on Amazon
We may earn a commission if you make a purchase, at no additional cost to you.
12/02/2023 06:42 am GMT
Lodge has been making cast iron skillets for over 100 years, and they've spent much of that time focused on quality and durability. Their factory in South Pittsburg, TN is one of the few operations that continued cast iron cookware production in the USA after the non-stick cookware revolution of the 1960s.
Lodge's pre-seasoned skillet is our choice for the best overall cast iron skillet this year. With this dish, you'll get outstanding performance for an exceptional price.
Raw cast iron cookware requires regular maintenance called seasoning, so that it maintains a nonstick quality and doesn't rust. We'll cover this topic in more detail later in the article. Twenty years ago, Lodge developed a process for pre-seasoning cookware at their factory before sale. They were the first to do this, and probably still the best.
A pre-seasoned cast iron dish from Lodge will get you a long way down the road before it needs to be re-seasoned. They do great out of the package.
This skillet has high sides, which makes it a great fit for frying. It is available in multiple sizes, though the 10.25" version is probably the best fit for most stovetops. It weighs in at 5.4 lbs, with thick side walls providing great heat retention, but not too heavy to make maneuvering the pan difficult.
Lodge covers the skillet with a lifetime warranty, not that you'll need it, because the durability makes it almost indestructible. In our experience, their customer service is very reasonable.
The reasonable price, excellent seasoning and generational durability make the Lodge cast iron skillet a great fit for both pros and beginners. It is incredibly sturdy, will handle high heat and abuse, and still get the job done consistently.
If you're just getting started with cast iron, start with this dish.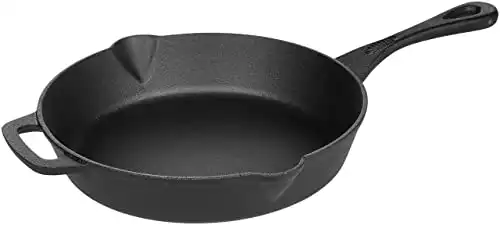 Buy on Amazon
We may earn a commission if you make a purchase, at no additional cost to you.
12/01/2023 12:59 am GMT
As with everything else, it seems that Amazon is attempting to eat the cookware world. The Basics brand is rarely innovative, but they do a great job of creating essential products at a bargain price.
The AmazonBasics 10.25" Pre-Seasoned Cast Iron Skillet is our pick for the most affordable option this year. But don't let the low price fool you, because owners are overwhelmingly pleased with the pan's performance.
Before we go further, it is worth noting that Lodge periodically offers sale pricing on their pre-seasoned skillet. If budget is a major driver in your decision making, compare the current price of this product with that of our Best Overall pick (above). The product boxes in this article update with the latest pricing information every 12 hours, and occasionally the Lodge pan sale price will dip below Basics.
The Basics skillet is oven safe to up to 500 degrees, making it reliable for most kinds of cooking. The flared side edges of the design also help to drain any excess liquid in the cast iron when you cook, and the skillet comes in a 10.25" size that makes it easy to handle.
The skillet is pre-seasoned, but many owners note that the non-stick properties of Basics factory seasoning are less effective than what we've seen from other brands.
Owners have few complaints about the craftsmanship of this dish, though the Basics brand is less bullish in their support of the product quality. They offer a one year limited warranty against manufacturing defects, and customer service seems to be less helpful than owner experiences with other brands.
Of course, with the affordable pricing on this product and the basic quality of the design, owners shouldn't expect the brand to bend over backwards in support. We put less trust in Basics than Lodge for a raw cast-iron product, but this will probably still last you forever. And even if it doesn't become a family heirloom, the price is hard to beat.
Best Upgrade
Buy on Amazon
We may earn a commission if you make a purchase, at no additional cost to you.
12/01/2023 09:28 pm GMT
Le Creuset is the original leader of colorful enameled cast iron. Their luxury cast iron products have been handcrafted in France for more than a century.
The Le Creuset Enameled Cast Iron Signature Skillet is our high-end option for a few primary reasons: an excellent design profile, the best color options, and exceptional durability of the enamel exterior. I recently did an extended review on the signature skillet and will include some of the highlights here.
A major benefit of this skillet is that the enamel exterior provides a similar benefit that seasoning would on a raw cast iron dish.
Enamel protects the iron pan base from oxygen exposure, which would rust and eventually ruin a dish. Unlike raw-seasoned cast iron, the enamel exterior does not require regular maintenance. It is less susceptible to wear and allows for faster cleanup after use, including dishwasher use.
Today, there are several makers of enameled cast iron and you can definitely find other options that are more affordably priced than Le Creuset. However, the reputation of Le Creuset's enamel durability is unmatched. A common complaint among owners of other brands is that their enamel stains, chips, cracks or otherwise wears away.
In many cases, Le Creuset skillets are generational. And it makes sense, if you're going to pay this much for a dish it should last a long time.
The design aesthetic of Le Creuset is often imitated, but rarely matched. The lines are beautiful, and the color options are extensive. If you are seeking a skillet that looks great when stored in plain sight, or when used as serving ware, this is a top choice.
Aside from the brands' high end price, the primary drawback of the enameled cast iron Signature skillet is the non-stick capabilities. Unlike raw-seasoned cast iron, enameled dishes are not known for their natural nonstick qualities. Adding cooking fats or oils will certainly help, but the food release is never quite as good as with raw-seasoned cast iron.
If you have a bit of money to spend and want to make a statement, this is a great choice. While the upfront cost can scare some away, the durability and heat-retention will make this a long-lasting option that will serve you for years to come. Perhaps even for generations.
Great For Liquid-Heavy Dishes
Buy on Amazon
We may earn a commission if you make a purchase, at no additional cost to you.
11/30/2023 09:52 pm GMT
Most cast iron skillets are equipped with side walls between 2-3" tall, which may be a bit short if you are hoping to prepare liquid heavy dishes on a regular basis.
Tall walls will come in handy for braising, liquid reduction, sauces, curries, and other liquid-heavy operations. Functionally speaking, a tall walled skillet can behave as griddle, fryer, or saucepan. It is an incredibly versatile shape for many kitchens.
Lodge makes our choice for best deep skillet, with a raw-seasoned skillet that is just under 5" deep. That is more than double the depth of our Best Overall pick, which only has 2" side walls.
The Lodge Deep Skillet comes in both 3-quart and 5-quart volumes, and is available with a lid. The iron cover features self-basting ridges which collect moisture and drip it back onto food, which helps prevent drying for slow-cooked meals.
It comes with excellent heat retention capabilities, which allow for nice, even cooling. The deep skillet can be used on all types of cooking surfaces, from ovens to over open flames.
Much like other Lodge products, you can count on extreme durability and easy hand cleaning with soap and warm water. The 3-quart size allows for ample cooking for around three to four people, making this a perfect family size skillet. In contrast, the 5-quart is excellent if you have a much bigger crowd to feed.
One drawback of the deep skillet is the weight at 6.5 lbs. Some owners find the dish challenging to maneuver from stovetop to oven to table. Given the base weight of this skillet and that it works well for preparing liquid dishes, it is reasonable to expect a total weight of 10-12 lbs for many meals prepared in this dish. For reference, a quart of water weighs 2 lbs.
The deep skillet includes a short second handle to assist with carrying when the dish is hot and heavy. We recommend keeping a pair of hot mitts nearby.
The price is practical. The dish is versatile. We wouldn't recommend this as your first skillet, but it's a great addition to most intermediate and advanced kitchen cookware collections.
Once again, Lodge strikes our list of best cast iron skillets for this year. Their Chef Collection makes our pick for best shallow skillet.
A short-walled skillet is a great choice for roasting, baking and delicate stovetop meals. It has shallow sides, allowing you to prepare thin meats or flatbreads easily. Delicate ingredients like fish and eggs are also much easier to manage (and keep intact) with a shallow skillet.
The Lodge Chef Collection is similar to Lodge Classic, but does include several updated features. Probably the most noticeable change is a decrease in weight of the dish. The Chef Collection skillet is about 30% lighter, which makes it more manageable in many cases.
The handle has been updated from the short straight design of the Classic, to a more ergonomic shape that is longer and curved for an easy grip. A second handle is placed opposite for lift-assist, and is wide enough to hold comfortably.
The Chef Collection comes with the same durability and excellent pre-seasoning that we've come to expect from Lodge. The pan walls rise at a shallow angle from the cook surface, which makes it easy to handle ingredients with a spatula or spoon.
While the lighter pan still has great heat distribution, there is less cast iron material used in its construction which means the heat retention is less. This might impact your ability to sear the edges of a thick cut of meat, but generally shouldn't be a barrier for most cooking operations.
This skillet is a great addition to any cooking collection. Due to its light weight and smaller edges, it can fit well in most compact kitchens. We recommend pairing this skillet with a cast iron dutch oven for maximum versatility.
Great Beginners Set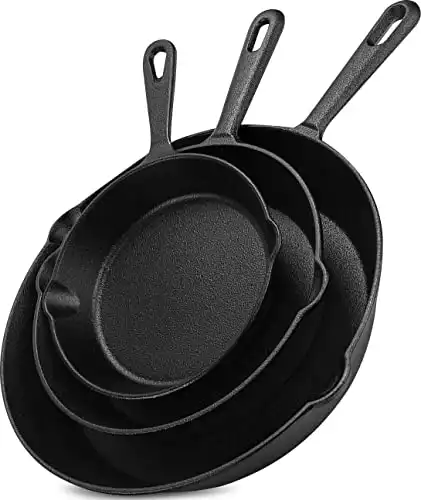 Buy on Amazon
We may earn a commission if you make a purchase, at no additional cost to you.
12/01/2023 02:38 pm GMT
Who doesn't love getting three skillets for the price of one? The Utopia cast iron skillet set comes with skillets of three sizes: A 6-inch, 8-inch, and 10-inch skillet.
The Utopia Kitchen Skillet Set is our pick for best beginner set. For the price it's an easy way for new chefs, and those who are just discovering cast iron material, to experiment with different dishes of different sizes.
All the skillets come with the same basic design. They are all pre-seasoned with soy-based cooking oil and have a smooth finish to provide a stick-resistant surface. The different sizes of each skillet will allow you to tailor your cooking experience for your meal.
In total, all three skillets weigh about nine pounds, but individually they are light and easy to handle and move. Clean them with a bristle brush, warm water, dry by hand and then coat with cooking oil after each use.
Finally, the most significant benefit of the three-piece set is its storage design. You can easily stack all three skillets inside of one another and then slide them into one easy storage spot. Due to this compact design, these skillets will work well in smaller apartments, kitchens, and RV's.
Most Unique Design
Buy on Amazon
We may earn a commission if you make a purchase, at no additional cost to you.
11/30/2023 07:17 pm GMT
Just take one look at this octagonal-shaped skillet by Finex, and you'll know why we picked it as the most unique design.
When the lid is fastened, each of the eight corners act as steam vents and spouts for the cast iron, which comes in handy when you need to remove liquid.
The underside of the lid has an excellent self-basting feature that catches any steam and drips it back into your food. This function helps to seal in flavor and helps food retain moisture evenly throughout.
The primary handle is distinct from anything else we've reviewed. It's made of wound 300-series stainless steel. This helps it to remain cool to touch for longer than other cast iron skillets, while also creating a comfortable hand feel.
The Finex cast iron skillet is pre-seasoned and ready to go once you take it out of the box, with smooth texture on the cook surface and good non-stick properties.
The pan walls are very thick, which is excellent for heat retention, but can also be a drawback for owners who prefer a lighter skillet. The Finex weighs in at 11.1 lbs with the lid, making it the heaviest skillet that we reviewed. Unless you have some serious muscle or don't intend to move the skillet while cooking, it might not be the one for you.
The features and overall aesthetics stand out. If you're looking for a conversation starter, or like to be the first person in your circle to test new and innovative products, this skillet is a great pick.
Great For Camping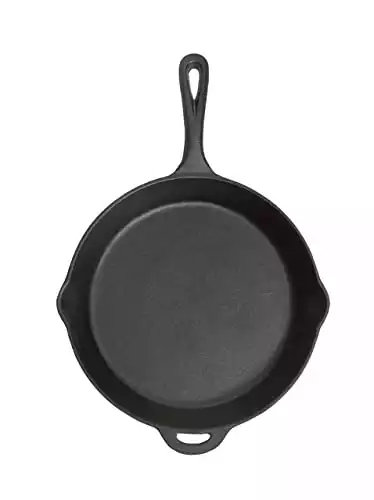 Buy on Amazon
We may earn a commission if you make a purchase, at no additional cost to you.
12/02/2023 04:27 am GMT
While you might not want to caddy heavy cast iron through the wilderness, that's not how most people camp these days. If you are the type of person who car camps, glamps, or otherwise aren't concerned about adding a few extra pounds to your load – then a cast iron skillet is awesome for campfire cuisine.
We picked the 14" seasoned cast iron skillet by Camp Chef as our best for camping selection this year.
It's large enough to make a hearty meal for several campers, and the cast iron material is incredibly forgiving to high temperatures AND frequent changes in temperature.
The total diameter of this skillet is also helpful in creating distance between your hand and the hot embers of a wood-burning fire. It comes with dual pour spouts, two handles that are easy to grip, and a true seasoned finish that is ready for use out-of-the-box.
Like the construction of this skillet is simple and durable. If you want a huge practical skillet at a low price the Camp Chef is a good buy. It is not fancy, but it will withstand an open flame and clean up easily.
If you are going to be using this while camping, the skillet does weigh nine pounds. Consider if that is a good fit for the way you camp. For performance backpackers and thru-hikers, lightweight aluminum that fits a small gas burner might be a more practical option.
Great For Heavy Lifting
Buy on Amazon
We may earn a commission if you make a purchase, at no additional cost to you.
12/02/2023 04:18 am GMT
If you are looking for a cast iron pan that is easy to carry, then once again, Lodge has you covered with our pick for best dual handle pan.
Unlike the other cookware we recommend here, this Lodge skillet ditches the single long handle in favor of two short grabbable loops. Some kitchens prefer this design as a space saver, and safety feature.
This pan's smaller size means that it is great for induction cooktops or smaller stoves. The short dual handles give you total control over how to handle and move the skillet. At a weight of five pounds, you'll be able to lift it with ease.
Especially if you are operating in an efficient kitchen space, removing the long handle that is traditional to most cast iron skillets makes it easier to safely place more pots and pans on your range. It also removes the risk of accidentally bumping the handle while reaching across your stovetop or walking by.
Similarly, the abbreviated handles can help if you're short on storage space.
Like other Lodge skillets, this pan comes pre-seasoned and can be used for baking, braising, frying, and grilling. You won't lose out on the powerful heat retention that the Lodge family of pans provides.
The dual handle skillet is a good choice for someone who doesn't have a ton of space. It's a great fit for apartments, smaller kitchens, and portable stovetops.
Buyers Guide: Choosing The Best Cast Iron Skillet
Who Should Cook with a Cast Iron?
Cast iron has exceptional heat retention properties. When seasoned and maintained properly, they provide a natural nonstick property without using chemical additives like Teflon.
Cast iron is incredibly versatile. You can cook just about anything with a cast iron skillet. Some popular recipes for cast iron skillets include:
Frittatas
Meats like steak and chicken
Baked goods and flatbreads
Deep dish pizza
Probably the most famous property of cast iron is its durability. In many families, cast iron cookware becomes an heirloom item that can be passed from one generation to the next. Our kitchen uses a (nearly) century-old Griswold cast iron skillet that belonged to my grandmother.
How Much Should I be Paying to get a Decent Skillet?
The best cast iron skillet doesn't necessarily mean an expensive one. You can get a good piece of cookware for $20 or $200. In some cases, like with the Utopia cast iron skillet, you can even get three different sized skillets for the price of one.
The primary differences in price are highly cosmetic, related to historical brand reputation, or sometimes associated with labor costs in the area it was produced.
On a basic level, a cast iron skillet is good because it retains heat and is well seasoned. There are several design features in the market, many that we covered in this article, that may cause a specific skillet to be better suited for your kitchen than others.
What are the Drawbacks of Cast Iron?
There are a few drawbacks you should consider when choosing a cast iron skillet.
The same material properties that cause cast iron skillets to be effective at heat retention also dictate that these dishes are not very responsive to changes in temperature. They heat up and cool down very slowly.
This may be inconvenient if you accidentally overheat a recipe and it begins to burn, since you won't be able to course correct very quickly. Cast iron cookware has activated many smoke detectors over the years, including one in our house at least a few times.
The handles of a cast iron skillet can also get very hot, especially when used in the oven or for prolonged periods on the stovetop. Keep an oven mitt nearby for safe handling.
Cast iron skillets are quite heavy when compared with other cookware materials. If you're looking for a lightweight daily fryer, consider a good nonstick set instead. Most are made from lightweight aluminum.
Finally, if you want a true non-stick pan, then you'll need to re-season the skillet regularly to prevent rusting and food sticking to the surface.
How Does Cast Iron Compare with a Nonstick Skillet?
Like traditional nonstick cookware, cast iron can also provide excellent food release when it is well seasoned and used properly. Traditional non-stick pans are created by baking a polymer coating called PTFE atop a lightweight metal base.
PTFE is among the slickest substances known to man, so you will get better food release with traditional nonstick over cast iron. But the durability is much less with nonstick sets. Most nonstick cookware will wear out in under 5 years, while cast iron can last a lifetime. It can also be regularly seasoned to restore the best nonstick capabilities.
Nonstick skillets also have a limit on how much heat you can use with them. They are best used on medium heat. Any hotter and the chemicals start to degrade. Cast irons are much more durable, and some can even last to 500 degrees in the oven without breaking down.
You can get a full rundown of cast iron vs. nonstick and other cookware material options here.
What Does it Take to Season a Cast Iron Skillet?
One of the reasons you might be a bit apprehensive about purchasing a cast iron skillet is all the talk about seasoning it. What does that mean?
Seasoning is what causes the cast iron to have a slick black satin finish, created by oil that has been baked on to the pan to the extent that it changes chemical structure. This barrier prevents the raw cast iron from being exposed to oxygen through air or water.
To season a raw cast-iron skillet, you can follow these easy steps:
Clean the pan thoroughly with a thick brush and warm water. Dry completely with a soft towel.
Apply a very thin layer of cooking oil to the skillet, and make sure every part of the pan is covered
Place a baking pan on the bottom rack of your oven to catch any dripping oil, then place the skillet in the oven upside down.
Turn the oven to 450 degrees and bake it for an hour.
The oil that didn't drip off into the cooking pan now is coating the surface of your skillet and will provide a barrier until the next time you reapply the oil.
It is important to note that any surfaces of your cast iron that are coated with enamel do not need to be seasoned.
What Does it Take to Clean a Cast Iron Skillet?
Cleaning a cast iron skillet really depends on the manufacturer's instructions. While a select few cast irons (mostly of an enameled variety) are dishwasher safe, most will need to be washed by hand.
Rinse the skillet in the warm water, and use the brush to scrub away any stuck-on food. Once that's done, dry the skillet with a soft towel. Once it is dry, rub a layer of cooking oil on it, then wipe it up.
If you're having trouble removing stuck-on food with this approach, it is ok to scrub with a non-abrasive soap as well. Some kitchens prefer scrubbing with sea salt and olive oil, using the texture of the coarse salt to strip food particles.
Other Things To Consider
If you are ready to buy the best cast iron skillet out there, then you'll need to consider a few things.
Be sure to look at the weight and the size of the skillet. Bigger and heavier doesn't always mean better, and a skillet that is too big and heavy can be hard to maneuver. A good indication of what size pan you need is to look at the diameter of your stove top burner and purchase a pan of approximate width.
Pour spouts are also a good thing to look for, as they can help you easily drain excess liquid and grease. Finally, take a look at the handles on the skillet, and practice getting a good grip on it before you bring it home. If you can't lift the skillet with both hands, then you might need to find a new one.
My Recommendation
Our pick for the best all around cast iron skillet is the Lodge 10.25" Pre-Seasoned Cast Iron Skillet. It's got everything that most kitchens need with no frills and a good price.
As you can probably deduce across all of our picks, Lodge has a great reputation that has stood over a century. They are made in the USA and offer excellent service to customers.
You will pay slightly more for the Lodge Chef Collection skillet, but for many owners it is worth the price increase in order to shave off a few pounds from the overall pan weight. The shallow angle of the side walls make it easier to cook flat or delicate items, but decrease the overall holding volume of the skillet. Consider pairing it with a cast iron dutch oven to keep your options open when braising, boiling or stewing.
We also love the Le Creuset Signature skillet for it's stunning design and color options. For our kitchen, we prefer raw-seasoned cast iron to enameled alternatives because of the better non-stick properties that we can achieve at a lower cost. But if budget wasn't a consideration, and maybe one day it won't be, I would love to add one to our collection.
Happy cooking!