I was born and raised in Jersey, yet I found myself living in Texas for a short while. The food was great, all around, but by far the best thing I tasted there were the tamales.
Now back in New Jersey, I pay an arm and a leg to have Texas tamales shipped to my doorstep. It may not be quite the same thing, but when I eat them, the experience is still (just shy of) religious.
From my own formative experiences, and with some helpful input from my Southern partner, I've assembled my "definitive list" of the absolute best sides to pair with mouth-watering tamales. If you want your tamales to shine as the central part of your dish, look no further.
And so we begin.
7 Temptuous Tamale Toppings
Guacamole
Guacamole is a delicious traditional Mexican side dish composed at its base of ripe avocados and salt. From there, you can add a squeeze of lime juice, diced red onion, tomato, peppers, cilantro, and other spices to your preference.
Chunky and thick guacamole compliments savory tamales of all flavors. Try out this thinned guacamole recipe if you'd prefer an easy to drizzle, saucy consistency!
Salsa
Salsa can be made in countless ways to suit everyone's tastes and suit every kind of tamale.
From fresh and chunky pico de gallo to compliment spicy pork tamales, to thin and spicy salsa verde for drizzling atop tamales stuffed with heat-reducing cream cheese, to fruit salsas to pile high atop sweet masa flour tamales, you can't go wrong with this side option.
Check out these ten different types of salsa to make at home, and you are sure to find one (or a few) to accompany whatever tamales you're craving.
Sour Cream
Before living in Texas, I always equated Mexican food to a heaping spoonful of sour cream. Cut to actually living there and realizing that sour cream isn't the only topping available, but that didn't entirely curb my love for the thick and tangy dollop.
Sour cream still pairs well with all kinds of tamales, especially if the tamales are spicy and you are not a fan of the heat. The high fat content in sour cream will coat your tongue and lessen the burn with each bite!
Mexican Crema
Mexican Crema is similar to sour cream, but it is thinner, with a lower fat content and less acidity. Because of its mild flavor, this sauce can be used with sweet, spicy, or savory tamales.
Mexican Crema is more common than sour cream for gracing tamales and other Mexican food in the South. It can be store-bought but is relatively simple to prepare at home.
You can simply thin sour cream with heavy cream and lime juice and let it sit at room temperature for a few hours, or follow this recipe to make the crema from scratch with buttermilk.
Cream Cheese
Often, you will find cream cheese inside your tamales alongside other ingredients like jalapeño, pork, chicken, or even blueberry and pumpkin! But if the tamales you are about to enjoy don't include cream cheese, you can absolutely add it as a side to your dish!
I am known for taking a bit from a block of cream cheese onto my fork, then digging into the tamale. But if you'd prefer a thinner consistency, you can whip softened cream cheese with small additions of cream or milk until it reaches your desired consistency.
Pro-Tip: Don't pass up an opportunity to add flavor! Consider mixing various additions into your softened cream cheese, like chives, minced veggies, jalapeños, or herbs!
Red Chili Sauce
You may have tasted red chili sauce before. It's the thing you'll find drowning your enchiladas in most restaurants. What you might not realize is that it's also a traditional sauce for dipping tamales.
The canned kind doesn't even compare to making it yourself at home, but either way, it will still be delicious on any savory tamale. If you'd like to make a large batch of this delicious and spicy sauce to keep on hand, check out this easy-to-follow recipe!
For those in the South, this sauce is as prevalent as ketchup. Not only will this be delicious on top of your tamales and other Mexican dishes, but think atop a baked potato, scrambled eggs, rice and beans, etc.
Ranchero Sauce
Ranchero sauce is similar to red chili sauce but with a tomato base. The addition of tomato will dilute the heat some, and the smoky flavor pairs great with all savory tamales.
Ranchero sauce includes cumin, which lends a smokey flavor profile instead of a spicy flavor like in the red chili sauce. As a result, it is milder than red chili sauce yet spicer than a fresh pico de gallo salsa.
If you'd like to make this sauce at home, this is an excellent recipe for homemade ranchero sauce.
7 Spectacular Tamale Side Dishes
Rice and Beans
There are many possibilities to change up a side of rice and beans to fit your preferences and perfectly complement your tamales.
You can choose either black beans, pinto beans, or my favorite, red kidney beans in sauce.
Pair that with either white or brown rice prepared to your taste. Consider additions like cilantro and lime or tomato sauce and spices to create Spanish rice. Sautè veggies that you have on hand, like onions, peppers, or corn, to bulk up the rice and beans even more. 
No matter your favorite way to eat rice and beans, they are a traditional, simple, and delicious side to serve with savory tamales.
Avocado Salad
Avocado salad can be as simple as guacamole ingredients with chunked avocado instead of mashed. Ripe avocado chunks, diced tomato and red onion, cilantro, lime, and spicy peppers for added heat.
If you'd like to really impress, you can add crumbled queso fresco, Mexican Crema, or a drizzle of good olive oil.
This recipe will walk you through exactly how to create a delicious avocado salad to pair with your tamales.
Jicama Slaw
Jicama is a Mexican root vegetable with thick skin and a consistency similar to a potato or turnip. They have a mild flavor with a texture reminiscent of a cross between a potato and an apple.
Jicama slaw is a light side and delicious alongside savory tamales. The bright and fresh flavor and the snappy crunch offset the softer, more mushy texture and bold flavors within savory tamales.
Here is my favorite recipe to serve with tamales because of the addition of cilantro, which pairs exceptionally with the Mexican flavors in tamales.
Mexican Street Corn
Mexican Street Corn, otherwise known as Elote, is in the running for my all-time favorite side to serve with tamales.
Grilled corn slathered in mayo, sprinkled with sweet and smokey chipotle, cilantro, lime, and cotija cheese continues the Mexican flavors from the tamale throughout the entire dish to create a mouth-watering and satisfying meal.
This is an excellent recipe for Mexican Street Corn that I have referenced before and will continue to fall back on. If you haven't tried this side dish yet, I highly recommend adding these ingredients to your shopping list to taste it ASAP.
Fried Eggs and Salsa
Tamales are not only enjoyed for dinner; you can eat them for breakfast as well. If you are looking for a side to accompany breakfast tamales, you can't go wrong with fried eggs and salsa.
I prefer fried eggs, over easy or medium, to other preparations because dipping the tamale into a runny yolk is a game-changer.
You can make any of the salsas linked earlier in the article, the red chili sauce, ranchero sauce, or guacamole alongside the eggs and tamales as well!
Tortilla Chips and Salsa or Queso
In New Jersey, the default side dish for most meals is french fries. When I lived in Texas, I realized that the most common side was tortilla chips served with either salsa, guacamole, or queso.
Tortilla chips are an exceptional pairing for tamales because the difference in textures balances the dish without overpowering or outshining the tamales.
If you're in a pinch and need a quick side, you can find tortilla chips and queso already prepared at the grocery store. However, tortilla chips are deceptively easy to make at home and so delicious that you will be hard-pressed to return to store-bought once you have them.
Here is a tortilla chip recipe that I like to reference, and I often will add a heavy handful of coarse salt and a squeeze of fresh lime juice while the chips are still hot.
Depending on preference, you can pair your tamales and tortilla chips with white queso or yellow queso. Check out this easy yellow queso dip; if you like your dips spicy, feel free to add more chilis to the recipe!
Jalapeño Cheddar Cornbread
Cornbread adorned with spicy jalapeño peppers, and sharp cheddar cheese is delicious when paired with savory tamales for breakfast, lunch, or dinner.
You can make this side entirely from scratch or whip it up quickly using some prepared ingredients. Here is a tasty recipe for fluffy jalapeno cheddar cornbread.
Possible tweaks would be to use boxed cornbread mix as your base, and once the batter you have prepared the batter, stir in your chopped jalapenos and cheddar cheese.
Shredded cheddar will melt into the bread, while chunks will create small pockets of scrumptious molten cheese.
Fresh jalapeños will have a slight toothsome texture left to them. I like to use pickled jalapeños to cut some of the heat while adding an almost sour vinegary bite that perfectly juxtaposes soft and mellow tamales.
Arroz Con Leche – Rice Pudding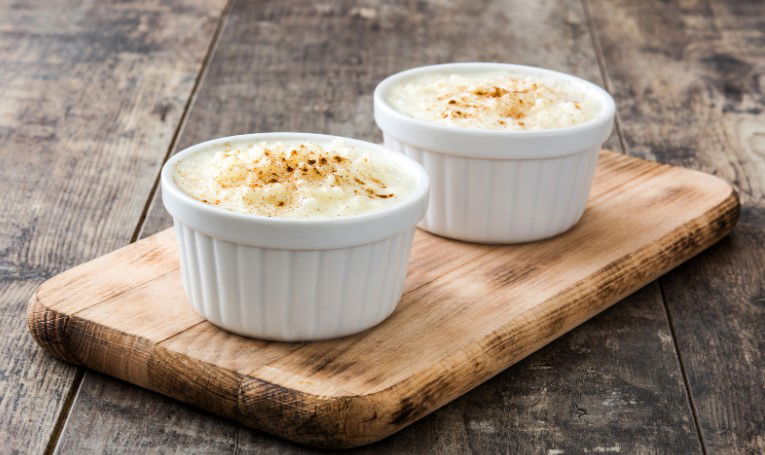 If you plan to enjoy a sweet variety of tamales, the perfect side dish is Arroz con Leche. Arroz con Leche is a Mexican rice pudding that's creamy with a kick of cinnamon.
This recipe is perfect for when leftover white rice is taking up space in the fridge!
Sweet tamales are often made with cinnamon, dried fruits, and nuts, which pair seamlessly with this versatile and slightly sweet rice pudding.
Frequently Asked Questions
Are tamales a main dish?
Tamales are versatile and can be a main dish or a side dish. If you'd like your tamales to be the star of the show, pair them with any of the sides mentioned in this article!
What sauce should I eat with tamales?
You can top your tamales with guacamole, sour cream, and Mexican crema, but the most popular tamale sauce is a red chili sauce.