Chicken piccata is a dish that alights all of your taste buds. Briny capers, tart lemon juice, creamy butter, and bright white wine combine to make a truly delightful dish.
Are you looking for a side to complement and highlight your chicken piccata meal?
Check out these 7 perfectly paired sides. They're so simple and versatile that you can probably whip them up with ingredients you already have in your pantry.
7 Versatile Sides That Compliment Chicken Piccata
Lemon Garlic Pasta
Pasta seems like a no-brainer when thinking of sides to accompany your chicken piccata. The beauty of this side dish is that you can use whatever kind of pasta you have on hand.
The lemon and garlic flavors are bold and vibrant and will brighten the flavor of your chicken piccata.
Long, thin noodles like linguine, fettucini, angel hair, and spaghetti are more traditional classics. They'll hold on to your piccata sauce, whether it's a loose wine-based sauce or a thick and creamy one.
If all you have on hand is penne, cavatappi, or another short noodle, don't worry, your meal will still taste out of this world.
Follow this Fast and Easy Lemon Garlic Pasta recipe for a no-time-at-all kind of side dish, where the most intensive step is boiling the noodles.
Buttered Herbed Rice
Perhaps you'd rather opt for rice over pasta with your chicken piccata? Buttered and herbed rice is simple to make and tastes delicious when drowned in piccata sauce.
I like to use leftover white rice in this recipe to make it even faster, but you can steam and use fresh rice if you'd like.
Try making this Buttered Herbed Rice for yourself, and you'll be serving it alongside your chicken piccata every time. It may even become a dinner staple every week.
Pro Tip: Although the recipe calls for basil, parsley, and oregano, feel free to use whatever fresh or dried herbs you have on hand. You can't go wrong here!
Simple Tossed Salad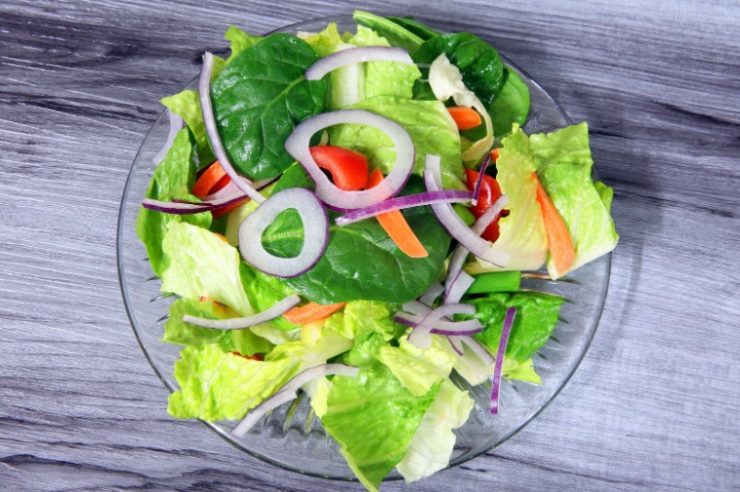 Sometimes you want a light side because you know you'll want to fill up on all that chicken piccata goodness.
For those instances, try serving a simple tossed salad on the side. The varieties of these are endless.
You can throw in whatever veggies and greens you have on hand, toss it with your favorite dressing, and you're set. Don't have any dressing? A little olive oil and vinegar is always a great and simple option.
Check out this step-by-step for a Simple Tossed Salad and other ideas for substitutes you can use to customize it to your family's preferences.
Crispy Smashed Potatoes
Salty potatoes with crispy edges and a soft center that you can use to mop up all that piccata sauce. Need I say more?
Oh ya, they're also incredibly easy to make.
These Ultra Crispy Smashed Potatoes are buttery and finger-licking good. And, since they're adored by children and adults alike, you'll be an instant dinner-time hero.
Roasted Asparagus
Roasted asparagus can be as simple or complex as you'd like. Toss the spears in olive oil, salt, and pepper. Then roast until tender when time and creativity are running low.
And when time is on your side, try adding caramelized onions, shallots, or leeks if you have them. Or maybe a squeeze of citrus or a drizzle of balsamic glaze to dress them up.
It doesn't matter if your chicken piccata has a wine or cream-based sauce; either one will pair perfectly with the delicate flavor of roasted asparagus.
If you'd like a step-by-step for roasting asparagus, this simple guide will give you confidence and quickly elevate your entire meal.
Green Bean Almondine
Green Bean Almondine is a deceptively simple dish that's elegant and a classic for a reason.
This simple and fresh dish is an excellent accompaniment that plays well and won't compete with chicken piccata's rich and briny taste. And the slivered almonds add a crunchy bite of texture to the whole dish.
Follow along with this Best Ever Green Beans Recipe, and add this simple side dish to your weeknight repertoire.
Pro-Tip: I like to double the recipe, cook it in a dutch oven, and serve the chicken piccata on top of the finished green bean almondine. The presentation is beautiful, and it's simple to scoop and serve at a party. 
Pillowy Soft Dinner Rolls
You don't have to make your own dinner rolls by hand. But, you've got an extra hour, I would highly recommend it.
There's nothing better than dragging a warm-from-the-oven dinner roll through the leftover piccata sauce on your plate. I'm serious; it tastes like a little slice of heaven.
Once you realize how simple these are to throw together, you might be serving them more often than you'd think.
And when you don't have the time, any store-bought dinner roll or crusty bread will be (almost) just as tasty alongside your chicken piccata.
If you'd like to try your hand at 1-Hour Soft and Buttery Dinner Rolls, you definitely won't regret it.
Frequently Asked Questions
What wine goes best with chicken piccata?
A buttery Chardonnay is a great wine to serve with chicken piccata because the flavors compliment each other without competing. 
Is chicken piccata actually Italian?
Chicken piccata is an Italian-American dish. Its roots are Italian, but it was created in America.