You've probably seen the commercials. Starfrit is a "made for TV" brand that has been around since the 1960s. They are proudly Canadian and built on the idea that if you see a product demonstration then you are likely to buy it.
The Rock cookware line is a recent innovation by Starfrit, which mostly focused on novelty kitchen products previously. On this website we've found that many television promotional pans are just plain bad, so we wanted to explore how this pan stands up to its advertising claims in our Starfrit The Rock review.
Starfrit The Rock 10-Piece Set
The Rock by Starfrit is our bargain pick for ceramic non-stick cookware collections. We really like it for the price because of the design and durability compared to similarly priced competitors. For most owners, it does require some oil to unlock true non-stick ability, but overall the quality is really high. Especially for the price. There are some light, but meaningful for some kitchens, upgrade options available atop the base model.
We may earn a commission if you make a purchase, at no additional cost to you.
What we like
Exceptionally durable for the price.
Very affordable.
Well-designed practical use pieces included.
What We don't
Not for use with high heat.
The ads say it's "dishwasher safe," but the care instructions recommend against it.
The induction compatible version is available, but does cost more.
A Quick Background

: Starfrit The Rock Cookware

The Rock by Starfrit is a collection of ceramic non-stick cookware that is designed in Quebec and manufactured in China. The patented design is sleek and attractive, particularly when purchased with the stainless steel handle option.

The pans are constructed of a 4mm thick forged aluminum base, so they are quite strong without being heavy. A modified Quantanium non-stick coating called Roc.Tec is applied to the cook surface of the pan. Both riveted stainless steel handles and bakelite handles are available, and glass lids are standard.

The company claims the non-stick finish is ultra-durable, and backs it with a 10 year warranty. Like many brands they also say the pans are oven safe, dishwasher safe, and scratch resistant to metal utensils. The non-stick coating is advertised as having unparalleled food release properties.

Let's explore those claims and more.
Buyers Guide: How To Choose The Right Pots & Pans
We spent hours sorting through product info, patent filings and online Starfrit The Rock reviews by owners to see how these pans really stood up to the brand's claims in real kitchens.
What is included in the 10-piece set?
This set includes five practical-use pieces and accompanying glass lids which are (mostly) available for purchase as individual pieces also,
11-Inch Deep Fry Pan with Lid

1.5-quart Saucepan with Lid

2-quart Saucepan with Lid
3-quart Saucepan with Lid
5-quart Stockpot with Lid
You can also purchase Starfrit's 8-piece set that includes all the same pots and pans, only with two fewer lids. The cost savings of the 8-piece set is marginal ($94.27), but it will save space in your kitchen storage. All pieces in the collection are highly practical for everyday cooking.
How does the non-stick perform?
Owners say that with light butter or oil the non-stick surface performs beautifully. Compared with other affordable ceramic non-stick brands it also has incredible durability. When something does stick it is easy to clean after cooking. Great performance for the price.
Does it work with an induction cooktop?
The Rock's classic pots and pans won't work on an induction cooktop. Fortunately, Starfrit does offer a materials upgrade to support induction via the Rock's Copper, Bi-Clad and Ceramic series. You will pay slightly more for the materials upgrade, but doing so is a must if you plan to use an induction cooktop.
What is Starfrit The Rock made of?
The Rock pans are made with a thick aluminum base, which is forged rather than cast. A non-stick enamel called Roc.Tec is applied to the cook surface. The non-stick coating leverages Whitford's Quantanium technology, which includes 3 layers of titanium ceramic. This layer is applied and then impacted with steel balls to create surface durability and contour.
Is The Rock safe to cook with?
The Rock cookware by Starfrit uses PTFE to coat the nonstick cooking surface. They do offer a PTFE-free ceramic version, but most of their products do include PTFE – a fact which isn't obvious in much of the advertising.
PTFE is one of the slickest substances known to science, which is why it is so popular for nonstick cookware. The material is inert and safe for human use, but not a great fit if pet birds are living in your home. You may have also heard PTFE called by the popular brand name "Teflon."
In the early 2000s, you may have seen news linking Teflon with health concerns based on the way it was manufactured at the time. The controversy surrounded chemicals used at the manufacturing facilities that were not present in the products being delivered to customers. These questionable PFOA chemicals have been taken almost entirely out of cookware production since 2013, and are not used in the making of Starfrit's cookware.
While experts say The Rock is safe to cook with, some kitchens prefer to steer clear of nonstick cookware altogether as a matter of caution. If this sounds like you, then cast iron or stainless steel cookware may be a good alternative.
Is it oven safe?
Yes, the stainless steel handles are oven safe to 450 F. If you buy a set with Bakelite handles, we do not recommend putting them in the oven. It's also important to make sure that the burners on a gas stove don't and damage or overheat the Bakelite handles.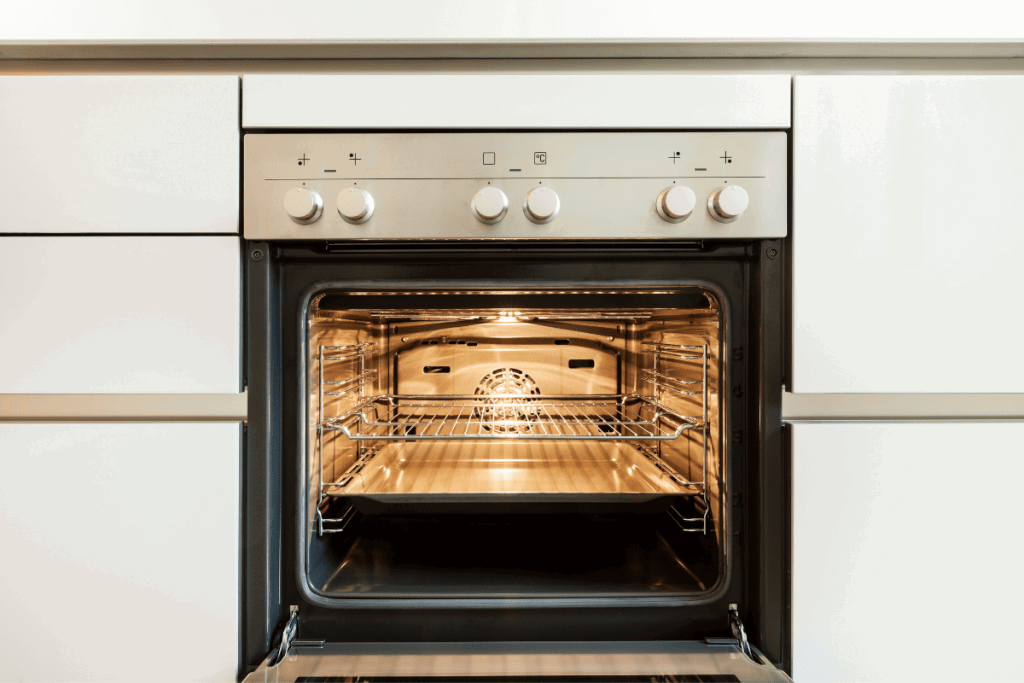 How durable are The Rock frying pans?
The chief problem with the ceramic non-stick cookware category, in general, is durability. And we've seen that this fact is especially true with many of the As Seen on TV brands. We were pleasantly surprised to discover that The Rock collection has an incredible lifespan compared to other competitors in its (bargain bin) price bracket. Even so, with regular use you will be likely to replace this pan in under 2 years.
Are they dishwasher-safe?
Although Starfrit The Rock frying pans are advertised as "Dishwasher Safe," the in-box instructions suggest that you don't place these pans in the dishwasher. We recommend avoiding the dishwasher wherever possible. High temperatures, hard water and chemical detergents are all common to automated dishwashers and can discolor or damage your pan.
How To Clean And Maintain
Building a few simple habits to treat your Starfrit pans right will go a long way toward maximizing their durability.
Let them cool down before cleaning.
Dropping a hot pan into water creates a rapid temperature change. The non-stick layers are created from different materials than the aluminum base. This means the base and coating will contract at different rates when cooling, which can cause the layers of the cookware to pull apart.
Wipe the cooking surface with a soft towel.
Once your cookware has cooled, wipe the surface with a soft towel or paper towel to remove any grease or residue. Usually you don't even need water, just a quick wipe down before storing.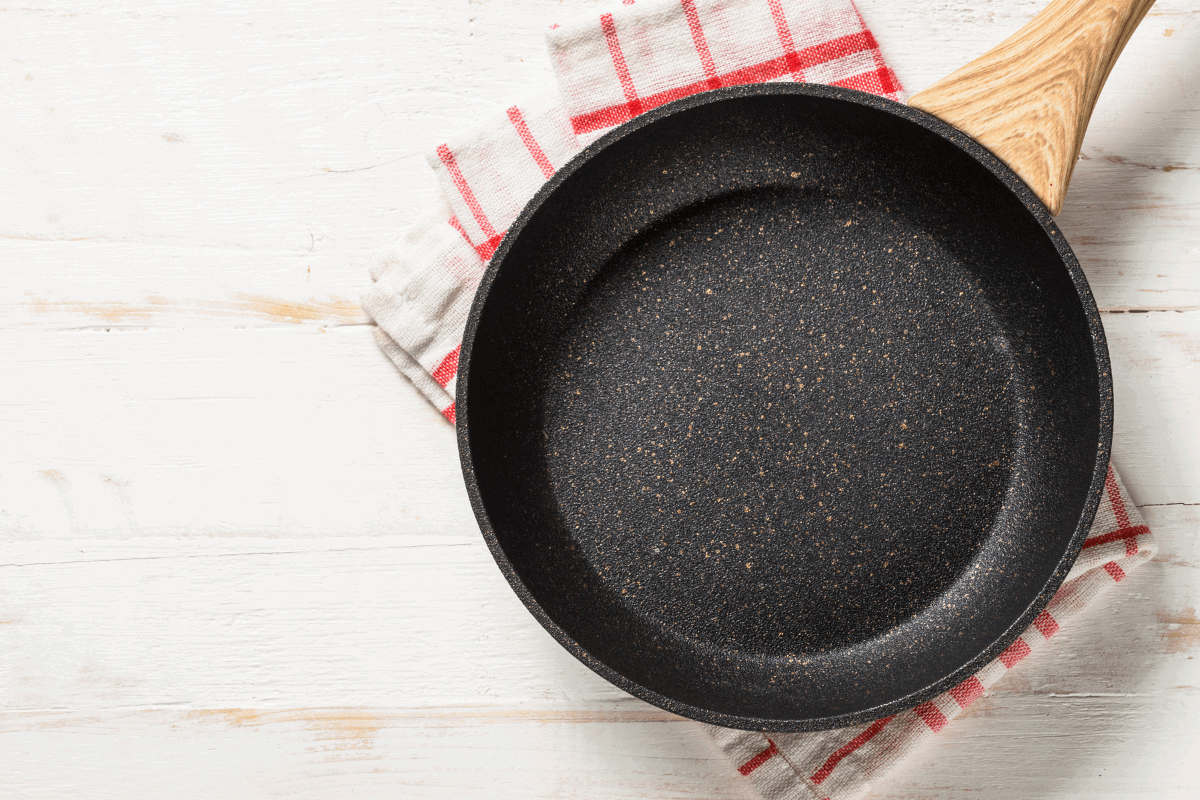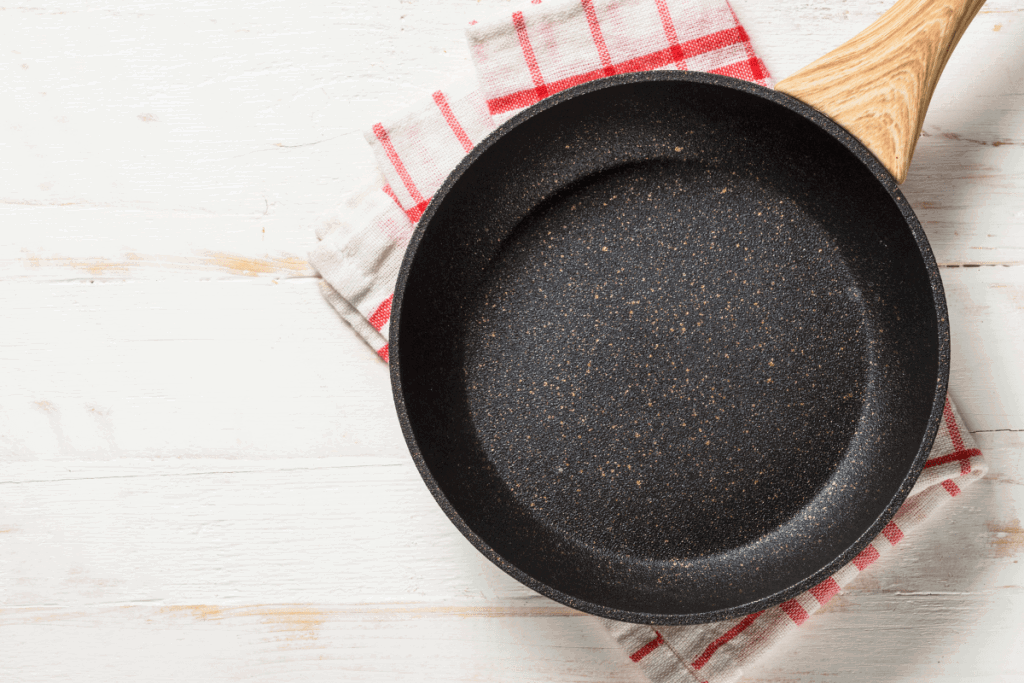 Don't store pans in a stack.
When you put your pans away, don't stack them. The friction created by stacking cookware often causes dents and scratches in the non-stick surface of the pans. Once the surface is scratched, it will continue to wear quickly.
Avoid butter and spray oils.
It is worthwhile to cook with high-heat oil. Fats that smoke at a lower temperature will tend to leave greasy residue on your pan which can be difficult to clean and can ruin The Rock's non-stick coating. Find a high-heat oil that works for you, and specifically stay away from butter and spray oils as your primary pan lubricant.
Who should buy Starfrit The Rock cookware?
If you're motivated to get a high ratio of value for the money, then The Rock by Starfrit may be for you.
The Rock certainly isn't the most expensive or top performing pan overall in the ceramic non-stick category, but owners review it head and shoulders above other low cost brands for both performance and durability.
If you're not ready to jump into the full collection, then you might consider the 9.5" Saute Pan and Lid as a starter. You wouldn't be the first owner to start with a single piece, and then upgrade to the full collection once they saw the results.
Competitors: How does The Rock Cookware stack up?
If The Rock by Starfrit doesn't seem like the right fit for your kitchen, here are a few alternatives to consider,
Scanpan
Scanpan Classic 11 Piece Cookware Set
Nonstick cookware that browns, braises, sears and deglazes.
Nonstick cookware that cooks with little or no oil. Safe, PFOA-free, and sustainable.
Nonstick cookware that is dishwasher and metal-utensil safe.
We may earn a commission if you make a purchase, at no additional cost to you.
If you are looking to upgrade materials, performance and durability, take a closer look at Scanpan. The Danish brand offers 10 lines of cookware, across a wide range or price points. We like the Scanpan Professional collection for our kitchen with it's sleek stainless handles and durable Stratinum non-stick coating. The extra cost pays off in performance and pan life.
Greenlife
GreenLife Soft Grip Ceramic Cookware
Cookware set includes: 4" mini frying pan, 7" and 9.5" frying pans, 1 quart and 2 quart saucepans with lids, 5 quart stock pot with lid, 2.5 quart saute pan with lid, 7" stainless steel steamer, and 4 kitchen utensils
Our healthy and easy-to-clean ceramic nonstick coating is derived from sand and free of PFAS, PFOA, lead, and cadmium for effortless cooking and quick cleanup
Soft Grip Bakelite handles are designed to stay cool on the stovetop for maximum comfort
We may earn a commission if you make a purchase, at no additional cost to you.
If you are hoping to add some color to your kitchen, GreenLife makes a good medium heat pan at an affordable price. The collection comes in 7 colorways, each with a softgrip Bakelite handle. The white pan bottom adds contrast between pan and food that can come in handy, especially when cooking in a dim kitchen. The sticker price is similar to T-fal.
DaTerra Cucina
DaTerra Cucina makes one of the most durable nonstick pans we reviewed. Pricing is generally more expensive than T-fal and most bargain ceramic cookware, but the performance and durability is far superior. We like the 13" Vesuvio frying pan by DaTerra Cucina for families with many mouths to feed. Unfortunately, they don't sell their cookware collection as a bundle so you will have to add each pot and pan to your cart individually.
My Recommendations
Starfrit The Rock pans are stylish and incredibly durable compared to other bargain-priced ceramic non-stick options. The pots and pans included in The Rock's 10-piece set are all practical for most uses. They are PTFE-free, PFOA-free, and highly scratch resistant.
If you are planning to cook on an induction cooktop, be sure to get a compatible set from the Rock's Copper, Bi-Clad or Ceramic series. You will pay slightly more for the materials upgrade, but it's a necessary expense if you want the pans to work on your induction stove.
The Rock's pan handles are available in both stainless steel and Bakelite materials. Our strong preference is stainless steel, especially if you plan to use the pans on a gas stove or in the oven.
The verdict of this Starfrit The Rock review is that it's an awesome entry-level set for the money.
We may earn a commission if you make a purchase, at no additional cost to you.
Does Starfrit the Rock have PTFE?
While Starfrit does offer a ceramic PTFE-free version of the Rock, most of their products do contain PTFE. We found that the product labeling can be confusing, or in some cases misleading, so be sure to look for explicitly stated "PTFE-free" if that is a dealbreaker criteria for your kitchen.
How long will The Rock Pans Last?
This ultimately depends on how well you treat your cookware. While nonstick pans can be incredibly convenient, they slick cook surface also tends to be quite fragile. Although there are exceptions, it's common for the nonstick property of PTFE pans like the Rock to deteriorate in 2-5 years. Sometimes sooner.
What is the best type of Nonstick Cookware?
At the moment, PTFE nonstick cookware is incredibly popular among beginner and intermediate home chefs. In most cases, our kitchen actually prefers carbon steel and cast iron. While these two materials aren't always "magic out of the box," they are affordable, very nonstick, can last a lifetime and generally get better with time.