In the world of nonstick cookware, it's hard to tell what features are really useful and what ones are just clever marketing tools.
When Gotham Steel cookware started showing up at Walmart and a few local grocery stores, we decided it was time to bring their products into our Test Kitchen. We did this as part of our broader search to find the best nonstick cookware.
In this writeup, I'll share my experience and cover the following:
My thoughts on how Gotham Steel lived up to the brand's promises,
How the pan looks and feels (with lots of pictures)
A few things I wish I knew before I bought it
How to distinguish between the various sets they offer
Let's get into it!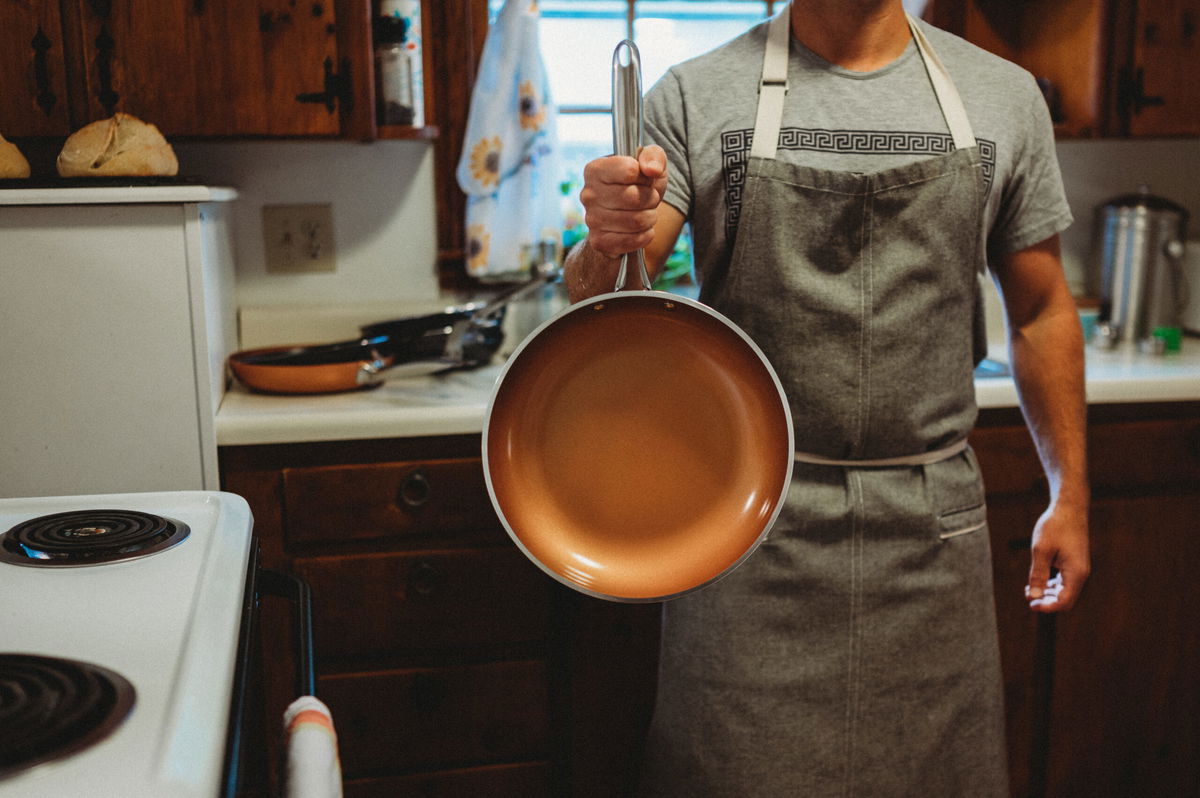 What we like
Good durability compared with other affordable options.
Nonstick ceramic coating is PTFE-free.
Sturdy stainless steel handles and rivets.
What We don't
Advertising hype is overblown.
Not compatible with induction cooktops.
Handles can overheat during use.
The Gotham Steel Pan
Gotham Steel's 9.5" ceramic nonstick pan is a great size for everyday use and a wide range of dishes.
Made with a unique copper-colored interior, Gotham Steel features a titanium enforced cooking surface that is durable and both PTFE and PFOA-free. The base of the pan is constructed from solid aluminum and can be used on all cooking surfaces except for induction.
Gotham Steel claims that their line of cookware is durable enough to be used with metal utensils, and to be so incredibly nonstick that the use of oil or butter is not needed when cooking.
What We Like
The Gotham Steel pan looks and feels like a high-quality pan, but is quite inexpensive. The durable PTFE and PFOA-free coating is oven and dishwasher safe, and adds to the versatility of the pan.
Inside a dishwasher is a pretty rough environment. Pots and pans are exposed to fluctuating temperatures, harsh detergents, and collisions with the other items being washed. Because of this, it's not a good idea to put your nonstick pan in the dishwasher every day. If you use the dishwasher sparingly then these pans can handle it, and that's better than many brands at this price.
The use of stainless steel riveted handles are an appreciated addition. Stainless steel is generally more sturdy and longer lasting than plastic or aluminum, and can handle high heat without any damage or discoloration.
This pan is easy to use and clean, and with such an affordable price tag, you won't be too upset when the nonstick coating inevitably fades.
What We Don't Like
As far as durability goes, many owners found that the nonstick coating on these pans became scratched after using metal utensils. We always recommend using silicone or wood utensils on any brand of nonstick cookware.
While it is technically "dishwasher safe," many owners reported that the nonstick function of the pan was diminished after repeated dishwasher use.
Gotham Steel's infomercials and demonstrations are certainly entertaining, but they can be a bit over the top. This leads to information that is a bit misleading and also impossible to live up to.
What To Know Before You Buy
Gotham Steel is an "as seen on T.V." brand and has gained some traction with the endorsement of Daniel Green, their celebrity chef spokesperson.
Gotham Steel developed a proprietary nonstick coating that they call Ti-Cerama. The cooking surface is supposed to utilize the strength of titanium for more durability and scratch resistance. With the use of TV infomercials, Gotham Steel uses over the top cooking demonstrations to tout the benefits of their cookware.
How Durable Is Gotham Steel?
They are not the best or the last pan that you will ever need as some of their infomercials suggest. But, they do offer some good functionality in a very affordable package.
Ceramic nonstick cookware has yet to match the durability or nonstick properties of Teflon. The useful life of ceramic cookware is often around one to two years. Gotham Steel pans fall right in line with that life expectancy, as long as they are treated well in day to day use. That means only using silicone or wood utensils and handwashing as much as possible.
Some owners have reported that the nonstick properties began to fade after only 6-8 weeks. Many of those instances do seem to indicate frequent high-heat cooking or dishwasher and metal utensil use.
Is the Gotham Steel pan safe to use?
The Gotham Steel pan does not use any PTFE, PFOA, lead, or cadmium in their nonstick coating. You don't have to worry about any leaching or fumes, even when you take the pan to its 500F maximum temperature. The presence of those chemicals in traditional nonstick pans is the reason that many households will opt for ceramic cookware as a healthy alternative.
Does Gotham Steel pan have Teflon?
There is no Teflon used in Gotham Steel pans. They are completely free from PFOA as well as PTFE. Teflon pans are generally more durable and nonstick than ceramic cookware. On the other hand they also contain chemicals that are potentially dangerous to our health and environment.
Are Gotham steel pans toxic?
There are no toxins to worry about in Gotham Steel cookware. Their ti-cerama coating is not made with any dangerous toxins or heavy metals. They are totaly free of PFOA as well as PTFE. Both of those compounds have been accused of possible negative health and environmental impacts.
How does Gotham Steel compare to other copper, ceramic and titanium pans?
It seems like there are more and more nonstick options available every day. Let's take a quick look at some of the competition and see where Gotham Steel lands.
Which is better: Gotham Steel or Blue Diamond?
Blue Diamond brand cookware falls into the same entry level or budget category as Gotham Steel. There are a lot of similarities when you look at the ceramic nonstick cookware that each brand makes.
Blue Diamond uses industrial lab-grown diamond dust in their nonstick coating. That special ingredient is what is supposed to make their pans exceptionally durable, as well as heat quickly and evenly. Switch titanium with diamonds and you are basically back to Gotham Steel.
Many owners of Blue Diamond note that the durability of the nonstick cookware simply does not live up to the wild claims made by the brand. On average it seems that their pans function relatively well up to around the one-year mark. That may seem short to some but it is actually pretty standard for entry-level ceramic nonstick cookware.
Both companies make some outlandish performance statements. With both brands operating in the budget cookware category, one must temper their expectations with such a purchase. Each pan functions as it should and also offers a similar life expectancy. Blue Diamond is slightly more expensive but doesn't really offer any additional useful features.
Which is better: Gotham Steel or Copper Chef?
Another made for T.V. cookware brand, Copper Chef produces eye-catching cookware that looks like it is made from copper.
Some owners have been disappointed by the fact that these pans are not actually solid copper. In truth they only feature a light infusion of copper in the nonstick coating. The copper that is contained in the ceramic-based cooking surface is supposed to improve conductivity. In day to day use the advantage here is negligible.
The feature that sets this pan apart from Gotham Steel is the addition of a stainless steel plate inside the aluminum base. This allows the cookware to be used on induction cooktops. A feature not regularly seen in ceramic nonstick cookware.
Offering solid nonstick ability and durability, these pans have lasted many owners more than one year of good use, but often less than two. As always, handwashing and the use of silicone or wood utensils will extend the life of your pan.
At a slightly higher price than Gotham Steel, the major benefit offered by Copper Chef is the induction useability. Whether that's important to you will be a major deciding factor here.
Which is better: Gotham Steel or Red Copper?
Red Copper cookware is incredibly similar to the line by Gotham Steel. Red Copper claims the use of copper rather than titanium in their ceramic nonstick coating and features a red aluminum exterior.
The price for either of these pans is quite low and generally about the same. This goes for individual pieces as well as for sets. Durability and cooking performance is very similar as well.
At such a low price point, both of these brands offer good value as long as you know what to expect in terms of performance. That means ignoring many of the wild claims that are made in their infomercials. These are both good options for a first pan and for cookware that you know will need replacing in a year or two.
A Look At The Line
Since you can't buy the entire line of Gotham Steel cookware individually, we'll look at what comes with the various sets available.
The Gotham Steel fry pan is the company's most popular product, and is often the primary feature in their late night infomercials.
The fry pan is a good size that will perform a variety of tasks well. If you are interested in trying the brand out, this is definitely a good way to test the waters.
Gotham Cookware Set
Buy Now
We may earn a commission if you make a purchase, at no additional cost to you.
11/30/2023 04:42 pm GMT
A good starter set with many of the most used pot and pan sizes, along with glass lids. Each pot and pan in this set features the same Ti-Cerama nonstick coating and solid aluminum base. The lids are tempered glass with a small vent hole and stainless steel handles. The steamer insert is aluminum and does not have a nonstick coating.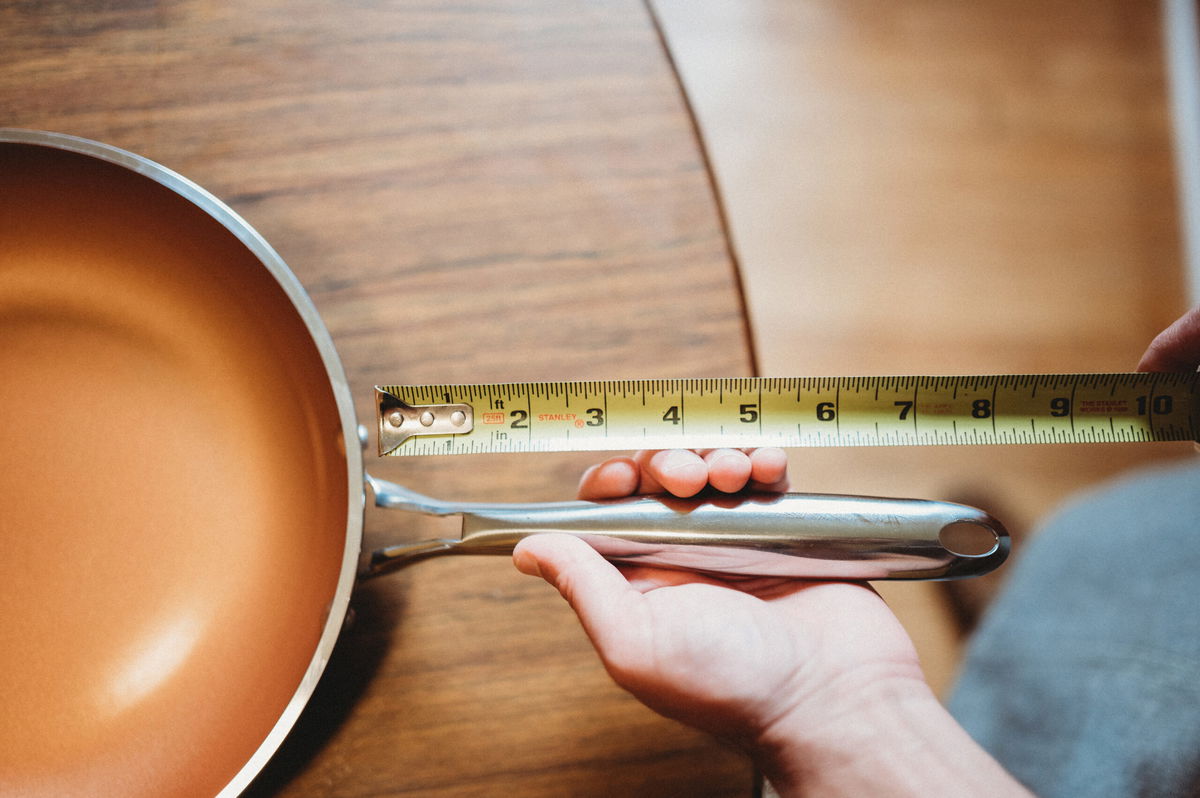 The 10-Piece set includes:
5-quart pot with steamer insert and lid
2.5-quart saucepan with lid
1.5-quart saucepan with lid
10.5" fry pan with lid
8.5" fry pan
A 20 piece cook and bakeware set that offers a huge range of pieces, and is called the "kitchen in a box". The bakeware that comes with this set also features the same nonstick coating as the rest of the cookware.
If considering a set of this size it would be a good idea to test drive one of their pans first. That will give a good idea of the set's performance before making a commitment to such a large number of pieces.
The cookware + bakeware combo set includes the same items as the 10-piece cookware set, plus:
9.5" square shallow pan
6.5-quart deep square pan with lid, fry basket, and steamer tray
9.5" square baking pan
Cookie sheet
12-cup muffin pan
9"x13" baking pan
Round cake pan
My Recommendation
If you're looking for an entry-level nonstick pan that does not contain any controversial chemicals like PTFE, then this is a solid option to consider. It does require some oil or butter to unlock the best nonstick performance.
The infomercials and demonstrations by Gotham Steel actually do a disservice to the cookware. By making such lofty claims about the durability and performance of the pan, many people come away with unrealistic expectations. Also, if you were to treat your pans the way they do in the advertisements you will greatly decrease their nonstick performance and lifespan.
These pans are very affordable and functional for an entry-level ceramic nonstick option. The nonstick properties are pretty good as long as proper care is taken when cooking and cleaning (avoid metal and abrasive cleaners).
If you're ok getting one or two years out of an inexpensive product, then there's nothing wrong with the Gotham Steel pan. As far as investing in an entire set, I would recommend a test run first.
Take a look at the pan for yourself!
FAQs
Why is food sticking to my Gotham steel pan?
If you're experiencing food sticking to your Gotham Steel pan, the problem may be that you're using too much heat. Not only will a lower cooking temperature help to prevent this issue, but it will also extend the lifespan of your pan. As with any nonstick pan, the slick cooking surface of the pan will also diminish with use or abuse.
Is Gotham Steel made in China?
Yes, like most nonstick cookware Gotham Steel pans are manufactured in China. If you are looking for cookware made in the USA, you're more likely to find quality stainless steel and cast iron options.
Is cooking with Gotham Steel healthy?
Gotham Steel is manufactured without controversial chemicals like PTFE and PFOA, which have been linked to health and environmental problems.