Stainless steel cookware is one of the best choices when it comes to durability and versatility in the kitchen. It's the backbone of professional kitchens around the world, which is where I came to love and appreciate it as the ultimate multitasker.
While the pots and pans produced overseas are getting better and better, the American-made options are still considered to be the best of the best.
With over a decade of professional experience, I've picked the three best stainless steel cookware options made in the USA. I'll go into why they are still the gold standard when it comes to stainless steel, and if they're worth the high price.
Best Overall
All-Clad D3, Tri-Ply Stainless Steel Cookware Set
If you are looking for durable stainless steel cookware made in USA, we recommend All-Clad 10-piece cookware set that will bring your home cooking to the next level.
Buy Now
We may earn a commission if you make a purchase, at no additional cost to you.
12/01/2023 03:57 am GMT
Crafted in Canonsburg, Pennsylvania – All-Clad's flagship D3 line has been my go-to stainless steel option for years. I've become well acquainted with these pots and pans as they are mainstays in restaurants across the country. And, after using them extensively, they became mainstays in my personal collection as well.
But, these aren't strictly for the pros. The tri-ply stainless steel offers incredible cooking performance. Perfectly suited for any serious home cook.
The three-layer construction features a thick aluminum core, which quickly transfers heat from the base of the pan all the way up the sides.
The cooking surface and exterior are built from stainless steel. This adds incredible durability and also makes the cookware easy to care for.
All-Clad uses a unique handle design that has become a signature of the brand. They are built from solid stainless steel and feature a deep groove along the top.
If you're using them for the first time it may feel a bit strange. But, once you get used to them, you'll find that they offer a better grip than many other designs. Especially when it comes to tilting and pouring ingredients from a pan.
All of All-Clad's stainless steel cookware is oven safe up to 600 F. But it's important to note that their stainless steel lids are actually not technically rated for oven use.
If I could only choose one brand to stock an entire kitchen with, All-Clad would likely be it. Their build quality, performance, and simple functional design are top-notch.
But, what really keeps me coming back for more is that I've seen them take more abuse in a professional setting than any other brand, and they simply never fail.
What we like
Excellent construction and quality control
Fast and even heat distribution
Lighter than 5-ply options without sacrificing performance
What We don't
Stainless steel lids are not oven safe
Handwashing recommended
Best Value
USA Pan 5-Ply Stainless Steel Cookware
This USA made 5-ply stainless steel cookware is very easy to clean and safe to use. It provides durability and optimal heat distribution.
Buy Now
We may earn a commission if you make a purchase, at no additional cost to you.
12/01/2023 01:57 am GMT
USA Pan isn't exactly a household name when it comes to stainless steel cookware. But, their extensive line of bakeware is built for commercial use and has been used in professional kitchens for over 60 years.
USA Pan makes a huge range of bakeware but only one line of cookware from their facilities in Crescent, Pennsylvania. That does mean you are somewhat limited when it comes to the shapes and sizes available. But, the pieces they do make are well made and built from fully clad, 5-ply stainless steel.
Similar to All-Clad, USA Pan uses stainless steel for the cooking surface and exterior. This makes it durable and safe to use with any cooking surface, including induction.
But, the core of these pots and pans are made from three layers of aluminum rather than one. The extra layers of aluminum should help distribute heat slightly more evenly, but they also take a little longer to heat up and also to cool down.
The additional core layers also add a bit more weight to each piece. The added weight shouldn't be a deal-breaker, but it is noticeable when trying to flip and toss ingredients in a frying pan.
The stainless steel lids offer a very tight fit, and just like with All-Clad they do not technically have an oven-safe rating. The rest of the pots and pans however can be used safely in the oven up to 500 F.
USA Pan is a good option for a beginner's set that provides significant savings compared to the other USA-made options. But, the limited number of pieces and lack of products in stock, make it fairly clear that bakeware is their number one priority.
What we like
Less expensive than the other American-made options
Good heat distribution
What We don't
Very limited pieces available
500 F oven limit is lower than the competition
Best Upgrade
Viking Professional 5-Ply Stainless Steel Cookware
The Viking Professional series is designed for the serious home cook. This line features stay-cool handles, which are ergonomically designed to fit hands naturally to provide balance, leverage, and grip.
Buy Now
We may earn a commission if you make a purchase, at no additional cost to you.
11/30/2023 05:17 pm GMT
Viking is well known for its high-end cooking appliances that offer commercial performance for home use. And their stainless steel cookware aims to do the same thing.
They make pots and pans that are functional and durable enough to handle restaurant use, but with a refined look that will elevate any home kitchen. All this from their home in the deep south – Greenwood, Mississippi.
The construction of the Viking Professional line is similar to my USA Pan pick, but with more attention to detail and a better overall look and feel.
Once again, the interior and exterior of the pans are made from stainless steel and are safe to use with any cooktop, including induction.
The core is made up of three layers of aluminum. While this is the same as USA Pan, the Viking option seems to heat more evenly and completely eliminates hot spots while cooking.
The cast stainless steel handles are sturdy and very effective at staying cool during stovetop use. They also have an ergonomic design that makes them comfortable to hold and easy to move around a crowded stove.
The lids are also made from stainless steel. And while they can handle moderate heat in the oven, they should not be used up to the 600 F max like the pots and pans themselves.
As is the case with all three of my top picks, this 10-piece cookware set is dishwasher safe. But, handwashing is recommended in order to keep your cookware looking and functioning at its best.
The Viking Professional series is designed for the serious home cook, but it's also built to handle the demands of a commercial kitchen. So, while the initial investment is on the high side, you can trust that it will handle anything you throw at it and should last forever.
What we like
Very attractive and functional design
Some of the most even heat distribution around
Built to easily handle heavy use
What We don't
On the heavy side
Expensive
Runner Up: The New Kid On The Block Made In 5-Ply Stainless Steel Cookware
Made In is a new brand (started in 2016) that is making waves in the cookware industry. They are a direct-to-consumer brand so you won't find their pots, pans, or knives in any brick and mortar stores or on any websites other than their own.
Their stainless steel line is a fully clad, 5-ply model just like many of the other top options. And, while their pots and pans have yet to stand the test of time, they have quickly been adopted by several high-end restaurants and chefs.
This cookware isn't cheap, but the direct-to-consumer model does provide some savings for anyone interested in giving them a try.
Buyers Guide: Choosing The Best Stainless Steel Cookware Made In The USA
Construction: Fully Clad Or Bust
When buying stainless steel cookware, you generally have two options, fully clad or disc clad.
Disc Clad
Disc-clad options are built from a single layer of stainless steel on the bottoms and the sides. Then, a multilayered base, usually with an aluminum core, bonded to the bottom.
This provides good heat distribution to the bottom of the pot or pan, but heat is not effectively transferred up the sides.
Disc clad cookware is almost always less expensive than fully clad options and can offer some weight savings.
Fully Clad
Fully clad cookware, on the other hand, has multiple layers throughout the entire pot or pan. You will most commonly find these pieces made with a stainless steel interior and exterior, with an aluminum core in between.
The big advantage to this is that the core effectively transfers heat from the base of the pan all the way up to the rim. Leading to more even and sometimes faster cooking. It also adds durability as well as a higher price tag.
Fully clad options are much more common when you're dealing with stainless steel cookware made in the USA. And, is almost always preferred over the disc-clad variety.
What You Can Expect To Spend
When buying stainless steel cookware that's made in the USA, you are limited in the options available. And, you're basically required to buy fully clad options, which further adds to the high price tag.
My best value pick is one of the least expensive options that you're going to find. But, even their smallest, 8-inch frying pan is going to cost you over $50.
Upgrading from that to either All-Clad or Viking and you'll be looking at over $100 for that same small fry pan.
While the cooking performance and durability of those options are undeniable, it can make sense to downgrade to a less expensive disc-clad or imported option when it comes to things like large stock pots.
Since really large pots don't benefit as much from heat transfer up the sides, this can be a good place to save money over a top-of-the-line fully-clad option.
Product Quality
While this isn't always the case, the best stainless steel cookware that's made in the USA will offer unmatched quality and durability.
The US production plants of All-Clad, Viking, and USA Pan aren't small mom-and-pop shops. But, they are small enough that the products can be closely monitored and put through strict quality control measures
Since overseas production is often done as a way to save money and increase volume, there can be a sacrifice to quality control. Mass production is efficient and saves money, but it's also easier for imperfections or damaged products to slip through the cracks and make their way into your home.
All of my top picks come with lifetime warranties that protect against manufacturer defects but not regular wear and tear. Now, that has become fairly standard practice no matter where the cookware comes from.
But, many owners have found it much easier to get in contact with an actual human when dealing with US-based brands. Plus, they are notorious for standing behind their products and quickly replacing damaged goods.
Size & Types Of Pan: Build A Collection That You'll Use
American-made, stainless steel cookware comes in all shapes and sizes. Always try to think of the food you like to cook the most and choose pots and pans that you'll use often.
This can be especially important when you're paying the higher prices that come with the American-made options.
Cookware sets are a good way to go if you're not sure what you need but you want a solid cookware foundation. These options generally come with very commonly used pots and pans. Things like a frying pan or two, and a few different sized pots.
While you will get some cost savings by buying a complete set, it can be a pretty serious investment.
So, for me and anyone else without a huge budget, it can make more sense to build a collection one piece at a time. This is another reason that All-Clad is my number one pick, as they sell every one of their huge collection of pieces individually.
Building up your own collection also ensures that you don't end up with pieces that you won't actually use, and simply take up space in the cupboard.
Style & Design: There's No Wrong Answer Here
All of my top picks and most other American-made stainless steel cookware are functionally built. They all use ergonomic and sturdy handles, plus tight-fitting stainless steel lids.
So, when it comes to style and design, go with what you think looks best and will fit into your home kitchen.
Oven Safety: A Great Feature Of Stainless Steel
One of the easiest and most useful cooking techniques is searing a piece of meat on the stove, then moving it to the oven to finish cooking. You get a nice brown crust from the stovetop sear, then an evenly cooked interior from the radiant heat of the oven.
And, as you may have guessed, stainless steel is the perfect tool for the job. Since stainless steel cookware doesn't (usually) have a protective coating or non-stick cooking surface, it can handle high heat on the stove as well as in the oven.
You can almost always count on an oven-safe rating of at least 450 F from stainless steel pans. My All-Clad and Viking picks up the ante and allow you to cook in ovens all the way up to 600 F. Higher than most home ovens will even go.
Stainless Steel Care: It's Easier Than You May Think
Cooking with stainless steel can take a little practice. Taking care of it, on the other hand, is easy and straightforward.
Stainless steel cookware can be soaked and scrubbed till the cows come home. And, it's very difficult to damage unless you're using harsh, abrasive cleaners. I've even got an easy-to-follow guide to keeping your stainless steel cookware looking its best.
Most options are also going to be dishwasher safe. But, the harsh environment of the dishwasher can lead to discoloration and even corrosion in severe cases. So, handwashing is the best bet to get the most out of your pots and pans.
Stainless Steel vs. Nonstick: They're Two Different Animals
Stainless steel is incredibly durable and versatile in the kitchen. But, it can certainly take a little getting used to if you've never cooked with it before.
Preheating your pan properly and using the right amount of fat are just two of the things that will help provide a pleasant cooking experience rather than a sticky, burnt mess.
Non-stick options on the other hand are easy to use and are very forgiving. You can cook with very little, or even no fat, and food will still slide out of the pan. And, cleaning is usually a breeze.
But, non-stick options are much less durable, have lower heat tolerance, and can't produce the same sear as stainless steel.
Frequently Asked Questions
What Stainless Steel Cookware Do Pro Chefs Use?
This changes from restaurant to restaurant and chef to chef. But, the stainless steel cookware that I've found in more restaurant kitchens than any other is All-Clad. This is especially true when it comes to frying pans and small saucepans.
It's common for really large stock pots and rondeaus to be less expensive, disc-clad options. Those are items that don't benefit as much from the even heating of fully clad stainless steel.
This is also a great place to save money in the kitchen and is something I practice in my home as well.
What Type Of Cooking Is Stainless Steel Good For?
Stainless steel is one of the best kitchen multitaskers around. Once you're comfortable cooking with it, the possibilities are endless.
It's non-reactive so it can be used with any ingredients, and it can handle high heat so it's great for searing as well as low temp simmering applications.
What Are The Tradeoffs I'm Making By Choosing A Product Made In The USA?
There are two primary tradeoffs that you make by choosing USA-made stainless steel products.
One is that it's almost always more expensive than the options produced overseas. The other is that your options are much more limited.
All-Clad has an impressive catalog that includes every piece of cookware you'd likely ever need. But, that's just one of only a handful of options. And many of the others only make a limited selection of sizes and types of cookware.
Is Stainless Steel Safe To Cook With?
Stainless steel is one of the safest cookware materials around. It's non-reactive and non-porous. That means ingredients won't react with it and nothing will penetrate and get stuck in it.
The only possible concern is if you have a very severe allergy to nickel, as small amounts can be leached into food. However the amounts are very low and only occur under specific conditions.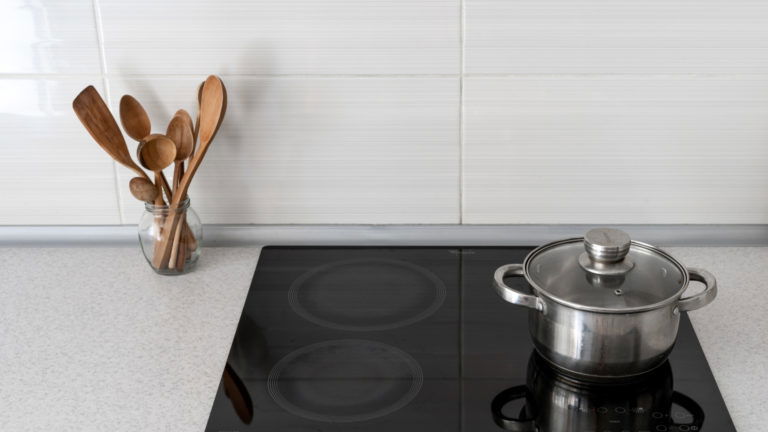 What Is The Best Way To Get Comfortable Cooking With Stainless Steel?
Practice, practice, practice.
It can also be helpful to use a little more oil than you normally would when you are just starting out. This will give you some wiggle room when it comes to food sticking, which is one of the most common and difficult obstacles to overcome.
Then as you become more comfortable and know when the pan is properly preheated, you can start decreasing the amount of fat that you use in the pan.
My Recommendation
We're not exactly spoiled for choice when it comes to choosing the best stainless steel cookware made in the USA. There are a handful of brands to choose from, but I think All-Clad stands head and shoulders above the rest.
While you can't go wrong with any of their stainless lines, I think their D3 cookware is the best choice for most kitchens. It offers the best balance of price and performance.
It's ultra-durable, heats evenly, and is available in the largest number of sizes. Plus, you can rest assured that you'll never outgrow it or need to upgrade.