A vacuum sealer isn't 100% necessary for sous vide cooking. But, the two machines are perfect companions.
I'm accustomed to using commercial vacuum sealers that are huge and cost thousands of dollars in restaurant kitchens. Luckily, we're now spoiled for choice when it comes to affordable and easy-to-use models that fit in a home kitchen.
But, sifting through hundreds of choices can be daunting and plain old annoying. So, I've done the heavy lifting for you. Using years of professional experience, I've picked the three best vacuum sealers to make sous vide cooking easier and more delicious.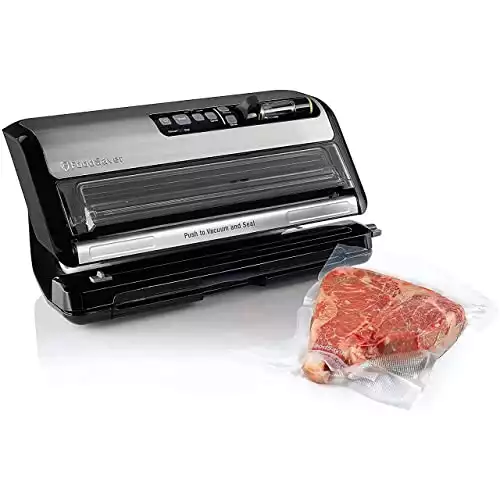 The FoodSaver FM5200 has everything you need to make airtight seals for more efficient and delicious sous vide cooking. Plus, the bag maker and storage system save you money while keeping you organized.
At first glance, this FoodSaver looks quite large. While it is one of the taller models, it actually has a slim profile that can easily be stored in a cupboard or pushed flat against the wall on a countertop.
The FM5200 provides some of the most consistent vacuuming and leak-proof seals around, which is what you should expect from one of the most well-known brands in the game.
One of the features I like most about this model is the vacuum view window. It's a simple feature that allows you to see the opening of the bag as it's sealed. This greatly reduces folded edges and partial seals that often lead to leaks and the need to reseal bags repeatedly.
The other feature that puts this model ahead of the competition is the bag maker. This allows you to neatly store an 11-inch wide vacuum seal roll and make bags of whatever length you need.
Simply pull the roll to the desired length and use the built-in bag cutter to make a perfectly straight cut. As you cut, the machine seals one side of the bag so they're ready to use right away.
This saves money over pre-made bags and allows you to tailor your bag size to your exact needs.
The FM5200 also comes with a built-in, retractable vacuum pump for special zipper bags and containers. And, the removable dishwasher-safe drip tray is a nice addition for easy cleanup.
The FoodSaver FM5200 offers excellent vacuum power and consistent, strong seals. Combine that with useful features that make your life easier and more organized, and you've got a model that's tough to beat.
What we like
The vacuum window helps with consistent, secure seals
The removable drip tray is dishwasher safe
Easily store, cut, and seal custom bags
What We don't
Somewhat expensive
On the larger side
The NutriChef vacuum sealer is a simple, budget-friendly option that looks good enough that you won't mind leaving it on your counter.
This model is straightforward and easy to use. But, as you might expect with a budget-friendly option, there aren't a ton of built-in features.
The design of this vacuum sealer is very appealing. It's flat and compact, with a stainless steel-looking finish.
The vacuum sealer is controlled by flat, touch-sensitive buttons located directly on top. The controls cover all of the basics, like "start", "stop", and "seal". Plus, there's an option for dry, wet, or delicate foods. Each provides more or less vacuum pressure.
The "gentle" setting is the only "special" feature that you get with the NutriChef machine. But, it is a useful option when it comes to sealing delicate foods like fruit, that you don't want to get smashed to smithereens.
For such an inexpensive option, it provides plenty of vacuum power and a good seal. That means you won't get spoilage or ice crystals in the freezer, or leakage while cooking sous vide.
For around $50, don't expect any fine-tuning controls or a boatload of features and gadgets. At the end of the day, it vacuums and seals just like many of the more expensive options, which are the most important features when it comes to sous vide cooking.
What we like
Very inexpensive
Attractive design
Simple, easy to use controls
What We don't
No removable parts for cleaning
For a vacuum sealer that can handle extremely heavy use, the Weston Pro-2300 is a great consideration.
This vacuum sealer is often marketed towards hunters who need to pack and freeze large quantities of meat. But, if hunting isn't your cup of tea, you can still count on a durable and consistent machine that can handle anything you throw at it.
Now, this vacuum sealer is large and heavy, almost 2-feet long and weighing 22-pounds. If you live in a small apartment or just have limited counter space you may have trouble finding a suitable place to use and store it.
The size is due to the large and powerful vacuum motor, plus a very large sealing tray.
These two elements allow you to use large bags, while still achieving impressive suction and a strong seal. Or, when it comes time to cook sous vide, you can line up several small vacuum bags and knock them all out in one go.
The sealing tray features a clear plexiglass top and a very large vacuum tray. This lets you clearly see what you're doing, so there's less chance of a folded or partial seal.
Even though this is a commercial-grade vacuum sealer, it's one of the easiest to use with the fewest settings to worry about. The controls consist of just three buttons; "start", "stop", and "manual seal".
If you only plan on cooking sous vide occasionally, this option may be a bit overkill. But, for anyone that needs a heavy-duty option that can handle a high volume, the Weston Pro-2300 has you covered.
What we like
Can handle heavy use
Sealing several small bags at once is a big help for sous vide
The large vacuum tray and simple design are very user friendly
What We don't
Expensive
Large and heavy, not for small spaces
Runners Up: Great Options For Special Circumstances
My top three picks would be a great fit for most scenarios and many home kitchens. But, I also know that everyone's needs are different. So, here are two additional vacuum sealers for sous vide cooking.
A chamber vacuum sealer is a different animal compared to most household vacuum sealers. These are what many professional kitchens rely on for sous vide cooking, storage, and more.
I've used this model and many like it in my professional career. And aside from quickly bagging large quantities of food for high-volume sous vide cooking, you can do a host of other neat kitchen tricks. Like speeding up the time it takes to make pasta dough, fermenting foods, or instantly infusing foods without even using a bag, just to name a few.
So, if you love high-tech kitchen gear and you have extra counter space that you're just dying to fill, this could be for you. But remember, this machine weighs close to 100-pounds, costs about $1000, and requires a thorough read of the (thick) instruction manual.
Anova won my top pick as the best sous vide machine for home use. So, it's no surprise that they make one of the best sous vide vacuum sealers to go along with it.
The incredible thing about the Anova precision vacuum sealer is how small and powerful it is.
This little machine weighs just over 2-pounds, and can easily be stored in a kitchen drawer, or tossed in a bag to use at a friend's house. This adds portability and convenience for those who don't have the counter space or won't be using it that often.
It's a perfect companion to the Anova Nano precision cooker or any other immersion circulator for that matter.
Buyers Guide: Choosing The Best Vacuum Sealer For Sous Vide
Type Of Vacuum Sealer: Understanding Your Options
Let's quickly explore the three primary options that you have when choosing a vacuum sealer for sous vide.
Hand Pump
This is the low-tech option for vacuum sealing and is typically used with zip-top bags that have a small, one-way air hole. The hand pump is similar to a small bike or ball pump and you simply pump the air out of the bag through the one-way hole.
These options are very inexpensive but don't produce a bag that is 100% sealed and water-tight. In my opinion, you're just as well off using an even lower-tech Ziploc freezer bag.
External Vacuum Sealer
My top three picks for best vacuum sealers fall under this category. An external vacuum sealer has a small motor that sucks air out of the bag and then applies heat to form an airtight seal. They are called "external" because the vacuum bag sits outside of the machine.
This is often the best choice for cooking sous vide at home. They're easy to use, don't take up much space (usually), and are available at any budget.
Chamber Vacuum Sealer
This is the type of vacuum sealer for sous vide that is generally found in professional kitchens. They're big, heavy, and very expensive. They're also designed for heavy use and can do a whole slew of nifty kitchen tricks that other options can't.
Vacuum Strength: More Power = More Speed
Vacuum strength changes from model to model and brand to brand. The general idea is that the less vacuum strength a machine has, the longer it will take to suck all of the air out of a bag.
So, you don't have to have a big, powerful vacuum motor like the Weston Pro. But, it will allow you to suck and seal more bags in less time, compared to smaller, less powerful models.
Type Of Bags: Convenience & Versatility
There are two main bag styles that you can use for vacuum sealing, 1) and sealed, or 2) bag rolls.
The premade bags are fast, convenient, and easy to use. But, you're also limited by whatever size bags you have, and they tend to be more expensive than rolls.
Bag rolls are open-ended rolls of plastic that can be cut and sealed to create whatever size you need. This option is less expensive and gives you the flexibility to make the size you need each time.
Bag rolls do involve a little more work. But, some models, like my top pick, do all the work for you with a built-in bag roll storage that cuts and seals.
Wet And Dry Vacuum Sealing
Most models can handle dry and moist foods. When dealing with liquids, you'll need to use a little caution so your bag doesn't overflow and cause a mess or gunk up your vacuum motor.
To avoid that kind of situation, you can fill bags half full, or you can stop the vacuum when you notice liquid reaching the top of the bag.
Or, if you prefer a more hands-off approach, my FoodSaver and NutriChef picks both feature "wet" and "dry" settings that will do the work for you.
A Perfect Companion For Sous Vide Cooking
Sous vide cooking can be done without a vacuum sealer. But, you can achieve better and more consistent results when you use one.
Flavor And Moisture Retention
Vacuum bags create an air-tight seal so that nothing can escape or enter the bag. That means there's no evaporation or moisture loss that takes place.
It also allows you to add spices and other flavors directly in the bag for effective flavor infusion.
Improved Submersion
Since vacuum bags are completely sealed, it means that they can be submerged without water entering. While Ziploc bags can be used in a pinch, they should never be submerged because water can easily enter the zip-closure.
Even Heating
A good vacuum-sealed bag should have all of the air removed before it's sealed. That means every inch of the food in the bag will have indirect contact with heat from the water bath. This is the best way to achieve the most even and consistent cooking results.
Prep & Storage
Whether you're cooking sous vide or just storing ingredients, a vacuum sealer is the best option around. Ingredients can easily be marinated and stored directly in the bag ahead of time. So, when it's time to cook, it's as easy as plopping the bags into your hot water bath.
Vacuuming sealing is also one of the best options for long-term freezer storage. By removing all of the air from the bag you can almost completely eliminate freezer burn. That way, when it's time to cook a steak from the freezer, it'll be in the same, high-quality condition as when it went in months ago.
What You Can Expect To Spend
Vacuum sealers for sous vide cooking are available for every budget. Starting at around $50 and going up into the thousands for professional-grade options.
Generally, the less expensive options will have smaller motors and fewer features and settings. Fewer features aren't necessarily a bad thing in my book, but these models also tend to take longer when it comes to the vacuuming process.
The $100-$300 range is a good place to look if you'll be using your machine on a regular basis. These models should have motors and components that can handle regular use. And, should be fast enough for any multi-bag projects that you may have.
Frequently Asked Questions
Is A Vacuum Sealer Really Necessary For Cooking Sous Vide?
No, sous vide cooking can be done with Ziploc-style bags. But, a vacuum sealer will make your sous vide cooking easier and provide better and more consistent results.
How Should I Use A Vacuum Sealer With My Sous Vide Machine?
Vacuum sealers are great when it comes to cooking meat or vegetables. Simply place your raw ingredients in a bag (preferable with a small amount of fat), and add any seasoning that you'd like. Then, vacuum seal the bag and place it in your hot water bath to cook.
Can I Use A Ziploc Bag Instead Of A Vacuum Sealer?
Yes, Ziploc freezer bags can be used instead of vacuum-sealed bags. But, you won't be able to get as much air out of the bags, and you also won't be able to completely submerge the bags in your hot water bath.
What's Better: Vacuum Sealer Bags Or Rolls?
Premade sealer bags are convenient and easy to use. If you know you'll be using a specific sized bag often, then these are really nice to have on hand. But, they tend to be more expensive and sizes can be limiting.
Bag rolls require a little more work on your part because you have to measure, cut, and seal the bag before filling. But, they're inexpensive and extremely versatile.
What's The First Thing I Should Make With A Vacuum Sealer For My Sous Vide?
Try cooking a steak (unless you don't eat meat of course). Add a little knob of butter and some fresh herbs in the vacuum bag, then dial in your perfect steak temperature on your sous vide machine. When it's done cooking, quickly sear it in a hot pan, on the grill, or even with a blow torch.
This is one of the best ways to easily see and taste the difference that cooking in a vacuum bag can have.
My Recommendation
For anyone that will be using their vacuum sealer on a regular basis, I think the FoodSaver FM5200 is the best way to go. It can handle heavy use and is loaded with features that will help keep you organized and save you money.
If you'll only be cooking sous vide on rare occasions, then it might not make sense to spend over $100 on a vacuum sealer that you'll be using once a blue moon. In that case, stick to the inexpensive NutriChef vacuum sealer, or even try out the Ziploc bag technique before buying anything at all.