I got my first taste of sous vide cooking in culinary school. We had a huge multi-compartment bath that we used to cook proteins and compare them to traditional cooking methods. I was blown away.
Then, I entered the restaurant scene at the perfect time. The technology was becoming widely available and it allowed me to get intensive hands-on experience.
Today, I'll be using over a decade of experience with the industry's best commercial sous vide machines. By the end, you'll know what to look for when shopping and how you can save money and improve the efficiency of any commercial operation.
Our Top Picks
Best Overall
The PolyScience Chef circulator is the complete package when it comes to commercial sous vide cooking. It was my "Best Upgrade" pick for sous vide cooking at home, but it really shines in a professional kitchen.
The Chef Series packs impressive power and accuracy into a very small and portable package.
The controls are incredibly easy to use. It's simply a matter of setting your desired temperature and you're off and cooking.
It's important to note that this model doesn't have a timer function, so you will have to use a separate device to keep track of cooking times.
The back-lit LCD display is large and easy to read from across the kitchen. It shows the current temperature and the target temperature so you know when the bath is ready and you can tell if the temperature drops when food is added.
Even in such a small package, this immersion circulator can accurately heat water baths up to 8-gallons with a maximum temp of 200 F.
The accuracy of the heating coil and durability of the water pump is what set PolyScience sous vide machines apart from the competition. With this model, you can heat very large baths and cook for days on end without overheating or temperature fluctuations.
And, if power is ever interrupted, this model will automatically restart at the last temperature, so product won't get ruined even if no one is around.
I've used this model extensively, with some recipes requiring 72-hours of continuous use. A testament to the accuracy and dependability of this machine.
What we like
Compact size is easy to store and bring to off-site events
Accurate heating to within 0.1F
Durable and dependable even for multi-day cooking tasks
Best Value
The Anova Precision Cooker Pro isn't technically a commercial unit. But, if you're running a smaller operation this pick is accurate, dependable, and will save you a big chunk of change.
The reason I put this on a commercial sous vide list is because I've used it in a small restaurant setting and it's never let me down. It's incredibly powerful for its size, and you can buy two or three of them for the same price as a commercial option.
So, for the same price, you can have multiple water baths going at the same time, each with a different temp. That can be a huge benefit during prep, or if you want to cook multiple different proteins during service.
For such a low price, you might think you also have to sacrifice performance. But that's not the case with the precision cooker pro. The tech-specs are right up there with the best of them.
The controls are simple and easy to use. There are touch-sensitive buttons on the unit, or the ability to control everything wirelessly from a smartphone through the Anova app. Plus, it has a built-in timer, which is the one thing missing from my top pick.
As the name implies, this thing is precise. It provides temperature accuracy to within 0.09 F. And, just like the commercial competition, it can cook continuously for a long time, up to 10,000 hours in fact.
The main thing keeping this option from being a true commercial unit is its potential for being less durable.
I know firsthand of PolyScience circulators that have been in use for over 10 years. But, I've also never had a problem with an Anova unit either. It simply hasn't been around long enough to stand the test of time and the torture of constant restaurant use.
What we like
Very affordable
Just as accurate and powerful as many commercial options
Compact, easy to store and transport
What We don't
Yet to be proven for long-term use in a commercial setting
Best Upgrade
PolyScience is back again as my best upgrade pick. Their Classic Serious sous vide immersion circulator is one of the original machines to be used in many best restaurants around the world.
Today's models have gotten smaller and sleeker. But, this unit is still the gold standard for accuracy and durability in professional settings.
The performance of the Classic Series sous vide machine is very similar to my best overall pick. It can handle water baths up to 8-gallons, has an auto-restart function, and has a dual-speed water pump for more precise circulation control.
The temperature accuracy of this model is just a hair better than the PolyScience Chef. It will maintain your desired temperature within 0.09 F rather than 0.1 F.
And while that won't make a difference in any real-world scenario, it's nice to know that you have the best.
The design and controls are two components that really set this machine apart from my other picks.
The overall look of this circulator is very industrial. It has an open metal cage at the bottom that lets you clearly see the stainless steel heating coil and pump. The entire cage can be quickly removed, making cleanup and maintenance very easy.
Controlling this model is done through a single rotating knob. This allows you to set the temperature as well as enter a "lock-out" mode so that the temperature cannot be accidentally changed while it's cooking.
There are also three preset functions. These can be set and saved with any temperature you like. A simple, but useful feature that allows you to quickly access frequently used temperature settings.
The PolyScience Classic may be in need of a modern facelift, but there's a reason it's been trusted in the best kitchens around the world for so many years. When it comes to temperature stability and overall durability, this model has no rival.
What we like
Accurate and stable cooking to within 0.09 F of your desired temperature
Proven to be incredibly durable in the most demanding kitchens
Removable cage makes cleaning easier than the rest
What We don't
Very expensive
Larger than many other options
Buyers Guide: Choosing The Best Commercial Sous Vide Machine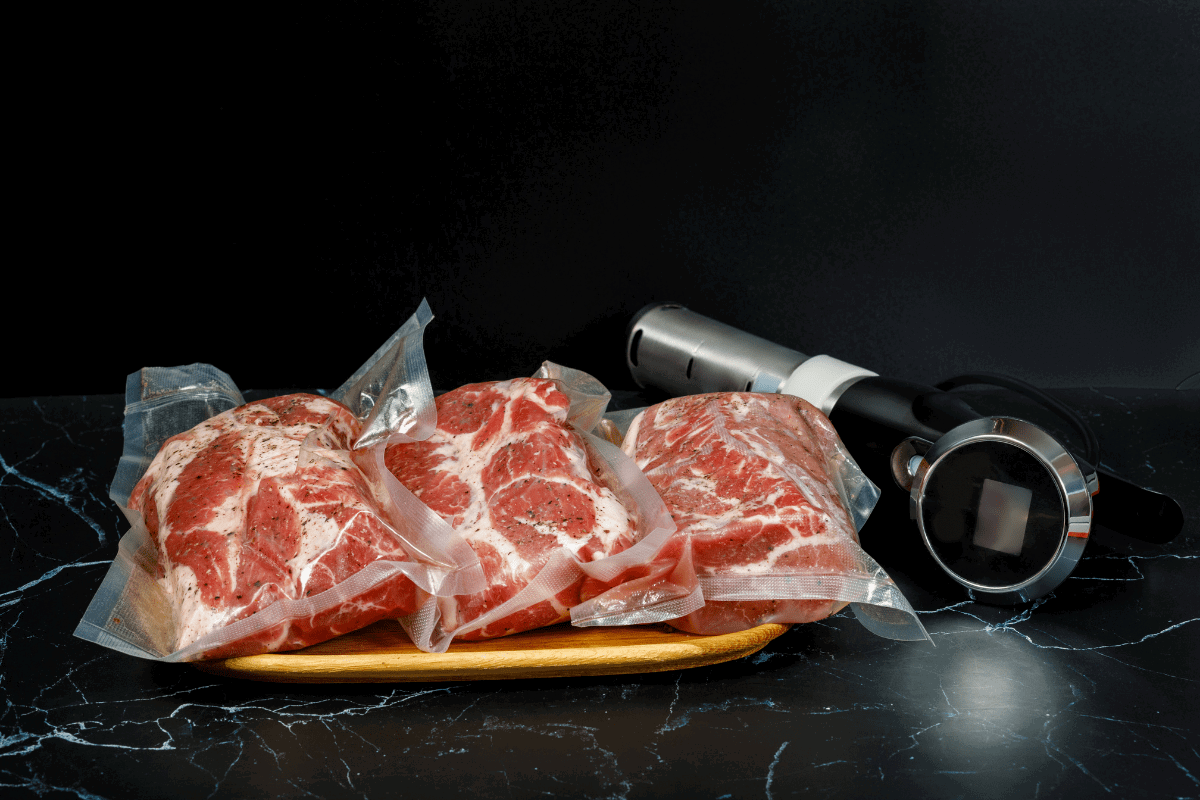 Type Of Cooker: How Does An Immersion Circulator Compare To Other Commercial Cooking Options
Immersion circulators are one of the best options when it comes to precision cooking. You can cook to exact temperatures, they're portable, easy to store, and inexpensive. Especially when compared to other commercial cooking appliances.
Water Oven
A water oven is another precision, sous vide cooking option. It's an all-in-one appliance that has a water reservoir, heating unit, and circulating motor all built-in.
A water oven can be just as precise as an immersion circulator, and it can be nice to have a dedicated machine ready to go at all times. But, these units take up a lot of space when they're not in use, and you're stuck with one size bath no matter what you're using it for.
Combi-Oven
The combi-oven is an incredible kitchen workhorse and can be one of the most important appliances in a commercial kitchen.
These ovens cook with a combination of dry heat and steam (hence the name). While they are generally not as precise as an immersion circulator, they can be used for a much wider range of cooking techniques, both wet and dry.
While you can cook vacuum bags in a combi-oven, there are a lot of limitations when it comes to low temp cooking. And, these models start around $5,000 but very quickly jump to $10,000 and well beyond.
Power, Wattage, And Speed: How They Affect Performance
The power and wattage of a sous vide machine is going to determine how fast it can heat water and how large a water bath can be.
Just about any commercial unit is going to fall between 1000 and 1200 watts. Anything lower than that, and you're probably looking at a household unit.
In this power range, you can expect small baths (3-5 gallons) to come up to temperature in around 15-minutes, and larger ones (around 8-gallons) to be about double that. Starting with hot water can help speed up those times.
These higher-powered machines also recover quickly from any temperature lost when cold ingredients are added to a bath.
Precision: It's What Sous Vide Cooking Is All About
Sous vide cooking is all about cooking ingredients to exact temperatures. Even inexpensive home units are often accurate to within 0.1 F. So, if you come across anything less accurate than that, look elsewhere.
When it comes to temperature ranges for immersion circulators, most units are very similar. There aren't really any cooking tasks that happen below 100 F, and that's about where most models start.
For max temperatures, most options get up to around 200 F. Anything higher than that and you're just as well off using a pot of boiling water or a combi-oven.
Compatible Containers: They're Probably Already In Your Kitchen
If you need a good container for sous vide cooking, take a look in your walk-in. Hopefully, your shelves are lined with cambro food boxes. Not only are these the perfect container for sous vide cooking, but they're the best option for keeping your walk-in clean and organized.
You can also get 8-gallon versions for large cooking tasks, or these 3-gallon containers for smaller jobs.
Controls: Keep It Simple
The control panels for immersion circulators should be incredibly simple. All you really need is to set the desired cooking temperature.
The PolyScience Classic machine has my favorite control pan. Everything is set and controlled by a single rotating knob, making it faster to set than any other option.
An easy-to-read back-lit or LED display is another important factor. The temperature should be easy to see at a glance even in low light situations or from across the kitchen.
It's common for home models to have wireless connectivity and control. The Anova Pro is an example of that feature. While this probably isn't a huge priority in most commercial settings, it is nice that the Anova App will alert you when a cooking project is complete.
Vacuum Sealer: The Perfect Sous Vide Companion
I won't say that it's 100% necessary for commercial sous vide cooking, but it's pretty darn close.
A vacuum sealer makes bags totally waterproof. That means you can fit more items in a water bath and you don't have to worry about water seeping in and diluting or ruining food.
Plus, using a sealer is going to give you faster and more effective marination, and will make cooking much more consistent. Lucky for you, I've done the work for you and picked out the best commercial vacuum sealers for your sous vide cooking needs.
Care and Maintenance
Good sous vide immersion circulators should be durable and easy to maintain. Keep your machine clean and don't submerge the top control unit for long periods of time and you should be all set for years of problem free use.
The only maintenance you'll regularly come across is cleaning the heating coil and any debris that can collect in the circulator pump.
The coil should always be wiped clean, and if you do get any buildup, you can simply run a cooking cycle in a bath of equal parts water and white vinegar.
Keeping your water bath clean and full of only water, is the best way to ensure your water pump stays working as it should. Every now and then, check the circular and remove any debris with tweezers or a toothpick.
What You Can Expect To Spend
For a true commercial-grade immersion circulator, plan on spending around $1000. That may seem a little pricey, but it's probably the least expensive cooking appliance that you'll find in a professional kitchen.
Or, if you won't be using it much and putting it through the wringer, try out the Anova culinary sous vide machine for just a few hundred bucks.
Frequently Asked Questions
What Is A Commercial Sous Vide Used For?
Cooking sous vide can be used in a huge variety of ways in a commercial kitchen, from bar uses, to savory, and pastry.
One of the most widely used applications is for cooking and holding proteins during service. This takes the guesswork out of meat doneness and also speeds up the time that food gets from the kitchen to the dining room.
It's also often used for precisely cooking eggs, which change drastically by just one or two degrees.
Would I Be Better Off With A Commercial Or Home-Use Sous Vide?
If it's for home use, you can definitely skip the commercial models. Technology has gotten so good that home sous vide models are just as accurate as professional ones and they cost a fraction of the price.
The primary benefit of commercial models is the increased durability, honestly more than you likely need at home. Plus, some have commercial use and sanitation certificates.
What Type And Size Of Cooking Vessel Will I Need?
The 4.5-gallon cambro food boxes are a perfect size for most common applications. You can also use just about any large pot instead, they just don't fit as nice and neat on a table or countertop.
I also worked in a restaurant that cooked 3-pound, bone-in pork chops sous vide. For that we had to use the much larger, 8-gallon models.
Is There A Cost Economy Or Value Add Benefit To Cooking With Sous Vide In A Commercial Kitchen?
Sous vide cooking can save money and add incredible consistency in a commercial kitchen. Since sous vide cooking is so precise, you can cook items perfectly every single time. That means no over or under cooking, leading to significantly less food waste.
It also frees up valuable space in the oven and on the stovetop. I've worked in kitchens that did not use sous vide cooking. There, it seemed like people were always fighting for cooking space in the ovens and on the stove.
What Happens If My Power Supply Is Interrupted?
Many commercial circulators, like my best overall and best upgrade picks, have a built-in auto-restart function. That way if power goes out for any amount of time, the machine will resume cooking at the last set temp as soon as power is restored.
That's an important feature that can give you peace of mind when cooking multi-day recipes and nobody is around.
My Recommendation
Adding a commercial sous vide machine to your operation is a smart move that can save you money and improve cooking efficiency.
The PolyScience Chef and Classic are tried and true options that have proven to be the most durable and accurate options on the market. They're on the expensive side, but it's a bargain when compared to most commercial kitchen appliances.
For a smaller operation or just one that won't be cooking sous vide very often, the Anova Pro is a good, less expensive option. And, it offers impressively accurate and powerful cooking performance.
Best Overall