My first job after culinary school was on the wok station in a busy restaurant in NYC. It was challenging, but I immediately fell in love with the versatile cooking tool.
Adding a wok to your kitchen is one of the best decisions you can make, but choosing the right one isn't always that straightforward. In this article, I'll share my years of personal experience so that you can feel confident in picking the right wok for your kitchen.
Our Top Picks
Features:

Durable construction
Available with a flat or round bottom
Comfortable, removable handle

Features:

Very inexpensive
Lightweight
No parts to break or replace

Features:

As much a piece of art as it is functional cookware
Hand-hammered carbon steel helps develop a better "non-stick" surface
Heirloom quality craftsmanship
Best Overall
Features:
Durable construction
Available with a flat or round bottom
Comfortable, removable handle
Best Value
Features:
Very inexpensive
Lightweight
No parts to break or replace
Best Upgrade
Features:
As much a piece of art as it is functional cookware
Hand-hammered carbon steel helps develop a better "non-stick" surface
Heirloom quality craftsmanship
11/30/2023 09:58 pm GMT
Detailed Chinese Carbon Steel Wok Reviews
Best Overall
Buy on Amazon
We may earn a commission if you make a purchase, at no additional cost to you.
11/30/2023 09:58 pm GMT
If you're looking for an all-purpose wok that can handle daily abuse, your search is over. The 14-inch carbon steel wok from Yosukata has everything you want in a cookware multitasker and nothing you don't. Plus, they have an option for any type of cooktop.
The Yosukata carbon steel wok is available in both a flat and round bottom configuration. A traditional round bottom will give you better cooking performance by concentrating heat in the pan's center and gradually dissipating up the rounded sides.
If you have a gas stove or a dedicated wok burner, a round bottom is the way to go. But, for anyone with electric stoves (induction included), the flat bottom option still offers impressive cooking performance.
The base of the handle is made from carbon steel and securely welded in place. Atop the steel base is a round, wooden grip that is very comfortable to hold and stays cool while cooking. The wooden grip fastens with screws which means it's easily replaced. You can also remove it temporarily if you plan to use your wok in the oven.
Directly across from the primary handle is a welded helper loop that provides excellent support for moving around the kitchen or as a hanging hook for storage.
The Yosukata wok comes with an initial seasoning layer, but the manufacturer recommends seasoning again before you begin cooking. The wok comes with an instruction manual that covers their seasoning process in detail, which will help you get started on the right foot.
All in all, this is among the best carbon steel woks, and offered at a very reasonable price. The construction is durable, the handles are comfortable, and the weight is well balanced. It's hard to go wrong with this choice, and having an option for any type of cooktop is just icing on the cake.
What we like
Durable construction
Available with a flat or round bottom
Comfortable, removable handle
What We don't
Needs to be seasoned even though it comes "pre-seasoned"
Best Value
Buy on Amazon
We may earn a commission if you make a purchase, at no additional cost to you.
12/01/2023 05:03 pm GMT
I've come across the Winco 16-inch carbon steel wok in multiple restaurant kitchens and there's a good reason why. It's inexpensive and light-weight. There are no parts to break or replace. And it's easily found in restaurant supply stores and online.
The Winco carbon steel wok is 2-inches bigger than my other picks, but it's also the lightest weight option. This is important in a restaurant when you may be using a wok for several hours in a row, but it's also something you'll appreciate at home.
The lower weight is a result of this wok's thin-gauge carbon steel construction. It's not flimsy by any means and will easily handle daily use. The thinner material can also be a great benefit when used on a standard gas stove.
Aside from the weight savings, a thinner carbon steel wok is going to get hotter, faster. Commercial wok burners are significantly more powerful than your home range. So, being able to get your wok rippin' hot on a standard stove definitely works in your favor.
The entire handle is one piece of carbon steel that is welded to the body of the wok. It's nice knowing that the handle will never come loose or need to be replaced, but it can also get very hot during long cooking sessions.
There is no helper handle on this model, but there is a hole in the main handle to hang the wok for storage.
Winco does not offer a flat bottom option, so you must have a gas range or wok burner for this choice.
In two very demanding kitchens, I have seen the metal on this model bend or tear. In both instances, the failure occurred at the welded joint, where the handle fastened to the wok's base. I'll emphasize that: on both occasions, the wok was severely over-filled and then lifted. And this was after several hours of continuous harsh cooking. You're incredibly unlikely to encounter a similar circumstance at home.
At such a low price, this is an excellent, no-frills wok that should be able to handle the abuse of a home kitchen with no problem.
What we like
Very inexpensive
Lightweight
No parts to break or replace
What We don't
On the large side for home use
All metal handle gets hot
Best Upgrade
Comes with a sturdy wooden lid, iron ladle and spatula.
Buy on Amazon
We may earn a commission if you make a purchase, at no additional cost to you.
12/01/2023 12:08 pm GMT
This is the definition of a splurge when it comes to cookware. The 14-inch carbon steel wok from ZhenSanHuan costs around $250. Is it going to make your food taste better than a wok that costs 5-times less? I doubt it, but at least it will look better in the process.
ZhenSanHuan is available in both flat-bottom and round-bottom configurations.
This wok is hand forged and hammered, taking over 36,000 hammer strokes to produce each one. In the final product, you can see the prints from the hammer, but it's so smooth that you won't be able to feel them.
Not only does the hand-hammered carbon steel add a stunning look to the wok, but the extremely smooth surface will help establish a better "non-stick" coating over time.
The handle and body of this wok are made from a single piece of metal. This means there are no welding points or rivets to break or loosen with heavy use. It's extremely unlikely that the handle or any other part of the wok will break, but ZhenSanHuan will replace broken models for free.
This carbon steel wok weighs around 5.5-pounds. That's almost a full 2-pounds heavier than our other top choices. If you don't have a proper wok burner in your kitchen, that weight can make tossing ingredients a real chore.
The all-metal handle is incredibly sturdy but can also get very hot during use. Thankfully, ZhenSanHuan includes a silicone handle cover on all of their models.
You can choose from a handful of different sizes with a round or flat bottom, and the flat versions also have a built-in helper handle. If you're already dropping this kind of dough on this wok, consider the beautiful wok set that they've put together. It has everything you need to at least look really good while you're cooking.
What we like
As much a piece of art as it is functional cookware
Hand-hammered carbon steel helps develop a better "non-stick" surface
Heirloom quality craftsmanship
What We don't
Extremely expensive
Heavier than the competition
Runner-up
Buy Now
We may earn a commission if you make a purchase, at no additional cost to you.
12/01/2023 04:33 am GMT
It was a close call between Craft Wok and our top wok pick, Yosukata. The Craft Carbon Steel Pow Wok is another 14-inch wok, which is a great size for individuals or families. The wooden handle is very comfortable and there is also a riveted helper handle that is great for storage.
The Craft carbon steel wok is about the same price as Yosukata, but it's heavier and only comes in a round bottom design. If it also had a flat bottom option, this probably would have been a tie for our top choice.
Buy Now
We may earn a commission if you make a purchase, at no additional cost to you.
12/01/2023 11:08 pm GMT
The Made In carbon steel wok is sturdy and built to last, just like the rest of the brand's pots and pans. Their wok is 12.5-inches across which is a little smaller than most of the competition, but it's also one of the heaviest options that we looked at.
The Made In wok is only available with a flat bottom, but it's not that or the smaller size that kept me from selecting it as one of my 3 best carbon steel woks. That comes down to the handle design. Made In uses the same flat, stainless steel handles as they do on their carbon steel frying pans.
The handle looks nice, but it doesn't offer the same leverage as you get from the traditional round handles you see on our top choices. That's important when moving a heavy wok around the kitchen or tossing a stir fry in the pan.
I was hopeful for this wok because Joyce Chen makes my favorite pair of kitchen scissors, but their carbon steel wok doesn't quite hit the mark.
The wok's body is well built and has a good shape that makes tossing a stir fry easy. The glaring problem with Joyce Chen's design is related to the construction of both the primary and helper handles. The phenolic material used is basically heat-resistant plastic. It's prone to cracking or melting when used over a strong gas burner.
If you are only using this wok on an electric cooktop, you'll probably be fine. But sacrificing a good handle to save a few bucks isn't something I would recommend.
What To Look For
Round vs. Flat Bottom
One of the key attributes of a carbon steel wok or any wok for that matter, is how heat is concentrated at the bottom of the pan.
A traditional wok has a round bottom where the heat from a flame is concentrated. As you move up the deep, sloping sides, the temperature decreases. This gives you multiple temperature zones while the burner stays the same.
This is the ideal way to cook a stir fry that has several different ingredients that all require different cooking times. First you add the ingredient that take the longest to cook, sear or fry it in the hot center, then move it up the side to stay hot and slowly continue to cook. Then you add your next ingredient, and so on until everything is mixed at the end, hot and perfectly cooked.
The only problem with a round bottom wok is that you need a wok burner or a gas stove to use it. This is where the flat bottom wok comes in. A flat bottom carbon steel wok won't give you the same concentration of heat in the center, but it allows you to use the pan on any type of cooking surface.
Handles & Lids
Wok handles must be very securely attached, and offer good leverage for tossing dishes like stir fries and fried rice. All of our top picks feature thick, round handles that check those boxes.
The traditional metal handles are the most durable but they tend to get hot while cooking, especially over gas burners. Round, wooden handles like the one in our top pick, stay cool and are more comfortable to hold for long periods of time. But, they may need to be replaced every so often.
I tend to avoid woks that have handles that stray from the classic, round design. They're often less durable or don't provide the same leverage and grip.
A wok lid is not a must-have, but can be a very useful accessory. A wood or metal wok lid can be very handy when steaming vegetables, but my favorite use is for covering and steaming mussels or clams right in the wok.
Size
You can find a carbon steel wok in a several sizes, but sticking to the 12 to 14-inch range will give you the most versatility without any limitations.
It's rare to find woks smaller than 10-inches. For one, a 10-inch wok is too small to use on a standard wok burner, and it doesn't have enough room to properly toss and spread ingredients in the pan. If you only cook for one or two people, you could get by with this small size, but even then I would go up to a 12 or 14-inch model.
12 to 14-inch woks are excellent for the widest range of dishes and can be used for one person or up to 8 or 10 people. It doesn't matter if you're using a round or flat bottom wok, the center where the heat is concentrated is a very small area. This means you can cook very small amounts of food without worrying about wasting heat on a large cooking surface.
A 14-inch wok is also the most common size sold, so you will have more variety when it comes to choosing the right one for you.
A 16-inch wok is the largest I would use in a home kitchen, unless of course you have a large, dedicated wok burner. This larger size can still be used on a powerful stove, but you won't get very much heat distributed to the upper edges of the carbon steel wok.
Heat Source
It's unlikely that most homes have space, hood, or gas to accommodate a professional wok set up, so the next best thing is to use a portable propane burner. These units can be very affordable, offer impressive power, and utilize standard bbq-grill propane tanks. The downside is that it's an extra piece of equipment, and it has to be used outside.
After that on the list of preferred heat sources, is a powerful gas range. This will give you the option of using a flat or round bottom carbon steel wok and you'll never have to worry about inclement weather. If you go with the round bottom option, adding an inexpensive wok ring will make your cooking experience better and safer.
If you're limited to an electric stovetop, then you're also limited to flat a bottom wok. You can still get similar cooking results, but stirring and tossing can be a little more difficult.
Durability
All of the best carbon steel woks on the market will have no problem standing up to heavy home use. It's almost always the handles that will fail before anything else, but sticking to two common handle types will take care of that.
The traditional, round metal handles are always a safe bet for function and durability, but they can get quite hot while you're cooking.
The other best choice is a handle that has a round wooden insert, like our top pick. These are comfortable, durable, and stay cool while cooking. If anything does happen to one of these wooden handles, they are easily replaced.
Choosing a wok with heavy gauge carbon steel, will add some durability but will also add weight. While not as heavy as their cast iron counterparts, a small increase in thickness can still make a difference to how it feels in your hand.
Price
A carbon steel wok will offer incredible value. Most options are priced similarly to a good fry pan or saucepan, in the range of $30-$75. But, for that price, you get versatility that can't be matched by almost any single pot or pan.
Of course, you can spend more, like our Splurge pick. But for around $60 you can get a very good carbon steel wok that can do everything you need, and last a lifetime.
Nonstick
When it comes to the surface of carbon steel woks, you have three choices. Raw and uncoated, pre-seasoned, or non-stick.
Uncoated carbon steel woks have no coating and must be seasoned from scratch before they are used. The seasoning process will help protect the wok from rusting and will help to develop some "nonstick" characteristics.
Pre-seasoned carbon steel woks have an initial layer of oil cooked on before they leave the factory. The factory seasoning offers some protection during shipping and storage. But you'll still have to go through the seasoning process at home before you get cooking.
Non-stick, carbon steel woks are available, but in my opinion, they defeat the purpose of buying a carbon steel wok in the first place. Carbon steel is great because it's durable, can handle high-heat and metal utensils, and develops a natural "nonstick" surface. A non-stick coated wok might be easy to clean, but is not durable, and cannot handle high-heat or metal utensils.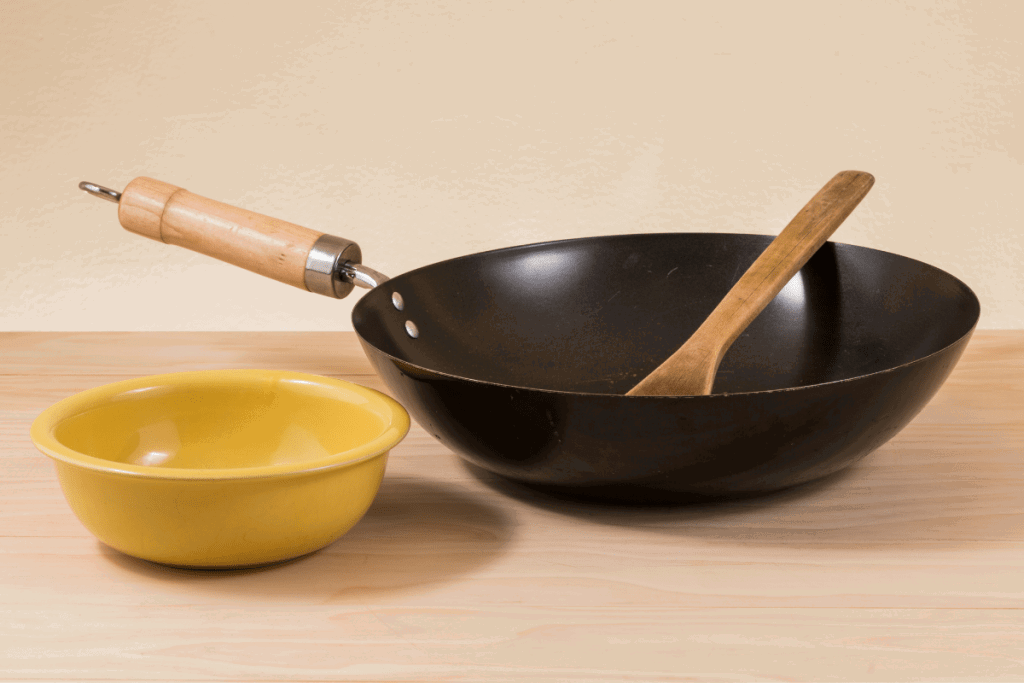 Safety
If you don't have a wok burner or wok ring, round bottom woks can be unstable. This can lead to spills and possible burns. If you don't have a stable ring to set your carbon steel wok on, I would avoid cooking with large amounts of liquid or oil, which can cause the most damage if sloshed over the sides.
Maintenance
The most important thing is to season a carbon steel wok. After that, it's just a matter of maintaining that seasoning.
Seasoning is the process of cooking layers of oil into the surface of the carbon steel. This creates a protective layer that also provides nonstick properties.
Many wok manufacturers include seasoning instructions, but I prefer the same method that I use on my carbon steel frying pans. It uses less oil, and because of that, is much less dangerous.
Once you've seasoned your carbon steel wok, you'll just have to remember to always hand wash without using any soap or other detergents. After washing I always dry my wok by heating it on the stove for a couple of minutes, then applying a thin coat of oil before storage.
Required Utensils
The only additional tools I would say you "need" are a wok spatula and ladle. Sure you could get by using any long-handled spoon in your kitchen. But those two tools were built specifically for a wok and will make cooking much easier.
Items that are nice to have but not necessary are a wok brush for cleaning, a metal or wooden lid, a bamboo steaming basket, and a wok ring for round bottom models.
My Recommendation
As you can see, the best carbon steel wok isn't always the most expensive. Even our budget pick will provide a lifetime of use, and is the same model that I've found in several restaurant kitchens.
But, my top pick might be a little better suited for a home kitchen. The wooden handle is more comfortable, and the 14-inch size is easier to maneuver, especially if your kitchen is on the smaller size.
If you've been bitten by the carbon steel cookware bug, you'll probably want to add one of the best carbon steel fry pans to your collection as well.
Frequently Asked Questions
What Are The Best Things To Cook In A Carbon Steel Wok?
Stir-frying noodles, vegetables, and fried rice are the obvious choices, but hey, that's what a wok is built for.
I also like to use a carbon steel wok to deep fry. The shape of the wok allows you to use less oil then you would in something like a Dutch Oven. Plus you can gently slide foods down the sloping sides without splashing yourself with hot oil.
Wok vs. Frying Pan: Is One Better Than The Other?
No, one is not better than the other, but they each provide benefits that the other can't.
When you want even cooking or searing, a frying pan is the way to go. Think, eggs, steak, fish, or other whole cuts of meat.
If you want the best stir fry possible, there is no substitute for a carbon steel wok. I also love a wok for deep frying, steaming, and quickly reducing sauces.
I have both, I love both, and I wouldn't trade one for the other.
Is Carbon Steel The Best Choice For A wok?
The short answer is yes. Many of the best uses for a wok require high heat. Carbon steel can handle high heat, all while remaining light enough to maneuver and toss ingredients in the pan.
The other big benefit is that you can develop excellent nonstick properties when you have a good seasoning. As you continue to use a carbon steel wok and clean it properly, those properties will continue to get better and better.
What Are The Common Drawbacks Of Carbon Steel Woks?
Even the best carbon steel woks require a little knowledge, practice, and some on-going maintenance in order to get the most out of them.
If a carbon steel wok is not seasoned it will rust, and everything will stick to it. Of course, the same is true for cast iron woks. If you wash your wok with soapy water and don't re-season it, it will rust and everything will stick to it. And those are the most common gripes that new carbon steel wok owners have.
It's almost always a case of owners not knowing exactly what they are getting into and probably not following instructions properly. Luckily, you're reading this article so none of that will happen to you!