When we were first diving into our investigative series about how to find the world's best olive oil, Argentina was not at the top of our list. To be honest, it was barely even on the radar.
Argentina is a small producer of extra virgin olive oil (EVOO) when compared with some of the other countries we considered for the series. According to the International Olive Council, only about 1% of olive oil consumed in the world currently originates there.
Still, the volume of production is growing rapidly there and EVOO from Argentina is beginning to make a name for itself on a global stage.
"It's not yet easy to find our products abroad," says Tatiana Nessier, a sommelier, chef and producer of olive oil from Mendoza, Argentina who spoke with me for this article, "but we believe it's only a matter of time."
Through my correspondence with Tatiana, who is pictured above, I wanted to understand what's behind the fast rise of Argentine EVOO and the factors that make it so unique.
How It All Began
Olive cultivation in Argentina can be traced back to orchards planted by Spanish colonials in La Rioja. Even today, some olive trees still stand there from 400 years ago as a reminder of the first local olive era.
Four hundred years may seem like a long time, but compared with Greek olive cultivation which started in 3500 BC, it's really a very short window.
As Italian and Spanish immigrants arrived en masse during the late 1800s, the olive industry spread across seven local geographies to meet the growing demand.
Argentine EVOO has been enjoyed by locals since its modest beginnings, but over the past 20 years production and exports have doubled.
High Desert Olives
Most producers can be found at the foothills of the Andes mountains. Mendoza, where Tatiana lives and works, is among the most heralded cultivation regions in all of Argentina.
"Mendoza is one of the Great Wine Capitals of the world," she elaborates. "This means that our climatic conditions, poor soil composition, snowmelt water from the Andes mountains, pure air and wine culture is very well arranged in our history, allowing us to produce some of the best wines of the world."
"What you may not know is that wherever grape vines grow, olive trees do as well."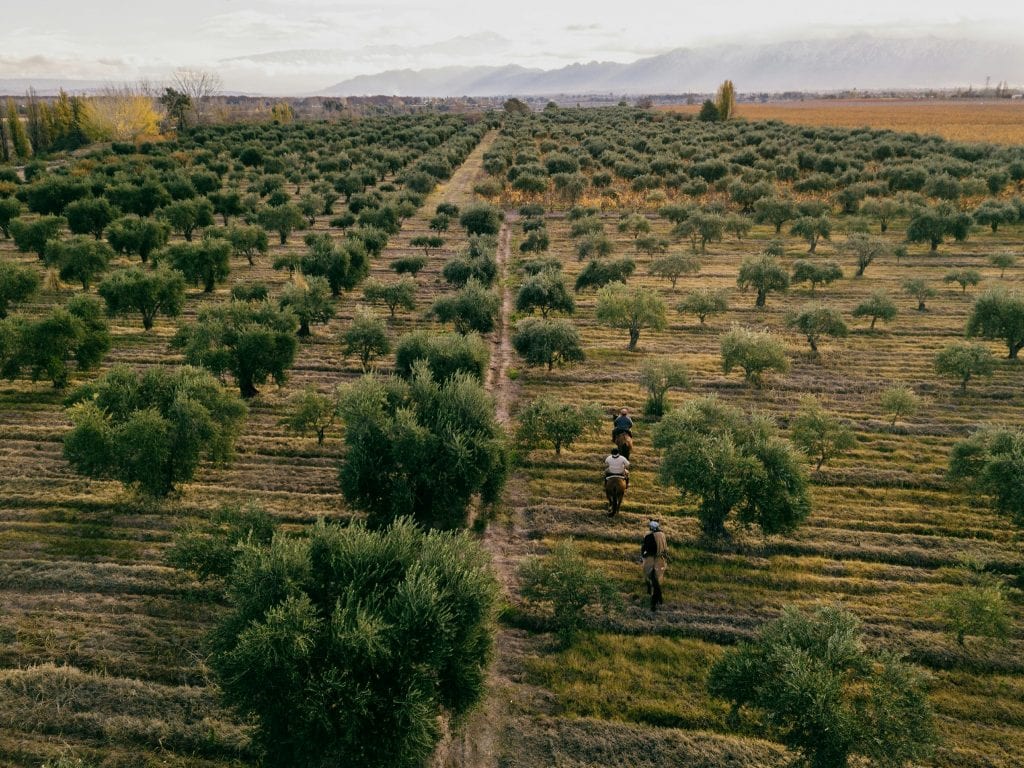 "Mendoza is a high altitude desert, where olive plantations make up around 7% of the cultivated surface compared with 65% where grape vines grow. Most of our olive trees are planted alongside grapes and other fruit crops in a practice we'd call 'traditional planting'."
An Expressive Flavor
When sampling Argentine EVOO from Mendoza, expect it to be very expressive.
The sensation tends to be both spicy and bitter on the palate. These flavorful characteristics are derived from the olive varieties that thrive in the high desert climate and the timing of the local harvest.
"We pick our olives during veraison," says Nessier, referring to the onset of ripening when the fruit begins to change color.
"This assures we obtain the most amount of oleic acid." Some producers, including the label owned by Tatiana's family, use production technology to ensure no oxygen is involved during the pressing process.
"For us, it's important to process our EVOO within 24 hours of hand picking, to make sure it obtains the most fresh expression. Look for fruity notes that may remind you of freshly picked green olives, grass and tomato leaf."
The Unique Arauco Olive
I asked Tatiana to describe a few characteristics that make Argentine EVOO unique from other geographies, and she was quick to point out the Arauco olive.
"There is an olive variety known as Arauco that only grows [to this specific flavor profile] in Argentina. We use it as our flagship," she said. "Arauco olives are double purpose, in the sense that it is for table consumption and olive oil can be made with it too."
The Arauco variety is named after a county in the La Rioja province of northern Argentina. The fruit of these trees can be very large, late-ripening, and are typically harvested just as the olives begin to ripen. This gives the oil a green profile, exceptional fruitiness, and a distinct peppery finish. It can be intense.
Tatiana adds that, "EVOO made with Arauco is very expressive in the nose. It reminds me of arugula, grass, and tomato leaf. The tasting sensation can be very spicy and bitter. The quality is very high."
While this variety was originally brought from Europe, it has adapted uniquely to the high desert cultivation region over the past 500 years. Many people now think that Arauco olives will have a "Malbec effect" toward popularizing Argentina's olives.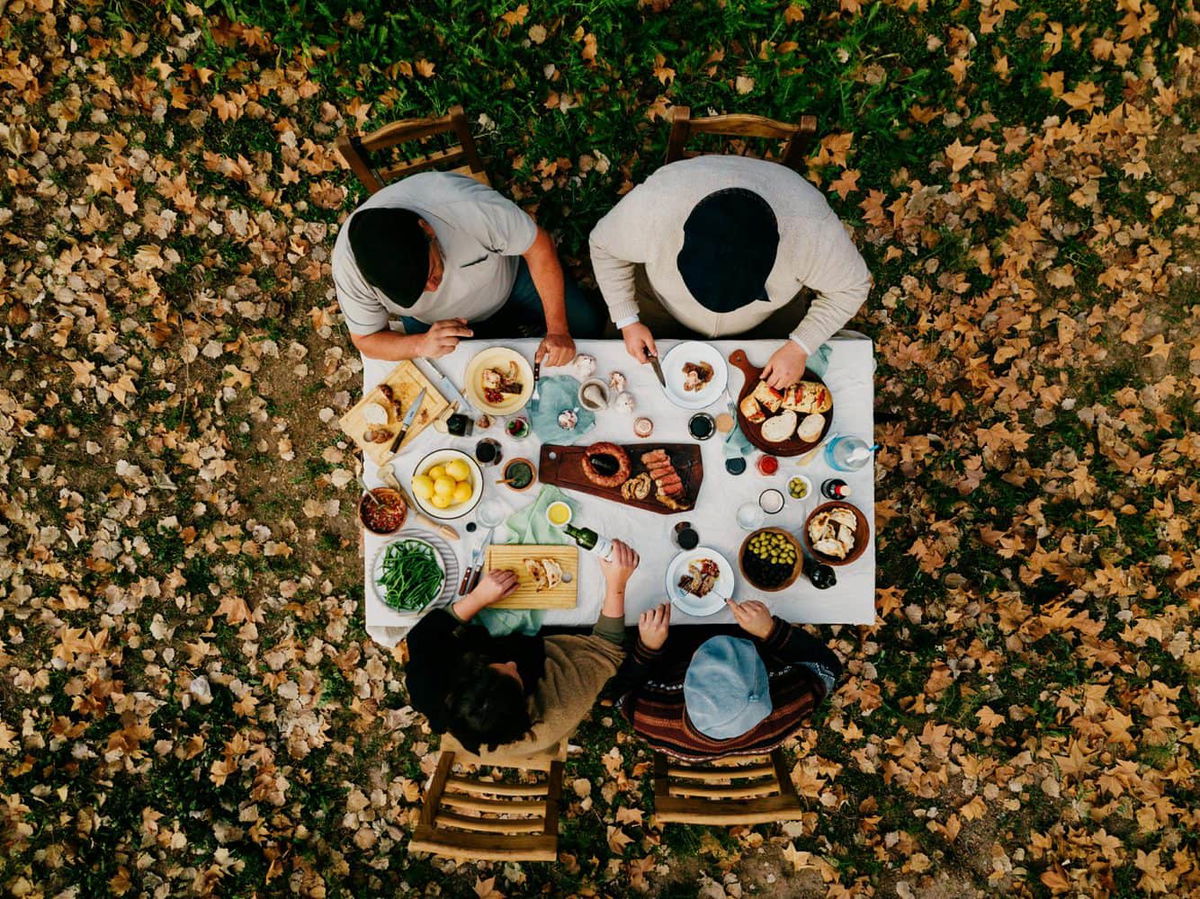 "When tasting Arauco EVOO, consider partnering with goat cheese, a drizzle after grilling meat or veggies, or even as a foundation for chimichurri sauce."
Other Varieties You Should Try
Given it's European beginnings, many of the olives cultivated in Argentina are influenced by Italian and Spanish immigrants that brought this craft with them to South America.
A few other varieties that have taken hold include,
Manzanilla from Spain
Empeltre from Spain
Frantoio from Italy
Even with such heavy European influence, these olives tend to take on a unique characteristic given the high desert growing environment and local production standards.
What Is The Argentine Extra Virgin Olive Oil Standard?
It's only been in the past 20 years that the olive industry in Argentina has expanded to reach a more global audience. Even with quickly growing visibility, many pieces of cultivation science and infrastructure are still coming into place there.
When compared with labels produced in more established countries of origin (Greece, Spain, Italy, etc), there is a glaring absence of regional certifications to designate the highest quality products.
"The truth is that there aren't many norms that regulate EVOO, specifically in our region," says Tatiana.
"As long as producers comply with parameters of the International Olive Council for Europe, the unique guidelines set by the United States, and are free from agrochemicals, that is generally seen as more than enough by producers here."
How To Get Started
Taste Arauco extra virgin olive oil as a starting point for your discovery of olive oil from Argentina.
Although some EVOO from Argentina is starting to show up in supermarket blends across North America, it is still difficult to find a single origin oil in most stores here.
I was lucky to connect with Adam Stern, the founder of Full Olive, while finalizing details for this article. He was gracious enough to provide several of the photos you see here, and a great place to pick up your first bottle of EVOO from Argentina online.
After finishing school in Colorado, Adam was drawn to the Andes mountains of Argentina. He spent the past 15 years living in Mendoza, leading tours across the olive and wine country, and building a family.
Adam's family recently returned to his home state of Washington, where they opened Full Olive as an importer of rare foods from Argentina specializing in extra virgin olive oil from Mendoza and San Juan.
Among their featured labels is Laur, which is the oldest producer of olive oil in Mendoza province. Laur has been making olive oil at the same site for more than 100 years, and recently were ranked the 4th Best Olive Oil Producer in the World by EVOO World Rankings.
A great place to start is by picking up a bottle of Laur's Gran Mendoza Extra Virgin Olive from Full Olive, which is made of 100% Arauco Olives from Mendoza. This label has won multiple Gold and Silver metals at international olive oil competitions.
Finding other alternatives available for sale in North America may take some digging. You may need to order directly from a producer and import it for yourself, or find a local specialty store that carries imported products.
Tatiana's family label, called Piuque, is not currently distributed in North America. If you happen to be traveling through Argentina, don't hesitate to contact her to pick up a bottle for yourself and to schedule an in-person olive or culinary experience in Mendoza.
*The photos of Tatiana Nessier and Piuque EVOO (first and final images) were provided by Tatiana Nessier. All other images capture the olive growing region in Mendoza and San Juan, and were provided by Adam from Full Olive.
** Kitchen Ambition does not have any financial relationship with Full Olive. We think they are a great option if you are located in North America and searching for single origin olive oil from Argentina.